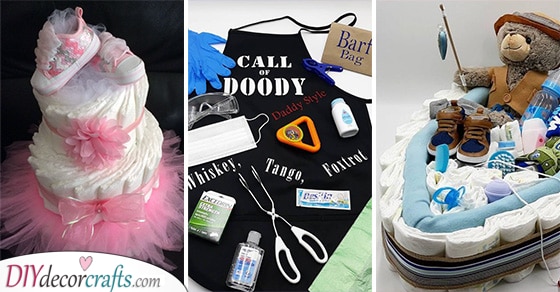 Is someone from your friends or family group pregnant? Maybe they are hosting a baby shower in the upcoming weeks, preparing for the arrival of their baby! If so, get ready to find the best baby shower gifts for the parents! After all, you can't go to a baby shower without a few presents for the parents. There are so many ideas and options you can give them, that will help them out in the first few months! If you are in search of some inspiration check out our pick of 20 personalized baby gifts. We trust, that you'll be able to find a few present ideas amongst our collection!
1. A Diaper Fishing Boat – Best Baby Shower Gifts
If you are uncertain about what sort of presents to buy for the expecting family, then why not throw together a variety of them? Sometimes the best choice is to get a little bit of everything! This means that you may want to add some baby clothes, toys, or baby essentials to the gift pack. Of course, stick to a creative idea and place the presents together in a creative way! Just one example would be the idea above, creating a small boat from everything! This will not only be a fantastic set of practical baby shower gifts but will also look amazing!
2. A Floral Blanket – Counting the Months
If you are looking for special and unique newborn baby gifts, then here's one that you will love! This gift is no other than a blanket with some decorative patterns on it, as well as a small calendar. The calendar will have the months written on it, which will make it easy for anyone to keep up with the newborn's age! Using a fabric pen, the family will be able to cross out the months that their baby has turned! This is a great alternative to counting the months on the calendar! And this gift will also keep the baby warm!
3. A Starter Kit for the Parents – Personalized Baby Gifts
Maybe you have already had a kid! If so, you'll know that the first few months of having a newborn baby, while rewarding, is also very tiring! How about you prepare a starter kit for the parents of the kid? You can put in an apron, to keep their clothes from getting any baby barf on them. Some painkillers will also be appreciated, a face mask and a rattle toy! There are a lot of options to choose from to create a fun gift for the parents!
4. A Hot Air Balloon – Cute and Inventive
Make sure that your gifts arrive in an inventive and amazing way! Create a small hot air balloon for the newborn baby! All you need is a basket, which you fill up with the personalized baby gifts! Then attach a whole abundance of balloons to it, giving the simple basket the hot air balloon vibe! You can colour-code the present, using pink shades for the arrival of a baby girl and blue for a little boy!
5. A Letter of Their Name – Best Baby Shower Gifts
Do the parents already know the gender of the expected baby? Then they may have chosen a name for the newborn as well! If they have told you the name of the baby, you can use it as inspiration for creating a unique gift! One fabulous idea would be to make some sort of wall decoration, that the parents will be able to hang up in the nursery! Use the initial of their first name, creating an ornament that is like no other! Choose the style and design by yourself!
6. A Wonderful Wreath – A Great DIY Craft
Instead of getting just a box or bag of presents for the newborn baby, find a DIY craft! Putting together your gifts in an interesting way will take your gifts to the next level! We would recommend trying to create a wreath! For the base of the wreath use diapers that are attached to each other. As the "decorative" elements of the wreath, you can attach all sorts of practical baby shower gifts! These can include baby clothes, baby shower gel, or baby powder. This will definitely be a creative and special way of presenting a gift to the expecting family!
7. A Diaper Cake – Personalized Baby Gifts
You may have already heard about diaper cakes. These "cakes" are easy to put together, and will also help the parents in taking fewer trips to the local store. And we don't even have to mention that diapers are quite expensive, so it will also help out the parents, in not spending so much cash! Create a few tiers of diapers, stringing them together with ribbon to make them stick together. It's up to you how you end up decorating the cake itself. You can do this according to the gender of the baby.
8. A Monogram Blanket – Brilliant and Adorable
While you may not be sure what the expecting family would appreciate as baby shower gifts for boys or girls, here's something simple yet fantastic! It's all about creating a blanket for the newborn baby and printing the initial or the name of the newborn on the blanket. Make certain that you buy a blanket that is soft and warm and won't irritate the newborn's skin! A blanket will make a perfect gift for a baby shower, especially if you're uncertain about what the family still needs!
9. Art with Buttons – Best Baby Shower Gifts
Perhaps you are the sort of person who loves to create art! If this is the case, why not create a piece of art for the newborn baby? They'll be able to keep this as a memento throughout their life! You don't have to create anything grand, an easy collage will do the trick as well! Stick buttons onto a piece of paper, creating a shape. For example, making button animals are an awesome idea! When you're finished, feel free to write the name of the newborn underneath the shape made of buttons and put it in a frame!
10. A Set of Onesies – One for Each Month
Make sure that the parents will be covered for the next twelve months when it comes to onesies! Get a set of onesies, twelve of them to be precise. Each onesie should have the age, or month, that the baby is turning. The twelfth onesie should read "happy birthday" on it. Not only are these onesies practical gifts, but they will also show the period of joy and growth in the newborn's first year of life! We're certain that the expecting family will love this gift idea!
11. A Laundry Basket – Personalized Baby Gifts
When a baby is born, he or she will bring happiness and excitement with them! As well as a whole heap of dirty laundry! Put together a laundry basket for the baby, that the parents will be able to store the baby's dirty clothes inside! Naturally, you can fill up the laundry basket with a whole pick of other gifts, including diapers, toys, and clothes! One of these laundry baskets will make great newborn baby gifts! So, why not give it a try?
12. Make a Mobile – Another DIY Idea
Diapers and toys aren't the only things you can give as some of the best baby shower gifts to an expecting family! If you have a creative mindset, you might think about creating a hanging moile for the newborn! When they are lying in their cot, they'll love looking up and seeing a mobile spinning around above them! Create the small elements for the mobile from felt and attach them to it! You can perk them up further with beads or ribbons! The theme of the mobile is completely up to you! You may choose a woodland vibe to it or a jungle theme!
13. A Duty Kit – Best Baby Shower Gifts
Get the dad a duty kit! This will act as an indispensable part of his being in the first few months of having a kid! Fill up the kit will all sorts of essentials he may possibly need during the upcoming months! Ranging from toys and clean diapers to a baby bottle and a pacifier, he'll be fully equipped and ready for the baby on the way! The kit itself should resemble an apron, allowing dad or mom to tie it around their waist.
14. A Survival Kit – Great for Difficult Days
When you are getting ready to go to a baby shower, don't forget about giving the mother of the child something as well as the baby! You can put together mini survival kits as baby shower gifts for mom! All you need to do is fill up a mason jar with her favorite things! This can include candy, chocolate, or pain killers. Of course, feel free to also include a few things for her that she can pamper herself with! These might include lip balm, bath salts, or hand cream. One of these survival kits might really help her out on difficult or tiring days!
15. Another Diaper Cake – Personalized Baby Gifts
We have already talked about diaper cakes! But here's another great idea concerning them! We have already talked about how useful diaper cakes are, and that they make the parents' jobs a bit easier. Turn your diaper cake into a hot air balloon! Place all the diapers into a woven basket or box. Then attach a paper lantern right above it, truly turning it into a mini hot air balloon! Add a passenger to the balloon ride as well, by putting a plush toy inside of the basket!
16. Don't Forget Mommy – Presents for Her as Well
Of course, don't forget to get a present for mommy either! If you have already found a gift for the newborn baby, now it's time to find mom a gift as well! You can organize the gifts in separate bags, they should have the words "baby" and "mommy" on them. Thanks to these baby shower gifts for mom and the baby, you'll be taking care of two people at the same time! This is a thoughtful present idea, perfect for baby showers!
17. A Diaper Duty Kit – Best Baby Shower Gifts
When diaper changing duty calls, make sure that both of the parents are ready and prepared for it! Another fantastic idea as a baby shower gift would be to put together a diaper duty kit! Inside a box, including all the essentials parents may need for a newborn. Especially for the first few months! We're certain that the parents will be thankful for such a practical gift like this one! So help the parents get ready for their soon arriving bundle of joy!
18. How to Wrap It Up – Easy and Lovely
Maybe you have already found some fantastic baby shower gifts for boys or girls. But how will you wrap up the gifts? Sometimes it's important to put some thought and energy into wrapping up a gift in a nice and special way. How about wrapping tulle around a basket? If it's a girl, use pink tulle, for a boy use blue tulle. Then all you will have to do is simply fill up the basket with the gifts you got for the baby!
19. Milestone Markers – Personalized Baby Gifts
Another awesome idea would be to get the expecting family some milestone markers! With the help of these markers, they'll be able to count the months, seeing how old the baby is! You can start with a marker saying "the day I was born", while the rest should count from 1 month until 1 year of age!
20. Treasure Bags – For the Years to Come
Finally, you can also create small treasure bags for the years to come! These will provide small spaces, in which the child will be able to store their keepsakes. Include bags for their first tooth or their first shoes. This is a fantastic gift to give while thinking about the future as well!
We hope that the best baby shower gifts have given you inspiration! For other baby shower ideas, such as baby shower centerpieces or baby shower themes, check out our website!
Advert