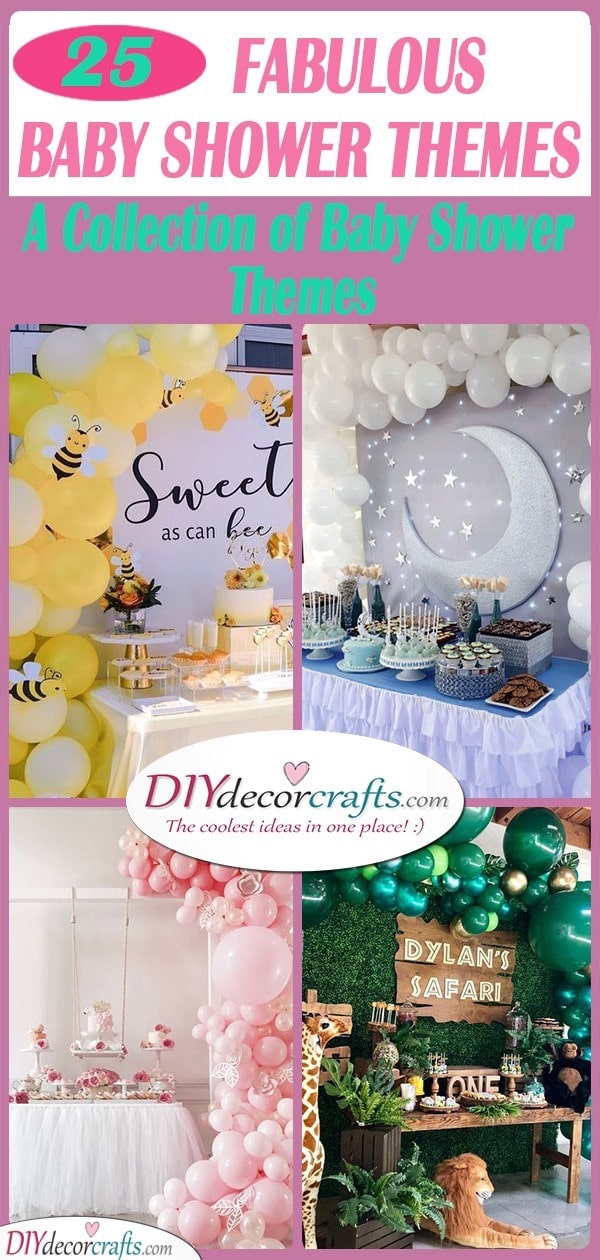 Are you expecting a new addition to the family? If so, make sure you host a baby shower party for them! Baby showers are all about inviting over members of the family and your close group of friends and awaiting the baby's arrival! When hosting a baby shower, you will need to make certain that everything is perfect! There are so many elements that need to be on point in a baby shower, the cake, the decor, the food, the games and the invitations. It's important to create and make each one of these according to a theme. This will link everything together, making the whole baby shower a lot of creative and unique! We have collected 25 fabulous and unique baby shower themes, for you to pick and choose from.
1. Under the Sea – Nautical Baby Shower Theme Ideas
If you love going to the sea or swimming in the ocean, why not plan a baby shower which is nautical inspired? There are so many awesome ways in which you can decorate the venue of the baby shower. Use shades of blue to colour the venue, for example, blue balloons and blue streamers will look great! Also remember to use the shapes of marine creatures, like whales or fish on the food or the cake. Don't forget to use anchors as a source of decor either, after all, it is nautical!
2. A Bit of Sunshine – Happy and Yellow
Here's a fantastic example of a gender-neutral baby shower. Use yellow as a dominant colour in your baby shower's theme. The theme here is sunshine, so make sure to use a lot of vibrant colours. You can even host this party in the outdoors, really incorporating the theme of nature and sunny weather. Use yellow or golden streamers, honeycomb paper balls, a yellow baby shower cake and sunflowers. This is a great and relevant theme since your baby boy or girl will become your ray of sunshine!
3. Winnie the Pooh – Everyone's Favourite
There are so many amazing children's books or films. One which is everyone's favourite is Winnie the Pooh. This adorable story of a bear, always in search of honey, is a great story for children to grow up with. Use cut-out characters from the story to decorate the venue of the baby shower. You might also consider incorporating honey into the food, just to give it that extra boost that Winnie the Pooh would love. Also, you can give small pots of honey as thank-you gifts to your guests for coming to your wedding.
4. Pretty in Pink- Baby Shower Themes for Girls
If you are expecting a baby girl, make sure the gender of the baby is obvious! You can achieve this best by using a lot of pink baby shower decor at the venue! Create an enchanted forest out of the venue, using cherry blossom trees as backdrops, pink streamers on the tables and big statues of animals hidden in various corners. You can also place small fairy dolls around the venue, just to bring out that magical atmosphere of the baby shower.
5. Babies and Bees – Bee Inspired Theme
A theme that is becoming more and more popular at baby showers, is the bee-inspired theme. You can use different tones of yellow to decorate the venue. Yellow balloons are a great idea and attaching cut-out shapes of bees to them. Make sure to use a lot of flowers in your decoration as well! Also, remember to use honey as a main component in your desserts or snacks. You can also place a sign on a wall which reads "as sweet as can bee." This cute bee-inspired baby shower theme is sure to be a hit!
6. Twinkle Twinkle Little Star – A Starry Night
Create a truly magical setting for your baby shower with this fantastic idea! Use the theme of a starry night for the shower, making sure the whole venue is decorated with a multitude of stars. You can place cut-out stars on tables, create star-shaped cookies, hang star decorations from the ceiling and stick star toppers in cupcakes or cakes. You can place a poster or a sign as a backdrop on a wall. It should read "twinkle, twinkle little star. Do you know how loved you are?"
7. A Rustic Vibe – Elegant and Earthy
Are you in search of a baby shower theme, that is more on the simple side? Use earthy colours and decor to create a rustic looking party! Place vases of flowers here and there and don't forget to hang paper decor balls from the ceiling or streamers. Since we are talking about a baby shower though, it's important to include decor elements which are actually linked to the topic of the party. Hang up baby items, onesies, teddy bears and diapers on a clothesline. Then use this as a source of decor at the party.
8. A Sky Full of Stars – Beautiful Baby Shower Themes
If you like the theme of a starlit night sky, why not use it as inspiration for your baby shower? Create a cut-out moon as a backdrop, coating it in glitter. Cut out the shapes of stars and place them around the moon. You can also use a string of fairy lights to embrace the theme of this starry sky. You can also stick an array of white balloons together, to create a big fluffy cloud. Ambient lighting will show best with this theme.
9. Royalty and Florals – Baby Showers for Girls
Are you expecting a baby girl? If so, make sure you use many shades of pink for the whole baby shower! For example, cake and snacks can also be pink-coloured. Make sure to include a plentitude of flowers, carefully placed and arranged in vases. Use softer tones in the flowers, like pink, yellow and white, to truly bring out a feminine vibe. Another way you can accentuate this baby shower is by placing crowns on the flowers or on the top of the cake as well. It will feel as if the expected baby girl is going to be royalty!
10. Going on Safari – Into the Jungle
If you are in search of a baby shower theme for a boy, this one is an amazing idea! Create a safari or jungle themed baby shower. Use big plushies of animals you might run into during a safari tour, for example, lions, elephants, giraffes or zebras. Make sure to use a lot of green when it comes to a safari-themed baby shower. Place exotic plants around the venue, or even better, exotic flowers, such as orchids. Your guests will feel as if they have just stepped into a safari! These would be great baby shower themes for boys!
11. A Winter Wonderland – Silvery Snowflakes
If the baby shower is going to be held during a month of winter, you might as well embrace the wintery theme and create a winter wonderland! Coat the whole baby shower in shades of silver, using hints of white and pink in the decorations as well. You can cut out snowflakes from paper, hanging them from the ceiling. Also, place small statues of fir trees on the tables or actual ones around the venue. You can also use small toys of animals, such as polar bears or reindeer around the venue.
12. An Angelic Atmosphere – Baby Shower Theme Ideas
Your little angel will be born soon! To express how you think and feel about your baby, create an angelic atmosphere for the baby shower. Use cut-out clouds to decorate the venue, this was the guests will find themselves walking above the clouds! Also incorporate stars into the decoration as well, making the whole baby shower feel as it were heaven itself!
13. Mama to Bee – Another Bee-Inspired Theme
If you really like the bee-inspired baby shower theme, here are a few other ideas of what you can include at your party. For example, you can create a replica of a honeycomb, using hexagon-shaped wooden boxes. Use plenty of yellow and gold for the colour theme. Naturally, don't forget to use flowers as decor as well at a bee-inspired baby shower! You can create a set of banners that read "mama to bee."
14. Stars and Clouds – Whimsical and Magical
As we mentioned before, starry night baby shower themes are becoming really trendy! After all, they bring a magical sensation with themselves. Besides using an array of balloons, which are stuck together to resemble clouds, make sure they decorate the venue with strings of fairy lights. These small lights will look like the night sky which is lit up with stars!
15. Monochrome and Gold – Simple but Elegant
Have you been thinking about going for a more simple design for your baby shower, but would like it to look elegant all the same? Use a combination of the colours gold and monochrome. Use a multitude of balloons to decorate the venue. You can even try finding white and black balloons with a marble effect. Also, consider using edible gold leaf on the cakes to enhance their look!
16. Beautiful White – The Perfect Baby Shower Themes
Give your baby shower a clean and pure look. Using white or shades of it will create a refined and beautiful atmosphere. You can use an array of white roses as a great source of decoration, placing them in vases or creating letters out of them. Naturally, don't forget to lay down a whole heap of baby shower food on the table which embodies the theme of the party!
17. A Princess Party – Baby Shower Themes for Girls
Are you expecting a baby girl? Why not go for a princess themed party? This is the perfect way to wait for a baby girl! Use elegant, antique-looking furniture, to give the venue an old-fashioned and magical atmosphere. Use tones of gold, pastel pink and baby blue to achieve a gorgeous harmony. You can have the baby shower cake baked and designed to look like a castle.
18. Natural and Blossoming – Simple With Florals
You don't have to go over the top for your baby shower to achieve an outstanding look for your venue. You can stick to more simple decorations, like vases of flowers covering tables and more simple furniture, like wooden tables and chairs. A natural and earthy vibe is sure to be a huge hit with your guests!
19. Ethereal Angels – Covered in White
If you decide on creating this ethereal atmosphere for your baby shower, your guests will feel as if they just stepped into heaven! For this angel-themed baby shower, use white and gold as dominant colours. You can create angel wings, which you attach to walls as decor. Cover the tables in white flowing tablecloths. Use gold plates and gold cake stands for the food served at the party.
20. Up and Away – Hot Air Balloon Idea
Using hot air balloons as decor at any special event is a great idea. You can put this hot air balloon together out of a basket, by attaching helium-filled balloons to it. The guests at your baby shower will be able to climb inside this hot air balloon and use it as a prop for a photo.
21. Elephants on Parade – Baby Shower Themes for Boys
If you are expecting a baby boy, make sure to use blue as the main colour theme. A great idea to use for a baby boy's shower is elephants! Use blue elephants in the tablecloths, on the cake, or just placing toy elephants around the baby shower.
22. Bubbly Balloons – Perfect in Pink
Now here is one of many unique baby shower themes that is perfect if you are expecting a girl. Use a combination of pink and white for the decor. Create a wave of pink balloons, which you can place anywhere in the venue. Scatter pink flowers all over the tables, giving it a natural but sophisticated look.
23. A Disney Princess – Disney Themed Baby Showers
Host a baby shower that is all about Disney! If you are expecting a girl, a Disney princess theme is perfect for the shower! Use shades of royal purple, pink and gold. Make all the decor look fancy as if it were part of a Disney castle. For example, pay close attention to the tablecloths and the arrangement of flowers.
24. Fluffy and Pink – Beautiful Baby Shower Theme Ideas
Here is another beautiful example of a pink-themed baby shower. Use frilly tulle to decorate the tables, almost making them look like the tutu of a ballerina! For additional decor use paper decor balls and florals. This is the perfect sort of theme if you are expecting a baby girl!
25. Tropical Bliss – Good Vibes
Here's another fantastic idea, a beach themed baby shower! If you love the beach and relaxing at the seaside, this tropical theme will be perfect for you! Create a cake that looks like the ocean itself. You can also use tropical fruit as decor on the table, or put together a pineapple out of Ferrero Rochers. Also, include exotic plants in the decor, palm leaves are a great idea, even if they are just cut-out leaves.
We hope that we were able to present you with some inspiration concerning baby shower themes! For more ideas to do with baby showers, like baby shower cakes for girls or baby shower invitations, how about you take a look at our website?
Advert