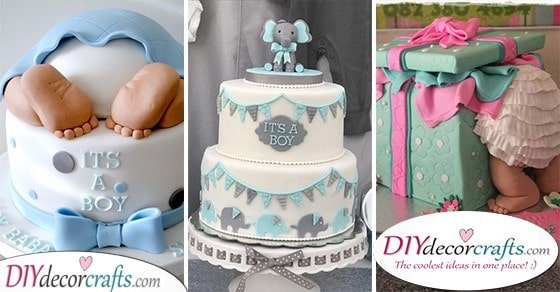 When you are hosting a baby shower, you would like everything to be completely perfect! There are so many aspects you have to watch out for while planning a party. At a baby shower, not only is the decor and theme of the party important but the activities you and your guests will play and the food and drinks served, will also play a big role. One of the most crucial elements of food and drinks is the baby shower cake. How could you not have cake at your baby shower anyhow? Celebrations always call for a tasty slice of cake! The theme of your shower should match the decorations of the cake itself. We have gathered 25 baby shower cake ideas to make your job easier! So just go ahead and browse through our collection of baby shower ideas.
1. The Stork Delivers the Baby – Cute Cake Idea
There's a common story we tell children, who are deemed too young to know anything of the sort, that storks deliver babies. While we discover as we get older, that this story is just a myth, the cute image of a stork flying with a bundle remains in our imagination. How about you use this idea for your baby shower cake? Have a stork carrying a baby in a bundle made out of fondant and placed on the top of the cake.
2. It's a Boy – Little Feet
Are you going to have a baby boy? Well, here's the perfect cake for you then! Create two baby feet out of fondant or marzipan, which are placed on top of the cake itself. After rolling out a sheet of blue coloured fondant, place that over the feet, as if a blanket were covering a sleeping baby. Further, decorate the cake with blue fondant spots and you can even have the text "it's a boy" written on it. This is a cake which is simple, but perfect for a baby shower!
3. A Bag of Necessities – All the Things You Need for a Baby
Having a baby means putting in a lot of energy and time into raising your newborn. You will need to buy a lot of products to keep the baby healthy and clean, diapers and baby powder are just a few of these. Use your bag of baby necessities as inspiration for your cake! Form a bag out of fondant, which contains all sorts of baby products inside. If you'd like a cake for your baby shower which will stun your guests, this is it!
4. Baby Blue Elephant – Baby Shower Cake Ideas
Elephants are such cute animals! If you love them as much as we do, make sure to gather some inspiration from them for your baby shower cake! Depending on what gender the baby is going to be, you can create either baby blue or pastel pink decorations out of fondant or marzipan streaming around the cake. Place the figure of an elephant on top of the cake, underneath it you can reveal the gender of the child saying whether it's a girl or boy.
5. The Moment of Truth – Gender Reveal Baby Shower
You might not have revealed to your guests what gender the baby is going to be, but at your baby shower, the truth will be told! Maybe in the form of a cake! Create a cake which is half pink and half blue, representing the options, whether the baby will be a girl or a boy. You can have the cake decorated to look like a gift box, made of several tiers. If you'd like to announce the big news in an unexpected way, why not fill the insides of the cake with either blue or pink coloured mousse or cream. This will reveal to your guests the gender of the child!
6. An Adorable Onesie – Cute and Easy Cakes
If you don't want to make a huge fuss about the baby shower cake, not to mention, love baking yourself, then here's a perfect idea for you! Bake a simple vanilla pound cake in a baking tray. Then according to what a onesie looks like, cut out a piece of the cake at the neck and two pieces at the bottom. Attach the two pieces from the bottom as sleeves to the cake. Cover it with frosting or whipped cream, before showering it with sprinkles. This is a super simple cake to make at home which will be done in no time!
7. A Rainbow Shower – Gorgeous Cake Ideas
Anything containing a rainbow detail is bound to be beautiful! Make sure to incorporate a rainbow into your baby shower cake. Create the rainbow out of vibrant coloured fondant, with clouds at the bottom of each end.  Place this rainbow on the top of your cake. With a brush and some food colouring create a rainbow, streaming down one of the sides of the cake, as if it were raining. Well, it is a baby shower!
8. Tiny Baby Shoes – With Letter Blocks
Are you expecting a girl? Then here's a great baby shower cake idea for you! Create a few tiers for the cake, using pink for the dominant colour. Lined and decorate each tier of the cake with floral patterns. Place two small baby shoes on the very top of the cake. If you already know what name you are going to give the baby girl, you can spell it out on letter blocks made out of fondant or marzipan. Place the blocks in front of the cake for a special effect.
9. Baby in a Box – Ideas for Baby Shower Cakes
Are you trying to find an awesome cake that will take away the breaths of your guests? This is definitely one that will astound everyone! Using fondant, wrap your cake in it to make it look like a box. Then create the body of a small child trying to climb into the box. This cake idea is more complicated, but is certain to amaze everyone!
10. A Sleeping Baby – Create the Perfect Cake
Soon enough the baby will be born and sleeping in their cot. Create a simple one-tiered cake, making it look like a bed, with a fondant blanket covering it. Place the figure of a small baby on top of this bed, which is also made out of fondant. If you already know the gender of the child, use either blues or pinks to express whether they will be a boy or a girl.
11. Twinkle Twinkle Little Star – A Cake Full of Stars
Everyone knows the famous lullaby song "Twinkle Twinkle Little Star." It's a great way of putting babies to sleep. Use the imagery of this lullaby for inspiration for your baby shower cake! Cut out stars out of fondant, they can be different colours, and stick them on the sides of your cake, as if they were floating up from the sky. You can place a fondant or marzipan figure of an elephant on the top of your cake, holding a fishing rod that has a star attached to it. This is a super cute cake idea!
12. Adorable Teddy Bear – Baby Shower Cakes
Every baby receives a teddy bear in their first years of life, sometimes they become inseparable! If you are planning to give your baby a teddy bear as a toy, why not use it as an idea for your baby shower cake as well? Place the fondant figurine of a teddy bear on top of the cake. Depending on whether the baby will be a boy or a girl, you can have pink or blue appearing as a dominant colour on the tiers of the cake.