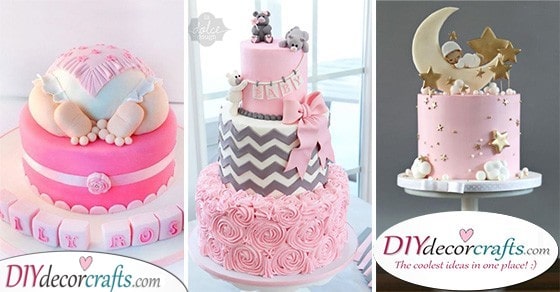 When you are planning a baby shower, you would like everything to be completely perfect! There are so many elements you have to observe while planning a party. At a baby shower, not only is the decor and theme of the party important but the activities you and your guests will play and the food and drinks served, will also play a big part. One of the most crucial elements of food and drinks is the baby shower cake. How could you not have cake at your baby shower anyhow? Celebrations always call for a tasty slice of cake! The theme of your shower should match the decorations of the cake itself. We have gathered 25 baby shower cake ideas for girls to make your job easier! So, if you are expecting a baby girl and are in need of a beautiful cake, just browse through our collection of baby shower ideas!
1. Pretty in Pink – Adorable Baby Shower Cakes
Here's the perfect cake for you, if you are expecting a baby girl. Create two baby feet out of fondant or marzipan which are linked to the sleeping bottom half of the baby's body. Place this on top of the cake. After rolling out a sheet of pink coloured fondant, place that over the body, as if a diaper was covering the sleeping baby's bottom. Further, decorate the cake with pink fondant, and you can even have the text "it's a girl" written on it. This is a cake which is simple, but perfect for a baby shower!
2. Bears with a Banner – Pink and Grey Combination
If you love bears, you will love this baby shower cake. Create a cake out of a few tiers. After covering each tier with a different decoration of icing or fondant, create the figures of two small bears out of marzipan or fondant. Have one bear stand on the middle tier, holding a banner, while placing the other bear on top of the cake, holding the other end of this banner. You can write whatever you'd like on your fondant banner, whether it's the name of the baby girl or just a few hearts, anything will look great! We recommend a combination of pink and grey for the colours of the cake.
3. Sleeping Beauty – Shades of Pink
Since you are expecting a girl, make sure to use a lot of pink in your baby shower cake! Create a two-tiered cake, the bottom tier can be decorated in ombre pink ruffles of icing. Out of fondant or marzipan, create the form of a sleeping baby girl. Place her body on the top tier. Cover her in a blanket made out of fondant. The baby on the cake will look like Sleeping Beauty!
4. A Cute Pram – Baby Shower Cake Ideas for Girls
When going on walks, newborn babies are placed in prams. So it only makes sense if you use a pram as inspiration for your baby shower cake. Create the shape of a pram out of fondant or marzipan and place it on the very top of your cake. Use shades of pink or silver tones for the icing and decoration of the rest of the cake. You can even write up "baby" or "baby girl" with some fondant pearls on one of the sides of the cake.
5. A Stylish Stork – Pushed Around in a Pram
When trying to find inspiration, on how to design and decorate the cake for your baby shower, try searching for objects or ideas closely linked to newborn babies. For example, combining the myth of the stork bringing children to their parents with a more simple, daily object, like a pram, will show brilliantly on any cake. The rest is completely up to you, on how you'd like to decorate it!
6. A Baby Bundle – Stork Cake Ideas
There's a common story we tell children, who are deemed too young to know anything of the sort, that storks deliver newborn babies. While we discover as we get older, that this story is just a myth, the adorable image of a stork flying with a baby bundle remains in our imagination. How about you use this idea for your baby shower cake? Have a stork carrying a baby in a bundle made out of fondant and placed on the top of the cake or on the side.
7. An Array of Clothes – Drying on a Clothesline
Newborn babies need a lot of sleep. You might already have their cot set up in their room, with a few plush toys waiting for them! Create a cake for the baby shower, which symbolizes their need for sleep. You can shape pearls, flowers and a moon out of fondant, carefully placing them on the tiers of the cake. Also consider creating teddy bears out of either fondant or marzipan, who are sleeping or just sitting around the cake. Place them on the tiers of the cake for an adorable effect!
9. Gorgeous in Lace – Flowers and Ribbons
Here's an absolutely gorgeous cake for a girl's baby shower! Roll out the fondant and cut designs into it, to make it resemble lace. Furthermore, you can decorate the cake with small fondant pearls and fondant ribbons. To give your cake an even more beautiful look, you can use actual flowers for decor elements as well. Place some on each tier of the cake, making sure the colour of the flowers matches the colour of the cake.
10. Amazing Elephant – Cute Animal Designs
Elephants are such cute animals! If you love them as much as we do, make sure to gather some inspiration from them for your baby shower cake! Since the baby is going to be a girl decorate the cake in shades of pastel pink and grey. You can create polka-dots out of fondant or marzipan scattered around the cake. Place the figure of an elephant on top of the cake, covered in a pink blanket with a ribbon around one of its ears.
11. Baby Bunny Rabbit – With a Balloon
Here is a more delicate cake, which is perfect if you are expecting a baby girl. Create a two-tiered cake, covering both tiers in different colours of fondant. One tier can be white, the other a lighter shade of pink. Create small pearls out of fondant and line the cake with them. Also, you can make a cute bunny rabbit out of marzipan, and place it on the top of the cake. Attach a fondant or marzipan balloon to its hand.
12. Florals and Baby Things – Cake Ideas for Girls
Now, here's another great cake idea for a girl's baby shower. A gorgeous floral design will blow your guests away! Create a variety of small, delicate flowers. Pressing them onto the sides of the cake. Your cake will look like an enchanted garden! Since we are talking about a baby shower though, it's important to incorporate baby objects into the cake as well. For example, create a baby bottle or baby shoes out of marzipan or fondant. Place these on the cake!