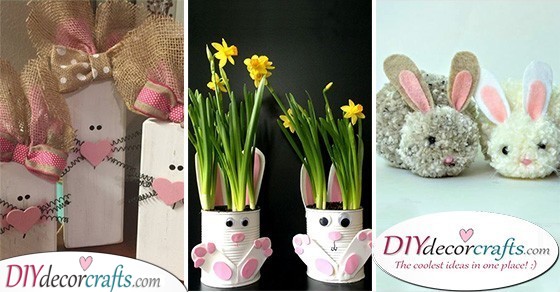 Spring is finally here! The days are growing longer and warmer, it truly is a time of rebirth. With the arrival of spring comes Easter as well, a period of celebration and joy. Bunnies come out from their hiding holes and leave eggs everywhere for children to find. In order to get into the festive spirit, why not consider decorating your home with some Easter themed ornaments? Take a look through our collection of DIY Easter bunny craft ideas. Make these Easter bunny decorations at home by yourself or with family and friends, so you will be enveloped in a merry mood for the holidays. So make sure to look through our collection of Easter ideas.
1. A String of Rabbits – Adorable Decor
A cute way of decorating your house is with this idea. Cut out silhouettes of sitting rabbits from colourful pieces of paper. Then buy or make small pompoms and stick them on the bottom of the rabbit. Attach the rabbits on strings and hang them on walls. This is also a fun activity to do with children.
2. Funny Bunnies – DIY Easter Bunny Decorations
What's that digging up the flowers? Oh, it's just decoration! Amuse your family and friends with this awesome idea. In pots of flowers place easter bunny plushies with their bottoms sticking out. This will amuse anyone who stops by your house, and it might give your children a hint of where they'll find chocolate eggs on Easter Day.
3. Tin Can Bunny Planters – Easter Bunny Craft Ideas
During springtime, you can do so many great things outdoors. Gardening is not only a rewarding hobby, but it's also beneficial for your health. So, take a break in your garden and make these cute little tin can bunnies. All you have to do is paint the can in the colour of your choice, this will be your tin can bunny's fur coat. Draw or glue on some eyes, a mouth and a nose for the rabbit. Then attach feet made out of paper or felt, remember to stick on parts of its paw as well. You can attach felt or paper ears to the back part. Finally, fill them with soil and plant flowers in them. 
4. Wooden Bunnies – Easter Arts and Crafts
If we've ever seen an adorable Easter bunny decoration idea, it's this one! Not to mention, it's super easy to create by yourself! You will need painted wooden blocks for the rabbit's body, black wires for whiskers, burlap for the ears and felt, cut out in the shape of a heart, for the nose. You can tie an additional ribbon around the burlap ears. These bunnies make a great decoration on a shelf or a mantle, or even as a table centrepiece!
5. Bunny Garland – Easter Bunny Decorations
A row of fluffy pom-pom bunnies will make any home cosy and ready for Easter. Pom poms are really easy to make at home, making this an ideal Easter Bunny decor if you don't have much spare time. If you've already made your pom-poms, all you need to do is attach a small cotton ball on one end, this will be the tail. On the top, stick on two pieces of fabric, which will become the bunny's ears. String up the pom-poms and you're done with your garland.
6. Modern Bunnies – Awesome DIY Decor
If you're looking for a modern and simplistic take on Easter bunnies, you've come to the right place. Stick two different sized wooden beads together, the bigger one should be on the bottom, this is the rabbit's body, while the smaller one should be on top, this will be the head. For the tail, stick a fluffy cotton ball to the body, while for the ears stick two pieces of cut out felt on the head. 
7. Bunny Plushies – Easter Bunny Craft Ideas
Do you like vintage-looking plushies that look like they've been taken out a child's nursery? How about you try making them yourself? To make a cute bunny doll, like the ones shown in the picture above, you will first need to find a template for the body. Cut out two pieces of fabric in the shape of the template. Start sewing them together and remember to stuff it with cotton before finishing the sewing. You can use buttons for the eyes and nose. Decorate them further with bows.
8. Sock Bunnies – DIY Cute Plushies
This cute sock bunny is not only a great source of decor for Easter, but it will make a perfect toy for your kids, they will probably want to fall asleep cuddling this toy rabbit. It's quite easy to make, with a great step by step tutorial on the picture above. You can also make a carrot for it to hold.
9. Paper Roll Bunnies – DIY Easter Bunny Decorations
Paper roll bunnies are not only super easy and fun to make, but cheap as well! Cut out ears, a circle for the face and small paws from paper. Glue these onto a paper roll, which you painted beforehand. You can glue googly eyes on the rabbit for an adorable effect. Use straw for the whiskers.
10. Fluffy Pom Pom Bunnies – Easter Decor
As we mentioned before, pom-poms are perfect for creating rabbit toys. To create an interesting and furry effect, use a unique type of wool for the pom-poms. Attach two pom-poms together, one being slightly bigger than the other. To the smaller one attach felt ears, sew on buttons for the ear and nose. Not only are these rabbits great Easter bunny craft ideas, but they also make great toys for children.
11. Handprinted Rabbits – Easter Decor
If you'd like to get your family involved in making Easter decorations, then this is perfect for you, as this is something even small toddlers can easily make. Dip the palm of your hand in paint, but make sure that only two fingers are dipped in paint (these will be the ears). Place your hand on a sheet of paper and let the paint dry, it should look like the head of a rabbit. Afterwards, you can draw a nose, mouth, eyes, and whiskers on your handprinted bunny.
12. Easter Candy – Easter Bunny Decorations
These Easter Bunnies seem to have eaten all the Easter eggs themselves! Pour chocolate and candy eggs into mason jars, then decorate them. Attach a ribbon around the neck of the jar, and attach a bunny head on the lid. These jars will make a cute decoration, as well as keeping the candy safe from unwanted hands.