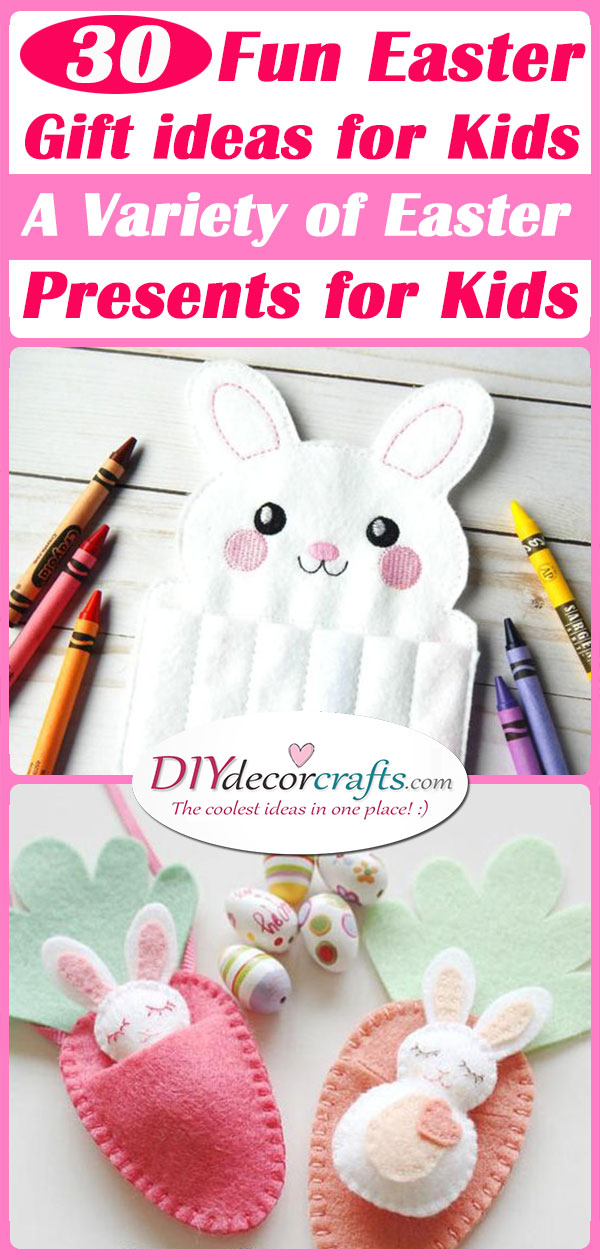 Easter is just around the corner, everyone seems to be bursting with spring energy. Naturally, one question will pop into your mind, what presents should you get your kids, or should you do some DIY together with them? Well, take a look through our 30 fun Easter gift ideas for kids, we have many options to choose from. Our variety of Easter presents for kids will help you hatch a creative idea on what's best for this year's Easter!
1. Carrot Pencil Cases – Cute Easter Gift Ideas for Kids
Make these cute handmade Easter gifts with your kids this year! These carrots are not only adorable, but they are practical as well, as your kids can place their pens and pencils inside. All you need is orange and green fabric, a needle and some thread. The orange part of the carrot should have a double layer, so you can place pencils inside without them falling out.
2. Paper Bunnies – Easter Presents for Kids
Want to surprise your kids with some paper Easter bunny craft bags full of delightful treats? Well, these Easter presents are easy and fun to assemble! Cut out the shapes of bunnies from paper, start sewing two of these shapes together. Before completely sewing it up, place an array of chocolate eggs inside, so when your kids open up one of these bunny bags, chocolate will be pouring out. 
3. Treat Bags – Filled with Fun
Gift your kids with something unique for Easter! Hide lollypops in small sewn Easter eggs. To make these small Easter egg treat bags real eggs, stick googly eyes and beaks on the lollypops. The lollypops will look like baby chicks hatching from their eggs. These Easter gifts might be fun to make together, it's always great getting your kids involved in Easter activities.
4. A Pot Full of Treats – Tasty and Delicious
A simple way to present your children with Easter gifts is by putting them all in an empty pot. Paint the pot a pale pastel colour, you can decorate it in whatever way you would like. Then fill them with snacks and treats, making them perfect for kids.
5. Beanbag Chicks – Easter Gift Ideas for Kids
Hatch some small chickens inside plastic eggs! Making beanbag chickens are really simple, not to mention really cheap to create! Your kids will love the idea of chickens hatching inside a plastic egg, and being able to take them out of the eggs whenever they want to and play with them. These make the perfect Easter presents for children!
6. Egg Carton Animals – Unique Easter Presents for Kids
These Easter gifts are ones that you can make at home together with your children. All you need are empty egg cartons and paint. Cut up the egg cartons into smaller pieces and depending on what sort of animal you would like to create, decorate them in that way.
7. Terra Cotta Rabbits – Special and Adorable
Use terra cotta pots as small treat baskets! Paint them with any colour you'd like, and turn them into bunnies! Stick googly eyes on them, a pom-pom or a button for a nose and draw a mouth. You can glue ears, made out of felt or paper, on the back of the terra cotta pot. Stuff your pots with candy and chocolates. These terra cotta bunnies are the perfect Easter crafts for kids! 
8. Disney Themed Eggs – Favourite Characters
Do your kids love to watch Disney movies on repeat? Then why not decorate your Easter eggs in the form of Disney characters? Decorate your Easter eggs with this idea, and give them as Easter presents to friends or kids.
9. Lollypop Bunnies – Adorable Handmade Easter Gifts
These lollypop rabbits are absolutely adorable! It gives a whole new twist on Easter treats. All you need are googly eyes, pipe cleaners (for the ears), tiny pom-poms (for the hands, nose and teeth), small foam craft balls (for the head) and cut out felt (for the feet). Arrange these on lollypops and with a glue gun attach them on the lollipop to make these special Easter gifts.
10. Sleeping Bunnies – One of the Cutest Easter Presents for your Kids
Stitch together this super cute design for your loved ones for Easter. You can sew these little rabbits and their carrotty sleeping bags together in just a few hours. Your children will really love these Easter gifts!
11. Bunny Box – Easy Easter Gift Ideas for Kids
If you've run out of time and ideas on what to give your kids for Easter this year, try out this simple gift idea! Make a bunny box using a template. After sticking all the parts together, you can place a bunch of candy and chocolates inside for your kids.
12. Knitted Bunny Basket – Fantastic and Fabulous
Do you have more time on your hands and do you love knitting or crocheting? Then this is a great gift idea for you to make! Attach the knitted head of a rabbit onto a basket, then fill your basket up with goodies. You can also sew knitted rabbit ears onto the basket to make it more rabbitlike.
13. Woodland Animals – Adorable and Simple
You don't always have to stick to the norms when decorating your Easter eggs! You can paint or dye them in any manner you'd like. If you're a huge lover of woodland animals, why not make each egg a dweller of the forest? One egg can be decorated as a stag, another as a fox. These will make awesome Easter gifts for family and friends, not to mention kids will love them as well!
14. Pom-pom Chickens – Cute Easter Crafts for Kids
Pom-poms are easy peasy to make, so making these handmade Easter gifts will take you no time at all! To make these adorable little chickens, stick two yellow pom-poms together. With a glue gun or super glue, you can attach legs to the body of the chicken. You can also glue a beak and some beady eyes on it.
15. Embroidered Felt Eggs – Great Easter Gift Ideas for Kids
Make Easter egg purses filled with chocolate and candy for your kids! Sew together two pieces of felt, that are shaped like eggs. Embroider one side, or decorate it however you'd like. On the other side add a zipper, so you can close the mini egg purses. Before giving these Easter presents to your children, remember to fill them with lots of tasty treats!
16. Rabbit Crayon Holder – Easter Presents for Kids
Do your kids love crayons? Give them cute rabbit crayon holders as Easter presents! Using a fluffy white fabric, you can sew together this crayon holder. Sew small holes for the crayons to fit in. 
17. Bunny Drawstring Bags – Filled with Candy
Another fabulous way of giving children their portion of Easter candy is by putting them in drawstring bags. Decorate the drawstring bags as rabbits, to give them that Easter vibe. When finished, stuff the bags with your kids favourite chocolates. These will make the perfect Easter presents. 
18. Stitched Chicks – Marvellously Cute
If you don't know what to give your kids as Easter gifts this year, why not put some energy and time into stitching these cute little chickens? These are the sorts of gifts, that your kids will be able to look at in twenty or more years, and remember you made that for them!
19. Personalised Easter Baskets – Awesome Easter Gift Ideas for Kids
Get your kids' names sewn onto their Easter baskets for a more personalised gift! Then put all sorts of goodies in the basket, beautifully painted Easter eggs and chocolate.
20. Bunny Party Hats – Fun Easter Presents for Kids
Are you throwing an Easter party? Get your kids into the party mood, by asking them to help make party hats! This is a really easy DIY craft for all ages. After rolling up a sheet of paper to form a party hat, decorate it to make it look like a rabbit by glueing on ears and whiskers. Your children will not only love to help make these Easter gifts but will also adore wearing them!
21. Funny Bunnies – Easter Gift Ideas for Kids
Have you been searching for a cute and quirky idea on how to decorate your hardboiled eggs this Easter? Twirl some white thread around your eggs, making sure they are encased from head to bottom. The white thread should give it a woolly effect. Stick some felt ears and feet to the egg, and don't forget to add eyes and noses to them! These will make super cute Easter gifts for anyone!
22. DIY Nest Full of Eggs – DIY Easter Present for your Kids
Create your very own nest of eggs, using string art! Take a quick look at the picture above, it demonstrates how you make string art with the help of a balloon. Not only is it simple to make, but it's also something that will look good as decor in your home, through any time of the year! When giving these as Easter presents, fill them with fake grass or moss, and place some chocolate eggs inside.
23. Knitted Bunnies – Great Easter Gift Ideas for Kids
Is there anything kids love more than a new toy? Make these delightful little bunnies as Easter presents for them! All you need is a square of knitted wool and some thread, with which you sew it together. For a tail, you can sew on a pom-pom. These small rabbits make great toys, as well as great Easter decor.
24. Easter Rabbit Treat Cones – Easter Presents for Kids
Spring into Easter by making these treat cones with your children at home! Roll up a paper, forming a cone. Then decorate it with googly eyes, whiskers and ears. Fill your cones with all the goodies your kids' love!
25. Crochet Baskets – Handmade Easter Gift for Kids
Crocheting is a bit tricky to learn, but once you get the hang of it, you just can't seem to get enough! Give handmade Easter presents this year to friends and family. Crochet a small basket, in which you can place a few chocolate eggs. This will also make cute Easter presents for adults, not only kids!
26. Rabbit Pencil Holder – Simple Easter Presents for Kids
Do you love to recycle everyday objects and create something brand new out of them? Then this idea was made for you! Out of a toilet paper roll make a cute pencil holder that looks like a rabbit! If you like this idea, take a look at the tutorial above. Your kids will love it if you present them with these handmade Easter gifts.
27. Easter Egg Cones – Perfect Easter Gift Ideas for Kids
Give completely edible Easter presents this year to your kids. Fill up plain ice cream cones with chocolate eggs and candy, and wrap it in cellophane. Your children will be delighted to eat this Easter ice cream!
28. Surprising Egg Cartons – Easter Presents for Kids
Recycle your egg cartons and turn them into Easter gifts instead! Paint over the egg cartons with lovely colours, and glue on the recipients' initials. You can place dyed eggs inside the carton or chocolate ones.
29. Jars Full of Chocolates – Tasty Easter Gift Ideas for Kids
Maybe you are going on holiday this year for Easter with the family. If so, your kids might be missing out on their annual Easter chocolate egg hunt. So, if your kids can't be there for the egg hunt, bring the chocolate eggs to them! Place chocolate and candy eggs in jars, and present your kids with these Easter gifts this year.
30. Brilliant Baskets – Creative Easter Presents for Kids
Perhaps you'd like to put your Easter eggs in a beautiful basket this year. Design your basket yourself. Depending on who you're giving it to, make sure it's put together in a way that they will like it. Finally, fill your Easter presents with eggs.
Hop into Easter with these 30 great ideas! We hope we've inspired you to be creative with this year's festivities. Check out our Easter nail designs as well!
Advert