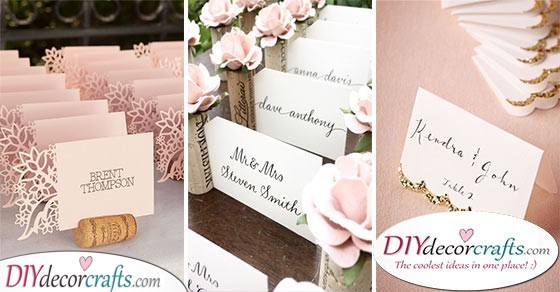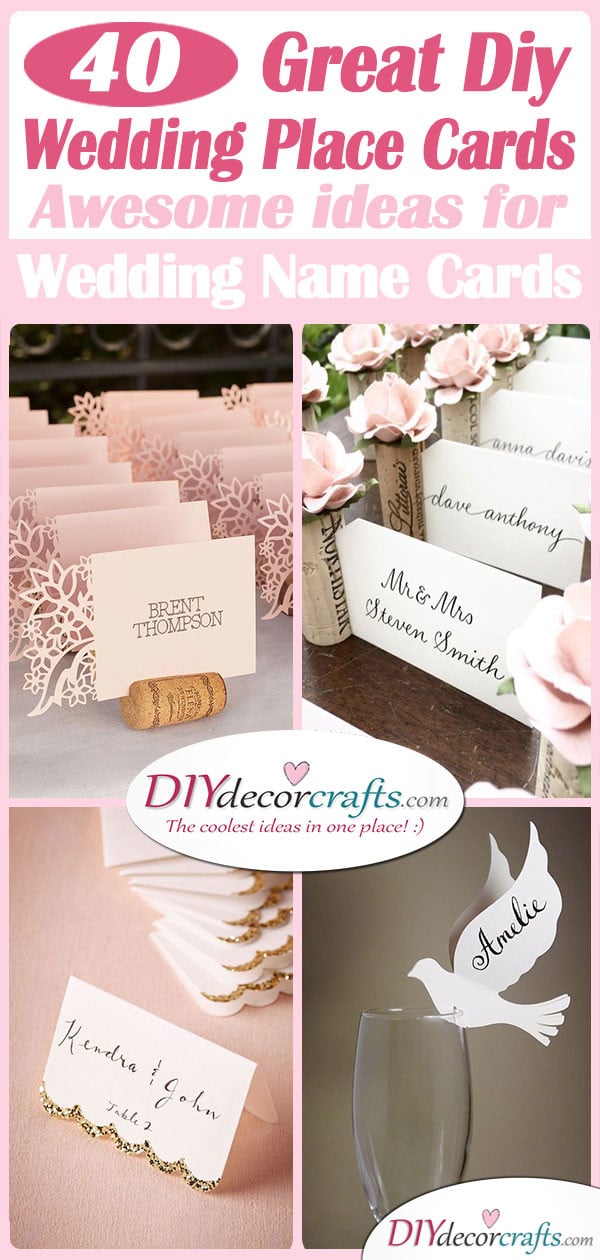 When it's time for the wedding feast, you don't want your guests squirming around to get a good spot. You want to give everyone a designated seat, where they might be around their own acquaintances or friends. This is why wedding name cards were invented. Nowadays, using DIY wedding place cards at receptions is growing more and more stylish. We have collected 40 wonderful wedding place cards so hopefully, amongst these ideas, you will be able to find one that complements your wedding decor and style. Feel free to look through these wedding ideas!
1. Floral Laser Cut – Beautiful and Intricate
A beautiful way by presenting your guests with a wedding place card that has been laser cut. Laser cutting is a gorgeous technique, with what you can make a simple paper look like lace. Write up everyone's names on the cards. Stick them in something heavier (like a cork) so they won't be blown away by the wind.
2. Adorable Bows – Make Sure to Try It Out
If you're thinking of giving your guests simple wedding place cards, but still want to throw it up a notch, then this is a great idea. It's simple and you can even make these at home by yourself. It's a slip of paper folded in the middle and on one side you write the name of your guest and attach or draw a small bow on it.
3. Rustic and Natural – DIY Wedding Place Cards
If you're planning a rustic themed wedding, then these wedding place cards will be perfect for you. It's not only simple to make at home, but also a cheap option! By tying two twigs together, you can slip a place card in. Make sure that your place cards match your wedding decorations!
4. Pretty Floral – Wedding Name Cards
Planning a spring or summer wedding? If so, then you might like this idea! Adding a flower to your wedding place cards will convey a simplistic elegance. This sort of wedding place card would look especially good at an outdoor wedding.
5. Beautiful Blush – Inspired by Florals
If you love warm but pale colours, like a soft blush, then why not use it for your wedding place cards? Using a pale colour also allows you to write up the names more clearly.
6. A Wave of Glitter – Stylish and Fancy
If you like glittery designs, then you might like these wedding place cards. With whichever part of the card you want to decorate with glitter, all you have to do is put some glue on it and stick it into a pile of glitter. You can make your cards more decorative if you cut it into an interesting shape.
7. An Elegant Laser Cut – Great DIY Wedding Place Cards
Another set of laser cut wedding place cards. Depending on what the theme and decor at your wedding is, get your place cards to match it. If you're planning a classic and more elegant wedding, then you might contemplate on using the laser cut technique to make your cards stand out.
8. Cute Bows and Ties – Wedding Name Cards
An elegant and creative way of presenting your guests with their wedding place cards is to make them gender-coded. For ladies attach a bow to the card, for men attach a tie. This will definitely draw a smile on your guests' faces. You may use the same decorative design for your wedding invitation cards.
9. Romance in Nature – Wedding Place Card Ideas
Maybe you love hiking in your free time or walking in forests. Well if want your wedding place cards to radiate with your love for nature, then this might be a perfect choice for you. The information can be written on a simple piece of paper. You have to cut up thin branches to make smaller logs, which you have to saw in the middle. You can slip the card into the thin cut in the log. Just take a look at the picture above, isn't it enchanting?
10. Flowery Place Card Holders – Reuse Corks
Using a place card holder helps them not to get blown away by some sort of wind, making it a practical solution for outdoor weddings. If you're in search of a practical solution and also want to decorate your place card holders, then look at the picture above. The wedding place cards are slid into a vase, a chunk of wood or a box, and there's also a lovely flower attached to the top of it.
11. A Bird – Interestingly Shaped DIY Wedding Place Cards
If you want wedding place cards, that are more unique and creative, then consider cutting out an interesting shape, for example, a bird. You can place this card on your glasses. Then simply write your guest's name on the card.
12. An Essence of Elegance – Wedding Name Cards
If you haven't found your ideal wedding place cards, but have been thinking of hosting a traditional and elegant wedding, then take a glance at the picture above. These cards really do carry an essence of elegance with themselves. Tie a ribbon around one of the sides of the card and attach a bead or a crystal to it.
13. A Delicate Flower – Folded Wedding Place Cards
Beautifully designed wedding place card ideas can be seen in the picture above, for anyone who wants flowers to be the main source of attraction at their wedding. This delicate, floral card has a very romantic vibe to it. If you're an artist or good at painting you might want to design and recreate cards such as this.
14. Tiny Details – How to Make Wedding Place Cards
This place card might take a bit longer to find! Small, but cute wedding place cards are a trend now. Stick them between the legs of the forks or attach them to the utensils. This will give the wedding place card a bit of a rustic vibe.
15. Small Stones – Unique and Natural
Using pebbles and stones as place cards or decoration is becoming more and more popular. It's not only easy to create but cheap! Collect small pebbles and stones and paint up guests' names. Swirl a string around it, as shown on the picture above, to make these wedding place cards even cuter.
16. Watercolours – Artistic and Refined
Using watercolours as a decoration makes wedding place cards look a lot more refined in a creative way. You can paint something on one of the corners of the place card while writing up the name of the guest and the table they are assigned to in the middle.
17. Sparkly Cards – Fancy DIY Wedding Place Cards
Have you been thinking of having a fancier wedding? Are you a huge fan of sparkles and glitter? Then take a look at the wedding place cards above. Using gold as the main colour is a great idea because it has an angelic aura and it also goes well with any other shade.
18. Spanish Tiles – Fantastic Wedding Name Cards
Do you love to travel and expand your horizons by seeing more of the world? Have you been to Spain recently? Well, maybe you saw some of these vibrant tiles in markets and were inspired by them. Spanish tiles look beautiful, and would also make awesome place cards. They can be ordered online.
19. A Shining Idea – Folded Wedding Place Cards
Elegant and classic wedding place cards. This one is simple to make at home. Decorate it with glitter to give it a beautiful shine. Write the guests' names in the middle and the number of the table they will be sitting at.
20. Nature's Gift – Leaves as Wedding Name Cards
There are numerous alternatives to using standard wedding place cards. For example, leaves are a great way of replacing paper cards. Using any sort of leaf you want, all you need to do is write up the guests' names with a marker. Make sure that the names are readable.
21. Wreaths – DIY Wedding Place Cards
Wreaths are a beautiful decoration at any sort of event, so why not use them at your wedding as wedding place cards? If you are planning a vintage or rustic wedding, then these wreaths will be a great addition to your set of natural and earthy elements. All you need to do is attach the name tags on the wreaths. If you want your wreaths to look even prettier, think about attaching some rosemary or lavender to them.
22. A Natural Atmosphere – Creative and Simple
Another stunning way to help your guests find their seats, is by putting the place card amongst flowers in a vase. You can put any sort of flowers in the vase that you'd like, maybe think about using flowers that complement your bridal bouquet or the wedding decor. Then place the vase on the soup plate. This will assist your guests in finding their way to their table quickly and efficiently. 
23. Wooden Clips as an Inspiration – Rustic Vibes
If you want a simple and rustic place card, then check this idea out! Use a wooden clip as a place card holder in which you can slide in your wedding place cards. If you would like to decorate the wooden clip a little, try out pasting lace on the sides. You can cut out your cards however you'd like, heart shapes are always a great choice.
24. Lovely in Lace – How to Make Wedding Place Cards
If you're enthusiastic about lace, then these wedding place cards might be meant for you. This is a super simple card you can make at home, all you need are the cards, which you stick some lace and a ribbon around. Don't forget to place a smaller card on top of all this, on which the guest's name is written and their table's number.
25. A Bridal Theme – DIY Wedding Place Cards
If you want your wedding place cards to bear a slight resemblance to the bride, then this is a great idea. Line your card with white lace tie a white ribbon around it. You can decorate this further, by placing a small jewel in the middle of the ribbon or tying the ribbon in a bow.
26. Wooden Pegs – Simple Wedding Name Cards
If you've run out of time to create fancier wedding place cards, or if you're in the mood for something a tad bit more simple, then this idea might be a good decision. All you need to do is write up your guests' names on the sides of wooden clips, and peg them onto wine glass stems. This idea is quirky and cute.
27. Festive Place Card Holders – DIY Wedding Place Cards
Can you think of a more whimsical way of presenting your wedding place cards than the idea shown above? If you're planning on hosting your wedding during autumn or winter, then these flowers and succulents painted with gold will give your tables and cards a festive vibe. You can place the card in between a few petals or leaves to make it stand up straight.
28. Simple Pastel – Pretty in Pink
Have you been looking for simplicity and elegance combined in the form of wedding place cards? Well, you can stop searching. You can try using beige or pastel colours for the cards, they will give them a glow of refinement. You can use a laser-cut technique to make a design for the front of the card. Make sure that your personalised wedding napkins match the place cards.
29. Golden and Magical – Perfect for Your Big Day
As we mentioned before, gold is a colour that goes well with everything. So it would come as no surprise if gold would play a prominent role in wedding decor. You can use gold in your wedding place cards in many different ways. A simple gold paint can make your cards shine, but a beautiful layer of glitter will make it sparkle like the sun.
30. Recognize Yourself – Fun Wedding Name Cards
A more unique idea for wedding place cards is this one! Instead of writing up their names, present your guests with photos of themselves. Attach the photos to corks, and scribble up their table number on the cork. This will be a fun game for your guests to find themselves.
31. Cootie Catchers – Adorable DIY Wedding Place Cards
Are you thinking about making your place cards by yourself? This is a great DIY idea. Cootie catchers are easy to make out of paper and lend the decor a sense of nostalgia. If the newlywed couple has a good sense of humour and likes playful things, then this is a great idea for seating cards!
32. Wine Corks and Roses – Romantic Wedding Name Cards
Are you and your significant other lovers of wine? Then we're certain, that you will be serving wine at your wedding! To complement your love and taste, try out these seating cards. Cards placed into corks, which are decorated with a small paper flower, will give your guests a good idea of what they'll be drinking during the party.
33. Silver and Blue – DIY Wedding Place Cards
Blue and silver have always been dreamy mix of colours. If you are hosting your wedding ceremony during winter, then this is an excellent choice, concerning colours, for place cards. Giving your cards a blue background and sprinkling their tops with silver glitter, will make it feel like a Christmas wonderland.
34. Pleasant and Pink – Sophisticated with Style
If your wedding's decor is going to be centred around the colour pink, then it won't be unexpected that your seating cards are pink as well. Using a pastel or a baby pink can bring an element of harmony and feeling of love to your cards. You can decorate this further by tying a ribbon around the card.
35. Wheat as a Decoration – Rustic and Organic
A natural or rustic themed wedding means that your seating cards will probably convey the same theme. Glueing some wheat on the wedding place cards will help your guests embrace the natural spirit of your wedding.
36. Cake Lace on Cards – Great Wedding Name Cards
A cheap and easy way of decorating your wedding place cards is with laced cake paper. Stick the lace on the cards and write up your guests' names as well as the number of their table. You can make this at home by yourself, as it's not complicated at all.
37. An Oceanic Theme – Creative DIY Wedding Place Cards
38. Table Mats – Wedding Name Cards
An easy way to show your guests to their seating arrangements is by writing their names on the table mats themselves. Make sure your alternative wedding place cards complement the style and decor of your wedding.
39. A Cootie Catcher with a Game – Unique and Fun
We mentioned using a cootie catcher before, but if you want your guests to play a guest-centred around you and your beloved one's relationship, then try out this unique idea! Use the front of the cootie catcher as wedding place cards, On the inside pages, write up questions about your relationship, for example, how did you meet or when did you get engaged? The answers will be revealed on the inside pockets, but invite your guests to play the game first. Let's see how much they know about you!
40. Gold and Navy – Stunning and Chic
Navy and gold are not exactly the two shades of colour that scream "wedding", however, they create such an exquisite elegance that can only be admired. If you love darker shades, then this might be a great choice for your wedding place cards.
Just like in departments of decor, wedding place cards can come in all sorts of forms, shapes and colours. It's completely up to you how you want to style it. We hope this collection of 40 great wedding place cards has inspired you and given you an idea of what sort of card you'd like. If you are looking for more ideas concerning weddings, such as wedding napkins, make sure to visit our website.
Advert