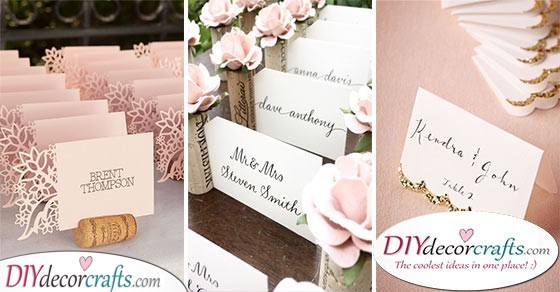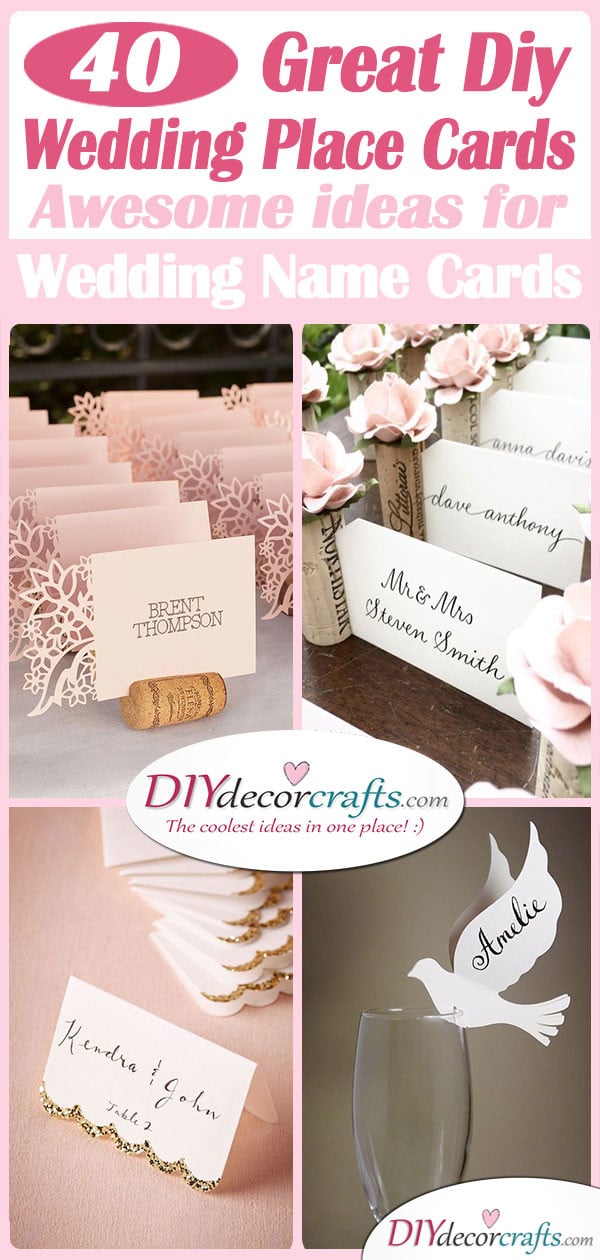 When it's time for the wedding feast, you don't want your guests squirming around to get a good spot. You want to give everyone a designated seat, where they might be around their own acquaintances or friends. This is why wedding name cards were invented. Nowadays, using DIY wedding place cards at receptions is growing more and more stylish. We have collected 40 wonderful wedding place cards so hopefully, amongst these ideas, you will be able to find one that complements your wedding decor and style. Feel free to look through these wedding ideas!
1. Floral Laser Cut – Beautiful DIY Wedding Place Cards
A beautiful way by presenting your guests with a wedding place card that has been laser cut. Laser cutting is a gorgeous technique, with what you can make a simple paper look like lace. Write up everyone's names on the cards. Stick them in something heavier (like a cork) so they won't be blown away by the wind.
2. Adorable Bows – Cute Wedding Name Cards
If you're thinking of giving your guests simple wedding place cards, but still want to throw it up a notch, then this is a great idea. It's simple and you can even make these at home by yourself. It's a slip of paper folded in the middle and on one side you write the name of your guest and attach or draw a small bow on it.
3. Rustic and Natural – DIY Wedding Place Cards
If you're planning a rustic themed wedding, then these wedding place cards will be perfect for you. It's not only simple to make at home, but also a cheap option! By tying two twigs together, you can slip a place card in. 
4. Pretty Floral – Wedding Name Cards
Planning a spring or summer wedding? If so, then you might like this idea! Adding a flower to your wedding place cards will convey a simplistic elegance. This sort of wedding place card would look especially good at an outdoor wedding.
5. Beautiful Blush – DIY Wedding Place Cards
If you love warm but pale colours, like a soft blush, then why not use it for your wedding place cards? Using a pale colour also allows you to write up the names more clearly.
6. A Wave of Glitter – Stylish Wedding Name Cards
If you like glittery designs, then you might like these wedding place cards. With whichever part of the card you want to decorate with glitter, all you have to do is put some glue on it and stick it into a pile of glitter. You can make your cards more decorative if you cut it into an interesting shape.
7. An Elegant Laser Cut – Great DIY Wedding Place Cards
Another set of laser cut wedding place cards. Depending on what the theme and decor at your wedding is, get your place cards to match it. If you're planning a classic and more elegant wedding, then you might contemplate on using the laser cut technique to make your cards stand out.
8. Cute Bows and Ties – Wedding Name Cards
An elegant and creative way of presenting your guests with their wedding place cards is to make it gender coded. For ladies attach a bow to the card, for men attach a tie. This will definitely draw a smile on your guests' faces.
9. Romance in Nature – DIY Wedding Place Cards
Maybe you love hiking in your free time or walking in forests. Well if want your wedding place cards to radiate with your love for nature, then this might be a perfect choice for you. The information can be written on a simple piece of paper. You have to cut up thin branches to make smaller logs, which you have to saw in the middle. You can slip the card into the thin cut in the log. Just take a look at the picture above, isn't it enchanting?
10. Flowery Place Card Holders – Beautiful Wedding Name Cards
Using a place card holder helps them not to get blown away by some sort of wind, making it a practical solution for outdoor weddings. If you're in search of a practical solution and also want to decorate your place card holders, then look at the picture above. The wedding place cards are slid into a vase, a chunk of wood or a box, and there's also a lovely flower attached to the top of it.
11. A Bird – Interestingly Shaped DIY Wedding Place Cards
If you want wedding place cards, that are more unique and creative, then consider cutting out an interesting shape, for example, a bird. You can place this card on glasses. Then simply write your guest's name on the card.
12. An Essence of Elegance – Wedding Name Cards
If you haven't found your ideal wedding place cards, but have been thinking of hosting a traditional and elegant wedding, then take a glance at the picture above. These cards really do carry an essence of elegance with themselves. Tie a ribbon around one of the sides of the card and attach a bead or a crystal to it.