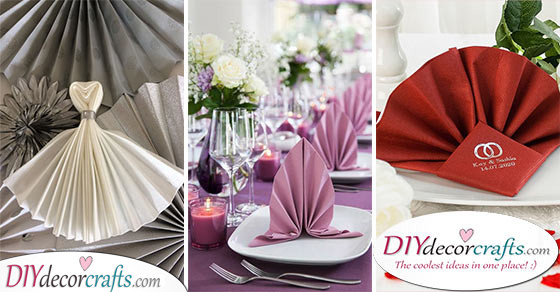 While you might not necessarily think that serviettes are an important factor in your wedding decor, let us prove to you that they most certainly are! When you look down on your plate at the wedding reception, the serviettes will be the first things you notice. If you want your wedding to be absolutely perfect, then make sure that your table decor is on point as well! This includes having the perfect serviettes. We have gathered a pick of 30 beautiful personalised wedding napkins for you to choose from. This way, you will hopefully find wedding napkin ideas that match the rest of your wedding table decor and your wedding ideas.
1. Floral Details – Decorating With Flowers
Are you going to be using a lot of floral decor at your wedding? Well, make sure your serviettes are a clear reflection of this! On strings of wire attach small flowers and wrap this floral wire around your serviette. This will give your table decor a clean and elegant look.
2. Exotic Twist – Orchids for Flowers
If you are hosting your wedding at an exotic destination, you will probably have exotic flowers enveloping your wedding venue. Your serviettes should include this unique vibe, by incorporating exotic flowers into the design. Orchids are a great choice because they are a definition of sophistication and individuality. Tie a ribbon around your serviette and place an orchid in the knot.
3. A Bit of Origami – Personalised Wedding Napkins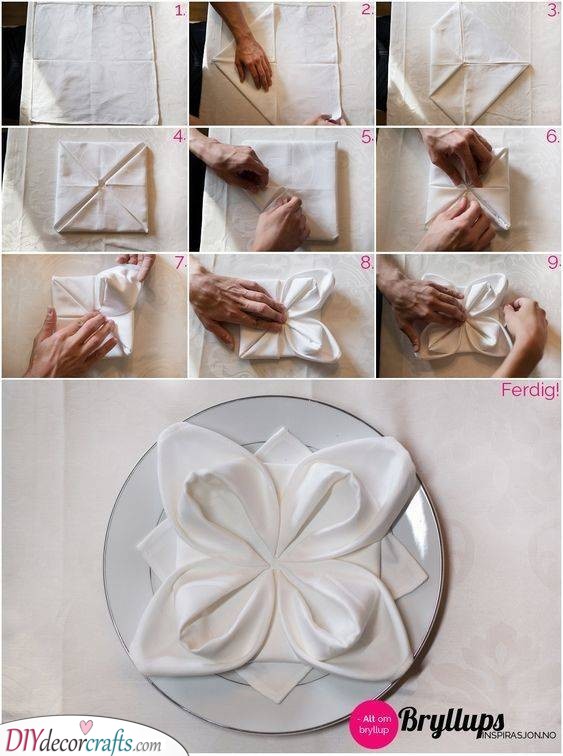 If you have time and energy before your wedding, why not fold the serviettes by yourself? This is a great idea for anyone who is a fan of origami. The idea above is an easy example that you can make by yourself. While it might be a bit time-consuming making these for all your guests, it is a beautiful way to decorate your wedding tables.
4. Elegant Folds – DIY Wedding Serviettes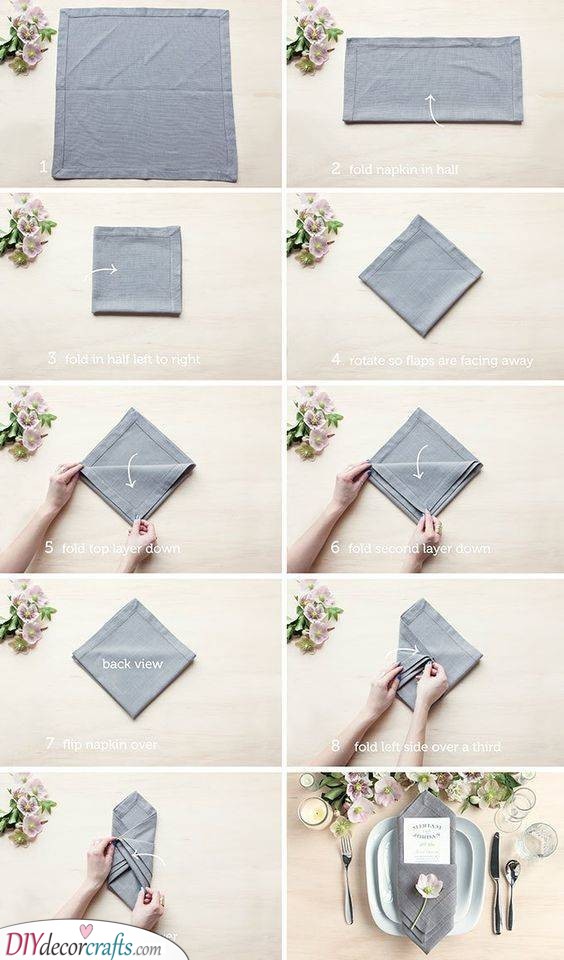 Here is another great example of folding your serviettes in an interesting way. This is a folding technique that will ensure that you have a bunch of elegant serviettes to place on tables. Use simple coloured serviettes for this idea and you can further decorate it with flowers.
5. A Fancy Serviette – Elegant and Unique
If you want your wedding serviettes to catch many eyes, here's a great idea for you! Get your serviette to mimic the shape of a fan. You can even have the name of the happy couple and the date of the wedding embroidered or printed onto the serviette.
6. Star Shapes – Beautiful Ways to Fold Your Napkin
Fold your serviettes into star shapes. This is another great example of DIY napkin origami. These folded napkins aren't only great for weddings, but they show stunningly at Christmas or New Years Eve parties as well!
7. A Pocket for Your Knife and Fork – Wedding Napkin Ideas
Present your wedding guests with their cutlery in this adorable make! Fold your napkin into a small pocket, in which you can place the cutlery. Place the pocket on the plates and you can tie a picture of the happy couple around the napkins.
8. Rustic Elegance – Perfect Personalised Wedding Napkins
If you are planning a rustic wedding, make sure your serviettes incorporate the same theme as well! Tie up the serviettes with a ribbon in a simple yet elegant manner. You can attach place cards on the napkins as well, so your guests find their seat!
9. Whimsical Wrap – Wedding Decor Ideas
Give your wedding table decor a natural and romantic look, by wrapping up the napkin and tying a sprig of rosemary or an olive branch on it. If you decide on placing the menu next to the napkin, make sure that they complement each other in colour and texture.
10. Cool Colours – Ideas for Cool Coloured Weddings
If you decide on using blue or purple as a dominant colour at your wedding, make sure all your wedding decor complements it. Great colours to use with blue or purple include white, grey or silver. Make your serviette cool coloured as well! This looks especially good during winter weddings.
11. Folded Fan – DIY Wedding Napkin Ideas
Here is a DIY picture tutorial for anyone who'd like to fold their wedding napkins in the shape of a fan. Not that these fan napkins are easier to make with paper serviettes, as they hold their shape.
12.  A Lot of Love – Heart-Shaped Serviette
Is there anything more appropriate to use on your wedding day, than a heart-shaped serviette? Make this at home by yourself out of red napkins for your wedding table decor. This will get your guests into a real wedding mood!