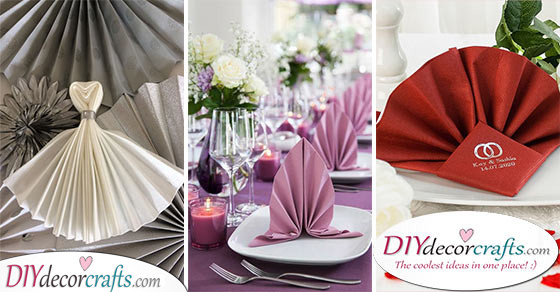 While you might not necessarily think that serviettes are an important factor in your wedding decor, let us prove to you that they most certainly are! When you look down on your plate at the wedding reception, the serviettes will be the first things you notice. If you want your wedding to be absolutely perfect, then make sure that your table decor is on point as well! This includes having the perfect serviettes. We have gathered a pick of 30 beautiful personalised wedding napkins for you to choose from. This way, you will hopefully find wedding napkin ideas that match the rest of your wedding table decor and your wedding ideas.
1. Floral Details – Decorating With Flowers
Are you going to be using a lot of floral decor at your wedding? Well, make sure your serviettes are a clear reflection of this! On strings of wire attach small flowers and wrap this floral wire around your serviette. These floral napkins will give your table decor a clean and elegant look.
2. Exotic Twist – Orchids for Flowers
If you are hosting your wedding at an exotic destination, you will probably have exotic flowers enveloping your wedding venue. Your serviettes should include this unique vibe, by incorporating exotic flowers into the design. Orchids are a great choice because they are a definition of sophistication and individuality. Tie a ribbon around your serviette and place an orchid in the knot. You can also leave your guests' wedding place cards on the napkins, allowing everyone to find their seat!
3. A Bit of Origami – Personalised Wedding Napkins
If you have time and energy before your wedding, why not fold the serviettes by yourself? This is a great idea for anyone who is a fan of origami. The idea above is an easy example that you can make by yourself. While it might be a bit time-consuming making these for all your guests, it is a beautiful way to decorate your wedding tables.
4. Elegant Folds – DIY Wedding Serviettes
Here is another great example of folding your serviettes in an interesting way. This is a folding technique that will ensure that you have a bunch of elegant serviettes to place on tables. Use simple coloured serviettes for this idea and you can further decorate it with flowers.
5. A Fancy Serviette – Elegant and Unique
If you want your wedding serviettes to catch many eyes, here's a great idea for you! Get your serviette to mimic the shape of a fan. You can even have the name of the happy couple and the date of the wedding embroidered or printed onto the serviette.
6. Star Shapes – Beautiful Ways to Fold Your Napkin
Fold your serviettes into star shapes. This is another great example of DIY napkin origami. These folded napkins aren't only great for weddings, but they show stunningly at Christmas or New Years Eve parties as well!
7. A Pocket for Your Knife and Fork – Wedding Napkin Ideas
Present your wedding guests with their cutlery in this adorable make! Fold your napkin into a small pocket, in which you can place the cutlery. Place the pocket on the plates and you can tie a picture of the happy couple around the napkins.
8. Rustic Elegance – Perfect Personalised Wedding Napkins
If you are planning a rustic wedding, make sure your serviettes incorporate the same theme as well! Tie up the serviettes with a ribbon in a simple yet elegant manner. You can attach place cards on the napkins as well, so your guests find their seat!
9. Whimsical Wrap – Wedding Decor Ideas
Give your wedding table decor a natural and romantic look, by wrapping up the napkin and tying a sprig of rosemary or an olive branch on it. If you decide on placing the menu next to the napkin, make sure that they complement each other in colour and texture. These will make beautiful wedding accessories!
10. Cool Colours – Ideas for Cool Coloured Weddings
If you decide on using blue or purple as a dominant colour at your wedding, make sure all your wedding decor complements it. Great colours to use with blue or purple include white, grey or silver. Make your serviette cool coloured as well! This looks especially good during winter weddings, as it may match the overall wedding decoration.
11. Folded Fan – DIY Wedding Napkin Ideas
Here is a DIY picture tutorial for anyone who'd like to fold their wedding napkins in the shape of a fan. Not that these fan wedding napkin ideas are easier to make with paper serviettes, as they hold their shape.
12.  A Lot of Love – Heart-Shaped Serviette
Is there anything more appropriate to use on your wedding day, than a heart-shaped serviette? Make this at home by yourself out of red napkins for your wedding table decor. This will get your guests into a real wedding mood!
13. Shell Shapes – Folding Your Wedding Napkins
Make your wedding napkins look like shells washed onto the shore with this idea! It's always interesting to see all the shapes napkins are able to form. But instead of sticking to a standard serviette shape, try aiming for something more. So give this one of many beautiful shell-shaped custom napkins a try.
14. Sophisticated and Simple – Perfect for Any Wedding
Give your serviettes a starry-eyed look for your wedding! Fold your napkin into an interesting shape, like the one in the picture above. Then decorate it with small, sparkling stars. This will look perfect for any table.
15. Making the Perfect Fan – Great Napkin Ideas for Weddings
Here is another great tutorial for napkins. Light up your wedding with these beautifully folded fans that are awesome wedding accessories!!
16. Rustic and Timeless – Beautiful Ideas for Your Wedding
Are you going to have a rustic or old-fashioned themed party? Then try out this serviette idea! Place your cutlery and napkins into burlap pockets, you can cover parts of the burlap with lace and attach a small stitched flower. Make certain that the rest of your wedding table decor matches the napkin style!
17. The Essence of a Rose – Floral Napkins 
This wedding serviette is a romantic and whimsical idea! Make your napkin look like a rose. Roses are the flowers of love, so it would only make sense to shape your napkins in a similar way. This is one of many perfect wedding napkin ideas!
18. Envelope Napkins – You've Got Post!
This is a really cute napkin idea that you can fold together by yourself! Invite your guests to dinner with an envelope napkin.
19. A Pretty Bow – Personalised Wedding Napkins
Tie your serviette into a bow for a pretty look! These rustic wedding napkins look best when paired with simpler pieces of table decor. You can place it on a plate next to the menu.
20. Awesome Suits – Creative and Unique
If you want to get truly creative with your personalised wedding napkins, then try out this idea! Use white serviettes for the suit itself, then you can place small black bows on them and tiny roses.
21. Dress or Napkin? – White Wedding Dress Idea
A white dress is a classic symbol of weddings. So how about trying to recreate this symbol with a white napkin. After folding up the serviette in a delicate way you will have to tie a silver ribbon around the napkin, as a belt for the dress.
22. A Stunning Composition – A Beautiful Tie
If you're looking for a stunning way to present your guests with custom wedding napkins, then this is the one meant for you. Use two different coloured serviettes and fold them both in a fan shape. Lay them over each other and tie them together with a smaller bow or ribbon. You can attach flowers to it for a more elegant look.
23. Roll Up Your Cutlery – Personalised Wedding Napkins
Roll up your cutlery with these wedding napkin ideas! Use this easy DIY tutorial to achieve this sophisticated napkin look. Your wedding guests will feel like royalty upon seeing this napkin!
24. A Romantic Resolution – Roses and Napkins
To make your napkins both look beautiful and smell great is to place a flower in it. We know that the flower of love is the rose, so use one for each napkin. Fold up your napkin any way that you'd like and in the very middle put a rose. Make sure that the rose's colour complements the serviette's.
25. Rustic And Natural – Rustic Wedding Napkins
If you are planning either a rustic or an outdoor wedding, make sure your wedding decor brings the same essence and style as your wedding does. You can place the menu inside this serviette which has been folded like a small pocket. Tie a stem of lavender around the serviette for a natural effect.
26. Napkin Rings – Make Your Napkins Stay in Place
Fold your napkins up with a simple technique and put rings on them! You can buy the rings made out of paper or you can make them by yourself at home. You can also decorate them by drawing up the happy couple's names and the date of the wedding on the ring.
27. Beautiful Butterfly – Origami Techniques for Napkins
Present your guests with beautifully folded napkins. With the help of the napkin tutorial above, you can try making these butterflies. This idea is especially great for spring weddings, as butterflies are symbolically connected to the season of rebirth and renewal. This is one of many great custom wedding napkins.
28. Red Bow – Use a Bold Colour
Let us not forget that red is not only the colour of hate and war but the colour of romance as well. So use this colour for your wedding napkins! This is a great idea if you have already used red in your wedding venue's decor, for example, red roses for the florals. You can try out whatever shape you'd like, but we recommend bows for an adorable effect!
29. A Natural Look – Fold With Grace
If you are hosting an outdoor wedding, make sure your table decor includes elements from nature. Besides using flowers for a table centrepiece, you can include a flower or a leafy brunch tied to the serviette. When aiming for a nature-inspired wedding, try not to use extreme or bold colours for the serviette, stick to colours you can easily spot in your surroundings.
30. Pocketfuls of Cutlery – A Modern Idea
Here is another great idea for a DIY napkin folding technique. While it might be a bit time-consuming folding napkins before your wedding, it most certainly is worth it! These custom wedding napkins folded up will be the perfect place for putting cutlery inside.
We hope that this collection of 30 wedding napkin ideas has helped you to find a great idea for your own wedding serviettes! After all, you'd like everything to be on point during your big day, which includes the personalised wedding napkins! For more ideas concerning weddings, for example, bridal flower bouquets or wedding thank you cards, just check out our website!
Advert