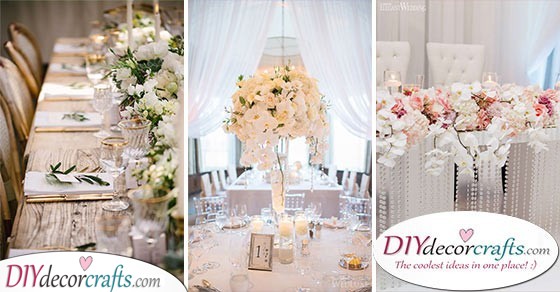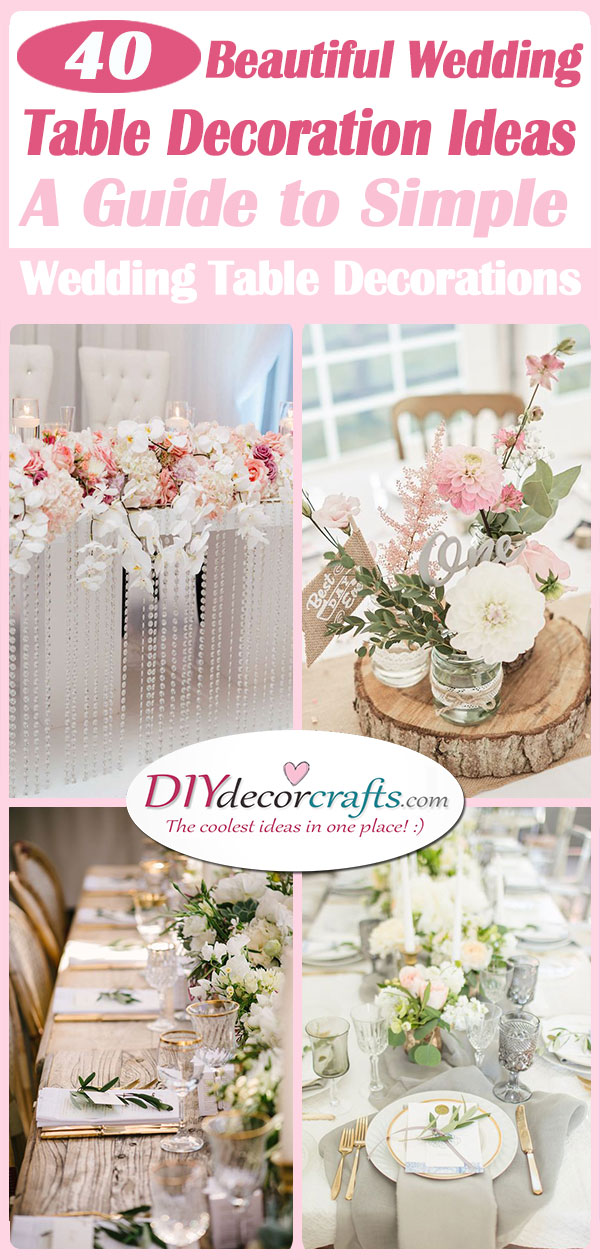 Have you started planning your wedding? Would you like stylish table decor for your reception, but have no idea what your options are? We have collected 40 beautiful wedding table decoration ideas for you! Hopefully, you will be able to find great wedding table decoration ideas, that you will be able to use at your own wedding. After all, it is important to have the perfect wedding table decoration. Try choosing simple wedding table decorations according to the overall theme of your wedding, as you probably don't want a clash of two styles. Let's dive in and check out these 40 wedding ideas together!
1. A Floral Centerpiece – Simple and Stunning
An absolutely gorgeous way of uplifting any wedding table decor is by covering everything in flowers. Depending on what colours will play a main part in your wedding, use the same shades for your flowers so it creates a magical harmony.
2. White and Gold – Sophisticated and Elegant
In search of an elegant colour combination? Then maybe gold and white have caught your eye. The use of these two colours for table decoration will bring a chic and refined atmosphere to your wedding and will make everyone feel like royalty.
3. A Blossoming Centerpiece – Simple Wedding Table Decorations
There is no better way to illuminate your tables than to put a centrepiece in the middle. Using a huge bouquet of flowers as a centrepiece is a great choice, your guests will not only marvel its beauty but will also be enchanted by its fragrant aroma.
4. A Rustic Setting – Outdoors Wedding Table Decoration Ideas
If you have been dreaming of hosting an outdoor wedding with a rustic essence, then this simple dining table decor will amaze you. It's simple and homely. Place bunches of flowers in the middle of the table along with a few candles. You can also place a small flower on everyone's plate.
5. Romantic and Quirky – Wedding Tables
Maybe you are planning on throwing your wedding party in a barn. The table decor shown in the picture above is perfect for any sort of barn wedding or rustic themed wedding. In jars, stick some flowers or sprigs of herbs, and put the mason jars on top of a slice of wood. You can decorate the jars further if you'd like to, tying lace or ribbons around them.
6. Metal Stand for Flowers – A Gorgeous Style
If you want a more extravagant floral design then this might be the perfect choice for you. Use a tall metal stand, on which you can place your flowers and plants. Using a tall stand, such as this one, will allow your guests to communicate with each other, even if they're sitting on different sides of the table.
7. A Tall Centerpiece – Refined Wedding Table Decoration Ideas
If you've been searching for a romantic and refined way of setting up your wedding table decor, look no further! Placing flowers in a thin vase will make it easier for your guests to see and talk to each other. Surround your centrepiece with candles to give it a truly romantic feeling.
8. Table Numbers – Simple Wedding Table Decorations
An essential part of wedding table decor is table number signs. Assigning your guests to different tables is a common custom at weddings nowadays. So it only makes sense to write up which table is which. You can place the number of the table in a frame. If you want your frame to match the rest of the table decor, make sure to choose something that is compatible with everything else.
9. Graceful in Green – A Natural Vibe
This is a great choice for anyone, who likes earthy and natural themes. Place flowers, succulents and other green plants in the middle of the table, and don't forget the candles either. You can also attach a sprig of rosemary or thyme to the seating cards.
10. Dreamy Delight – An Array of Roses
Warm colours bring a unique sense of harmony to any event. Light orange, pale pink and champagne go extremely well together, so it's no surprise if you want to use these colours at your wedding reception: Use the same sorts of colours for the flowers and candles. You can also use long tablecloths to give the tables a dreamier effect. These will create gorgeous wedding tables!
11. Rustic Simplicity – Wedding Table Flower Decorations
If you're not a huge fan of glittery and fancy decor, then you might like the idea above. A few candles, flowers in mason jars bring a unique and natural vibe to any sort of event. You can keep everything else simple and elegant, sometimes less is more!
12. Elegant Atmosphere – Simple Wedding Table Decorations
Do you want your guests to feel as if they have stepped into an elegant and fairytale-like celebration when they see your wedding table decor? Use flowers as a table centrepiece, and surround that with even more flowers. Paint everything in a shade of blush pink if you want a serene and joyful vibe at your wedding.
13. Sparkles and Glitter – Beautiful Wedding Table Decoration Ideas
If you love the glittery and sparkly decoration, this is a great option for you! Cover your table with a shiny and sparkly table cloth. Get plates and utensils that complement this style. We don't even need to mention that flowers and candles are a must!
14. Chic Beach Vibes – Try a Bold Colour
There is no better way of decorating a table, than using natural parts of your surrounding environment. If you are meditating on having your wedding close to the beach, then use elements of that in your decor as well. So if you're on the beach think of using shells as decoration, collecting flowers that grow there. To give your wedding decor a bit of a modern edge, try using bolder colours for flowers as well as serviettes or tablecloths. 
15. Stunning Florals – Organic and Natural
If you want a garden or outdoor wedding reception, perhaps a reception in a barn, then this might be the perfect wedding table decor for you. Use an array of leaves and flowers to give your tables a rustic and earthy look. If you place some candles along the table, it will make the whole place look whimsical and romantic at night.
16. Gorgeous Centerpiece – Wedding Table Flower Decorations
Another beautiful floral centrepiece can be seen in the picture above. An abundance of flowers and candles circle the main centrepiece, making it stand out even more. What makes this floral centrepiece truly special, are the petals attached to strings that look as if they are falling down. It provides a magical atmosphere. This would look amazing for a spring wedding! So, some spring floral centrepieces will look perfect!
17. Snowy White Roses – Simple Wedding Table Decorations
If you want your wedding reception to look like a lush, secret garden, then try out this idea! Place an array of white snowy roses on each table. White is such a dreamy colour, and it goes well with any other shade. 
18. Beautiful in Burgundy – Vibrant Colours at Your Wedding
Burgundy is a lavish colour, that brings an air of mystery with itself. It's not exactly a traditional colour you'd expect to see at weddings, but it has become exceedingly popular. Especially if it is a fall wedding, as this will make a great fall centrepiece. It's a bold colour that your guests will not be able to take their eyes off. Place a few bottles of red wine and some red grapes in the centre of each table, to accentuate the burgundy theme.
19. Modern Garden Wedding – Refined Wedding Table Decoration Ideas
If you're hosting your wedding reception in a garden, vineyard or any sort of outdoor venue, then a good way to make your wedding decor stand out is by using a lot of white. White is a pure colour that brings an element of refinement and sophistication with itself. You can use more modern furniture and decor to create an interesting ambience between nature and your reception.
20. Pink and Grey – Wedding Table Decoration Ideas
Grey is a colour that is a bit more on the melancholy side. You wouldn't exactly think of using it at your wedding. But take a glance at the picture above. When mixed together with more vibrant colours, like pink, grey brings a component of elegance and calmness to an event.
21. Lanterns – Simple Wedding Table Decorations
Are you a little bit afraid, that one of your guests might accidentally knock over one of your candles and start a fire at the reception? Well then check out this practical and elegant solution. Putting candles in lanterns is a great way of keeping your wedding free from any sorts of safety hazards. Depending on your personal style you can choose any sort of lanterns you'd like, for example, terrariums or antique looking lanterns.
22. Simple, White and Elegant – Simple Wedding Table Decorations
White flowers used for wedding table decorations are timeless. They supply your venue with sublime elegance. Pair it with pastel and gold for an even more brilliant appearance.
23. Autumn or Winter Vibe – Beautiful Wedding Table Decoration Ideas
Is your wedding going to be taking place during autumn or winter? Wild berries are the sort of natural element you can find in forests at any time of the year, making them perfect for winter weddings when flowers aren't blooming. Adding a sprig of berries to your napkins and placing some in vases will accentuate an earthy and rustic atmosphere.
24. Pink Decadence – Gorgeous Wedding Table Decor
Pink represents love and harmony, so it would not come as a shock to anyone if your wedding decor was to embrace this colour. If you pair it with white, pink will not be so overwhelming.
25. Bohemian and Natural – Great Ideas for Wedding Table Decor
You might prefer a bohemian wrap around things, instead of fancy and sparkly decor. If so, then take a peep at the picture above. It embodies a homely and earthy vibe and will make your guests feel as if they were at home.
26. Orchids – Wedding Table Flower Decorations
If you like the idea of using floral ornaments as a centrepiece for table decor, but you feel like roses are too big of a cliche, then try out a different species of flora. We recommend orchids, as they are sophisticated and exquisite.
27. Radiance Illuminated – Simple Wedding Table Decorations
Are you looking for a more romantic and whimsical setting for your wedding? You can achieve an enchanting look by using candles as a centrepiece. Putting them on stands will not only make sure that anything in the environment won't catch fire but also give your reception a beautiful, candlelit glow.
28. Silver, Blue and White – Wedding Wonderland
Even though blue and silver aren't warm colours, they show really well together at any event. Blue, silver and white decor combined to give any event quality of elegance. It's perfect for winter weddings, as it also brings an illusion of a winter wonderland with itself.
29. Romantic Vines – Dreamy Table Decorations
If you're not in search of an actual table centrepiece, you might like this vine idea! Twist a long vine across the table, detailing it with small white flowers. This will serve as simple, yet gorgeous decoration. To make it even more romantic, surround the vine with some candles.
30. Modern and Refined – Simple Wedding Table Decorations
Naturally, you don't need to flourish your tables with an array of flowers and candles. If you want a fresh, neat and simple look to your wedding table, don't go any further. Putting a vase of white flowers in the middle of each table is an elegant solution. If you decide to go with this simplistic style, make sure that the other elements of the table match it, for example, wine glasses, cutlery.
31. Angelic White and Glass – Simple Wedding Table Decorations
Another great pairing for wedding table decor is white flowers and glass. Using a tall, glass centrepiece will elevate the wedding feeling. Try using tables and chairs that complement the table decorations. Take a look at the picture above, how chic do those chairs look with that glasslike effect?
32. Lilac, Pink and Yellow – Floral and Fabulous
Have you been searching for a bolder combination of colours? A combination of lilac, pink and yellow go really well together. If you decide on using these colours for your table decor, maybe think about using them in your bridal bouquet as well! 
33. Stunning Decor – Glamorous Wedding Table Decoration Ideas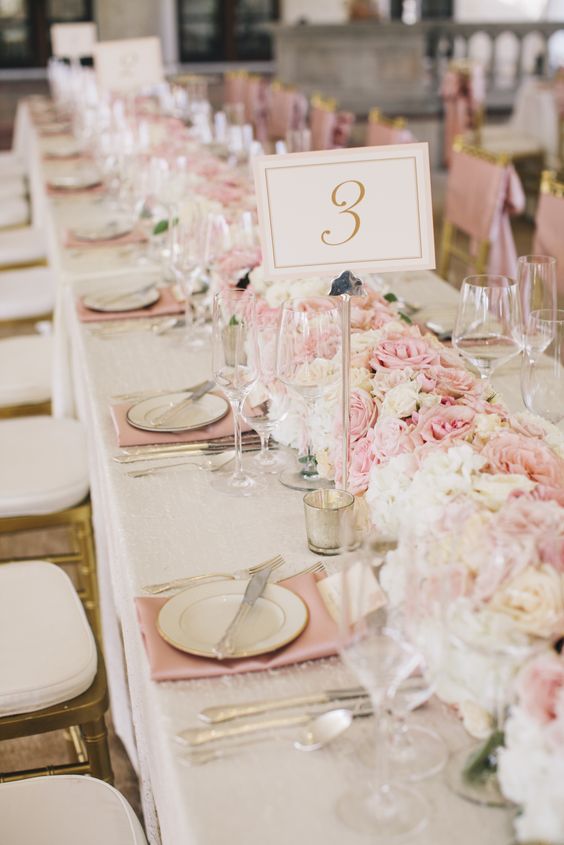 source
Instead of using a centrepiece in only the middle of the table, why not try out a row of flowers? This is a great option if you are going to have rectangular instead of round tables at your reception.
34. Beautiful Orchids – Wedding Table Flower Decorations
As we mentioned before, orchids are a great choice for people who would like vases filled with more exotic and unique flowers. Orchids come in a variety of colours, so depending on what the colour scheme of your wedding is, you can feel free to pick from an abundance of orchids.
35. Natural with a Modern Twist – Unique Styles
Combine your natural, rustic elements with a modern aura. Take a look at the picture above, they have placed an assortment of flowers in vases, giving the tables an earthy feeling. However, the candle holders, the wine glasses and the plates are all a modern take on things. This combination of nature with the new age creates an interesting dynamic.
36. Pearl White – In Search of Beauty
Another elegant arrangement of white flowers as a centrepiece. It's simple and radiant. Remember, sometimes less is more!
37. Rustic Design – Simple Wedding Table Decorations
Have you been dreaming of a rustic venue outdoors? Then this is a perfect idea for you! You don't need polished tables and fine porcelain to make your big day special. You can use your old garden table, throw on a few vases of flowers and arrange the plates, cutlery and glasses nicely and you're already done. This will definitely make your guests feel as if they're at home.
38. White and Gold – Refined Wedding Table Decoration Ideas
As we stated before, gold and white are a perfect fusion. They create a truly special and elegant atmosphere. Use these colours in any shape or form that appeal to you.
39. Tropical Paradise – Nuts About Coconuts
Are you planning on hosting your wedding in a tropical environment? Then you have found the perfect decor that will go super well with your venue. Chopping up coconuts and placing them as a centrepiece is a creative and cute idea, not to mention that it's unique.
40. Blossoming Flowers – Pink and Pretty
Pink is a common colour scheme at weddings. To accentuate the shade, use pink flowers as centrepieces to give each table a beautiful glow. However, to avoid overpowering pink, use different coloured chairs, plates and cutlery.
We hope that this pick of 40 wedding table decoration ideas has helped you to find your perfect design. Of course, you can get creative and mix a few ideas around, to end up with table decor, which is more your style. If you are in search of a few other wedding ideas, such as wedding ring pillows, visit our website.
Advert