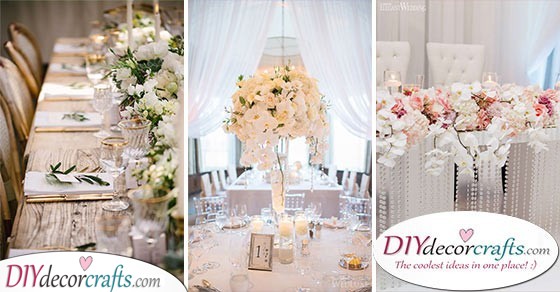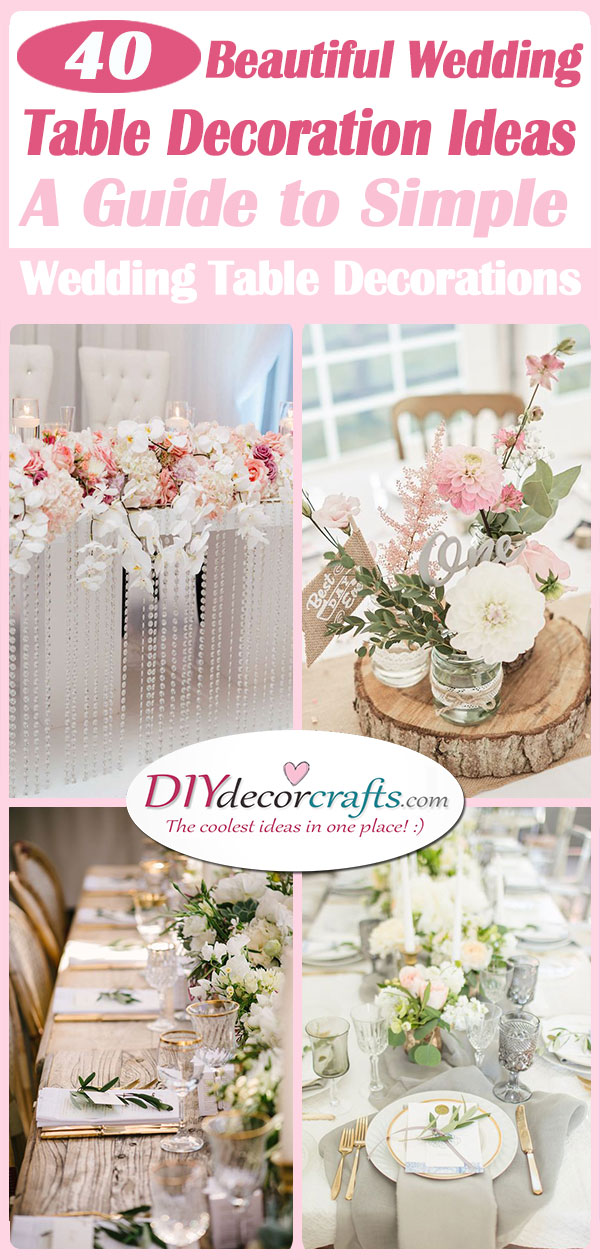 Have you started planning your wedding? Would you like stylish table decor for your reception, but have no idea what your options are? We have collected 40 beautiful wedding table decoration ideas for you! Hopefully, you will be able to find great wedding table decoration ideas, that you will be able to use at your own wedding. After all, it is important to have the perfect wedding table decoration. Try choosing simple wedding table decorations according to the overall theme of your wedding, as you probably don't want a clash of two styles. Let's dive in and check out these 40 wedding ideas together!
1. A Floral Centerpiece – Simple Wedding Table Decorations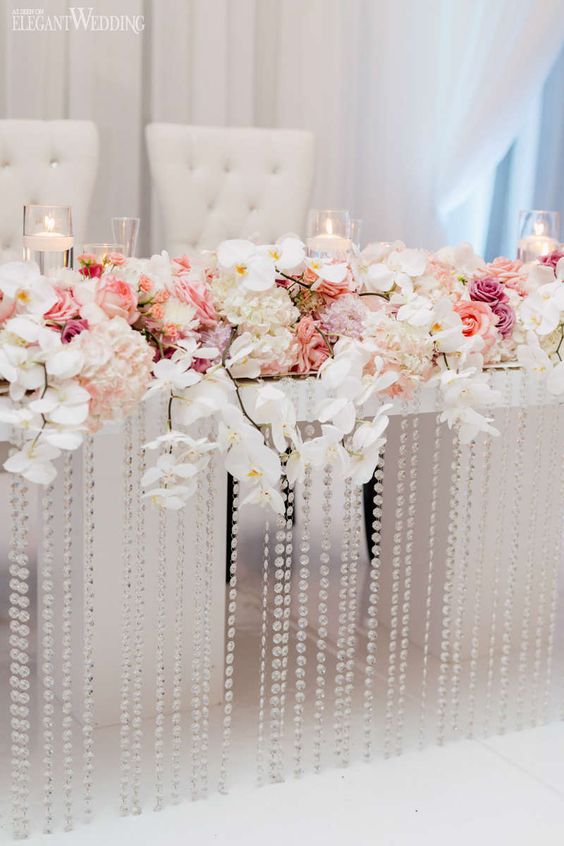 An absolutely gorgeous way of uplifting any wedding table decor is by covering everything in flowers. Depending on what colours will play a main part in your wedding, use the same shades for your flowers so it creates a magical harmony.
2. White and Gold – Sophisticated Wedding Table Decoration Ideas
In search of an elegant colour combination? Then maybe gold and white have caught your eye. The use of these two colours for table decoration will bring a chic and refined atmosphere to your wedding and will make everyone feel like royalty.
3. A Blossoming Centerpiece – Simple Wedding Table Decorations
There is no better way to illuminate your tables than to put a centrepiece in the middle. Using a huge bouquet of flowers as a centrepiece is a great choice, your guests will not only marvel its beauty but will also be enchanted by its fragrant aroma.
4. A Rustic Setting – Outdoors Wedding Table Decoration Ideas
If you have been dreaming of hosting an outdoor wedding with a rustic essence, then this table decor will amaze you. It's simple and homely. Place bunches of flowers in the middle of the table along with a few candles. You can also place a small flower on everyone's plate.
5. Romantic and Quirky – Simple Wedding Table Decorations
Maybe you are planning on throwing your wedding party in a barn. The table decor shown in the picture above is perfect for any sort of barn wedding or rustic themed wedding. In jars, stick some flowers or sprigs of herbs, and put the jars on top of a slice of wood. You can decorate the jars further if you'd like to, tying lace or ribbons around them.
6. Metal Stand for Flowers – Floral Wedding Table Decorations
If you want a more extravagant floral design then this might be the perfect choice for you. Use a tall metal stand, on which you can place your flowers and plants. Using a tall stand, such as this one, will allow your guests to communicate with each other, even if they're sitting on different sides of the table.
7. A Tall Centerpiece – Refined Wedding Table Decoration Ideas
If you've been searching for a romantic and refined way of setting up your wedding table decor, look no further! Placing flowers in a thin vase will make it easier for your guests to see and talk to each other. Surround your centrepiece with candles to give it a truly romantic feeling.
8. Table Numbers – Simple Wedding Table Decorations
An essential part of wedding table decor is table number signs. Assigning your guests to different tables is a common custom at weddings nowadays. So it only makes sense to write up which table is which. You can place the number of the table in a frame. If you want your frame to match the rest of the table decor, make sure to choose something that is compatible with everything else.
9. Graceful in Green – Simple Wedding Table Decorations
This is a great choice for anyone, who likes earthy and natural themes. Place flowers, succulents and other green plants in the middle of the table, and don't forget the candles either. You can also attach a sprig of rosemary or thyme to the seating cards.
10. Dreamy Delight – Lovely Wedding Table Decoration Ideas
Warm colours bring a unique sense of harmony to any event. Light orange, pale pink and champagne go extremely well together, so it's no surprise if you want to use these colours at your wedding reception: Use the same sorts of colours for the flowers and candles. You can also use long tablecloths to give the tables a dreamier effect.
11. Rustic Simplicity – Simple, yet Beautiful Wedding Table Decorations
If you're not a huge fan of glittery and fancy decor, then you might like the idea above. A few candles, flowers in mason jars bring a unique and natural vibe to any sort of event. You can keep everything else simple and elegant, sometimes less is more!
12. Elegant Atmosphere – Simple Wedding Table Decorations
Do you want your guests to feel as if they have stepped into an elegant and fairytalelike celebration when they see your wedding table decor? Use flowers as a table centrepiece, and surround that with even more flowers. Paint everything in a shade of blush pink if you want a serene and joyful vibe at your wedding.