Spring is the season of flowers. The winter snow has finally melted, the cold has gone into hiding and spring is in the air again. It's a time of new beginnings, a time of blossoming and a time of love. So why not bring a bit of this spring energy into your home, and cloak it up in all sorts of floral decorations? It only makes sense to robe your house up in a variety of flowers for this season. We have collected 20 beautiful floral decoration ideas for you to choose from, so you can feel spring not only in nature but inside your home as well! So make sure to look through our collection of spring ideas!
1. Tulips in a Modern Sense – Simple and Elegant Decor
Tulips are a true embodiment of spring. They aren't necessarily the most ornate or frilly flowers, but they do have a special grace and beauty. So, complement the simple elegance of tulips with simple vases. In tall, cylindrical, glass vases place a few pebbles at the bottom and fill up the vase with some water. Then place a few tulips inside the vase. We recommend using white or pale coloured tulips, as they lend a sense of elegance to their surroundings.
2. Beautiful Tulips – Floral Decor for This Spring
Tulips play an important role in most households during spring. They are absolutely gorgeous and they deserve to be used as a table centrepiece. So, it's no wonder that tulips created a huge frenzy and mania in the seventeenth-century Netherlands. But it doesn't matter whether you've been swept off your feet by tulips after taking a stroll in Amsterdam or you simply admire blooming tulips in flower shops every year, these flowers are a must-have for your spring decor!
3. White Daffodils – Gorgeous Floral Table Decor
These trumpet-shaped flowers come in a variety of sizes, colours and shapes. While you might be accustomed to seeing yellow daffodils, there are many different types, which are just as beautiful. If you're lucky enough to find white daffodils this year, use them as spring table decor. The daffodil is a symbol of rebirth and new beginnings, making them the perfect spring flowers. You can place your daffodils in unique vases to bring a bit of colour to your table. Just take a glance at the picture above, white daffodils in vibrant, yarn-covered vases is a perfect combination for spring!
4. Colouring Your Flowers – A Magical and Rainbow Effect
When it comes to creativity, your mind has no limits! If you like the idea of colouring your flowers the way you'd like, then this flower decoration craft is perfect for you! Collect white flowers, but instead of placing them in vases filled with simple water, add a bit of food colouring to the water. In a few days time, the flowers will absorb the food colouring through their stems, and their petals will glow in new colours. If you'd like your flowers to be more than one colour, you have to cut up its stem into a few slices. Place each slice of the stem in the different coloured water. This should create a rainbow effect in a day or two.
5. Spell it Out – Spring Floral Decorations
Bring the essence of spring into your home with this simple and easy idea! In Mason jars place a variety of spring flowers, they can be any colour or any species that you'd like! Attach letters to the glass jars, so they spell out the season's name: spring. Use these jars as a table centrepiece or place them on a shelf, so the letters are visible.
6. Fabric Covered Vases – Perfect Ideas for Spring Decor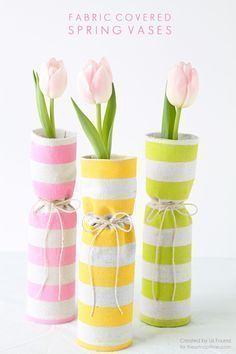 Nothing radiates an atmosphere of spring as much as vibrant colours do! So, why not try out using beautiful colours for your vases with this idea? Find some lovely fabric which suits your taste, and wrap it around flower vases. You can use the same patterned fabric but in different colours to create a spring effect. You can glue the fabric to the vase to make sure it's attached, but you can also tie a string or ribbon around it. Then place your assortment of spring flowers in your vases and you're done!
7. Forest Feels – Creative Log Idea
It's spring, which means the time for going out for long walks has returned! Naturally, sometimes you get home from work, you still have to cook, do the laundry, and you simply run out of time for doing outdoor activities. So, if you can't go for a refreshing walk, make your home feel like you're taking a hike in the forest. Use logs as vases by cutting out the middle parts of them and stuffing them with floral foam. Then stick blades of grass and flowers inside the foam. You can also cover up the logs with moss to create an interesting, woodland effect.
8. Lace on Vases – Spring Table Decor
If you're bored with plain and simple vases, then this idea is perfect for you! Design and create your own vases, by using a touch of lace. Cover your jars or vases in lace, making sure it's completely stuck on with the help of glue. Tie a string of yarn around the neck of the jar or vase for a rustic effect. All you need to do now is place your multitude of flowers in the vases and place them on a table. This is an especially great idea if you like a rustic or old-fashioned style.
9. Black Calla Lilies – A Modern Twist
Black calla lilies are a breath-taking species of flora. Use them to turn your table centrepiece into a masterpiece. Firstly, tie together the stems of the lilies. Then place them in a bowl-shaped vase, the stems should be twisted and covered in water and the heads of the lilies should be popping out from the bowl, just like on the picture above.
10. Happy and Colourful Vases – Great Ideas for Spring
Design your own vases at home with some paint! Paint patterns on your vases, these can be stripes, polka-dots or zig-zags, it's really up to you! All you should keep in mind is to use colours that are vibrant. Placing flowers in these cute vases will give your home a true spring atmosphere!
11. Peach and Mint – Spring Colour Theme
Perk up your home with a spring air this year by trying out this cute colour theme for your floral table decor. Buy a set of mason jars and paint them in peach and mint colours. These two colours are a perfect combination for spring, as they remind you of blooming flowers. For a clean and elegant effect, place white flowers in the jars.
12. Build a Nest – An Amazing Alternative to Standard Vases
Bring an earthy and natural vibe to your table centrepiece for spring this year! Out of twigs and branches assemble a bird's nest. Inside of the nest, place some floral foam or an actual vase. This will prevent your flowers from wilting too quickly after you place them inside. This is a perfect choice for anyone who would like their home to bear a touch of Mother Nature.