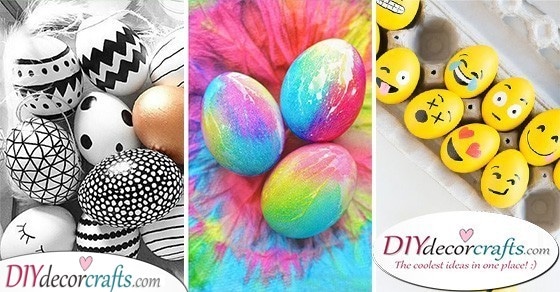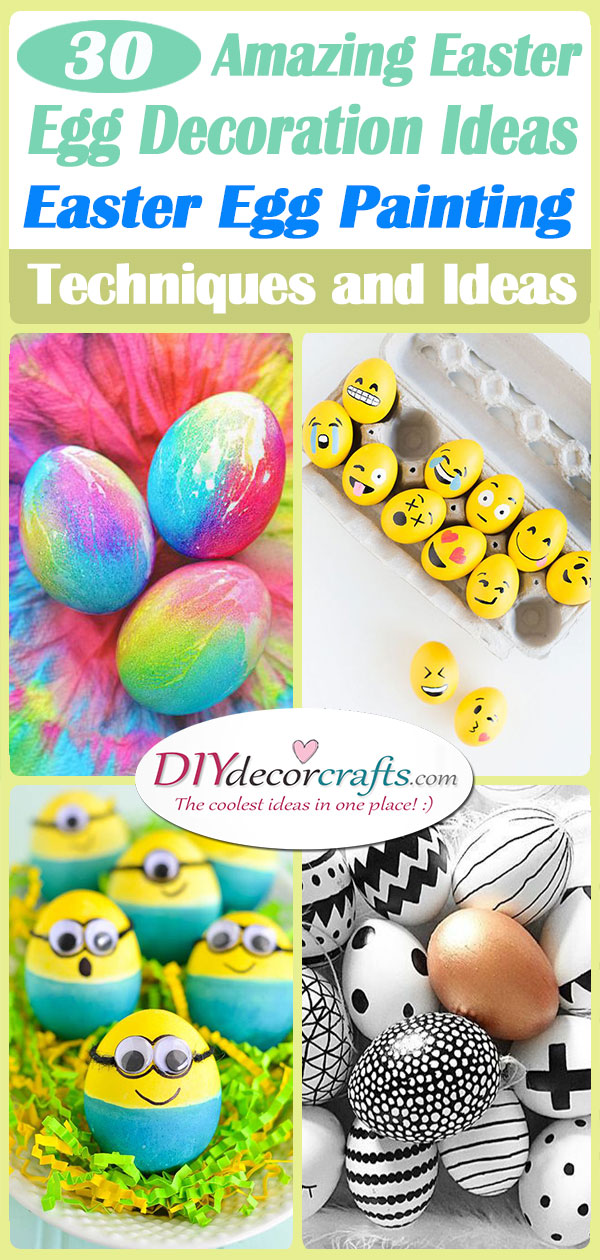 Easter is just around the corner, the holiday of rebirth and renewal. A traditional Easter activity is dying hardboiled eggs and painting patterns on them. Eggs have always had a symbolic meaning, they carry the promise of new life within themselves. So it comes as no surprise that eggs play a dominant role during Easter. Eggs can be used as decor, but in some cultures, it is a tradition to gift friends and family with dyed eggs. In this post, we have gathered 30 Easter egg decoration ideas. So start your Easter egg painting now by looking through our collection of Easter ideas!
1. Natural Dye – A Traditional Way of Decorating Eggs
If you're all about using natural and organic solutions, then you've found a great egg painting idea here. Instead of using food colouring, resort to using different sorts of food you find at home. For example, spinach will give your eggs a radiant, light green colour, while blueberry will turn your eggs a dark shade of blue.
2. Robin Eggs – Beautiful and Blue
If you've ever been lucky enough during a walk in the woods, you might have stumbled across a nest of robin eggs. If you loved the magnificent look of robin eggs, try making your own Easter eggs look the same.  You will be able to replicate this beautiful colour with one simple ingredient, red cabbage. After dying your eggs, you can flick some edible gold paint on them to create a speckled effect. 
3. Tie-Dye Style – Vibrant and Bold
Tie-dying is a fun and simple way to decorate material, but have you ever thought about using this technique to dye your Easter eggs? It's incredibly simple to do, not to mention you receive a vibrant egg at the end of the process and it's also safe to eat.
4. Funny Eggs – Crack a Laugh
Make your guests crack up with this funny egg painting idea. Instead of decorating your Easter eggs in a traditional way, draw funny faces on them. Make one egg angry, one sad and one happy. You can use a Sharpie pen for drawing.
5. Half and Half – Easter Egg Painting
Make your eggs look like candy with this easy technique! First, dip one half of the egg in food dye, then when it has obtained a vibrant colour dip the other half in a different coloured food dye. This will end up giving your eggs an ombre effect, making them look stunning.
6. Cartoonish Eggs – Easter Egg Decoration Ideas
Perhaps you love cartoon characters, so why not use them as inspiration to decorate your Easter eggs? You can use food dye to dye the egg's shell, then all you need to do is draw the character's face with a Sharpie pen. If you decide on giving these eggs as gifts to friends and family, then make sure you have painted their favourite characters on the eggs as well! This is a fun and easy spring craft for kids!
7. Bunny Eggs – Easter Egg Decoration Ideas
Combine the Easter egg ideas with an Easter Bunny craft idea. On your egg draw the face of a rabbit. Dip a small part of the egg in pink food dye, this will be the stomach of your rabbit. You can attach ears to the eggs and feet to make it more rabbitlike.  
8. Sporty Eggs – Easter Egg Painting
For our sports fans, decorate your eggs as various balls. For example, make one egg a basketball and make another one a soccer ball. Dye the eggs first, then draw their patterns on with Sharpie pens. Make sure none of your family of friends mistakes them for mini versions of the balls, so they won't kick it around the garden.
9. A Sky Full of Stars – Easter Egg Designs
Make your eggs look like galaxies with this technique! Dye your eggs with dark blue and black, make sure you get hints of purple in there as well. Then after they're ready, flick spots of white or silver paint over them for stars. This will make your eggs look magical.
10. Snorkelling – In the Deep Blue Sea
With the arrival of spring and warmer weather, maybe your eggs want to hit the beach! Dress your eggs up as snorkellers. You can use plastic straws as snorkles and you can attach plastic bottle caps on the eggs, resembling goggles. If you're using this as decor, you can put the eggs in a fish tank.
11. Cherry Blossom – Easter Egg Painting
Thousands of people visit Japan every year, to see the cherry blossoms in full bloom. Bring an essence of cherry blossoms to your Easter egg ideas. With paint draw the branches of the tree and the flower petals. This will create a gorgeous floral effect.
12. Emojis – How Eggciting
Are you known to be a person, who is constantly on their phone, sending everyone texts filled with dozens of emojis? Then this egg painting idea was made for you! On yellow dyed eggs, draw emoji faces with Sharpie pens. Instead of sending your friend a text this Easter, give them an emoji egg.
13. Marvellous Marvel – Easter Egg Decoration Ideas
Ever since the release of Iron Man in 2009, Marvel has continued to give audiences around the world a taste of something new and exciting. Give your family and friends superhero-themed eggs this year, preparing them for the final Avengers movie. Of course, you can include whichever superheroes you love, it doesn't necessarily have to be Marvel-based.
14. Layers of Shade – Easter Egg Dying
Produce shades of the same colour in layers on your Easter egg designs. It's all about soaking the eggs in food dye. Depending on how dark or how light you want your eggs to be, soak them for different periods of time. If you want a part of your egg to be darker, soak it for more time. If you want it to be lighter, soak it for less. You can create interesting layers on your eggs depending on how long they are in the food dye.
15. Vintage Vibe – Adorable Easter Eggs
Give your eggs a rustic and vintage feel with this idea. Dye them with coffee beans, this should make them a light brown. Tie ribbons or lace around them and entwine a few flowers through them. Your eggs will look like they arrived from a different decade.
16. Contemporary Eggs – Easter Egg Painting
These eggs look like they should be displayed at an exhibition, or should we say, eggsibition? With the dip and dye technique, you can achieve this modern look on your eggs. Use two different colours of your choice. Dye half the egg with one colour, the other half with the other shade. Make sure they overlap at one edge and that there's also a space left undyed. 
17. Festive Egg – Easter Egg Decoration Ideas
Your eggs should be a representation of renewal and happiness. What better way can you express happiness, than with a rainbow of colours? To create spurts of happiness, use strings of paper to decorate your eggs, by wrapping them around the eggs.
18. Family Favourites – Despicable Me Eggs
This idea is especially great if you want your kids to help out with decorating the eggs. Every kid loves Minions, so decorating eggs in this way will brighten up their day. Dye one half of the egg blue, the other half yellow then use Sharpies for any other details. Stick googly eyes on the eggs, making them perfectly resemble the minions in the movies. 
19. Monochrome Patterns – Easter Egg Painting
Maybe you'd like to create a set of stylish and modern Easter egg designs. If so, this idea is perfect for you! Using only black and white, create different patterns on your eggs. If you put your eggs together at the end, it will look unique and chic.
20. Hamburger Heaven – Eggstremely Cool
Why not decorate your Easter eggs as your favourite food? If you love hamburgers, then try out this super easy DIY idea! Paint or draw a few lines in the middle of the egg, one should be brown like the meat pattie, the other should be red like tomatoes. Place some green crepe paper around the egg symbolizing the lettuce, and attach yellow paper triangles, these are pieces of cheese. This is super simple and not time-consuming at all, so if you're in search of something funny yet easy this is a great option.
21. Cactus or Egg? – Easter Egg Decoration Ideas
Would you like to hide your eggs around the house in a unique way? Camouflage them as cacti! Dye them light green, and with the help of a darker green Sharpie, draw small cross along the sides of the eggs, making them look like spikes. Place the eggs in pots, this will make each and every single one them look like a cactus!
22. Hatching Eggs – Baby Chicks
A cute idea for decorating your Easter eggs is by drawing baby chicks on them. First, draw a crack on the egg, and then paint a yellow little chicken inside. This is a delightful idea for children, who are always curious about how eggs hatch.
23. Painted in a Pretty Style – Beautiful and Traditional
24. Cute Ice-Cream – Easter Egg Painting
If you want to give your eggs an adorable vibe, decorate them as cones of ice cream. Decorate the cones with a Sharpie, making sure that the lines run across each other, and paint the scoops of ice cream on the egg.
25. Herb Planters – Creative and Innovative
Have you been searching for a way of planting some of your herbs indoors, but you haven't had the time to run out to the shop for a new pot? Well, check out this idea! Crack the tops of the eggs, and take out the egg whites and the yolk. Place some soil in the eggshells, and put a small clump of herbs into the soil. Your plants will start growing in no time!
26. Stylish Easter Bunny – Easter Egg Decoration Ideas
If you want your eggs to resemble the Easter Bunny, then try out this modern take on egg design. Flick spots of black onto your white egg. Then attach two black ears and black whiskers to the egg, giving it a rabbit look.
27. Cute Ladybugs – Easter Decor
Have you decorated all the eggs you've wanted this year, but don't know what to do with your egg cartons? Turn them into something brand new with this idea! Instead of throwing out the egg cartons, cut them up into small pieces. Paint them red, and draw black dots on them. Attach a black pom-pom to the egg carton, and place two googly eyes on it, this is your ladybug's head. This is another great source of decoration for spring!
28. Small Gumball Machines – Eggcelent Eggs
That mesmerizing feeling when you play with a gumball machine is one of your childhood. So bring a little nostalgia to your Easter by decorating your eggs as gumball machines! Paint large spots on them, symbolizing the gumballs. Then place the eggs in small containers or holders, making them truly look as if they were gumball machines.
29. Small Baskets – Fluffy Bunny Baskets
So you've painted all your eggs, but you haven't figured out where to place them for Easter? How about making a basket out of a plastic milk container or something similar. Use googly eyes and bunny ears to decorate the container, and of course, don't forget to stick some whiskers on it as well! Stuff the container with paper or straw, this will guarantee that the eggs won't crack when you place them inside. 
30. Adorable Decor – Yarn Chickens
Involve your children in making Easter decor! This idea is superb for kids because it's super simple. All you have to do is wrap yellow yarn or wool around an oval-shaped piece of cardboard. Attach googly eyes and an orange triangle for a beak. You will end up having a cute chicken which you can place anywhere in the house.
To truly get ready for any sort of festivity or holiday, it's always a great idea to submerge yourself into arts and crafts. You can create so many unique things and decorate your home with them, to surround yourself in a celebratory mood. We hope that this collection of Easter decoration concerning eggs has inspired you. It's time to get your whole family together and decorate eggs! For more Easter ideas, such as Easter nail designs, go to our website.
Advert