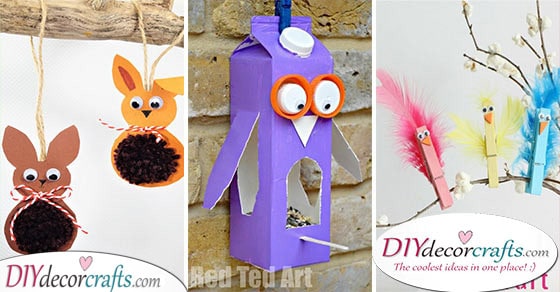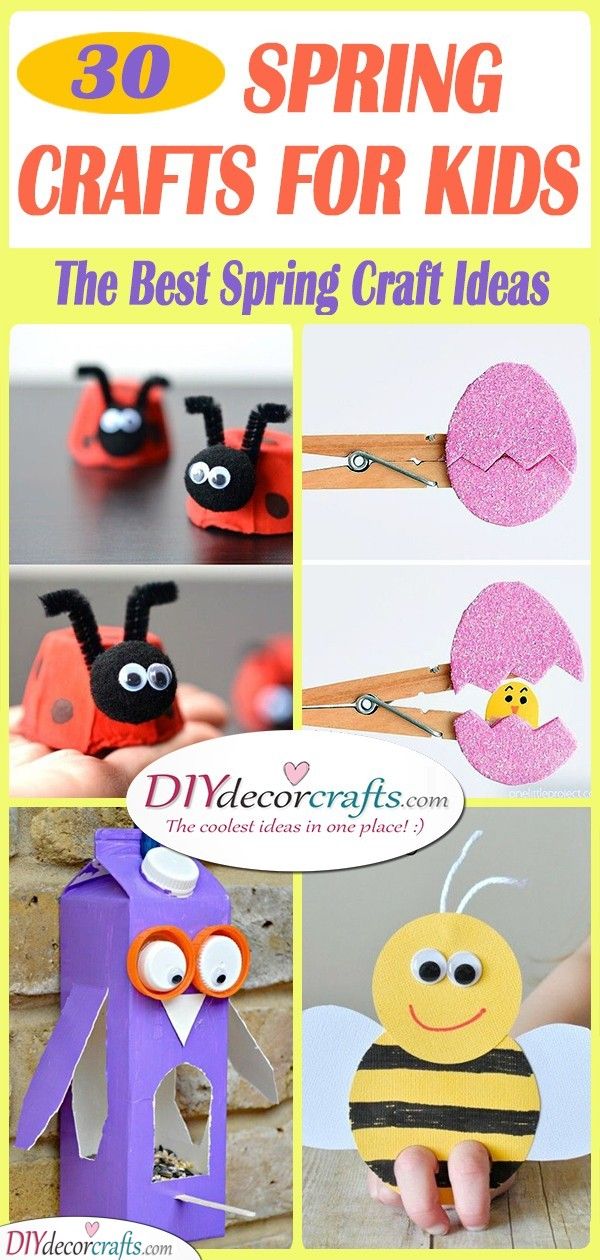 Spring is just around the corner! A time of joy, revival and rebirth. When you step out of the house during spring, everything feels so alive, especially after a long winter. There are a lot of ways you can get ready for spring! You can spend more time in the garden or just more time walking and being outside. Another fantastic way of getting into the spring spirit is by creating a few crafts, to bring the season into your heart and into your home! If you have kids at home, make sure you get them involved as well with some spring craft ideas! So take a look through our collection of 30 easy spring crafts for kids and get inspired!
1. Tiny Ladybugs – Recycled Egg Cartons
When it comes to making crafts with kids, it's always a great idea to recycle things to make the crafts from! This will teach kids to think out of the box as well as being environmentally friendly. Create small ladybugs with your kids out of recycled egg cartons. You will have to cut up the cartons, then it's time to paint them red, adding black dots onto them. Use fuzzy wires for the antennas of the ladybugs and use a black pompom as it's head. Add some googly eyes to the head!
2. A Paper Wreath – Easy Spring Crafts for Kids
Do you have any spare cupcake liners at home which you didn't end up using for your last cupcake batch? Then use them in a spring craft with your kids! The vibrant coloured cupcake liners will act as flowers on a spring wreath. You can have your kid cut out a ring-shaped paper, which will act as the wreath itself. Then they will have to stick on the cupcake liners, pasting buttons in the middle of each flower, creating the pollen.
3. Hand Flowers – Blossom and Bloom
Since spring is the season of flowers blossoming and blooming, it would only make sense to use them as inspiration. Create some flowers with your kids, using a cut-out version of the shape of their hands for the petals of the flower. Allow your children to colour the hand as they'd like. Then stick the hands to green straws and you already have your flower!
4. A Bee Finger Puppet – Spring Craft Ideas
Do your kids want to make a craft that they will be able to play with afterwards? Why not create a few finger puppets? You can use all sorts of animals as inspiration for the puppets. We recommend trying out bees, as they have become a symbol of spring! There are dozens of tutorials on how to create finger puppets out of paper, so why not give it a try with your kids?
5. Yarn Butterflies – Spring Crafts for Toddlers
Here is another simple and easy craft to try out with your kids for spring! Make some butterflies out of wool or yarn. The wings of the butterflies will be created out of paddle pop sticks with wool wrapped around them. You can also create two antennae for your butterflies out of fuzzy wire.
6. Paper Flowers – Happy and Simple
Create a whole field of flowers! All you need is paper for these spring craft ideas! The petals of the flower can be created out of long strips of paper, with the ends stuck together. After creating at least a dozen petals, paste them all together. Then it's time to place a yellow circle inside of the middle. This will act as the pollen of the flower.
7. Peek-a-Boo Chicken – Wooden Peg Ideas
Create a small surprise for spring! All you will need is a wooden peg and some paper! Make a small egg out of the paper, cutting it into two halves. Also, create a small chicken out of the paper. Paste the chicken on the back of the wooden peg and stick the egg on the front. When you push the two ends of the wooden peg, the egg will hatch and you'll see a chicken pop out!
8. A Garden of Tulips – Spring Craft Ideas
Tulips have become a symbol of spring as they bloom throughout the season! So it would only make sense to use tulips as inspiration for your spring craft. Create a garden of tulips on paper, by dipping potatoes cut in a tulip form into the paint. Then simply stamp them onto the paper. You will have to create the stems and leaves yourself.
9. Cute Little Birds – Wooden Peg Crafts
Make some tiny and cute birds out of wooden pegs! You will have the paint the wooden pegs, attach googly eyes to them as well as a beak. Don't forget to glue a feather onto each bird! This is a simple and easy craft that you will be able to place practically anywhere!
10. Egg Carton Flowers – Easy Spring Crafts for Kids
While we have mentioned recycling egg cartons, we haven't talked about how many crafts you can create out of them! Why not try making an abundance of flowers out of them? Just check out the tutorial above to see how they are made!
11. Make a Bird Feeder – A Juice Carton Owl
Why not make a bird feeder this spring with your kids? You can even create a bird feeder out of an empty juice carton! Cut out holes on each side of it, to fill it with all sorts of seeds. Another fantastic idea is to give the bird feeder a unique look. For example, turn it into an owl with a bit of paint and some bottle caps for eyes!
12. Watercolour Painting – Easy Spring Crafts for Kids
We have already talked about creating butterfly crafts for spring! But here's a unique way of transforming a paper plate into a butterfly! Use watercolours to paint the paper plate, creating a beautiful and washed effect. Fold the plate in half, cutting out a triangular shape in the middle. This will help create the wings. You can use a paddle pop stick for the body of the butterfly. Also, attach fuzzy wires to the head for the antennae.
13. A Hatching Chick – Paper Plate Ideas
Here is another hatching chick idea! But instead of using wooden pegs, you need two paper plates! Place your chicken in the middle of one paper plate, glueing it there. Then cut the other plate in two, creating that "cracked" effect. Place this plate above the chicken. If you want it to hatch, you just need to remove one half of the egg.
14. An Adorable Spring Crown – Spring Projects for Kids
Perhaps your kids are going to a springtime party. If so, why not create spring crowns for them? You can create the crown out of paper, cutting out the shape yourself! After the base of the crown is done it's time to decorate it! Have your kids cut flowers out of paper, colouring them in vibrant shades. Then stick them on the crown!
15. Popsicle Stick – Create a Bunny
Here is another easy craft to have fun with this spring! Create a bunny out of popsicle sticks. Paste popsicle sticks together, creating the base of the rabbit's face. Coat them with paint, and add some googly eyes, a nose, whiskers and ears to your rabbit! This is a perfect DIY Easter bunny craft idea for springtime!
16. A Spring Fairy – Adorable and Sweet
Trying to find a fun craft for spring to put together with your kids? Then check out this cone spring fairy! Create a paper cone for the fairy's body. Using a stapler, staple her head to it. Also, make sure to add wings to the body! 
17. Fluffy Rabbits – Easy Spring Crafts for Kids
Make some fluffy bunnies for spring! You can achieve this by creating a pompom for the belly of the rabbit! You will firstly have to make a cut-out version of a rabbit with a hole in the middle of its belly. This is where you will be able to create the pompom. If you don't know how to create your own pompoms, make sure to check out an online tutorial.
18. Sock Chickens and Rabbits – Easy and Cute
Here is yet another awesome idea for spring projects for kids. Create some sock toys! Sock bunnies and sock chickens will look super cute. The best thing about creating sock toys is that you don't need to sew. This makes it super easy to put together!
19. Unique Butterflies – Toilet Paper Rolls
Butterflies have become a symbol of spring over time. They too symbolise rebirth and renewal, when a caterpillar turns into a butterfly, just like winter turns into spring. Recycle toilet paper rolls by creating butterflies out of them! Use the toilet paper roll as the body of the butterfly. Then simply attach some wings to it.
20. Handprint Crafts – The Perfect Parrots
Create some rainbow parrots for spring with your kids! This is a DIY project which involves handprints! Have your kids cut out their handprints using colourful paper to achieve this. Now all they will have to do is cut out the head of a parrot, attaching the handprints to the head, creating vibrant wings and a tail of feathers! This is an easy and great craft for spring!
21. An Awesome Octopus – Spring Crafts for Preschoolers
Another adorable craft to make for spring is also animal-inspired! Create cute octopuses, by rolling up paper and creating eight tentacles for them. You can draw small circles on their tentacles, acting as their suckers. Attach googly eyes to their heads, creating a super cute look.
22. Rabbit Masks – Out of Paper Plates
Make some cute bunny masks out of paper plates for a spring party! Cut paper plates in half, tearing out holes for the eyes. Add some ears to each mask, as well as a pompom nose and some whiskers! Then attach a stick to the paper plate, enabling anyone to hold the mask to their face.
23. Beautiful Butterflies – Creative Crafts for the Season
Here is yet another toilet paper roll idea! You can create some butterflies by cutting up toilet paper and folding them. This way you will be able to create the wings of the butterflies. Just check out the photo above for an example! Stick the wings to a popsicle stick or a wooden peg.
24. The Very Hungry Caterpillar – Egg Carton Ideas
If you've heard about The Very Hungry Caterpillar, why not create one out of egg cartons? These will make lovely spring crafts for preschoolers! All you need to do is paint some egg cartons in red and green, placing them on a train next to each other.
25. Potato Owls – Easy Spring Crafts for Kids
We have already mentioned using potatoes as stamps! Depending on how you cut up a potato, you can dip it in paint and press it on a sheet of paper. If you like owls, then why not try creating owl-shaped stamps? You might be able to make a row of owls sitting on a tree branch!
26. An Egg Wreath – Fantastic for Easter
Easter is one of the big events of springtime! So it would only make sense to use eggs for decoration, which are an Easter symbol, as inspiration for your spring crafts! Cut out eggs from decorative and patterned sheets of paper. Then paste them on a paper plate ring. You will have an egg-celent wreath in no time at all!
27. Egg Carton Chickens – Cute Spring Crafts for Toddlers
Create some baby chicks for spring with your kids! Again, this is another egg carton craft, so if you are in search of recycled projects, this is a fairly easy idea to follow! You will have to cut up the egg cartons, then paint them yellow. Attach eyes to each one, a beak, wings and feet.
28. Paper Plate Flowers – Cute and Vibrant
Here are another super easy and great spring crafts for toddlers and kids! Create flowers from paper plates, cutting the edges of the plate to form the petals. Then make sure to get your kids to paint the flowers in whatever colour they choose! You can add a stem and some leaves to the flower.
29. An Aluminium Can Bunny – Spring Craft Ideas for Kids
As Easter is a spring event, it's a great idea to take some inspiration from the upcoming event! Use bunnies as the main concept for your spring crafts! If you have any empty aluminium cans at home, then coat them with paint and create bunnies out of them! Use the can as the body of the rabbit, then attach ears and feet to it. Naturally, don't forget to add googly eyes, a nose and some whiskers to your bunny!
30. Beetles and Bugs – Spring is Here
Perhaps you collect bottle caps. If so, then try out these easy spring crafts for kids, which involves all the bugs and beetles which crawl out with the arrival of good weather! Use fuzzy wires to create the legs of the bugs, attaching them to the bodies, the bottlecaps. Also, glue two googly eyes to the bottle caps. These small and cute bugs are great spring craft ideas to make with the help of kids!
We hope that this pick of easy spring crafts for kids has given you a few ideas! For other seasonal ideas, besides spring craft ideas, such as spring garden decorations or spring door decorations, make sure to go to our website.
Advert