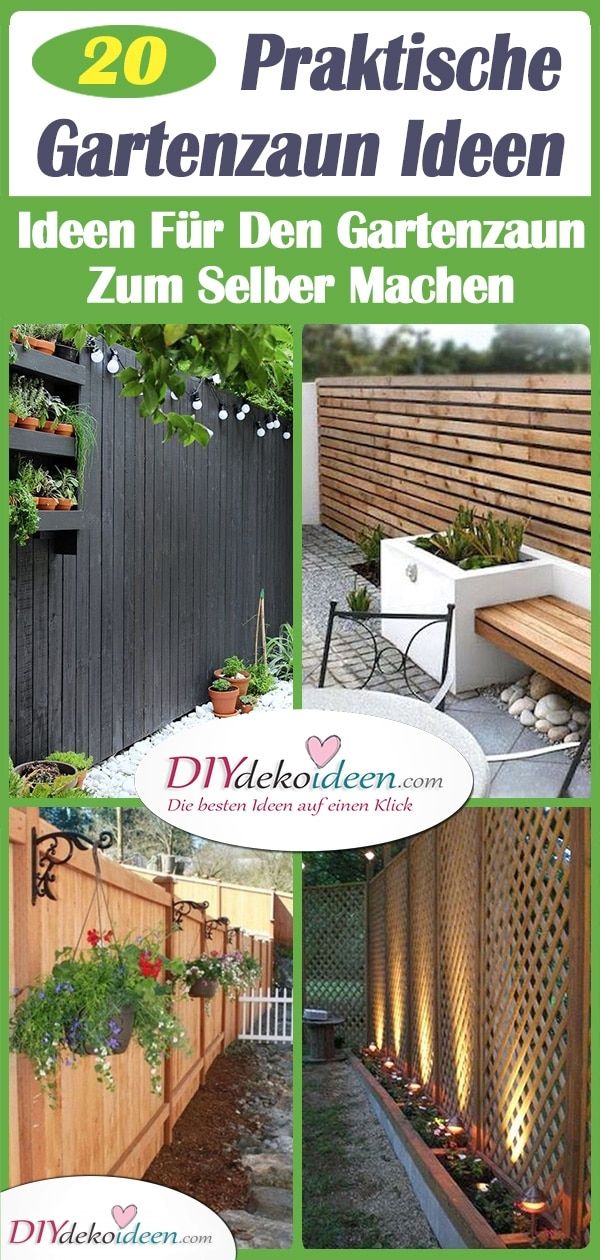 When it comes to designing your garden, you would like it to be perfect! After all, if you get home from a long day of work, all you would really like is a bit of peace and quiet. A place where you might be able to find this solitude is in your garden. Gardens are all about getting in touch with nature and being to find some harmony in your bleak everydays. So if you are thinking about redesigning your garden, make sure to pay attention to all the details. This also includes the very cheap garden fence ideas you use in your garden! Check out our collection of 20 cheap fence ideas for backyard, to find something which will complement the ambience of your garden!
1. Paint it Black – Black Cheap Fence Ideas for Backyard
The colour black has always been appreciated for that elegant ambience it brings with itself. If you would like to channel that sort of atmosphere in your garden, but haven't found the right way yet, then make sure to check out this idea! This is a sort of fencing which you would be able to create yourself, so if you like DIY projects, then give it a try! If you already have a fence, all you will have to do is paint it black. In no moments at all, you will achieve that elegant and modern look, you have been going for.
2. Modern and Chic – Very Cheap Garden Fence Ideas
If you are in search of a beautiful and modern design for your garden fence, take a glance at the example above. It's all about using wooden panels in parallel lines with each other. This will create a very simplistic and modern look for your garden fence. You might also consider placing seats next to your fence, which is put together of the same sort of wooden panels you used for the fence.
3. Lined with Bamboo – Creating a Bit of Privacy
Are you the sort of person who likes putting together their own DIY projects? Then make your garden fence all by yourself! You will firstly have to install a simple, metal fence. This will provide stability for the bamboo which you will layer onto it. You can place your bamboo in vertical lines, fully covering your metal fence. Bamboo is a great option to use if you are in need of a little bit more privacy, as bamboo will help create a full barrier between you and your neighbours without leaving any gaps.
4. Using Nature Itself – Feeling at Harmony
Perhaps you would like to accomplish creating a barrier or wall in your garden, using nature itself. If so, you will need to be patient. You will be able to grow flower beds and plant bushes, ferns, trees and even a hedge! Use more than just one option to create your garden fence, you can combine a few of these for the perfect look. Using plants as an alternative to an actual fence is a fantastic idea, as it is environmentally friendly and good for nature. The array of leaves will also help create a wall between you and the outside world, making your garden a private area.
5. Decorating with Flowers – Cheap Fence Ideas for Backyard
No matter what sort of fence you have created in your garden, you should always be looking for ways to spruce up your very cheap garden fence ideas! If you adore all sorts of flowers, an easy way to add some colour or fun to your fence would be by adding some flowers to it as well. You can plant some flowers in pots and hang them from your fence. With the addition of flowers, you will be sure to add a bit of life and love to your whole garden!
6. A Trellis and a Fence – An Amazing Idea
Can't decide between whether you want a larger fence around your garden or a fence which incorporates nature? Then make sure to choose both with this fabulous idea! Install a trellis in your garden, creating the fence which you need. Depending on your taste, you can grow plants and flowers, which will eventually run up and along the trellis. Of course, this is a fence which is all about patience. It will take a long time for your plants to grow and completely cover the trellis. Don't forget to give the fence a stunning look during evenings and nights by adding some garden lighting to it!
7. Reuse and Recycle – Very Cheap Garden Fence Ideas
When you create something new in your house, you might try to recycle old things you had completely forgotten about. After all, recycling and reimagining things is a great way to recreate what you had. So if you have been searching for an environmental-friendly solution to your garden fences, then make sure to check this idea out! It's all about using corrugated metal for the fence as well as wooden panels. Using corrugated metal for your garden fence will give the whole environment a retro and farmhouse look! So, maybe you have been looking for that sort of atmosphere. Then make certain to try this out!
8. Filled with Stones and Rocks – Cheap Fence Ideas for Backyard
Here is a unique and beautiful technique for creating a garden fence. All you will need are some metal fences, which you put together almost in the shape of boxes. Then it's time to fill them up with all sorts of stones or rocks. The important thing is to make sure that the rocks you place inside of the metal cages are bigger than the spaces on the metal fence. This way none of the stones will fall out, and you will have a stable and unique fence.
9. Brilliant in Bricks – Traditional and Vintage
Do you like old-fashioned and vintage decor when it comes to home and gardens? If so, then you might adore this easy fence design! It's all about using bricks. Bricks are a great material to use, as they provide stability. So whatever the weather conditions are, your brick wall will still be standing even after a bad storm! The other great quality in bricks is that they will ensure that you can take a break in a private space! Thanks to the way bricks are placed and stuck to each other, there won't be any gaps in your fence.
10. Getting Creative with Logs – A Fabulous Fence
When it comes to using wood for your decorative fence ideas, there are limitless choices and options to choose from! After all, wood is such a versatile material for all sorts of building. Instead of using wooden panels or planks, why not try something new? For example, using smaller pieces of logs stacked on top of each other. This will help create a unique and original look. You will have to find a way to fixate them, so none of the logs fall out!
11. Wonderful in White – Garden Fence Ideas
Are you still in search of garden fence designs? If so, take a quick look at this idea! If you already have a fence, why not simply coat it in a new layer of white paint? White will help elevate the whole look of your garden fence, no matter whether it is made out of wood or metal. The colour white is also guaranteed to look beautiful in nature, because of the simple fact that white and green complement each other very well. 
12. Cheap and Handmade – Make Your Own Wattle Fencing
You might be in search of a fence which is not only inexpensive, but you can put together by yourself. If so, then make certain to take a glance at this wattle fencing idea! You actually 'weave' this fence by yourself, by using thin branches of wood. There are a lot of tutorials online, which will be able to help you understand how the weaving works. After all, it's worth trying something new. And if you made your garden fence all by yourself or with family, it would be something you would be proud of for the years to come!
13. A Sleek and Modern Look – Very Cheap Garden Fence Ideas
Here is a garden that exudes a refined and modern atmosphere. Using a fence, which is made out of wooden panels, each painted in the same shade of grey will look sophisticated! The fence itself can run along right next to your garden walkway. Besides only using your garden fence or wall as a barrier, which blocks out the outside world, you can use it for so much more! If you don't have enough space in your garden, you can attach small shelves to your garden fence. For example, you will be able to plant some herbs in pots and place them on a shelf. This is great for someone who has a tiny garden!
14. Adding Some Colour – As Well as Shelves
Here is yet another spectacular idea for a garden fence! Use wooden panels to create the fence itself, you can even have small shelves running across the fence. You will be able to store pots of flowers or herbs on the shelves. To give your fence a truly bubbly and vibrant look, why not coat it all in a colour of your choice? For example, baby blue would look fantastic! You can further decorate it by stringing fairy lights over it, which will create a romantic ambience at night.
15. Privacy Fence Ideas for Backyard – Cheap Fence Ideas for Backyard
Maybe you are in search of a higher level of privacy when it comes to your garden fence.  If you already have a brick wall, which isn't high enough, then why not create a wooden fence made out of wooden panels on top of it? The combination of bricks and wood will look spectacular together, not to mention it will give your whole garden a unique look. If you don't believe us, then check out the example above.
16. Don't Let the Pets Escape – Cheap Fence Ideas for Backyard
Get ready to install privacy fence ideas for backyards! Do you have a few pets at home, who you love letting into the garden? If so, make sure that your garden is a safe space to play in, as well as having an escape-proof fence. There are a lot of dogs, which dig themselves out of a garden and run away. The solution to this problem is to get install hog wire metal fence, which your pets won't fit through. You can even dig up the ground, to place some under the terrain. This means, if your dog wants to dig an escape route for themselves, they won't be able to!
17. Keeping it Simple – Modern and Easy
Perhaps you are the sort of person who prefers a simplistic and modern style over rustic designs. If so, you will probably like these yard fence ideas. Using wooden panels in an easy and modern manner, you will be able to achieve a clean look in your garden. You will have to use thicker wooden panels or planks for creating the borders of the fence itself. Then use thin wooden panels or even metal rods to make the inside fencing.
18. A Pallet Project – Garden Fence Ideas
Do you like using wood around your home and garden? If so, why not create your garden fence out of pallets of wood? They don't have to be the same colour or type of wood, using a mixture of wooden pallets will help create a unique look for decorative fence ideas. Create a chevron fence instead of placing the woods in a vertical or horizontal arrangement. It's quite simple to put together, not to mention it's always a great idea to recycle old materials.
19. Mixing it Up – Different Sized Panels
Here is one of many great yard fence ideas! Again this idea incorporates wooden panels, which are placed in a verticle line. You don't even have to worry about using the same colour or size panels. Using a mix of different wooden panels will give your fence an original look.
20. Recycle and Reimagine – Cheap Fence Ideas for Backyard
We trust that you found some inspiration amongst this pick of very cheap garden fence ideas. For other garden ideas, such as garden decorations for spring, please visit our website.
Advert