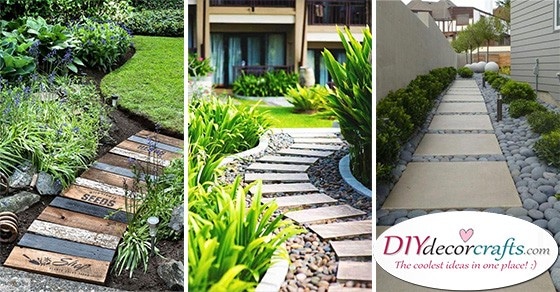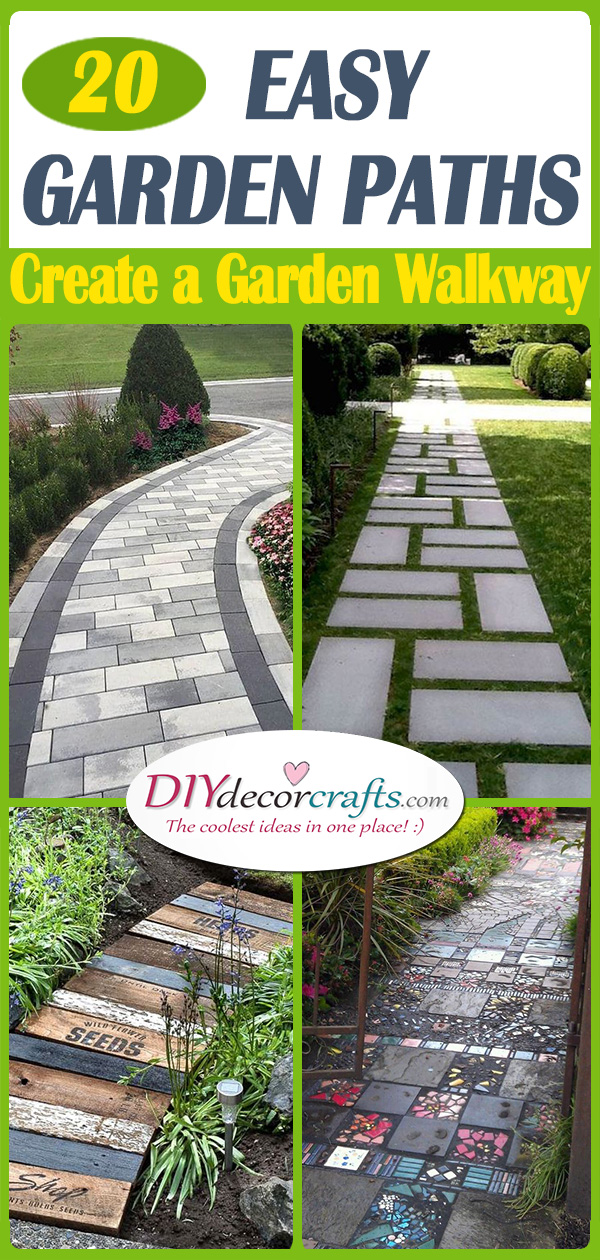 Are you considering reconstructing and renovating your garden a little bit? There are a lot of interesting ways you can spruce up your garden. Whether it is adding some source of lighting to your garden, redesigning your flowerbeds or adding decorative ornaments to it. Whatever you would like to do, you will be sure to give your garden a new and exciting ambience. Just one of these amazing ways of perking up your garden would be by adding a garden walkway to it. A lot depends on your easy garden path ideas actually, as it also helps set the tone of the space. We have collected 20 garden walkway ideas in order to help you find inspiration. So take a look through them!
1. Simplistic Squares – Garden Walkway Ideas
Have you been thinking about creating a minimalist and zen vibe in your garden? How about placing square-shaped stones along the desired route of the pathway. Instead of placing them all over the place, create a straight line with the square stones. Surround them with small grey pebbles for a truly simplistic and minimalist look. Naturally, feel free to plant a few bushes along the pathway as well, which you can trim every now and then, to give them the same size and shape. And don't forget to install lighting either! Stepping stone paths like this one, are guaranteed to look amazing!
2. Lay Down Wooden Panels – Stylish and Stunning
Using stone isn't the only material you can use for creating a garden walkway. Another fabulous option would be to use wood. But in what form? How about buying an array of wooden panels, each one should be the same size, as well as varnished. Lay them down on the pathway's line, making certain that the wooden panels are right next to each other. So make sure that you don't leave any gaps between the panels. Using wood for your garden pathway will give the whole garden a very natural vibe.
3. A Flight of Stairs – Easy Garden Path Stones
Does your front or backyard have a slight slope to it? Perhaps the terrain in your garden encompasses a slope or two in it. If you'd like to have a garden walkway created then you might have to create a set of stairs. This will make it easier for you or anyone of your friends or family who visits you to climb up into the garden. If you need to get up into your garden after a rainy day, you won't have to trudge around in the mud. Instead, lay thicker stepping stones into the terrain to create this flight of stairs, each one placed an inch or two higher than the one below it.
4. Lovely in Logs – Natural and Earthy
Would you like to transform your garden into a space of nature and peace? Then make sure to only use natural materials for creating your garden walkway. A fantastic option is to use slices of logs as the layout of your pathway. The log slices will only help in enhancing the natural vibe of the whole garden. You might want to varnish your log slices before actually laying them in the ground, as this will prevent them from rotting before their time. This will also look perfect as a garden edging design!
5. A Piece of Art – Garden Walkway Ideas
Are you trying to find walkway stepping stones that will fit right into your elegant and sophisticated garden? Then you won't have to search any longer! Here's a great idea for you! Lay down square-shaped stones into the terrain to create an easy yet effortless pattern. As an alternative to laying pebbles or gravel as the grout, how about planting and growing grass in between the stones? The combination of grass and stone will look absolutely amazing together, especially when the grass starts to grow properly!
6. Keeping It Easy – Gathering Innovative Inspiration
There are dozens of unusual and unique ways to create a garden pathway. It really depends on what sort of atmosphere you would like to embody in your garden. Perhaps you want to use cheaper materials to do this. For example, if you have any old wooden panels, how about you place them into the ground. This is a great way of recycling something old. Simple scatter gravel around the wooden panels to highlight the fact that this is a pathway. Add some plants along your walkway, such as pot plants giving the path a few vibrant bursts of green.
7. Beautiful in Stone – Easy Garden Path Ideas
As we have mentioned before, using stone is a classic material for creating a pathway. So if you are in search of something rustic, then a stone pathway is definitely the way to go! But to turn your garden path stones truly enchanting, how about you plant and grow flowers in the gaps between the walkway stepping stones? When the flowers start to grow and blossom, it will transform your walkway into a magical area to walk through. It might take patience and energy to grow flowers in the grout area, but when you succeed it will be completely worth it!
8. A Walkway of Vision – Creating a Barrier
Spruce up your garden a little by adding a pathway to it. This will create a new place for guests to explore and trek through, as well as adding a new and exciting element to your garden. So even if the pathway doesn't connect two important parts of your house or garden together, it can still become a serene part of your environment to walk through. Lay down wooden panels and scatter pebbles between the gaps of them. Also, create barriers along both sides of your pathway to give it an even more gorgeous look.
9. Adding the Right Lighting – Garden Walkway Ideas
Adding a pathway to your garden is a fantastic idea. Especially if you want to connect your house with an important part of your garden, by creating a walkway. But one thing you shouldn't forget about is to add garden lighting to it. Whether these are led lights running along the sides of your path or fairy lights arranged close to your pathway, this will provide enough brightness for the evenings or nights. So if you spend an evening in your garden, you'll be lead right back to your home thanks to the lights showing the pathway.
10. Use Reclaimed Wood – Cheap and Environmentally Friendly
Maybe you have some wooden panels of reclaimed wood lying around in your garden shed. Instead of throwing them out, how about using them for building a garden walkway? If you want to get creative with this idea, you can even paint each piece of reclaimed wood, in order to give it a new and exciting colour before laying them down next to each other. By giving your panels a bit of colour, you might add a pop of fun to your whole garden!
11. A Retreat of Relaxation – Refinement and Elegance
Is your garden already designed to look like the epitome of elegance and refinement? Maybe all the bushes growing in your garden are regularly trimmed, to give them the same shapes and sizes. Or perhaps you have a fountain built in the centre of your garden. Whatever the circumstances are, an easy yet refined pathway may consist of laying out bricks for the sides of the walkway. Then scatter the actual path with gravel or small stones.
12. Plenty of Space – Easy Garden Path Designs
One thing you will want to watch out for when laying down stepping stone paths is that there is plenty of room to walk on. When it comes to pathways, it's usually better if it's wider. If your walkway is too narrow, it might feel cramped. It is also a great idea to make your pathway wider for more people to fit next to each other while strolling down it. You can also create sidepaths coming out of your main walkway and these will take you in different directions in your garden.
13. Guide to Making Your Own Easy Garden Path – A DIY Project
Maybe you have been planning to create your own garden pathway. After all, if you like to build things and create all sorts of DIY projects, then you might be down to making your own backyard walkway. Check out the idea above, to see what sort of materials you need and how to lay them down to create a stable garden pathway. Sand comes on the very bottom and on top of that you can place bricks or granite cobblers. Also install edging stakes on both sides of your walkway, to keep everything in place!
14. Lay Out a Pattern – Garden Walkway Ideas
Just because you used stone for creating a pathway, doesn't mean it has to look boring! Or plain. You can bring out the most of a pathway even if you're just using simple stones for the layout. For example, you can create unique yet simple patterns using rectangular stones. Just check out the picture above for a bit of inspiration! You can allow the grass of your garden to grow between the spaces of the stones. This is one of many fantastic garden walkways.
15. Bricks and Pebbles – Cute and Easy
Are you still in search of a dream pathway for your garden? How about using a combination of bricks and pebbles? You can use the bricks for putting together stepping stones along the route of your garden path. Then simply fill up the rest of the pathway with an abundance of pebbles. The combination of these two materials will create a very rustic and romantic garden pathway. To enhance this vibe, even more, you might place some stone statues along the path or some large lanterns for romantic lighting during evenings.
16. A Lovely Walk – Easy Garden Path Ideas
When you walk around in your garden, make certain that you create a unique experience for yourself. By this, we mean that you create a garden pathway, which will perk up your whole garden and it will turn your everyday walks in your garden into a special adventure. So even if you're using only one sort of material, such as rectangular stones, for creating a pathway, you can still lay them out in an interesting pattern. Just take a quick glance at the example above to gather ideas!
17. Brilliant with Bricks – A Vintage Vibe
As we have mentioned a few times now, there are countless ways to create a stunning pathway for your garden. If you are in search of a garden path that is more on the vintage side of design, then here is an idea to try out. Use bricks as the main component of your garden path. Again, we have to put stress on the fact, that instead of worrying that using only one sort of material will make your pathway plain or boring, you can create a groovy pattern with the bricks by laying them out in zig-zags!
18. Unique Mosaics – Get Creative and Feel Inspired
Perhaps you are feeling inspired and would like to get creative with your garden path! Think of it as a huge mosaic piece of art, in which you can lay down any sort of pieces you'd like. This might come in the form of painted bricks, stone or even tiles! By the time you finish laying out this large mosaic pathway, you'll have a patchwork of fun and vibrant colours as well as materials. This is definitely a walkway that will become one of a kind!
19. Shades of Grey – Garden Walkway Designs
Here is another fabulous way of designing your garden walkway.  While using one sort of material, such as cobblestones, you can watch out to use different shades of it. A great example would be to use the colour grey but in more than one shade. You can use light grey stones on the inside of your walkway, then use darker grey ones on the sides. It will look incredible next to a few blossoming flower beds!
20. A Bamboo Path – Fantastic Garden Path Ideas
A material you wouldn't think of using for your garden path is bamboo! It's cheap and easy to use, as you don't actually need to install it into the terrain. Just place the bamboo sticks in the ground, closely next to each other! It's really as easy as that!
We hope that this pick of 20 easy garden path ideas has inspired you! For other home or garden design, like DIY garden furniture or modern outdoor fireplaces, just visit our website!
Advert