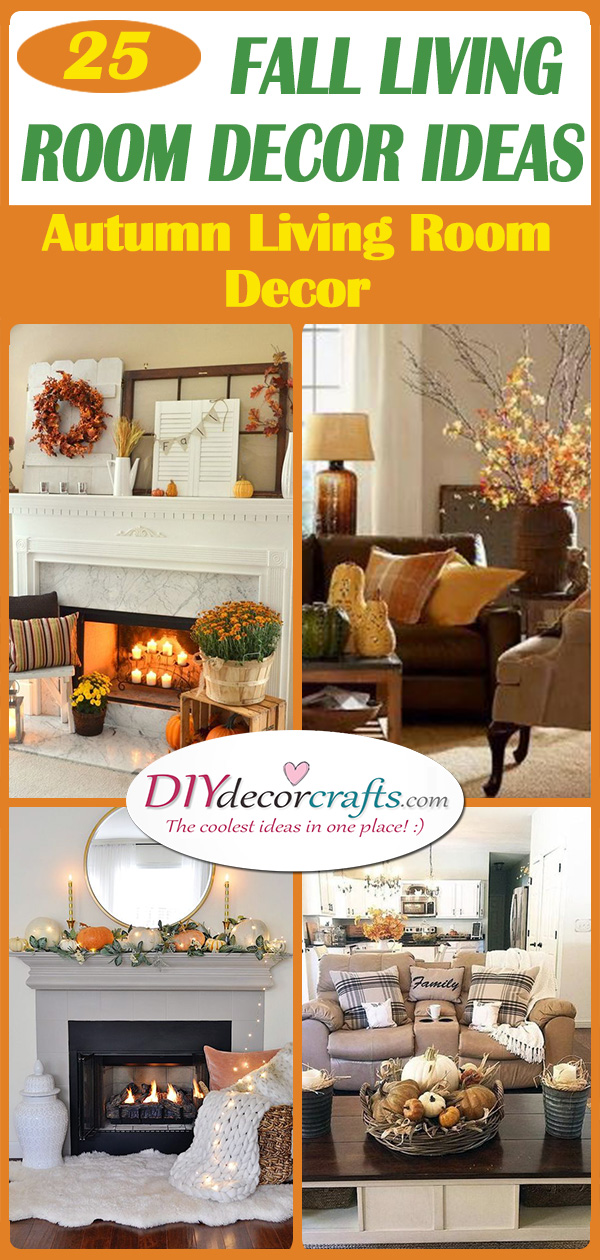 The season of autumn has finally arrived! The mornings are chilly and misty and the nights just keep getting longer. Autumn is an incredibly beautiful season, with all of nature turning into warm shades of colour. It's a perfect time to sit inside your home with a cup of cocoa or tea, watching the wind blowing autumn leaves in the air. But it's also perfect for going on a hike or gardening for the last time in that year. If you would love to give your house and your garden a gorgeous fall look, why not style your living room in a manner to give it an autumn vibe. Check out our collection of 25 fall living room decor ideas. After checking out our autumn living room decor, you'll be sure to find inspiration!
1. Inspired by the Season – A Selection of Autumn Goods
Channel the essence of the season into your living room. There are quite a few ways in which you can achieve this! If you have a fireplace in your living room, how about you decorate the area around it? For example, you can place an array of autumn leaves and pumpkins in crates at the bottom. You might also want to create a wreath that is put together of autumn leaves or foliage and place it right above your fireplace. Make certain that you get creative and have fun with this idea!
2. Around the Coffee Table – Easy and Effortless
Don't forget to decorate the centre parts of your living room, to really bring the sense of autumn into your heart and home! A great example would be to decorate the area around your coffee table. You might spend a lot of your time relaxing just sitting down in the living room and putting your feet up on the coffee table or enjoying a cup of coffee or tea while lounging around. Due to this, your coffee table is sure to be used a lot! You can arrange some vases with seasonal flowers in them or a basket of pumpkins in the middle!
3. Autumn Colours – Fall Living Room Decor Ideas
Sometimes the best way of creating an autumn vibe is by using a few autumn colours in your living room. For example, instead of using green or pink pillow covers, try out orange ones! You can also have some autumn designs printed on the pillows to bring about an even more intense autumn vibe. Arrange a selection of pumpkins in a large plate or bowl, along with some candles, and place them on a coffee table or shelf.
4. Simple yet Magical – Ready for the Season
Get ready for the season of autumn by decorating your living room! Maybe you have a fireplace built inside of your living room. If this is the case, it's time to clear everything off the mantel and add some fall decorations to it! How about arranging a selection of pumpkins along the mantel, as well as a few candles and some leaves. Then it's time to add the extra touch of magic, by twirling a long string of fairy lights around the whole composition. This will light up the whole design beautifully!
5. A Tray of Fall – Fall Living Room Decor Ideas
You don't need to go overboard with your autumn living room design! Sometimes adding just one or two sorts of seasonal elements to the whole room will truly help in creating a fall atmosphere. Maybe you have a multi-tiered tray somewhere at home. If so, it's time to use it in a creative manner! Place an array of fall-themed items on each tier of the tray. This may include pumpkins, chestnuts or pinecones making it a perfect autumn table centrepiece. You might also decide on arranging some mugs or signs on the tray that have the words "fall" or "autumn" written on them.
6. The Placement of Pumpkins – Cute and Groovy
One sort of seasonal vegetable associated with autumn immediately is no other than the pumpkin! Pumpkins have long been a symbol of autumn, as well as Halloween. So if you are feeling inspired by fall pumpkins, then how about you use a few in your living room? You can use actual pumpkins or ones made of porcelain, stone or plastic. Place them all around the room, from shelves to your coffee table to the mantelpiece of your fireplace. These are great fall living room ideas!
7. Unique Lanterns – Autumn Living Room Decor
When thinking of an autumn afternoon or evening spent at home with your loved ones, what image pops into your mind almost immediately? Perhaps it's one sitting around a coffee table, everyone with a cup of tea or hot chocolate in their hands. You can hear the wind blowing outside or perhaps a chilly autumn shower is drenching the landscape in water. But inside everything is warm and a faint glow of candlelight illuminate the room. How about you add some candles which you place in unique lanterns around the room? For example, the lanterns or candleholders may have holes in them, to make them cast dotted lights in the room.
8. Seasonal Flora – Festive and Fabulous
We sometimes forget that there are quite a few species of flowers that bloom during the season of autumn. Just to mention a few, dahlias, cornflower, pansies, chrysanthemum and camellias. So if you just want to arrange a bouquet of autumn flowers in a vase, there are quite a few directions you can go in. A simple bundle of flowers arranged in a vase can uplift the whole ambience of the living room, so how about you give it a try?
9. Decorating Candle Holders – Stylish and Stunning
Here is yet another unique sort of decoration you can create for your living room this season! Whether you are using candlesticks or candle holders, it doesn't really matter. The most important part is that you decorate them in a way that really brings the season of fall alive! A fantastic idea would be to gather autumn foliage, such as red leaves, sprigs of berries or vines and wrap them around the candle holders or candlesticks. These fall living room ideas are guaranteed to look amazing for the season!
10. Perfect for Halloween – Fall Living Room Decor Ideas
One important holiday which takes place during autumn is no other than Halloween! The night when every town and city comes alive with trick-or-treaters. Using pumpkins as decorative items for Halloween is a necessity! But instead of leaving them plain, make certain to give them spooky patterns simply by painting the pumpkins. You can use black paint over the beautiful orange colour of the pumpkins. Paint scary faces or spooky and cute patterns on the pumpkins. This is great for anyone who wants to bring a sense of Halloween into their life!
11. Clean and Simplistic – Bursts of Orange
Are you ready to start decorating for autumn? Perhaps you have a living room that mainly uses pale shades of colour for its design. For example, beige walls, white furniture and pale decorative elements. If this is the case, you may want to add a few bursts of colours for the new season. This may come in the form of burnt orange, which will definitely draw an autumn atmosphere with itself. You can add a few orange pillows to your sofa or a vase of orange flowers on your coffee table. Easy yet fabulous!
12. Pretty Pumpkin Candles – Autumn Living Room Decor
There's nothing better than spending an evening or night being surrounded by dim candlelight. Keeping this in mind, you will definitely want to add a candle arrangement to your living room. This will give your living room a warm and friendly glow, which will be perfect for any chilly autumn nights. An amazing idea would be to use pumpkins as candle holders, by carving out their stems and the area surrounding those. Another would be to find candles which are shaped to look like actual pumpkins.
13. Trick or Treat – Halloween Is on the Way
As we mentioned before, Halloween is just one fun autumn event to look forward to! Perhaps you are in search of living room decor, which also exudes a Halloween vibe. If so, how about you load a tray or cart with all sorts of Halloween decorations and find a place for it in your living room? This might include some pillows that have Halloween-themed images on them, an abundance of pumpkins and a sign wishing everyone a happy Halloween!
14. Fresh in Farmhouse – Preparing for the Harvest
Does your home incorporate a farmhouse style and design? If this is the case, then try finding autumn decorations which will fit in straight away! Ranging from checkered pillow covers to galvanized vases, you will be certain to find something that brings an autumn farmhouse feeling to your home!
15. A Hint of Blue – Fall Living Room Decor Ideas
While blue isn't a typical colour you would associate with autumn, you can still use it in your fall decor! Using a few blue elements around your living room might just take your living room to the next level, making it feel more refined and elegant. For example, if you have a tray of pumpkins, how about you coat a few with blue paint? Then use a few different blue elements to complement this look.
16. Fall Garlands – Made from Autumn Leaves
Now it's time to get creative by making a DIY project for your living room this fall! Press and preserve autumn leaves, preparing your leaves to create garlands out of. Then simply attach each leaf to a string or longer piece of yarn. Hang them anywhere in your living room to really bring that sense of autumn alive!
17. Cosy and Comfortable – Autumn Living Room Decor
When the chilly autumn evenings and nights arrive, sometimes all you want to do is huddle up on a sofa in an abundance of pillows with a blanket. An easy way of preparing for the season, as well as decorating your living room, is by adding some warm blankets around the room. This will ensure that your living room looks cosy and fully ready for the colder season!
18. A Bucket List – For the Season
How about you include a bucket list as part of your fall living room decor? All you need is a blackboard on which you write up a list of activities you'd like to do before the season is over. This makes it not only a great source of autumn decor but also inspirational for your daily life!
19. An Autumn Abundance – Fall Living Room Decor Ideas
Create an autumn ambience in your living room, by using all sorts of autumn living room decor elements in it. Whether these are pumpkins arranged in various parts of the room, Halloween-themed items or gathering pillows that have autumn leaf prints on them, there are so many things you can choose from!
20. Lovely Leaves – Cheap and Fabulous
Are you trying to find a simple and cheap way of decorating your living room for autumn? How about sticking leaves on one of the walls of the room? Simply attach them with the help of tape. Make sure that the tape you get, won't tear the paint off the walls.
21. An Autumn Sign – Fall Living Room Decor Ideas
At times all you need is a wooden sign with a message on it. For example, maybe you can grab a wooden board or panel on which you write up a message with which you welcome the new season.
22. Bringing Nature Inside – Magnificent Maple Trees
Channel an autumn vibe in your living room by bringing nature inside your home! For example, you can plant some smaller maple trees in larger pots and arrange them in your living room. Their leaves will turn into beautiful, warm colours. Another option would be to get indoor or outdoor electric lighted trees, which have realistic leaves!
23. Friendly and Rustic – Autumn Living Room Decor
Maybe your living room was already designed in a rustic style. If so, make sure that the autumn elements you add to it also create the same vibe. A few plaid blankets and cushions, pumpkins, seasonal flowers and overall warm colours will really bring the spirit of autumn into your living room!
24. Autumn Leaves – Warm and Welcoming
When you think about the season of autumn, what sort of image pops into your mind? Maybe it's the falling leaves. If so, make sure to incorporate autumn leaves into your living room decor. You can create vines of autumn leaves, simply by attaching a lot of leaves to a piece of string or yarn. Or even add an autumn wreath to the decor. Hang these on mirrors or shelves, while scattering plenty of leaves on tables.
25. Happy Harvesting – Fall Living Room Decor
Autumn is the season of harvesting! So, take inspiration from the world outside and use wheat in some form of decoration. You might place a bundle of it, that is tied together with a gorgeous ribbon, on a table or a shelf.
We trust that you found inspiration amongst these 25 autumn living room decor! For other sorts of home design, besides fall living room decor ideas, such as Fall Decorating Ideas for Outside or Fall Wreaths for Front Doors, visit our website!
Advert