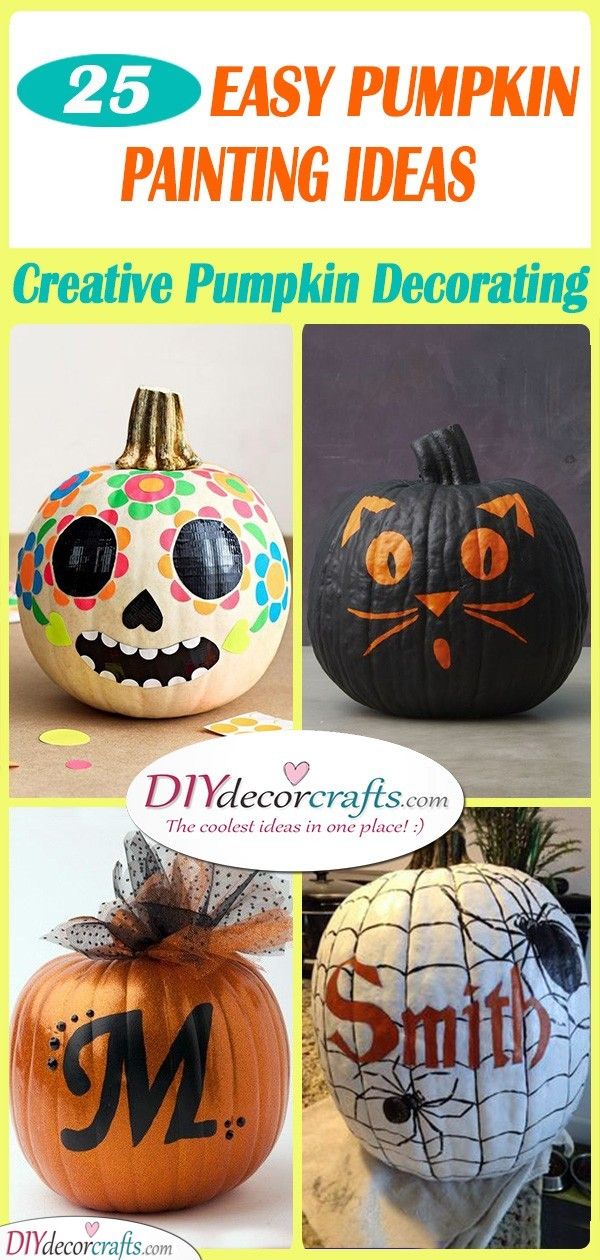 Halloween is nearly here, which is one of everyone's favourite fall festivities! This means it's time to start carving and painting pumpkins, dressing up in scary costumes and go trick-or-treating. Getting ready for this exciting event also means preparing your home with spooky-looking food and decorations! Creating the right sort of decor for Halloween is a necessity! When someone enters your house this season you will want to present a spooky ambience towards them. That's exactly why we have collected 25 easy pumpkin painting ideas, to help you out in finding the perfect pumpkins for your home! After all, you will want to blow away your guests this Halloween with creative pumpkin decorating ideas as well as a collection of ideas for autumn!
1. Elegant and Refined – Easy Pumpkin Painting Ideas
Painting your pumpkins for Halloween is a great way of decorating your home and garden! It's really up to you and your creativity on what you decide to make out of them! To give your pumpkins an elegant glow for Halloween, why not coat them in a sparkling paint first of all? After allowing the paint to dry, simply just write up a letter on the pumpkin. This might be the monogram of your family. This way, whoever pops into your home during Halloween, will know exactly where they have come!
2. Glowing in the Dark – Jack Skellingon Idea
Just because you aren't carving your pumpkins, doesn't mean you can't give your painted ones a spooky vibe! Here is a perfect pumpkin painting idea for Halloween that will blow your mind! Firstly, buy a tube of glow in the dark paint. Cover your pumpkin fully in this funky paint. After it has dried, you can paint a face on your pumpkin as well with black paint! If you are a fan of The Nightmare Before Christmas, why not use one of the characters from it as inspiration for your pumpkin? For example, Jack Skellington! This will become a perfect source of Halloween decor!
3. Mike Wazowski – Creative Pumpkin Decorating Ideas
There are a lot of cool ideas on what to paint on your pumpkins for Halloween. If you loved the movie Monsters, Inc. then you might like this creative pumpkin painting! Instead of painting something super scary and sinister on your pumpkin, simply create the one-eyed face of Mike Wazowski. Mike is a lovable and cute monster from the movie. He will also make the perfect decor for your garden or house if you don't really want to spook anyone out during Halloween! So make sure to give this idea a try!
4. Gorgeous Melted Crayon – Easy Pumpkin Painting Ideas
You might have seen a few examples of melted crayon art. It's not only a creative and innovative way of creating something, but it is also beautiful! So, how about you give it a try as a fall craft with the kids? Grab a white pumpkin for this craft, then place all sorts of vibrant coloured crayons on the top ledges of it. Now all you need to do is warm up the crayons with a hairdryer and wait for the magic to happen! The crayons will slowly start to melt and trickle down the sides of the pumpkin. It will create a vivid and wonderful image!
5. Bats and Stars – Great for Halloween
Are you in search of something beautifully spooky for Halloween? Then make sure to use a Halloween design to decorate your pumpkins with. A great combination can consist of bats and stars for example. You might prefer to carve these figures out, this way they will miraculously light up during the night. However, why not paint the pumpkin itself into a deep and dark brown or even black? The combination of black and orange will definitely bring classic Halloween vibes with itself. That's what you're going for after all!
6. Glamorous and Sophisticated – Pink, Gold and White
If you prefer a more sophisticated and glamorous touch on home decor, then you might just love this idea! Paint your pumpkins in a combination of white, gold and pink. These three colours complement each other perfectly. While these pumpkins won't exactly bring a typical Halloween vibe with themselves, they will still look stunning! Make sure the paint the stems of the pumpkins as well, coating them in shimmering gold. You can add other decorative elements to the pumpkins as well. For example, gold dots or even stripes!
7. Face Mask Time – Easy Pumpkin Painting Ideas
Make sure that your pumpkins get a bit of relaxation during the Halloween festivities! Instead of creating something spooky out of them, why not create two pumpkins who are enjoying facial kits? Paint faces on your pumpkins, covering the area around their faces green. It will look as if they were relaxing with face masks on. You can also paint two slices of cucumbers over one of the pumpkin's eyes. Another funny addition is to add towels to the top of their heads. This is definitely a creative and awesome way of painting pumpkins!
8. Day of the Dead Design – Sugar Skull Idea
A stylish trendy when it comes to Halloween makeup or costumes is using the Day of the Dead designs as inspiration. So why not use these detailed designs in your pumpkin painting as well? Coat your pumpkins in a layer of simple paint, then start adding floral designs all over your pumpkin. Remember to add eyes, a heart-shaped nose and a toothy grin to your pumpkin as well. This will ensure the sugar skull look. This pumpkin painting idea is perfect for Halloween and it's also not so spooky.
9. A Poison Apple – Or Poison Pumpkin
We all know that Snow White was poisoned with an apple. Use a poisoned apple as inspiration for your Halloween pumpkin painting! Coat your pumpkin first in a layer of red paint. After it has dried, paint white over the top of it, as if it were dripping over the read. You can leave out three gaps with the white paint, creating the shape of a skull, two eyeholes and the nose. Add a small cut out piece of green paper to the top, as if it were the leaf of an apple.
10. A Stylish Pumpkin – Creative Pumpkin Decorating Ideas
Maybe you prefer painted pumpkins instead of carved ones. After all, the process of carving is a long and tedious task. So, are you in search of a stylishly painted pumpkin instead of a spooky one? Then check out this idea! Paint stripes onto the pumpkin, black stripes over orange ones. Once you have allowed the paint to dry, it's time to decorate your pumpkin even further! Add small white dots in between the lines where the two colours of the stripes meet. This will add a touch of refinement to your pumpkins.
11. Gru and His Minions – Despicable Me
Now here's a perfect Halloween pumpkin painting idea for you and the kids! Use Despicable Me, an adorable and exciting movie as inspiration for the pumpkins. Create a few minions out of pumpkins, covering them up in yellow skin and blue overalls. Also, make sure to create their eyes. You can use cut out mason jar lids for this. Then paint one of the pumpkins as Gru himself. You can use the stem of the pumpkin to act as his nose, which means you will have to paint that as well!
12. Beautiful in Lace – Easy Pumpkin Painting Ideas
Here is another idea on how to decorate your pumpkins if you are in search of something more elegant and stylish. Paint your pumpkins in a simple shade of paint, for example, beige or white. Then cover it up in a layer of lace. It's completely up to you on what sort of lace you find for the pumpkin. We recommend choosing a black coloured one, as it will bring a spooky touch to it.
13. A Delicious Doughnut – Cute and Fun
While we usually think of Halloween as a spooky festival, when all the ghouls and witches come out to play, let's not forget that it's also a time for treats! There are always all sorts of treats, in all sorts of shapes, sizes and flavours. So why not use a delicious treat as inspiration for your pumpkin painting? For example, a doughnut! Paint your pumpkin white, then add a layer of pink on top, representing the icing. Then glue some small cut out pieces of papers to the pink part of the pumpkin, as if there were sprinkles all over it!
14. A Brilliant Boo – Time to Spook
Here is yet another one of many cute pumpkin painting designs as an alternative to pumpkin carving! Instead of going over the top with your painting, why not just decorate your pumpkin with white polka dots? Then paint the word "boo" over the front of the pumpkin. Hopefully, you will be able to scare a few people with this, but we highly doubt it!
15. A Black Cat – A Symbol of Halloween
Superstitious people say that a black cat crossing your path brings bad luck! While we don't agree with this,  black cats are definitely associated with Halloween! If you love cats, why not use them as an idea for your pumpkin painting designs? Paint your pumpkin black, leaving the eyes, whiskers, ears, nose and mouth orange.
16. A Web of Spiders – Creative Pumpkin Decorating Ideas
Make sure to add a spooky pattern to your pumpkins for Halloween. If you aren't carving, then check out this easy and simple painting idea! Create a spider web on your pumpkin, fully covering it. Then, of course, it's time to add a few spiders to the web as well! Paint one or two perched on your pumpkin.
17. Funny Messages – Creeping it Real
Here is another fabulous way of decorating your pumpkins for Halloween! After painting them in vibrant colours, write messages on each one. These can be funny and modern messages, the sorts you see on social media, but with a Halloween touch to them. For example, "creep it real", "witch better have my candy" or "I'm here for the boos." These painted pumpkins will make fantastic fall decorations for outside!
18. Pennywise the Dancing Clown – A Sinister Look
Everyone went crazy about Pennywise the dancing clown from "It." If you are a huge fan of this movie, then recreate his face on one of your pumpkins! After painting his sinister look on your pumpkin, you can also make sure to add a red wig on top of your pumpkin!
19. Drip Painting – Creative Pumpkin Decorating Ideas
Drip painting is a fun way of creating unique patterns! So why not try it out on your pumpkins? For a Halloween look, use orange, black and white paint for this! All you actually need to do is drip paint on your pumpkins, letting the paint flow down the side, creating marble patterns.
20. A Classic Halloween Design – Easy Pumpkin Painting Ideas
There's nothing like classic Halloween designs! So make sure to add some to your pumpkin paintings as well! You can paint ghosts on one pumpkin, bats on another and spiders on a third. If you want to get really creative, you can also use black glitter to decorate the spiders and bats!
21. Large and Black – Creative Pumpkin Decorating Ideas
You can't really go wrong with painting your pumpkin black for Halloween! After all, black is not only the colour of fashion but spookiness as well. Decorate your large black pumpkin further, by drawing the word "boo" on it with white paint! This is one of many easy pumpkin painting ideas!
22. A Small House – Fall Blessings
Combine pumpkin painting with the carving! Carve out the insides of the pumpkin, creating little rectangular shapes on the outside, which will act as windows. Paint a house on the outside of your pumpkin with a small garden. You can even paint a sign on top of the house that reads "fall blessings." When you place a candle in your pumpkin, it will look as if someone had turned the lights on inside.
23. Trick or Treat – Loads of Fun
Here is a cute pumpkin, which will serve as a great welcome sign for anyone during Halloween! Paint your pumpkin in shades of yellow and orange. Then simply write the message "trick or treat" on it in big letters. It's simple and cute!
24. Frankenstein's Monster – Creative Pumpkin Decorating Ideas
Frankenstein's monster has become a symbol for Halloween! So it would only make sense to use him as inspiration for your pumpkin painting! Paint your pumpkin in murky green, then add eyes, a mouth and a nose to it. Also, paint a few stitches on your pumpkin for that special effect!
25. Intricate Sugar Skulls – Pumpkin Painting Ideas
Here is another Day of the Dead design for your pumpkin! Except this one is made using different colours and decorative elements! Check out Dias Los Muertos designs for pumpkin painting ideas!
We hope that this collection of 25 creative pumpkin decorating ideas have helped you to find something fun to do this Halloween! For other Halloween ideas, besides easy pumpkin painting ideas, like Halloween costumes or Halloween food ideas, go to our website!
Advert