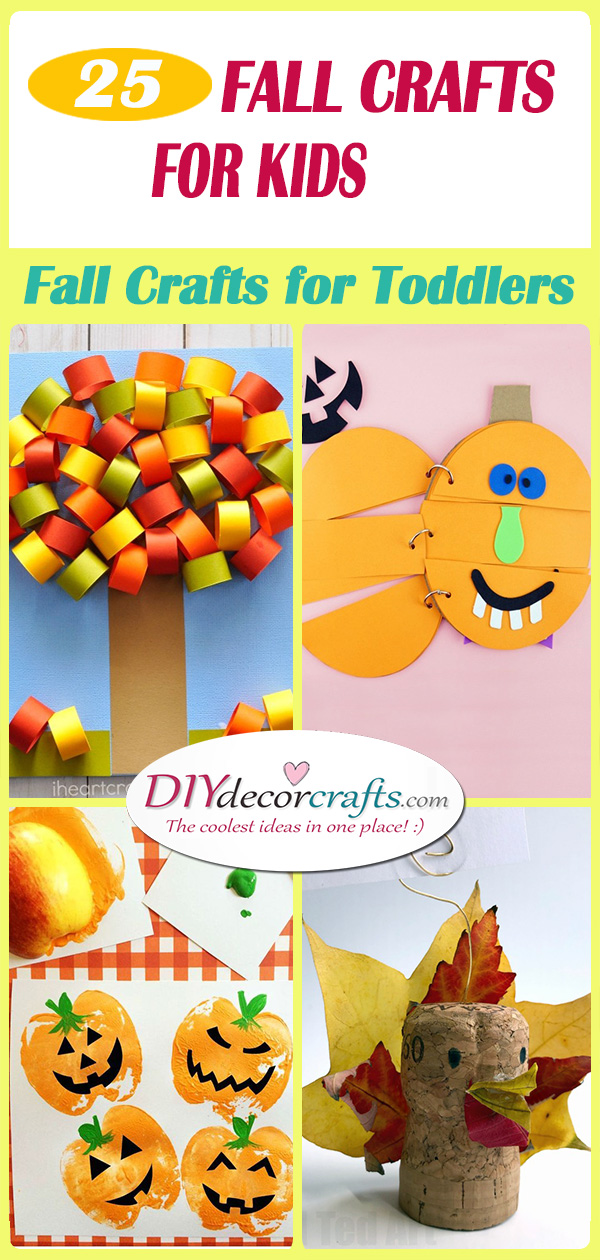 Autumn is finally here! The season of change. The days get shorter and the nights turn longer. The leaves on trees turn into beautiful shades of brown, yellow, orange and red. Autumn is the best time for finishing your tasks in the garden, but also the perfect time for sitting in the window and drinking hot chocolate. Fall is also a great time to get your kids involved in getting ready for the season. There all numerous autumn crafts for kids, which they can put together themselves. Then they will be able to place their crafts around the house and garden, decorating your home with these fall crafts for toddlers! So take a look through our collection of easy fall crafts for kids!
1. Scarecrow Ideas – Using Clay Pots
When you think of autumn and the various sorts of vegetable fields, what image almost immediately pops into your head? Is it a scarecrow by any chance? These stuffed dolls make great sources of decor inside and outside of the house! For these particular autumn crafts for kids, you will need some clay pots, straw and a bit of burlap. The clay pots will make up his body, including his limbs and head. The straw will become his hair. You can use the burlap to twist it around the pot which will become his head. Then you can sew two eyes on it. Attach these all together with yarn or rope and make the scarecrow sit somewhere.
2. Cute Hedgehog – Easy Fall Crafts for Kids
During the season of autumn, you might find hedgehogs scurrying along pathways to get home. These cute animals have become symbols of autumn, so why not get your kids to put one together as a craft? Cutting out different sized and shaped papers, first have your kids assemble a big red apple. Then glue small parts of a hedgehog onto this apple! This will be a fun craft to create with your children.
3. Pumpkin Faces – A Fun Flipbook
Another typical autumn piece of decor is pumpkins! These vegetables are used as decorations during the season and especially during Halloween! Why not create a flipbook with your kids, featuring the many faces of pumpkins? You can add all sorts of silly eyes and mouths, combining different sets together to get something funny! You can attach the pieces of paper, featuring the pumpkins, together with metal clips or even just a bit of yarn. This is one of many fantastic fall crafts for toddlers! We are sure that they will love these pumpkins!
4. An Autumn Tree – Colourful and Vibrant Leaves
Everyone loves watching the way nature changes as the seasons change. Autumn is a beautiful example of seeing the way nature changes, the leaves turn into miraculous warm shades of colour. Perhaps you will want to reflect on the changing of leaves for your autumn décor. If so, here is an easy idea to create with your kids! Create paper rings out of colourful strips of paper. These will serve as the leaves on your tree. Then using a different piece of paper, create the shape of a tree standing in a field. Then stick the paper rings around the branches, creating a whole crown of autumn leaves!
5. Popsicle Stick Scarecrow – Fall Crafts for Toddlers
Simple autumn crafts for toddlers, you can create for Halloween, a favourite holiday of kids is this one! Use popsicle sticks to put together the face of a scarecrow. You can add some googly eyes to your scarecrow and draw a stitched mouth on it! This is simple and easy making it a perfect DIY to make with your children!
6. An Autumn Cork – Unique Place Cards
Perhaps you are thinking about throwing an autumn get together with some friends. If so, make sure to create cute autumn place cards for all your guests! This way they will know where to sit. All you will need to for this fall craft, is a cork, some autumn leaves, glue and wire. Glue the autumn leaves onto the cork. Then attach the wire to the cork as well, you will be able to place the name cards onto this wire! If you and the kids are creative enough, you will be able to make the cork resemble a turkey, which is perfect for Thanksgiving!
7. Colours of the Fall – An Adorable Tree
Create an autumn landscape on a sheet of paper! Using crepe paper create the trunk of a tree. Rip smaller pieces of paper out and glue them together, creating the leaves of the tree. Make sure to use a whole variety of colours for the leaves, like yellow, red, orange and brown. Place small pieces of paper around the tree as well, symbolising that the leaves have fallen! You will be able to place this autumn landscape in a frame and hang it from one of your walls!
8. Pumpkin Apple Stamps – Fantastic Fall Crafts for Toddlers
Stamps are quite easy to create and fun to use! Create pumpkin-shaped stamps out of apples! Cut an apple in half. Use the inside of the apple as the stamps for the pumpkins. All you will need to do is dip the apples in orange paint and press them on pieces of paper. You can get your kids to paint small green stems on each pumpkin. After the paint has dried, you can also draw faces on the pumpkins, creating jack-o-lanterns! If this isn't a great autumn craft for kids, we don't know what is.
9. Use Cotton Swabs – Easy Fall Crafts for Kids
You can use cotton swabs in so many ways to create something fabulous! Use them to create the foliage of an autumn tree. Dip the end of cotton swabs in warm shades of paint, including yellow, orange, red and brown. Then press the cotton swabs onto a piece of paper, which already has a tree painted on it, creating a multitude of leaves. This will look lovely, placed in a frame. This is a great way to get your kids to unleash their creativity!
10. Paper Hedgehogs – Easy Autumn Crafts for Toddlers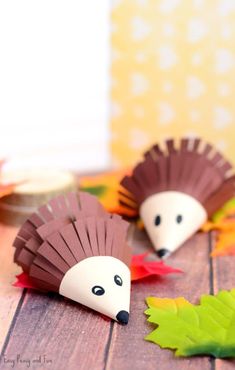 Here is another cute hedgehog idea which you can create with your kids! Create small rolls of paper, cutting halfway into them, this way making "spikes." Create a small cone out of paper as well, using that as the head of a hedgehog. Draw eyes and a nose on it, before glueing the other parts of the body to it. These cute autumn hedgehogs will be fun to make with your kids!
11. Rainbow Pumpkins – Melted Crayon Trick
Create a rainbow pumpkin decoration for this years' fall. You can achieve this by using crayons! Place different colour crayons on top of a pumpkin. Then melt them by blowing warm air on them with a hairdryer. Slowly, they will start to melt and start trickling down on the sides of the pumpkin, creating a rainbow spectrum of beauty!
12. Leaf Painting on Rocks – Simple and Fun
Get your kids involved with making autumn crafts for the season! Gather a pile of pebbles and rocks with them. Paint over the pebbles and rocks in tones of autumn colours, like yellow, orange and red. Then all you will need to do is find fallen leaves, dip them into green paint and press them on the rocks. By the end, you will have a whole set of leafy pebbles.
13. Four Seasons – Fall Crafts for Toddlers
Another fantastic way of getting ready for autumn is by creating a tree, which has four types of foliage. Each foliage will represent a different season of the year. You will have to cut out two templates of a tree and connect them together, creating the images of four trees this way. Then get your kids to colour each seasonal foliage in a different way. This is a fun craft, which will look perfect for every season!
14. An Apple Tree – Paper Bag Crafts
Apple picking is a typical autumn activity! Create an apple tree out of paper bags, to place in your home as decor. Get your kids to rip paper bags into long shreds, before twisting them and attaching them to each other. This way forming the shape of a tree. Then cut out the shapes of apples from red paper, attach them to strings and hang them from the branches.
15. String Art – Easy Fall Crafts for Kids
Print and cut out templates of hedgehogs! Get your kids to wrap yarn or string around the small edges of the hedgehogs. This will create the image of a hedgehog's spiky back. Use these as simple decorations you can stick on the walls or the doors of your home. Your children are guaranteed to have heaps of fun making these autumn crafts!
16. A Leafy Turkey – Amazing and Earthy
While hiking in the autumn forests gather a few leaves with your kids! Try picking leaves that are beautifully coloured in shades of the season. Then glue them together to create the form of a turkey, turning this into a fantastic Thanksgiving craft for kids. Add a smaller leaf to create a beak. Then add twigs for the legs of the turkey. You can glue this all on a sheet of paper and place it in a frame! If this doesn't give off autumn vibes, we don't know what will!
17. Scarecrow Jar – Ideas for Autumn Decor
Here is yet another fabulous idea to make with your kids this autumn! Grab a mason jar, and get your kids to paint the outer layer of it in light brown paint. Then attach googly eyes to the jar, as well as a felt nose. Then draw a stitched mouth for the scarecrow as well! You can even put some straw into the jar, hanging out as if it were hair. And add a hat as well!
18. Conker Hedgehogs – Cute Fall Crafts for Toddlers
Another great activity to do with your kids this autumn is to collect conkers, in other words, chestnuts. Then using paint, create small faces on the lighter part of the conkers and draw small spikes on the darker parts. This way you will create the image of a small sleeping hedgehog! This is a super cute idea for autumn!
19. Reuse Dixie Cups – Make Some Squirrels
If you have a few dixie cups lying around the house after a party, don't throw them out. Instead, reimagine their purpose and reuse them! Coat the cups in paint, then cut out small feet for them, pointy ears and a big, bushy tail! Attach these tidbits to the cup to create a squirrel! You can add a pompom as a nose and draw a mouth on it!
20. Paper Acorns – Cute and Simple
Another typical natural element you will find in plenty of places during autumn is acorns! Acorns are super cute and associated with the fall! Create a few acorns out of paper. You can draw eyes and mouths for these fall crafts for toddlers!
21. Paper Strips – Easy Fall Crafts for Kids
Create the shape of pumpkin out of strips of paper! Cut out strips of colourful paper, using mainly orange tones. Then stick them on a sheet of paper, making sure that the final shape resembles a pumpkin! You will be able to place this in a frame.
22. A Fall Wreath – For Your Front Door
Get your kids to create a wreath for fall! You will be able to hang this on your front door. Get them to cut leaves out of paper, then have them glue these on a wreath. You can add glitter to the leaves and all sorts of beads for a special effect.
23. A Piece of Art – Getting Creative
Here is a fantastic idea to make at home with the children! Using sticky tape, paste it on a few parts of a canvas. They should somewhat resemble tree branches. Then get your kids to paint all over the canvas. For example, get them to use a sponge. Dip the sponge in orange, yellow and red paint, then coat the whole canvas with small spots of it. When the paint has dried, you and the kids will be able to pull off the sticky tape. The painting will look like trees standing in an autumn forest!
24. Pine Cone Owl – Fall Crafts for Toddlers
Create an owl out of pine cones and bark. You will need to use a glue gun for this craft to make sure everything sticks together. This means you will need to help your kids handle it! Create two eyes for the owl as well as eyebrows and a beak!
25. A Leafy Hedgehog – Cute and Easy Fall Crafts for Kids
Here is another fantastic hedgehog craft idea! Fold a paper plate in half, painting it in orange or brown. Add eyes, a nose and a mouth to it. For the spikes use crinkled autumn leaves, which have fallen from trees. This is one of many awesome fall crafts for toddlers!
We trust that this collection of 25 easy fall crafts for kids have helped you find DIY projects for the season! For more seasonal ideas, like Thanksgiving Craft Ideas or Creative Pumpkin Decorating Ideas, check out our website!
Advert