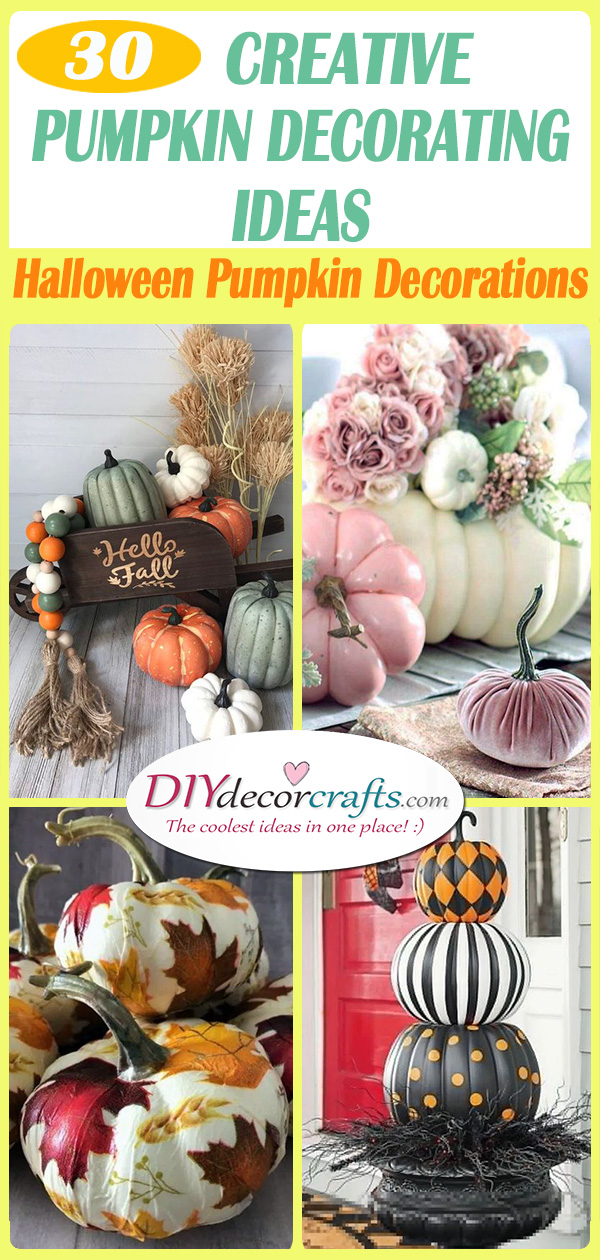 Autumn is finally here! Fall is a beautiful season when the nights get longer and the days get shorter. The air gets crisper and chillier. The landscape changes completely, turning into warm shades of yellow, orange, red and brown. In other words, autumn is magical! When you think of the season, what image pops into your mind almost immediately? If it's a pumpkin, why not use it as inspiration for your seasonal decorations? You can use pumpkins in so many ways to create beautiful home decor! There is a collection of autumn ideas to choose from! Look through our collection of 30 creative pumpkin decorating ideas! You will be sure to find amazing Halloween pumpkin decorations which will fit perfectly into your home.
1. A Bucket of Pumpkins – Halloween Pumpkin Decorations
Place a few pumpkins in a basket or bucket. Add a few leaves and you can also add some sprigs of berries to the bucket, giving it a special effect. Then simply run a string of fairy lights through the pumpkins. This will illuminate everything in a beautiful and warm light, which is perfect for the long and chilly fall nights. You can use any sort of pumpkins for this decor, whether they are green, orange or white anything is bound to look fabulous!
2. Welcoming the Season – Creative Pumpkin Decorating Ideas
If you love rustic or farmhouse decor, you might like this wagon of pumpkins! Grab a small wooden wagon, painting a welcome message on it. This can simply be "hello fall!" Then place a few pumpkins inside of the wagon and also surround it with these tasty vegetables. Add a few bundles of wheat for a truly autumn effect!
3. Painting Your Pumpkins – Add a Hint of Gold
An awesome way of uplifting the appearance of your pumpkins is by painting simple patterns on them! There are tonnes of available patterns which are bound to look good on any painted pumpkin. Naturally, it can be a bit harder deciding what colour to add to it. We recommend gold, the colour of richness and luxury! It fits into the harvest theme perfectly!
4. A Unique Vase – Creative and Fun
There are so many decoration items you can create out of pumpkins! A vase is just one of them! Carve out the insides of your pumpkin, placing floral foam inside. Then simply stick your bouquet of flowers in the pumpkin and place it wherever you would like! The floral foam will prevent your flowers from wilting too soon!
5. Pinecones and Pumpkins – Halloween Pumpkin Decorations
Create an autumn ambience at home with a selection of pumpkins! Make sure that each pumpkin is unique in its own way. Paint a few in gold, some in white. Then cover one or two pumpkins in a whole coating of yarn. Add a few pinecones to this pumpkin setting giving it an even stronger fall vibe. You can consider laying these pumpkins out on a table, using them as a table centrepiece for the season.
6. Pink and Glittery – Add Some Flowers
There are so many other colours you can decorate your pumpkins with. You don't necessarily have to stick to its natural colours. Coat them in pale pink for a harmonious and feminine touch. Then cover the stems in a coating of glitter. Place your pumpkins on a plate, stacking them on each other. Then add a few seasonal flowers in between the pumpkins for a special glow!
7. Thankful for Thanksgiving – Amazing Pumpkin Ideas
Use an assortment of all sorts of pumpkins for your autumn decor. Besides using real pumpkins, also add a few which are made out of fabric to the batch. Place them on top of foliage of autumn leaves to give the whole image real autumn feel. If you are getting ready for Thanksgiving, you can even paint the word "thankful" across one of the pumpkins.
8. An Autumn Arrangement – A Touch of Nature
Create a beautiful source of decor for the season! As we have discussed before, you can carve out the insides of a pumpkin, to create a vase. After placing floral foam inside, you can stick your bouquet of flowers inside. For true pumpkin decorations for fall, you can add a few sprigs of berries and some pinecones to the bouquet.
9. Box of Blessedness – A Homely Look
Create a whole box of autumn as a bit of seasonal decor. Place autumn leaves inside or branches, a variety of seasonal fruit and flowers. Naturally, don't forget to leave out the pumpkins either! You can paint a message on the box, welcoming the season or your guests! This would make a perfect Thanksgiving table centrepiece!
10. A Rustic Essence – Creative Pumpkin Decorating Ideas
Give your home a rustic ambience with a bit of seasonal decor. If you have a slice of wood, then place a few rustic elements on it. A candleholder, a pile of books and a few pumpkins will create a beautiful atmosphere. You can even think about creating the pumpkins yourself out of fabric.
11. Pumpkins in Vases – Halloween Pumpkin Decorations
There are so many ways to incorporate pumpkins in your seasonal decor! For example, fill a lantern with pumpkins or place them in a variety of vases. Try picking a few pumpkins which come in a few sorts of colour, like orange, green and white!
12. Pearly Pumpkins – A Gorgeous Idea
Another fabulous idea to make this autumn are some pearly pumpkins. Buy small plastic pearls and using a glue gun stick them onto white pumpkin decor. This will definitely give your pumpkins a pure glow. They will also be sure to look elegant and sophisticated.
13. Pastel and Pretty – Creative Pumpkin Decorating Ideas
Create a whole set of pastel pumpkins for your fall decor. Paint your selection of pumpkins into a variety of pastel colours, ranging from blue to pink! Then place these vegetables into a wooden box or crate amongst some seasonal flowers. Place the box anywhere you'd like in the house!
14. A Halloween Vibe – Spooky Halloween Pumpkin Decorations
If you are going to be celebrating Halloween this year, make sure to add some spooky decor to your home! Design and decorate a few pumpkins to give them a Halloween vibe. You can wrap lace around them and attach black feathers to them. This Halloween decoration is really up to you and your creativity!
15. Stacked on Each Other – Spelling It Out
Grab a few pumpkins, each one should be a size smaller than another. Then stack these on top of each other, the largest on the bottom and the smallest on the top. Then simply spell out the word "thanks" on the pumpkins. You can also colour the pumpkins in different shades, like orange and silver!
16. Simple and Easy – Carve Out a Leaf
Autumn is the time to start carving pumpkins! Instead of creating a spooky face on your pumpkin, carve out a leaf! You can use a maple leaf as the design of your leaf. All you need to do is draw the design on the pumpkin and then carve it out. Also, carve out the insides of the pumpkin. This way you will be able to place a candle in it.
17. Inside a Glass Dome – Halloween Pumpkin Decorations
Place a pumpkin inside a glass dome for a beautiful effect! Place small bits of moss underneath the pumpkin, as well as berries and autumn leaves. If this doesn't give your home an autumn atmosphere, we don't know what will!
18. Pumpkins in Goblets – Unique and Rustic
If you have a few smaller pumpkins and you're not sure how to arrange them, why not place them in goblets? This will definitely give your pumpkins a rustic and interesting look to them!
19. A White Arrangement – Add Some Antlers
Create a modern and chic look for your autumn decoration! Arrange white pumpkin decor in an array of white candles and white flowers. Also add two white antlers to the arrangement, holding everything together. You can easily buy plastic antlers online!
20. Decorating Your Steps – Halloween Pumpkin Decorations
Are you unsure about how to decorate your steps or stairs for the season? Add some outdoor pumpkin decor and lanterns to each step of it! Leave the space in the middle of the steps bare, so you can still walk up and down. You can consider coating a few of your pumpkins in bronze paint for a special effect.
21. Leafy Pumpkins – Creative Pumpkin Decorating Ideas
Design your pumpkins in a completely unique way! If this doesn't bring a sense of autumn to your home, we don't know what will! Paint autumn leaves all over your pumpkins, as well as small berries here and there and some pieces of wheat. Place these anywhere around in your home or even in your garden!
22. A Farmhouse Feel – White Pumpkins
Fill wooden trays with white elements of nature. This includes white pumpkins and small bouquets of white flowers, placed in vases. Scatter a few acorns on the tray as well as some smaller tree branches. You might also decide to add a few candles to the trays to help illuminate everything in soft light.
23. Two-Tiered Tray – Halloween Pumpkin Decorations
Find a two-tiered tray to decorate! Place a few pumpkins on both of the tiers and also include different sorts of autumn decor. You can also consider adding a few ordinary cooking staples to the tray. For example, a pot of sugar or honey or a mug for milk and cream. You might also add a candle or two as an additional element!
24. Dripping Paint – Stunning Pumpkins
Here is another creative and unique way to decorate your pumpkins! Drip paint onto a few pumpkins, letting the paint flow down slowly on the sides. Once the paint has dried you will be able to place the pumpkins anywhere you'd like. They will make a perfect table centrepiece for fall.
25. A Simple Centrepiece – A Modern Look
Create a wreath out of leaves and vines. Place this in the middle of your table and put a pumpkin in the middle of it. The colours are up to you, whether you would like to stick to a more refined take on white and green or use autumn shades, such as red, orange, yellow and brown.
26. Candle Holders or Pumpkins – An Interesting Idea
Carve out the stems of a few pumpkins and also create an indent in the top of the pumpkins. You should be able to place a candle holder inside these small carvings. Wrap grapevines around the candle holders, try to find vines which have already turned into red and orange shades. Then simply place your candles inside and let this outdoor pumpkin decor illuminate everything in warm light!
27. Pretty in Pink – Pumpkin Decorations for Fall
Are you a huge fan of the colour pink? If so, why not colour your pumpkins in this fantastic and fun colour? You can even create a few pumpkins out of fabric, for example, pink velvet. Also, consider adding a few pink flowers to this arrangement. This will really uplift the whole look of the pink pumpkins.
28. A Pumpkin Wreath – Front Door Decorations
You can't celebrate the arrival of autumn without a gorgeous front door wreath. Create a wreath out of wooden branches, then place all sorts of natural elements in between the branches. Leaves, succulents and pumpkins are all great ideas to add to your autumn wreath. Making a wreath is the perfect way of welcoming autumn!
29. Filling Up a Wooden Crate – Halloween Pumpkin Decorations
Here is yet another cute source of decor for the season of fall! Fill a small wooden crate up with pumpkins and fall leaves. You can use this simple, yet beautiful crate of pumpkins as a table centrepiece. It's up to you to decide what colour pumpkins you decide on using.
30. Black and Orange – Creative Pumpkin Decorating Ideas
If you are searching for a way to use pumpkins for Halloween decor, look no further! Grab some orange pumpkins and paint over them in black and white. Try finding some spooky designs, which will look perfect for the spooky festival!
We hope that this collection of 30 Halloween pumpkin decorations and creative pumpkin decorating ideas has helped inspire you! For more decor ideas, like Creative Pumpkin Decorating Ideas or Pumpkin painting ideas, visit our website!
Advert