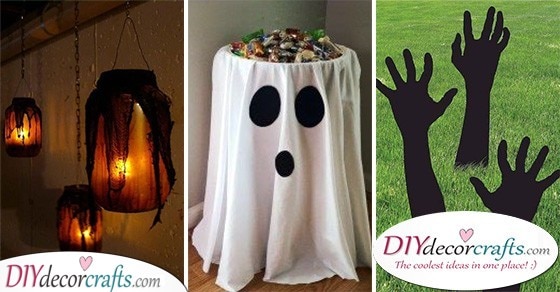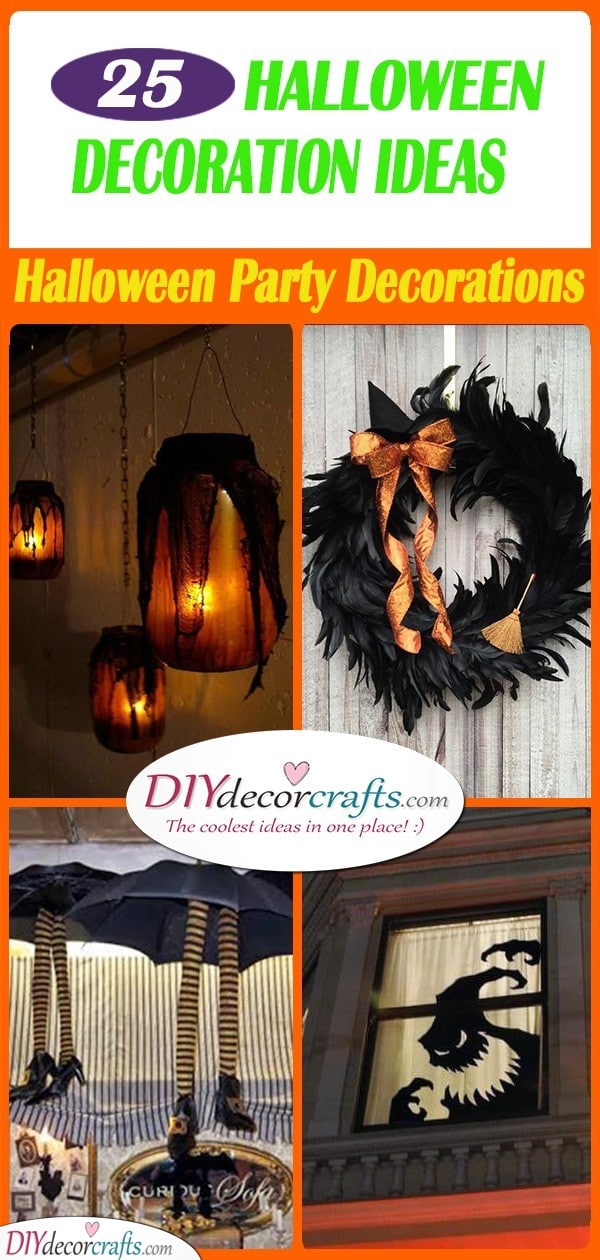 Halloween is just around the corner, which is one of everyone's favourite fall festivities! This means it's time to start carving pumpkins, dress up in costumes and go trick-or-treating. Getting ready for this exciting event also means preparing your home with spooky-looking food and decorations and autumn ideas! Creating the right sort of decor for Halloween is a necessity! When someone enters your house this season you will want to present a spooky ambience towards them. That's exactly why we have collected 25 cheap Halloween decoration ideas, to help you out in finding something perfect for your home! After all, you will want to blow away your guests this Halloween with truly spooktacular Halloween party decorations!
1. Hanging Lanterns – Creative Mason Jar Ideas
Make sure you use some sort of outdoor Halloween decorations to illuminate your house for Halloween! A simple mason jar craft such as this one will go a long way! Coat your mason jars in a seethrough orange before placing a candle in each one. Drape torn strings of fabric around the top of each mason jar, giving them a haunted vibe. Then you will simply have to attach some wires to the jars to hang them from wherever you'd like. If these don't give you creepy vibes, we don't know what will!
2. A Gathering of Witches – Halloween Party Decorations
Create the look of a witches cupboard or clothes rack. Black witches hats, black cloaks and brooms on and next to a coat hanger.  Whenever someone steps into your house this will be the first thing they see. They might ponder about whether you are holding witch gatherings in your home. You might also think about placing a few pairs of witchy boots on the floor or a statue of a cat. Another great idea is to place a welcome sign for witches above your coat hanger!
3. Spiders on Cobwebs – Cheap Halloween Decoration Ideas
Here is another scary decor idea for Halloween! Spiders crawling around on cobwebs. To create these balls of cobwebs, you will need to glue white string all over balloons. After allowing the string to dry, pop the balloons! You will be left with a ball of spun webs. Attach small figurines of spiders to these balls to give them a creepy look. Hang these spidery balls wherever you'd like to. For example, they would make a perfect addition to your garden as outdoor Halloween decorations! But they would also look great in your house.
4. Oogie Boogie – He Is Watching You
If you are looking for a cheap and fairly easy Halloween decoration idea, check this out! If you have seen The Nightmare Before Christmas, you might remember Oogie Boogie who is always up to no good. Use him as inspiration for your Halloween decor, after all, he is a resident of Halloween Town! Cut out his figure, or at least his face and claws out of cardboard. Place this cutout in one of your windows. When you light up the room his silhouette will appear looming in the window! It will look awesome and creepy!
5. Spider Treat Bowls – For Trick-or-Treat
Create some spooky treat bowls for any trick-or-treaters who stop by your house during Halloween! Attach plastic straws to plates, four on each side. Bend each plastic straw, as if creating a knee-like bend. These will create the spindly legs of spiders! Attach a pair of googly eyes to the front of the plate as well for the spider. After creating your spider treat bowls, all you will need to do is fill them up with whatever sort of treats you can find! This can mean chocolates, any sort of candy or salty snacks! They are easy and cheap Halloween decoration ideas!
6. A Small Cemetery – Halloween Party Decorations
Create a small cemetery on your front lawn. Make some gravestones out of cut out wooden panels. Coat them with paint and write a name on each gravestone before sticking it in the ground. We're not talking about actual names, but witty ones. For example, "Myra Mains" can be read out as "my remains." Another is "Ima Goner," which can be interpreted as "I'm a goner." Interesting, huh? This will look quite sinister as people approach your house during Halloween, seeing gravestones sticking out of the ground! These are creative yet creepy Halloween decorations, perfect for the spooky festival!
7. An Array of Flying Bats – Creepy Halloween Decorations
Create awesome hanging Halloween decorations such as this one! Hang cutout bats from the ceiling, as if they were flying around in your house! This decor is easy to create, all you will need is some black paper. Cut out the shapes of bats, they can be cut out in various sizes and shapes. It's really up to you! Then string them from the ceiling. You can attach more than one bat to each string. Anyone who visits you during Halloween will be amazed by this array of flying bats!
8. Fun and Fuzzy Spiders – Crawling Around the House
A lot of people seem to have arachnophobia, so using spiders as Halloween decor will be an awesome way to spook your guests! Create a lot of small spiders out of fuzzy wires. Use black fuzzy wires to get the best effect. Just check out the tutorial above on how to create these fuzzy and fun spiders, you will need five fuzzy wires for each spider! After finishing them off, make sure you place them around your house. You can create some webs for them to hang in!
9. A Witch's Wreath – Stunningly Spooky
Something you won't want to forget about decorating is your front door! When trick-or-treaters arrive at your porch, the first thing they will do is knock! So make sure you give your front door a spooky and sinister atmosphere! A simple solution is to create a wreath for your front door. Use black feathers and black fabric for the base of the wreath. Then find a few smaller ornaments to place on your wreath. For example, a small broomstick and a miniature witch's hat. Give your autumn wreath an extra glow by placing a ribbon on it as well!
10. Hanging the Witches – Great Halloween Party Decorations
Here are some more hanging Halloween decorations you can create for your home. Fill striped stockings with cotton wool, filling them up to look like actual human legs. Attach some witchy shoes to the feet of each one. Now all you will need to do is hang these from your ceiling. You can attach each pair of stockings to an umbrella as if that were the body of the witch! Using witches as inspiration for Halloween is always a great idea and you can't really go wrong with it!
11. Floating Witches Hats – Spooky and Eerie
Here is another simple way to get your home ready for Halloween! Attach a few pointy witches hats to strings, hanging them from various parts of the ceiling. It will almost look as if they were floating in the air. You might also consider placing a broom somewhere close to the hats, just as an extra effect. As we mentioned before, using witches as inspiration for Halloween decor is a fantastic idea!
12. Bloody Mason Jars – Easy Crafts for Halloween
There are so many decoration and craft possibilities when it comes to mason jars! Here is just one of many! Dip the top of each jar in thick red paint. Instead of coating the whole jar in it, make sure that the paint flows down slowly on the sides. The drips of the thick red paint will resemble flowing blood. Place these mason jars around the house, placing a candle in each. This way when you light up the house with an array of candles, an eerie and sinister atmosphere will descend on your home!
13. A Huge Spider – Using Black Balloons
Here is yet another creative spidery Halloween decor. Create the body of a spider out of two big, black balloons. Attach these together, also add some googly eyes to the head. You can create the legs out of trash can bags! Just roll them out to get your long legs! Attach these plastic bags to various parts of a ceiling. This will create the look of a big spider sitting on your ceiling.
14. A Table of Treats – A Ghastly Ghost
Not sure how to present your bowl of treats to trick-or-treaters? Pull a white sheet over a table, sewing black eyes and a mouth on it. It will look as if it's a ghost! Then simply place a mountain of candy on top of the ghost table. This will be a great way to show off your treats for Halloween, not to mention it's also one of many great cheap Halloween decoration ideas!
15. Flying Out of the Fireplace – Halloween Party Decorations
If you like the idea of flying bats for Halloween decor, check this decoration out! All you will need to do is cut out the shapes of bats out of black paper. You can create the bats to be different shapes and sizes. Then fold them up into three parts, to have two wings and the body. You will need to paste the bodies of the bats across your ceiling and on your walls. Depending on your thoughts, you might like to create a whole multitude of bats flying out of the fireplace, up on the wall and across the ceiling.
16. A Circle of Witches – Casting a Spell
Create a whole circle of witches on your front lawn, as if they were casting a spell. You will need black fabric to create dresses and hands for them and also witches hats to place on their heads. Join their hands by tying the fabric together. This circle of witches will definitely look spooky, which is perfect for Halloween!
17. The Undead Awaken – Cheap Halloween Decoration Ideas
Here is another simple Halloween decor to create for your garden! Cut out the shapes of hands out of cardboard or some sort of thicker plastic. Then place them in various parts of the garden, as if they were sprouting out from the ground. It will look as if the undead have awakened!
18. A Cute Mummy – Wrapped With Yarn
If you like the idea of using mummies for Halloween decor, then try out this idea! Cut out the figures of people. Then cut out eyes for them and paste them on the figures. Then all you will need to do is wrap white yarn around them, creating an authentic mummy look! Place these wherever you'd like around the house.
19. Flame Free Luminaries – Scary Halloween Decorations
Another fun way to create some brightness in your home during Halloween is by making some luminaries. Decorate paper bags by drawing faces on each one. Then simply place flameless candles inside, this will ensure that the paper doesn't actually burn.
20. A Tower of Pumpkins – Spooky Pumpkin Ideas
Create a tower of carved pumpkins as some Halloween decor for your home! You don't need to use actual pumpkins, it's easier to stack together plastic ones! Depending on your preferences use whatever sort of coloured pumpkins! Stack them on top of each other, glueing and fixating them with a glue gun.
21. Watching You – A Wreath of Eyes
Create a wreath filled with eyes! Use ping pong balls for the eyes themselves. Then simply paste a googly eye on each one for the uncanny resemblance. Glue the ping pong balls together, creating a whole wreath out of them. Then all you need to do is place this on your front door! Whoever visits you will feel like someone is watching them!
22. Cute and Simple – Cats, Pumpkins and Ghosts
Perhaps you have been in search of cute paper crafts for Halloween. Then check this one out! Cut the shapes of cats, ghosts, pumpkins, bats and witches hats out of paper. Attach these paper figures to strings, hanging them off a broom, like in the picture above then attach it to one of your walls. This Halloween wall decor idea is simple but cute, fantastic to use during Halloween!
23. A Crime Scene – Cheap Halloween Decoration Ideas
Create a crime scene out of your living room for Halloween! All you will need for this is some white tape. Simply create the shape of a person lying on your floor. It will look as if someone had died in there!
24. A Spooky Mummy – Halloween Party Decorations
An awesome way to decorate one of your doors for Halloween is to wrap it up like a mummy! You will need to paste strips toilet paper on it, representing the bandages of a mummy. Then create the face of a mummy on the door as well, peering at your guests from underneath the bandages.
25. Mini Monsters – Toilet Paper Roll Crafts
Create tiny monsters out of toilet paper rolls! Coat the rolls in groovy shades of paint. Then stick fuzzy wires and googly eyes on them! Use more than just two googly eyes on each roll, after all these are monsters! Then simply hang them from the ceiling. This cheap and easy craft is great as Halloween party decorations!
We hope that this pick of 25 cheap Halloween decoration ideas has helped you in finding amazing decor! For other ideas, such as Halloween costumes or Halloween party games, check out our website!
Advert