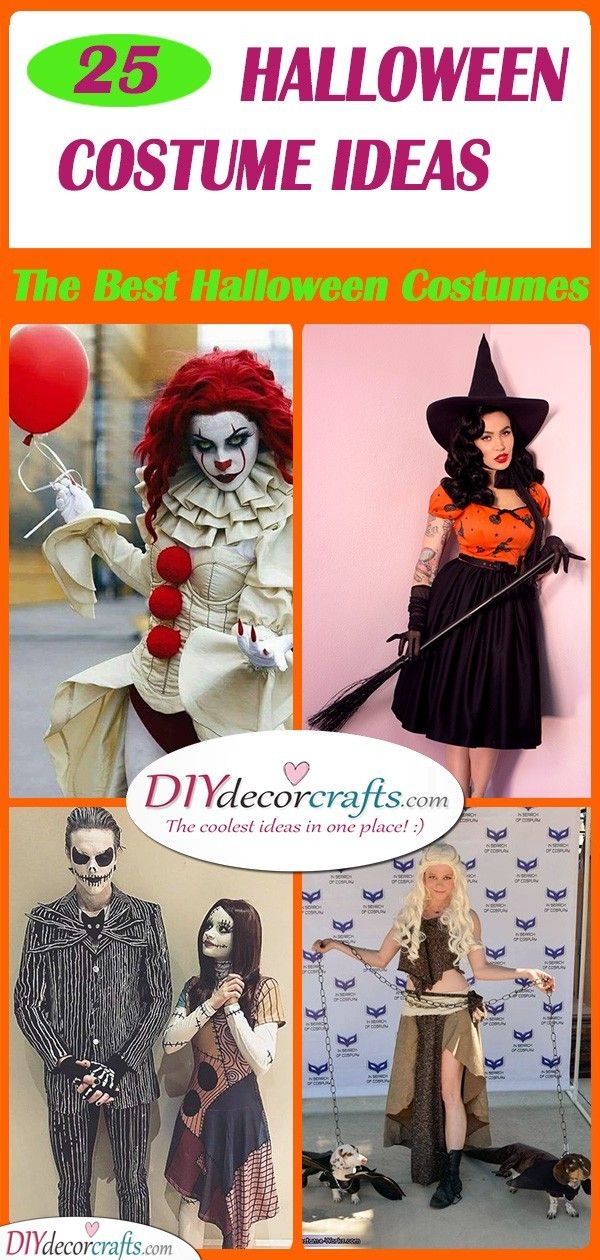 Autumn has finally arrived after a long and beautiful summer! Along with the arrival of fall come the seasonal holidays, including Halloween and Thanksgiving. Halloween is such a fun event! Everyone gets to dress up as whoever or whatever they like. You can go for an outfit which is more on the spookier side or something which reflects your personality! How about you make your own Halloween outfit for the holidays? This might take some time, but it will be worth it! We have collected 25 fun and spooky Halloween costume ideas for you to gather autumn inspiration from! Take a look through this pick of best Halloween costumes in order to find some great ideas!
1. Pennywise Costume – The Dancing Clown
Are you a huge fan of Stephen King's novel It? Then you have probably seen the new movie which came out a few years ago! The scary clown, Pennywise, has become an iconic character. He is an eerily scary character, with a fondness for luring children to his lair. If you are considering dressing up as Pennywise, remember to get a red wig. Paint your body white and dress up in clown clothes. Naturally, don't forget to include Pennywise's favourite accessory, a floating red balloon!
2. The Nightmare Before Christmas – Best Halloween Costumes
One of Tim Burton's classics is The Nightmare Before Christmas. This exciting movie incorporates a whole town of Halloween, where all the characters are designed and dressed for the holiday! Take inspiration from these Halloween characters! Whether it's the king of Halloween himself, Jack Skellington, Oogie Boogie or Sally, you can dress up to look like anyone! Depending on who you decide to dress up as, make sure that your costume matches the outfit of the onscreen character. You will also have to concentrate on getting your makeup on point to make you resemble the character!
3. Alice in Wonderland – Out of a Fairytale
There are so many fabulous Halloween costumes to choose from! Instead of going for a spookier effect, why not stick to one of your favourite characters? If you have seen Disney's Alice in Wonderland, you will have been sure to like it. Why not use it as inspiration and dress up as Alice from the movie? This costume will bring a sense of innocence, naiveness and curiosity with itself. A costume such as this is perfect if you have a similar personality to the character. If you are trying to pick costumes with a group of friends, you can all dress up as a character from Wonderland!
4. Get the Family Involved – Family Halloween Costumes
A fantastic series of movies and books is no other than the Harry Potter series. Get your whole family involved with the Halloween costumes! If you have a newborn baby, you will be guaranteed to love this costume idea. Dress up with your partner in wizard and witch robes and place your baby in a big brown pot, which is filled with soft blankets. Then simply attach a few green leaves to your baby's head and write "mandrake" on the pot. To ensure you can't hear the mandrake's screeches, get some earmuffs for your ears!
5. Historical Characters – Smart and Unique
If you are a fan of history and adore to read through history books, why not choose a historical character to inspire your Halloween costume? Depending on who your favourite historical character is, use them as a reference for your costume. This sort of idea is definitely unique and we're sure that during Halloween, you won't meet at least ten people wearing the same costume! Great historical characters include Julius Caesar, Cleopatra, Pocahontas, Elizabeth the First and Napoleon.
6. Elegance with a Twist – Carnival of Animals
If you are going to a Halloween party which is more on the elegant side, make sure you wear your best dress. Instead of going in a full-body costume, simply just place a mask on your face. You can get animal masks practically anywhere nowadays, or you can make one yourself! With this small addition, you will be all ready for Halloween! This also means you won't have to spend hours coating yourself in body and face paint. Just attach the mask to your face and you're ready to go!
7. Daenerys and Her Dragons – Cute Halloween Costume Ideas
Have you been keeping up to date with the newest fantasy TV series Game of Thrones? There are so many amazing characters in the series, who you can use as inspiration for Halloween costumes. A favourite character amongst fans is Daenerys Targaryen, a young and strong woman fighting for her rights. She hatches a few eggs from which baby dragons crawl out. Get dressed as Daenery for this Halloween! Get yourself a white or silvery wig as well as a costume. If you have any pets, attach wings to their backs and they will serve as your dragons!
8. The Wizard of Oz – Dorothy Costume Idea
Another inspirational movie is The Wizard of Oz! It's a timeless classic, which everyone loves! Again, this is a movie which contains at least a dozen characters, from who you can choose to dress up as. A typical pick is Dorothy, the girl who gets stuck in a tornado in Kansas and gets swept away to the fantasy land of Oz. You will need a white and blue checkered dress and red glittery shoes! Create two braids out of your hair for the complete Dorothy look!
9. Coraline Vibes – A Set of Button Eyes
Coraline is a novel by Neil Gaiman which was made into an animated film as well! The novel, as well as the film, have an eery sense of horror lingering through the plot. A little girl, Coraline, gets transported into a parallel world, where everything seems to be the same, except for the fact that the people there have buttons for eyes. To transform into a character from Coraline, you will need to place buttons to your eyes, as well as paint your face with some creepy looking makeup. This is one of the best Halloween costumes out there!
10. Peter Pan and Tinkerbell – Fly to Neverland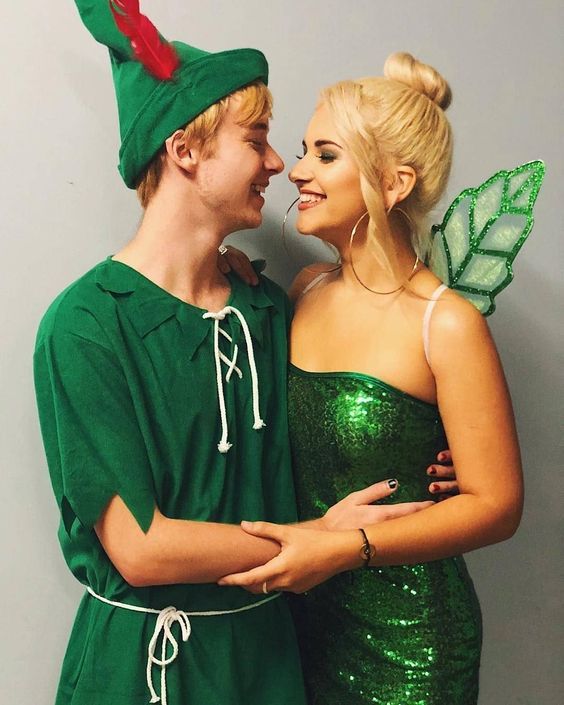 Peter Pan and Tinkerbell have become timeless characters in the world of fantasy. They both represent a magical concept of eternal youth and never growing up. So if you are going for a costume which isn't so spooky, why not dress up as either of these characters? Peter Pan will need a green outfit with his pointy green hat. Tinkerbell should be wearing a short, glittery green dress and a pair of wings. This is a perfect Halloween outfit for a couple, but will also look great if you are wearing one of these costumes by yourself.
11. Become a Sushi – Quirky Halloween Costumes
Create a quirky Halloween costume by yourself! If you love eating sushi, why not become one yourself? Wear a white shirt and white pants, or a white dress. This will symbolise the rice. If you have an orange pillow lying around the house, sew some white stripes into it, as it were a small piece of salmon. Then tie the pillow onto your back with a black or dark green piece of cloth, acting as the seaweed. This is a super unique and quirky costume for Halloween!
12. Winnie the Pooh – Cute and Fun
Did you read or watch Winnie the Pooh while growing up? If you and your friends are thinking about finding matching outfits for Halloween, then why not use Winnie the Pooh as inspiration? All of you can find characters from this story whom you can dress up as!