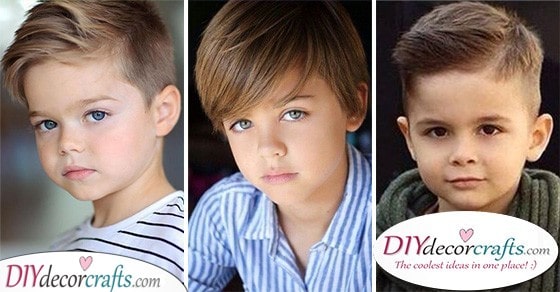 When getting the perfect look for a whole outfit, you will need to watch out for a few things. Not only are the clothes and the accessories important, but so is your hairstyle and haircut! It's important for both women and men, no matter how old or how young they are! That's exactly why we have gathered 25 little boys haircuts, so you and your son will be able to find something cool for him! When searching for a haircut for a little boy, you will want something practical, which he can play around in. On the other side, you will want a toddler boy haircut that is stylish and trendy! So take a look through our collection for some hairstyle inspiration!
1. A Simple Look – Cute and Easy
During these modern times, you might find it difficult to find the best sort of toddler boy haircut for your son. While there are a lot of amazing and cool haircuts, you will want to think about how the haircut matches the shape of his face or his personal style. Part his hair on one of the sides and have his hair cut short, but not too short! You should be able to create a messy side fringe out of his hair, to give his haircut an extra boost! 
2. Shaved on One Side – Looking His Coolest
We have all seen adult men sporting this awesome look! Their hair shaved short, but not bald, on the sides with the top left longer! This is a truly charming haircut for a little boy. Not to mention, it will shine perfectly at any event you need to take him to. Whether it's just a casual school day or a fancier occasion he needs to tag along with his parents. So if you have been contemplating about giving him an edgy and cool look, which can also bring elegant vibes with itself, this is the toddler boy haircut for him!
3. Layered and Fun – Little Boy Haircuts
Here's another fantastic haircut for your little boy, which will give him a little spunk and fun! Not to mention, this haircut is perfect for boys who have thin hair. When you have thin hair, you might want to create an illusion of it being thicker and filled with more volume. A simple trick to create this illusion is to layer hair. Adding layers will make it look a lot more thick. So add some layers to your little boy's haircut for an amazing look!
4. Swept onto the Side – Smart and Sleek
Another gorgeous haircut for little boys is leaving their hair longer, and sweeping it all to the sides! This was and still is a typical hairstyle for pop stars and celebrities. So if your little boy has a favourite member of a boy band and uses him as a role model for inspiration, he might appreciate this hairstyle. It's a way of keeping his hair long in an extremely stylish manner. So make sure you bring out the best of your little boy's hair with this awesome side-swept haircut! He will look like a pop star in no time!
5. A Fade Haircut – Awesome Little Boy Haircuts
If your little boy loves to bring a cool vibe with himself to anywhere he is going, then this haircut just might reflect his personality! A popular haircut, which you might see a lot of men and boys sporting is the fade haircut. It gives anyone an awesome look and is perfect for any sort of event. So whether you are just going to the playground with your son or taking him to a fancy dinner party, he will definitely stand out in the crowd! This is one of many fashionable little boy haircuts!
6. A Classic Look – Sweet and Adorable
There are so many stylish haircuts which will look great on any little boy! Instead of going for a short haircut, try out something longer. You can add bangs or a side fringe to his hair for a stunning effect. This classic look is great for any sort of occasion. It's also a practical hairstyle if your little boy loves to play and run around a lot, as his hair won't get in the way! So give your little boy this timeless look for a toddler boy haircut.
7. Long and Shaggy – Looking Like a Surfer
If you and your little boy visit the beach quite often, you might notice the surfers. Most surfers seem to have the same haircut, long and shaggy with natural highlights in it. If your little boy has been thinking about learning how to surf and would like to do this sport as a hobby, then this haircut will fit him perfectly! Leave his hair grown to a longer length, adding a few layers at the bottom. In a few instants, he will look exactly like the surfers you can notice down by the beachside!
8. Short and Cute – Great Haircuts for Little Boys
Here is another great haircut for little boys! It's short and cute, making it a great first, proper haircut for your son! Cut his hair short, leave the top in a few messy layers, which are still short enough to stick up into the air. This short haircut has a messy vibe to it, which is perfect for a little boy! After all, young kids love playing around in the garden and chasing each other in a game of tag. So this haircut will be great for your kid if he loves to have a lot of fun!
9. Lovely With a Vintage Feel – Toddler Boy Hairstyles
If your little boy is a true gentleman, even though he is still very young why not give him a vintage or old-fashioned haircut! We aren't talking about the bowl-cut, but something on the sweeter side! Cut his hair a bit shorter, leaving longer strands falling onto his forehead in the front. You can part his hair on the side or in the middle, either will look fantastic! This haircut will really give him a charming appeal, making him look like a small gentleman!
10. Short and Straight – A Simple Cut
A simple haircut is a great idea, especially when it comes to young boys! After all, it's all about creating something practical which won't get in the way during playtime. There are so many fashionable and trendy haircuts, which aren't over the top. So stick to something more on the simple side, when it comes to giving your boy a haircut. Especially if he enjoys running around and having a whole lot of fun. You won't even notice how messy his hair is when he is finished playing!
11. Awesome Layers – Make His Hair Look Thicker
We have already talked about adding layers to hair if your son's hair is very fine! Layers upon layers will make his hair look a lot thicker, as well as healthier! You can keep his hair in a short and simple haircut. Add a fringe or front bangs for a striking look!
12. A Trendy Glow – Little Boy Hairstyles
Here is yet another fabulous haircut for any little boy! Shave his hair on the sides and in the back, until his hair is about one or two centimetres short. Leave the hair on the top of his head and in the front longer. You can part his hair on the side to give him a sleek and stylish look. This is a super popular haircut for men, but it has become trendy for kids as well. So make sure to try it out!