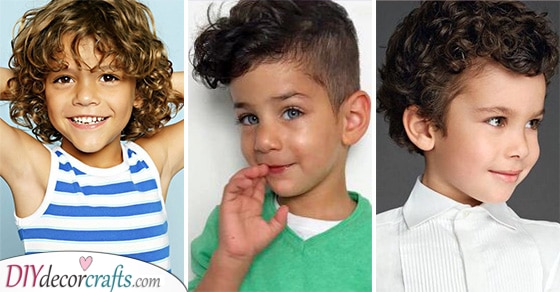 There are a lot of ways you can style hair! Make sure that not only you, but everyone in the family has a fantastic haircut or hairstyle! It's important for both women and men, no matter how old or how young they are! This includes any toddler or little boys in your surroundings! We have gathered a collection of 20 little boy haircuts with curly hair for you to look through! Hopefully, this way you'll be able to find a haircut that suits your little boy's looks as well as being practical, which he can play around in without his hair getting in his eyes! So, check out our ideas concerning haircuts for toddlers with curly hair for inspiration! 
1. Long Curls – Haircuts for Toddlers with Curly Hair
When it comes to hair for little boys, you'd usually want to try a short haircut! But with little boy curly haircuts, you may opt for hair that grows out longer! After all, long curls are guaranteed to look super cute! Not to mention, that they'll give your boy laidback and bubbly vibes! If you're afraid that these long curly will get in his eyes while he plays around or does some sort of activity, don't be! The best thing about long hair is that you can tie it up into a bun or a ponytail!
2. A Small Pomp – Shaved Short on Both Sides
You will probably be familiar with the pompadour hairstyle! It revolves around style the top and crown of the hair with hairspray or gel, making the hair stand upwards. A pompadour is guaranteed to look awesome on a little boy! Especially if he has curly hair! While styling the top and front of his hair in this way, shave the sides and back of the hair on his head short. A haircut like this small pompadour is definitely going to look fantastic on a young boy!
3. Sleek and Smart – Little Boy Haircuts with Curly Hair
You might be considering getting a smart haircut for your little boy! A haircut that will look perfect and any special occasions that you may go to with the family. You can get your little boy's hair cut short all around his head. Not too short though, as you'll want him to show off his curls! This type of haircut requires practically no maintenance whatsoever, besides a small trim every now and then. It's also a simple look, but we all know that sometimes less is more!
4. Beach Wave Vibes – With an Addition of Bangs
Maybe your little kid loves to spend time at the beach! If your little boy has been thinking about learning how to surf and would like to do this sport as a hobby, then little boy curly haircuts will fit him perfectly! Surfer haircuts usually revolve around somewhat longer and shaggy hair, either curly or waves. Leave his hair grown to a longer length, adding a few layers at the bottom. Let his hair naturally curl into waves. In a few instants, he will look exactly like the surfers you can notice down by the beachside!
5. Dye His Hair – Haircuts for Toddlers with Curly Hair
While you may have found a perfect haircut for your little boy, you may still want to spruce it up even more! A simple way to achieve this is by dying his hair! A great example would be if his curly hair is cut into a small hawk. This means that the hair on the sides of his head is shaved off short, while the hair on top and at the back is left longer. How about you dye the curly strands of hair on the top of his head into a unique shade? This will look really cool!
6. A Mini Mohawk – Cool and Groovy
There are incredibly many hairstyles and haircuts for little boys that incorporate a sense of coolness! If you'd love your little boy to have a cool hairstyle, then a mini mohawk is the way to go! As we mentioned before, mohawks are cut short on the sides of the head and left longer on the front, crown and back. We also have to tell you, that these mini mohawks will look absolutely fantastic with curly hair! So, if your little boy wants something groovy and cool, give the mohawk a try!
7. Keeping it Short – Little Boy Haircuts with Curly Hair
Naturally, you don't have to go for a haircut that is over the top! If your toddler or little boy prefers simpler styles when it comes to haircuts, then you can easily find something that looks amazing! You can opt for a super simple haircut, that is neither too short but not too long either. A haircut like this will be perfect for playing around at school or even at home, as it won't irritate him by getting into his eyes!
8. The Side Fringe – Fantastic Ideas for Him
As you will have noticed, there are so many types of toddler boy curly haircuts and hairstyles to try out! And here is just another one of them! This is no other than letting his side fringe grow out longer. While you allow his side fringe to grow long, you'll have to cut the hair on his sides and the back of his head shorter! This will help in creating a unique contrast between the shorter hair and the long side fringe. If his natural hair texture is curly, his side fringe will look fantastic as well!
9. A Unique Cut – Haircuts for Toddlers with Curly Hair
Make sure that your little boy's curly haircut for kids really stands out of the crowd! If you have been trying to find an awesome haircut, go no further! One type of haircut that we would recommend is a taper cut that includes a line shaved all along the scalp, giving it a truly unique style. The taper involves the hair on top is left longer, which will prove to be a fantastic way to show off your boy's curls. The hair on the sides and back of his head should be cut shorter. Then get a line shaved off around his head, creating a sort of dividing line between the long and shorter hair.
10. Low Maintenance – Cute and Simple
If your priorities are getting your kid a low maintenance haircut, then you might consider trying out this easy and effortless haircut! Again, this haircut involves getting the hair on the sides getting cut a bit shorter than the hair on top of your kid's head. This is a great way to add volume and dimension to a little boy's hair, especially if they have thin or fine hair. It's low maintenance and will only require getting trimmed every now and then!
11. Gorgeous Waves – Little Boy Haircuts with Curly Hair
Here is a curly haircut for kids that requires no effort at all! It's perfect for any little boys who have thin or fine hair. This haircut incorporates the hair is layered, creating a wavy or curly effect for his whole hair. The layers will help in adding extra volume and definition to his hair. Thanks to this, his hair will appear to be thicker than it actually is. You can add a side fringe or front bangs to this simple haircut!
12. Cool and Awesome – Ready for Great Hair
Get ready to try out a curly haircut for your little boy that will stand out from any crowd! We have already talked a lot about cutting off the hair short on the sides of his head, as well as in the back. Then let the hair on the top of your boy's head grow out longer. Curly hair paired with a taper or a hawk is definitely a cool haircut that will transform his whole look! To perk up the haircut, get some lines or patterns shaved into his short hair on the sides.
13. Long and Fun – Haircuts for Toddlers with Curly Hair
Has your little boy always wanted to grow out his hair long? Then let him! Long curly hair looks fantastic and there are so many hairstyles you can create out of it! Just a few examples include a man bun or a ponytail. These will help in keeping his hair out of his eyes, while he is busy doing his homework or doing some kind of sports activity!
14. A Cute Buzz Cut – Shave Everything Off
While your little boy may have curly hair, he may not want any typical haircuts for little boys with curly hair. Instead, he may decide to try out a bold and daring haircut. We're talking about none other than the buzz cut! This means that all his hair will get cut off super short. It's a great choice for any little boy, who doesn't like his hair getting in his face. But we also have to mention that it's also fantastic for kids who prefer low maintenance haircuts! He won't even have to brush his hair every day thanks to this short haircut!
15. Gorgeous and Fun – Little Boy Haircuts with Curly Hair
Of course, if your toddler boy has gorgeous curly or frizzy hair, why not show it off proudly? There isn't a better choice than letting his hair grow out somewhat longer and leaving it in its natural state! Curly hair will look amazing in any style you choose! Whether you let your little boy's hair out, tie it up or create cornrow braids, it is bound to look amazing! So make sure to give this very natural hairstyle a try!
16. Cute and Effortless – Find the Perfect Style
You don't necessarily have to choose over the top toddler boy curly haircuts. As an alternative, why not choose a haircut for your little boy that he'll feel comfortable with! This may just be a short haircut, that incorporates his curls being shaved or cut short on both sides of his head as well as the back! Simply leave the hair on the crown of his head longer. It's up to you and your kid whether you'd like to add bangs to this easy and effortless cut!
17. The Fade – Haircuts for Toddlers with Curly Hair
Are you trying to look for very popular haircuts for little boys with curly hair? Then check out this skin fade haircut! All this consist of is that a hairdresser is able to achieve a fade between your hair and your skin with the help of a razor. It's reminiscent of a fade between the two colours of an ombre. The hair on the top of your little boy's head is left a bit longer, but the rest is shaved short. This creates an incredibly unique look for any little kid!
18. Sweet and Lovely – Great for Toddlers
If your little boy is still a toddler you may want to find him a simplistic yet cute hairstyle! One of the simplest hairstyles to try out is to just let his hair grow out naturally. Give it a cut, keeping to hair at a shorter length. Keeping it simple and sweet is a fantastic idea!
19. An Effortless Trim – Little Boy Haircuts with Curly Hair
Here is yet another example of how to keep your little boy's hair simple and smart! We have already talked a lot about shaving your kid's hair short on both sides of his head. Then all you need to do is leave the curls on top somewhat longer. It's an easy and practical haircut that will be perfect for everyday life!
20. A Funky Afro – Fabulous and Fantastic
Last but not least, we have brought you an afro hairstyle! These beautiful hairstyles celebrate the texture of curly or frizzy hair, bringing out the best of it! Let your little boy's hair grow out longer, to create a full and thick afro! While some people prefer to keep it natural, your kid may want to take his afro to the next level by dying or bleaching it a different colour!
We hope that these haircuts for toddlers with curly hair have helped you in finding something for your own kid! For other hair ideas, such as Cute Little Boy Haircuts visit our website!
Advert