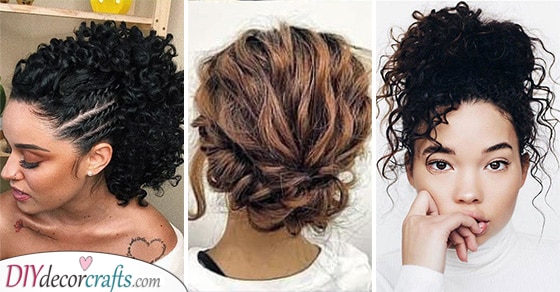 Wherever you go, whatever occasion it is, you will want to do your hair in a beautiful way! After all, a gorgeous hairstyle will be able to spruce up your whole look! Do you by any chance have curly hair? Then you may be in search of some curly hairstyles for girls that complement your hair texture and your face shape! One of the best things about curly hair is that it will look amazing at any length, including short, medium and long! Taking everything into consideration, how about you look through our collection of 20 curly hairstyles for women? Amongst these options, we're sure you'll be able to find a hairstyle or haircut that suits you perfectly!
1. Bold in Red – Curly Hairstyles for Girls
Maybe you were born with natural hair! Or perhaps you have always wanted to dye your hair this colour! Well, red is definitely the sort of colour that will take curly hair to the next level. So, if you have always wanted to try it, then dare to be bold! It's your choice on what length you get your curly hair cut. Whether you go for curly hairstyles for long hair or short, we're certain you'll find something that matches your style and personality!
2. Step by Step – A Braided Bun
If you're in search of ways to do your curly hair, then there are so many options to choose from! Just one of these includes braiding a strand of your hair. After braiding it, connect it to to the rest of your hair that you tie up in a ponytail. Use the ponytail to create a bun out of. Use another hairband to fixate the bun, and you may need some hairpins and clips to keep everything in place! This will make a gorgeous hairdo for any elegant event you may be going to!
3. A Few Cornrows – Curly Hairstyles for Women
There are so many incredible ways to style curly hair! If you feel like your curls need a bit of taming, you can always try out cornrow braiding! Cornrow braids are a traditional Afro-American braiding technique that is formed close to the scalp of your head. They are absolutely gorgeous! You may want to incorporate them into your hairstyle. But instead of getting cornrow braids created out of all of your hair, only do a few braids on each side. Then simply tie up your hair into a ponytail or a bun!
4. A Romantic Look – Great for a Wedding
Are you getting ready to go to a wedding that is coming up soon? Or maybe it's just going to be a fancier event, where you'd like to style your hair in an elegant manner! If either of these is the case, then how about adding a braid to your hair! One beautiful example would be to braid two strands on both sides of the front of your hair. Take the braids back and connect them in the middle of the back of your head. Of course, you can create only one braid that you fixate on the rest of your hair in the back. Either of these will look amazing!
5. Easy and Effortless – Curly Hairstyles for Girls
Are you trying to find some cute short curly hairstyles for women? Then here is one adorable idea, that will be perfect for a day with friends, but would also look good on a fancy occasion! Separate the front half of your hair from the bottom half and tie it to the top half into a low ponytail. Squeeze in the bottom hair and twist it into the ponytail, creating a gorgeous downdo! This is actually a super easy hairstyle to try out!
6. Simple and Natural – Great for Anyone
Not everyone wants to go for a hairstyle that's super sophisticated. Sometimes, keeping it as simple as possible is the best idea! If you have always loved a natural look, then these medium length curly hairstyles are for you! Just let your hair out freely. You may decide to give it a unique type of haircut, like a curly bob with the addition of bangs. Or you may think about layering your curls a little! There are a lot of options to choose from, even if you want something simplistic!
7. Gorgeous and Lovely – Curly Hairstyles for Women
Get ready for any weddings or special events coming your way! There are so many beautiful curly hairstyles for long hair you can choose from! Here is just one of many to create! This hairstyle also incorporates getting two strands of hair from the front of your hair and twisting them. Connect the two twisted strands at the back of your head. Then let the rest of your hair fall freely onto your back and shoulders in loose curls. This hairstyle will really help in giving you a romantic and stunning look!
8. Fun and Groovy – A Pixie with Curls
Short hairstyles have come back into the trend! Exactly because of this, you may decide to cut your curls short! As an alternative to going for any sort of short haircut, why not try out a pixie cut? These are guaranteed to give you a cute yet edgy look! A curly pixie cut will only help in boosting this vibe! Don't be afraid to try something short with a whole lot of groove! You'll still be able to style it with a choice of accessories!
9. A Gorgeous Ponytail – Curly Hairstyles for Girls
As you will have noticed, there are so many types of hairstyles you can create from curly hair! If you are still in search of some perfect curly hairstyles for women, you may consider trying out a ponytail! You don't have to opt for the regular ponytail. Instead, try out something new and perk up your hair! Leave some strands of hair out that you can twist and attach to your ponytail, sprucing it up in a new and innovative way! This will look fantastic on anyone who has long and curly hair!
10. Flattering and Fabulous – Looking Your Best
Do you want to try out a short and fun hairstyle that is guaranteed to catch the attention of many eyes? Short curly hairstyles for women look fabulous! Especially if the hair is cut shorter on the back and the sides of the head. Then allow the strands of your hair on your crown and front to grow out longer. With a few curls falling down around your face, you'll look stunning! A hairstyle like this one is perfect for anyone who doesn't want a high maintenance haircut! You'll only need to get it trimmed every now and then!
11. Getting an Ombre – Curly Hairstyles for Women
There are a lot of fabulous ways to dye your hair! If you have been contemplating on how to dye your hair to give yourself a stylish and trendy look! If you have long hair, then check out this option on how to dye your hair! How about you try out an ombre? Dye the tips of your hair, going upward in a lighter shade than the roots and base of your natural hair. This will look amazing with curly or wavy hair!
12. A Brilliant Updo – A Step by Step Tutorial
Here is yet another one of many medium length curly hairstyles! This one is an elegant and refined hairdo perfect for someone who is going to an elegant occasion! A hairstyle like this is will certainly elevate your look, and the great thing about it is that you don't need naturally curly hair! You can simply curly your hair with a curly iron while following the steps of the hairstyle tutorial. Check out the tutorial above to understand how you can create this gorgeous updo as well! You will need some hair spray or mousse to keep your hair in place!
13. A High Bun – Curly Hairstyles for Girls
When it comes to curly hairstyles for girls, there's one type of hairdo that you'll definitely want to try out! We are talking about none other than a high bun! High buns have become incredibly popular in the world of hair trends. All you need to do is gather all of your hair and tie it on top of your head in a bun! It's a perfect hairdo for summer, as this will prevent your hair from getting in the way during those hot days!
14. Glamorous and Fancy – Best Ideas for Curls
Whenever you are getting ready for a sophisticated or glamorous event, you'll want your hair to be on fleek as well! A fantastic choice would be a high updo, that will accentuate your curly hair! Instead of going for a prim and proper updo, you may decide to leave a few strands of hair loose on the sides of your head. These curls will give you a wispy and romantic appearance! A curly hairstyle like this one will look fantastic at a wedding! So if you don't have any ideas on how to style your hair, try out this idea!
15. Create It Yourself – Curly Hairstyles for Women
We have already brought quite a few elegant updos for you to check out! Maybe you are still in search of the perfect one! Well, how about you take a quick glance at the hairdo above? It is actually made up of a few ponytails running along the middle of your head downwards. You need to place the bottoms of the ponytails into the ones underneath them. As for the ponytail on the very bottom, twist it back upwards and transform it into a bun.
16. The Donut Bun – Cute and Easy
Perhaps you're getting for a day out around town or just a simple workday! If this is the case, then you might just want to try out this easy hairdo! You'll need a foam sponge hair tie for this hairstyle! Firstly, tie your hair up in a ponytail. Pull it through the doughnut-shaped foam sponge. Then simply squeeze in the tips of your hair from the ponytail around the sponge. Fixate the bun with some hairpins and clips and this will help in keeping it in place.
17. A Gorgeous Braid – Curly Hairstyles for Girls
If you're bored with most types of hairstyles for curly hair, why not try something unique? A braid would be a perfect choice! It would be a good choice for both mid-length or long curly hair! The fact that your hair is curly will help in adding volume to your braid! It's completely up to you what sort of braiding technique you choose. Just a few examples would include Dutch braids, French braids, a waterfall braid or fishtail braids! Any of these would look amazing with curly hair!
18. Braided Around – Refined and Classy
Maybe you would love to add a braid to your curly or wavy hair! One easy idea on how to perk up your whole hair, then create a crown braid that goes behind your head, instead of in the front. Let all the rest of your hair fall freely on your back and shoulders. This is another hairstyle that will look amazing for a special occasion when you want to look stunning!
19. Cute and Fun – Curly Bob Hairstyles
One type of hairstyle we haven't talked about yet are the curly bob hairstyles! These are shorter length haircuts, that are cut in a similar way to the straight bobs. Thanks to the curly texture of your hair, your bob will be presented with volume and dimension! A haircut like this one will require low maintenance, making it perfect for lazier ladies out there!
20. A Simple Low Bun – Great and Gorgeous
As a final idea, we have chosen a low bun. Gather all your hair and tie it together in a low and messy bun. Naturally, feel free to leave a few strands of hair hanging on both sides of your head.
We trust that these curly hairstyles for girls and women have inspired you! For other ideas, such as Shoulder Length Curly Hair or Hairstyles for Long Curly Hair,  visit our website!
Advert