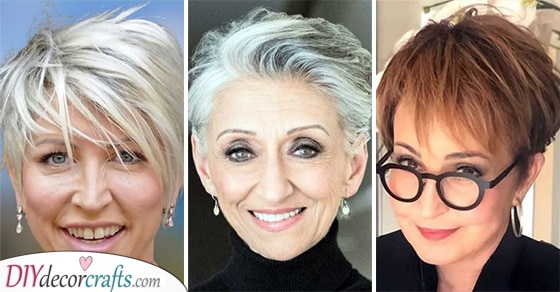 When it comes to hairstyles and haircuts, you will always want your hair to be on fleek! This means whether you are just a young girl, a teenager or a lady over the age, make sure that you bring out the best of your hair! Perhaps you've turned fifty and have been looking for fabulous hairstyles to express yourself with. If you've been considering cutting your hair into a shorter length, then why not give it a try? We have collected 20 short haircuts for women over 50 that you can look through. So, make sure to check out these fabulous short hairstyles for older women and find some inspiration amongst them!
1. Fun and Short – Short Haircuts for Women over 50
A lot of ladies over the age of fifty are scared to try out a short and new haircut! Let's be honest, it's a brave move to cut off your hair! But there are so many fantastic short haircuts to try out that are guaranteed to give you a youthful and fresh look! Just one of these would consist of getting the sides and back of the hair on your head cut shorter while leaving the front and top strands longer. This simple haircut will give you a fun-loving look, perfect for any day of the week!
2. Sweeping It to One Side – Stunning and Simple
Sometimes hairstyles aren't defined by the effort you put into making them look fantastic. If you have already gotten your hair cut into a short length, then you may be in search of ways to style it. One incredibly easy way would be to sweep your hair to one side of your head. You can even backcomb your hair a little and add some hair mousse or spray to it, which will help to keep it in place. This is something you can try out for an elegant event!
3. A Longer Pixie – Short Hairstyles for Older Women
It's not hard to notice that there are a lot of hairstyles that you can try out as a middle-aged or older woman! You don't have to limit yourself to lifeless or dull haircuts or hairstyles. With this in mind, how about trying out a longer pixie cut in your fifties or sixties? These short haircuts for older women are perfect if you want to add volume and texture to your hair. Not to mention a longer pixie cut isn't so incredibly short, that it would be easier to style as well as to grow out!
4. Adding Highlights – To Your Cute Pixie
Perhaps you have already chosen the type of short haircut that you'd like! If you have decided that you'd like a layered pixie cut, you may be trying to discover ways of how to perk it up even more! If you'd love to add some extra volume to your haircut, how about adding some highlights to your hair? This will help in making the layering of the cut truly stand out. Make sure to use a colour that is a few shades lighter than the base tone of your hair!
5. Soft Waves – Short Haircuts for Women over 50
There are so many short hairstyles for women over 50 to choose from! Just make sure that you choose one that you'll feel comfortable and yourself in! Of course, you'll also have to make sure it matches the shape of your face. One type of hairstyle that will go well with nearly all face shapes are short waves. Short and soft waves will give you a flattering and feminine look, as well as beach vibes! So if that's the sort of appearance you're going for, consider adding some soft waves to your short hair!
6. A Fabulous Colour – Extravagant and Unique
While it is important to get a haircut that looks amazing, one other factor you can't forget about is colour! The colour of your hair will add personality and mood to your whole hairstyle. Of course, you don't have to dye your hair and leave it in its natural state instead. But you may decide to choose a fun and spontaneous colour that really shows off your style! If you are looking for a wild, fun and gorgeous colour, how about trying out a pale shade of pink? Pink has become extremely trendy in hair dying options!
7. Everything Matches – Short Hairstyles for Older Women
Do you by any chance wear glasses? If this is the case, then make certain that you find a hairstyle that matches the style and shape of your glasses!  If you're in search of a haircut that requires practically no maintenance whatsoever, but will still look great, here's an idea for you!  Pixie cuts are a fantastic choice to try out and they will go really well with glasses! Of course, you'll have to get your hair trimmed every few months. A short trim will ensure that your hair looks healthy and will prevent any split ends from forming!
8. A Short Pixie – Cute and Easy
Get ready to sport a cute and effortless pixie cut! If you've been wanting to try out a short and stylish haircut, then the pixie cut is a perfect choice! There are a lot of short haircuts for older women that are boring and dull. Make sure that your haircut doesn't fall into this category! A cute pixie cut will really bring out a sense of fun and youthfulness! You can try a shorter or a longer version of it according to your taste and style!
9. A Short Bob – Short Haircuts for Women over 50
Are you trying to find a hairstyle that will give you a chic and sleek appearance? Then we would recommend that you try a short bob! This is one of many short hairstyles for older women that will look perfect for more elegant occasions! Bob are all about leaving the strands of hair in the front longer than the hair at the back of your head. It's completely up to you whether you'd like to add bangs or a side fringe to the final look! No matter what you choose, we're certain it will look beautiful!
10. A Heightened Pixie – Full of Volume
We have already talked quite a bit about pixie cuts! After all, what's not to love about these fun and fantastic short haircuts for women over 50? A layered and heightened pixie cut is perfect for anyone who has thin or fine hair, as it is guaranteed to give your whole hair a boost of volume! If you want to give it even more volume, consider using some hairspray or some hair mousse! This will help in keeping your hair filled with volume and dimension!
11. Fun and Flattering – Short Hairstyles for Older Women
Get ready to give your hair a new look! Just because you are over fifty does not mean you should settle for plain or boring hairstyles! So, when choosing a hairstyle for yourself, try picking one that really gives you a sense of confidence. Or a haircut that brings out your personality! If you've already made the choice to go short, make sure to take into consideration the texture of your hair, as well as the face of your shape, before choosing a new haircut.
12. A Layered Shag – Edgy and Daring
Now here's one of many fabulous short hairstyles for women over 50! We're talking about a short shag! This retro haircut has recently come back into fashion. A short shag is a bit shorter in the front and longer in the back. It should be layered well, as this will add texture and volume to your hair. The short shag is perfect for any event, as it embodies both sophistication and elegance, but it's a haircut that you can wear to any casual occasion. It's also great for ladies who want a low maintenance haircut!
13. Elegant and Refined – Short Haircuts for Women over 50
Are you still search for short hairstyles for women over 60 or 50? If so, you have come to the right place! Maybe you aren't considering going for an extremely short haircut. As an alternative, you can try a somewhat longer hairstyle. For example, one that is cut chin-length. You'll be able to style chin-length hair in several gorgeous ways. Creating a braid on one of the sides of your head or simply clipping back the front strands of hair. Or just another easy idea would be to add a few loose waves to it!
14. Curls for Days – Looking Your Absolute Best
Would you be willing to try something fun and new? Most people think that curly hair only looks good in a medium or long cut. But we're here to prove them wrong! Curls also look amazing for short hair! And one of the best things about short curls is that you don't need to put any effort into making them look amazing. Short and curly hair is very low maintenance making it perfect for anyone who is the sort of person that doesn't want to spend too much time making their look awesome!
15. A Shaggy Pixie – Short Hairstyles for Older Women
Combine two fantastic short haircuts to get something brand new! We're talking about a shag and a pixie cut! This is practically a layered pixie cut! If you are a lady with thin or fine hair, then getting some sort of layered haircut is a great way of boosting the volume of it! The extra layers will create an illusion of making your hair look thicker than it actually is! You can leave your hair naturally grey or silver or dye it, depending on your preferences!
16. A Youthful Cut – Adorable and Amazing
It can be difficult to find great short hairstyles for women over 60 or 50. But one type of hairstyle that will look youthful and bubbly is a pixie cut! We have talked a lot about these cute haircuts. For this certain pixie, leave the hair on the sides, front and back of your head longer. Then cut the hair on the crown of the head shorter, giving it a bit of a spikey and layered look. So, if you're all about trying something new in your older age, this is the way to go!
17. A Natural Look – Short Haircuts for Women over 50
For natural hairstyles for women over 50, try out this idea! It's one of the best choices for ladies who have wavy or curly hair. Get your hair cut short, but you don't have to worry about getting your hair cut the same length all around your head! The waves or curls will fall naturally into different places, giving your hair a unique and voluminous look. Feel free to get some bangs or a side fringe cut as an addition to your short hairstyle.
18. Messy Wisps – Laidback and Casual
Do you love the look of wispy hair? If this is the case, this hairstyle will be perfect for you! You can let your hair grow out chin-length! To give your hair a stunning glow, how about curling your hair into natural waves? A few loose waves will present your hair with some extra volume!
19. A Stunning Bob – Short Hairstyles for Older Women
As we have discussed before, one hairstyle that is worth trying out is none other than the bob! A simple bob is pleasing to the eye and is an attractive haircut for all ages! It's also perfect for any lady out there who wants something short, but not too short! This makes it the perfect "in-between" haircut for women, as it's not too long but not too short either! Then complete this stunning look with a side fringe!
20. Modern and Fashionable – Completely Short
As a final example of hairstyles for women over 50, we have brought you a truly bold look! This idea revolves around your hair cut incredibly short. It will definitely help in accentuating the shape of your head. A short and minimalist haircut like this is modern and daring!
We trust that these short haircuts for women over 50 have given you a source of inspiration! For other ideas, such as Short Haircuts for Older Women or long hairstyles for women over 50, check out our website!
Advert