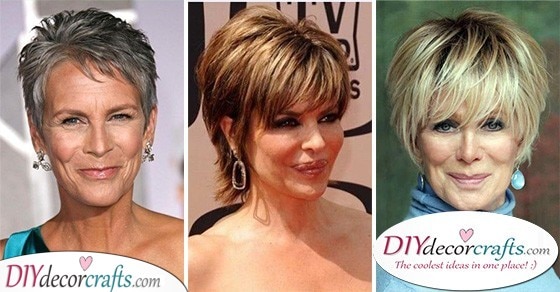 Hairstyles are an extension of our inner selves. They are just like clothes or accessories, we express our personalities with them. So no matter what your age is or what shade your skin tone or hair is, you'll definitely be able to find a hairstyle for yourself, with which you can express yourself! Even if you are over 50, it's important to give yourself a bit of self-care time, and getting a new haircut or hairstyle is a great way of spoiling yourself! If you prefer shorter hairstyles over long ones, look through our collection of 25 short hairstyles for women over 50. We have all the most beautiful short haircuts for older women!
1. Short and Sophisticated – A Great Look
Now here's a bold look for the ladies who are feeling a bit adventurous! If you have been thinking of going short and stylish, this is the perfect haircut for you! Layers of short hair strands will exude daring femininity. This is also a great hairstyle for the ladies out there who have fine hair, as this hairstyle adds volume and texture to your hair.
2. Super Short Bob – Short Hairstyles for Older Women
Bob haircuts are timeless hairstyles. You can go for a long, a medium or a short length bob cut. It gives it's wearer a sense of elegance and a chic look. We would recommend a short bob cut for older women, as this haircut also brings a youthful vibe with it. It's up to you, what colour you choose to dye or not dye your hair. If you have grey hair but don't want to dye it, don't worry! Just take the picture above as an example, grey hair cut in the right shape and length will still look fashionable and elegant, making it perfect for any occasion, without actually making you look old.
3. A Fun Bob – With a Fringe
If you have decided on cutting your hair into a bob, remember that it doesn't need to be too neat. You can go for a messier and windswept look if you'd like. A great addition to any bob is a fringe, which will help in giving you a youthful and lively glow. These short bobs are perfect for ladies with thin hair, as you will be able to add a bit of dimension to your hair!
4. A Pixie Cut – Give Yourself a Lively Appearance
A ruffled pixie cut is a way to go if you are looking for a haircut that is more on the bold and daring side! While it is quite short, it still lends it's wearer a classy elegance, but also brings an edge with itself. Another reason, why you should choose a hairstyle such as this one, is because it's super easy to style!
5. Layers and Layers – Haircuts for Women Over 50
Here's a great hairstyle for older women which will give you a sophisticated and refined look! Layers and layers of shorter hair with a bit of a blowout will achieve an overall breezy appearance. You can try out this hairstyle no matter how thick or thin your hair is, either way, it will be sure to look beautiful!
6. Layered Short Bob – Add an Edgy Fringe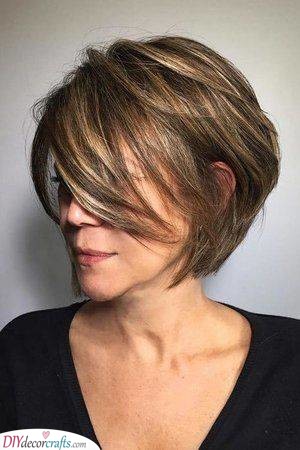 As we've mentioned before, a layered short bob will add timeless sophistication to your overall look. Layers add texture and volume to your hair. Consider adding a longer fringe to this hairstyle. It will give you an edgy and youthful glow, making this hairstyle perfect for any occasion. Whether it's an elegant and fancier event or just a casual day in the city, it will definitely uplift your whole image.
7. Incredibly Short – But Still Incredible
Here's a very short hair cut! Remember, fashion is all about expressing yourself. So if you have always prefered an exciting and bold twist on things, this short haircut might be the one for you! While it may look a bit too short – it's pretty easy to style, so long hours of the morning won't fly away with making sure your hair is in place.
8. Chic and Modern – Stacked Layers of Hair
Are you a fan of stacked layering? Then this haircut might be the perfect choice for you! This hairstyle is another one of many short hairstyles for women over 50. It's short bob look and the stacked layers of hair add a definitive glow to your whole image. It's up to you if you'd like to dye it or leave it grey, either will look great!
9. Stunning and Radiant – Hairstyles for Women over 50
Now, here's another hairstyle that will take you back to retro times! If you like a retro style combined with a look of more modern elegance, this haircut was made for you! Have your hair cut just above shoulder length, and remember to add layers and layers! A fringe will compliment this haircut very well, giving it an edgy glow.
10. Gorgeous Pixie Cut – Short Hairstyles for Women Over 50
Just because you are over 50, does not mean that you can't give off a trendy vibe! Besides having your hair cut in a pixie style, you can also play around with highlights. This is especially great if you have lifeless and flat hair. Even if you have grey hair, you can dye roots close to your scalp, giving your haircut a few different tones as well as volume!
11. Blonde and Beautiful – Great Hairstyle Ideas
Everyone loves a great feathered hairstyle, no matter whether it is short or long. It adds dimension and definition to your hair, making it perfect for the ladies out there with fine hair. If you have been thinking about getting a bob, you can try getting it feathered, which will give you a unique and classy look! Also, just because your hair might be greying, does not mean you have to give up hair full of colour! A beautiful blonde will uplift your whole appearance, making you look a bit younger as well!
12. Parted on the Side – A Sporty Style
Grey hair? Don't care! Give your stunning silver locks a youthful edge. If you are still into playing sports and going on long hikes, you need a hairstyle to match your enthusiasm and hobbies! Part your hair on the side, cut it short and add a bit of hairspray to it, to give it a slightly wispy style.