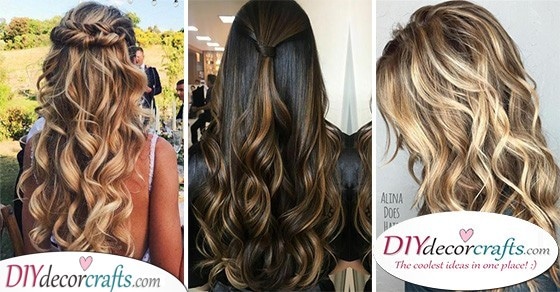 Advert
Are you planning on heading out tonight? Maybe you have a romantic date you need to get to, or maybe it's a fancy event. Whatever the occasion is, you will definitely want to look your best. Wearing a fabulous outfit, choosing all the right accessories to go with it and of course, your hair and nails have to be perfect as well! If you have long hair and are in search of a curly hairstyle for it go no further. We have gathered 25 curly hairstyles for long hair to help you out! After all, curly hairstyles will give your long hair an extra sense of volume and texture. So make sure to look through our collection of hairstyle ideas!
1. Big and Beautiful Locks – Sophisticated and Simple
Curling your hair will definitely give you an effortless look, especially if you have long hair! Using a curling iron you will be able to create big curls, spiralling down towards the ground. When curling long hair, you will want to make sure that each hair strand has been curled. If you have thicker hair, make sure to blow hairspray over it after finishing the curling procedure. This will make sure that the curls of hair won't straighten out after a walk around town.
2. Messy Beach Waves – A Natural Look
Now here's a messy and curly hairstyle for long hair, which will make you look as if you have arrived straight from the beach. With this hairstyle, it's important not to spray too much hairspray after curling your hair. You don't even need to concentrate on curling each strand properly, it's all about giving your hair a natural look. This hairstyle looks especially great on the ladies who have layered hair. Layered hair will provide much more texture and definition to your hair. So if you are looking for an easy summer hairstyle, this one will be perfect!
3. Gorgeous and Glamorous – For a Fancy Event
Are you in search of a gorgeous hairstyle which would be perfect for a more fancy event? Then you just might like this option. Create a bun or a twist on the top of your head, attaching it to your head with some hairpins. Curl the remaining strands of your hair into beautiful and thick locks. You might consider adding small flowers or beads to the bun or twist in your hair for an even more stunning appearance! You will need to use hairspray to keep everything in perfect shape! This would look amazing as a wedding hairstyle for long hair!
4. Add Some Highlights – Curly Hairstyles for Long Hair
Perhaps you have thin hair and would like to give it more texture and volume when curling it. A simple way to create this illusion is by adding some highlights to your natural hair colour. For example, if you have a shade of darker brown hair, make sure to add some blonde highlights to it for that extra spark. Then, of course, it's time to curl your hair into big and bouncy locks. The blonde will truly help in giving your hair a thicker definition with a lot of texture.
5. A Dreamy Braid – With Loose Curls
Another fabulous way to uplift your whole hairstyle and look is by adding a braid to it. Simply braid a larger strand of your hair and pull it across the top of your head, pinning it down with some hairpins. A braid running through the top of your head will look like a crown or tiara. You can either curl your hair into big and bouncy locks or try out loose and frizzier waves. Whatever you end up choosing, we are sure it will look fantastic! This hairstyle is perfect for a more casual event, but it will also shine at something more elegant!
6. Rainbow Curls – Curly Hairstyles for Long Hair
Summer is the season of fun, parties and festivals. Perhaps you are planning on going to a few parties or visiting a music festival! If so, make sure your hair is on fleek as well as your clothes! Festival or party hairstyles are known to be unique and over the top. So why not try out something new? You can dye your hair into a whole rainbow of colours, shining with vibrant energy. Then all you will need to do is curl your rainbow hair!
7. Elegant and Sheek – Curls for Days
Here is yet another gorgeous hairstyle which has an elegant and sleek glow about it! Create a small ponytail out of your upper hair, leaving the rest of your hair out and flowing. Then all you need to do is curl everything. Curl the ponytail into big locks as well as the hair underneath it. This will help add more texture and volume to your hair, making it look thicker than it actually is! If you'd like to add even more volume, you might consider dying your hair in an ombre style.
8. An Immaculate Waterfall Braid – With Curls
If you are getting ready to go to a fancy event, for example, an elegant dinner party or a wedding, make sure your hair brings the same vibes! Create a waterfall braid near the top of your hair. Now all you need to do after is curl each strand of hair falling down on your shoulders. Using a waterfall braid will definitely take your whole look up a level! Make sure to use hairspray all over your hair to keep everything in place.
9. A Braid and a Bun – Stunning Curly Hairstyles
If you've run out of ideas on how to style your hair, you can always uplift your look with a simple braid or two. Create two braids, which meet in the middle of the back of your head. These can be simple three-stranded braids, a waterfall braid or even lace braids! It's up to you completely! Create a bun out of the meeting of the two braids, or just a bun at the back of your head. Then curl your remaining hair into big locks, making sure you use hairspray or hair mousse to keep it in place and in shape.
10. Half Up Half Down – Easy Hairstyles for Long Curly Hair
If you are getting ready to go to an elegant or fancy event, make sure your hairstyle brings the same sophisticated vibes! A half up half down look will be perfect for any such occasion. After tying the top half of your hair in a simple twist or bun, make sure the curl the lowers half. Leave a few strands of your hair in the front loose or standing out. This will give your appearance a natural glow, which will shine beautifully at any event.
11. Romantic Glamour – A Hollywood Appeal
If you adore vintage items or retro looks, why not try out a vintage hairstyle? Especially if you are going to a retro-themed event. The sort of hairstyle which brings a sense of old-fashioned Hollywood with itself. Part your hair on one side, then create these classic Hollywood waves on both sides of your hair.
12. Natural and Fun – Big and Bouncy Curls
How about trying out big and bouncy curls? These will look beautiful for any time of the year! You can create these frizzier, smaller curls using different techniques. For example, use a smaller curling iron, flexible rollers, braiding your hair the night before, etc. This hairstyle is perfect for a day just running errands around town or meeting up with friends, as it gives off a casual vibe.
13. A Beautiful Ponytail – A Fancy Look
Create a beautiful ponytail our of your long hair! But before you do, make sure to curl it! You can create either big curls or soft waves for this hairstyle, it's completely up to you! After creating these curls, just simply tie your hair up. You can leave a few strands loose for a more natural look. Try adding some accessories to your ponytail to enhance your appearance. For example, flowers or beads will look fantastic in your hairdo!
14. Half Up Ponytail – A Cute Curly Hairstyle
We have already mentioned wearing your long hair in a half up half down style. It's an easy and simple look to create, which means you don't need to spend hours on getting it done in time. Leave the top part of your hair flowing out as a ponytail, into the rest of your hair. Then curl everything! This hairstyle will look great at a casual event as well as something more on the elegant side.
15. Big and Fierce – Curly Hairstyles for Long Hair
If you have naturally straight hair or wavy hair, why not try out big and funky curls at least once in your life? They will give you a fun-loving and bubbly vibe! Create big curls out of thinner strands of hair. Instead of having curls which spiral down, you will get a fierce flurry of hair. Using thinner strands of hair to curl will give you more texture and volume, than curling thicker parts.
16. A Stunning Ombre – Look Your Best
As we have mentioned before, if you want to give your hair more definition and volume, you should consider getting highlights. Another way of dying your hair to add this newfound volume is an ombre. Ombres look great whether your hair is straight or curly, so adding a few curls to your hair is a fabulous idea! Try this ombre out as a hair colour idea for brunettes for summer!
17. A Wavy Ponytail – Wavy Hairstyles for Long Hair
Maybe you are going out and would like to wear your hair in a ponytail, but still give it a unique spark! After tying your hair up in a ponytail, make sure to curl your hair into loose waves and curls. This will provide you with a romantic and windswept look!
18. Long and Flowing – Natural Curly Hairstyles for Long Hair
So if you are just planning a day being out with friends in the city, sitting into a cute café for coffee, you don't necessarily need to do much to your long hair. Braid your hair the night before, a french or dutch braid is preferable. Next morning let it out and add a bit of hairspray to it. Your long waves will look effortless, perfect for a casual day!
19. Beach Curls – Exotic and Gorgeous
Are you going to be hitting the beach this summer? Make sure that your hair has beach waves and curls in it! After curling your hair, you can add a few braids to the sides, attaching them with clips. Blow over it with a bit of hairspray so your hair won't straighten out!
20. An Intricate Braid – With Long Waves
Now here is another beautiful hairstyle, which will shine beautifully at any elegant event. Create an intricate braid using the upper half of your hair. Depending on how skilled you are at braiding, you can create an elegant ladder or lace braid. Then curl the rest of your hair into big locks!
21. Braid in Waves – Curly Hairstyles for Long Hair
While we have talked about creating curls or waves in your ponytail, we haven't talked about combining this ponytail with a braid as well! Before you curl your hair, make a few braids in your hair. Tie everything together into a ponytail and voila! A truly effortless look!
22. Two Cute Buns – Adorable Hairdos
If you are going for a cute look, why not try this adorable hairstyle out? Tie two buns on the top of your head, leaving half of your hair down and flowing. Then curl or add waves to your flowing hair!
23. A Bohemian Look – Messy but Dazzling
Are you the sort of person who is into a bohemian wrap around clothes and accessories? Then you will love this natural and earthy ponytail. Messy curls of hair tied up into a ponytail, adding a vibrant ribbon to it. This look is perfectly effortless, great for any casual event or party!
24. A Brilliant Updo – Out of Curls
After curling your hair into big locks, why not pin it up into a bun? With a few twists and the help of bobby pins and hairpins, you will be able to tie and place your hair in a beautiful updo. Leave some strands hanging loosely for an even more gorgeous look! This would look amazing as a bridal or mother of the bride hairstyle.
25. Beautiful Braids – Curly Hairstyles for Long Hair
Adding a braid to your hair, from which the rest of your hair will flow out freely is a fantastic idea. Curl your flowing hair into locks or waves, whichever you prefer. This hairstyle is not only perfect for casual events, but for formal occasions as well.
So whether you were looking for a curly hairstyle for long hair for a more casual or a more elegant event, we hope you were able to find something you like! For more hair ideas, like cute summer hairstyles of hairstyles for thin hair, visit our website.
Advert