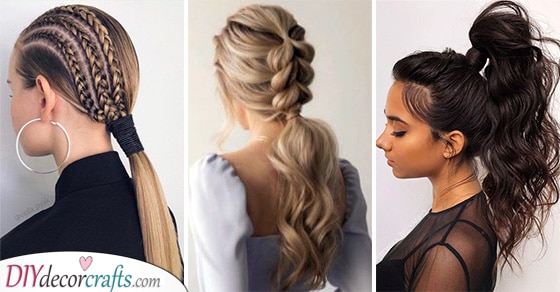 Perhaps you have gorgeous and healthy long hair. If this is the case, you may be in search of hairstyles that really accentuate your style and your personality! There are hundreds to choose from, as you can get creative with hair in so many ways! So, taking this into consideration, you may be in search of a bit of inspiration! How about you check out our collection of 20 hairstyles for girls with long hair? We gathered some simple hairstyles for long hair to make sure you find something amongst these! Maybe you'll find a few new and exciting ways to style your hair after looking through this!
1. A Ponytail with a Twist – Simple Hairstyles for Long Hair
While a lot of hairstyles look complicated they really aren't that difficult to put together! This is true when it comes to a ponytail with the twist, the example above! You'll need to create two ponytails firstly from your hair. Then you'll have to create an opening in the top ponytail, twist it around and pull the other ponytail through! This type of ponytail will give you a fancy and sophisticated look, that will make it great for a day at work or a classy event!
2. Stunning and Lovely – Perfect for a Special Occasion
Maybe you are in search of hairstyles that give off stunning vibes! If this is the case, then you'll love this one of many superb long hairstyles for women! It revolves around a ponytail that has had the rest of the hair curled into waves or loose curls. You'll probably have to tie your hair into a ponytail, before curling it. Also, don't forget to finish your hairstyle off with some hairspray or a bit of mousse, as these will keep the curls in shape and place!
3. A Braided Ponytail –

Hairstyles for Girls with Long Hair
If you are in search of a truly special hairstyle, you've come to the right place! These long hairstyles for women are like none other! They incorporate not only a gorgeous braid but a ponytail as well! The top half of the hair is created into a loose braid, that is then tied together with the rest of the hair turning into a ponytail! So, if you've been wanting to give your hair an intricate style that will really spruce up your whole look, then this just might be it!
4. A Few Cornrows – Unique and Gorgeous
Cornrow braids are a traditional Afro-American way of styling hair! These braids are created close to the scalp and can even last for six or eight weeks on your head, depending on how well you take care of them! You may decide on getting a few cornrow braids, as an alternative to adding them to your full scalp. These unique braids will definitely give your whole style a gorgeous and edgy demeanour. One of the great things about cornrow braids is that they'll look good on both short and long hair, making them incredibly versatile!
5. Half Up Half Down – Simple Hairstyles for Long Hair
Get ready with some beautiful and easy hairstyles for long hair! Perhaps you are in search of hairstyles that you can put together in no time at all! How about creating a half up half down hairstyle? These types of hairstyles for girls with long hair are a fabulous way of making your hair stand out from the crowd! It's a simple yet elegant way of doing your hair, not to mention it really will be done in a few minutes! All you need is a hair tie or something similar to tie the top half of your hair in a ponytail or bun!
6. Braided Back – Brilliant and Beautiful
Braids have always been a popular and trendy way of styling hair. After all, what's there not to like about braided hairstyles? The hairstyle shown above works for ladies with short hair as well. It's just braiding two strands of hair from the front of your hair. Connect them at the back of your head, resulting in a ponytail. Even a simple braid, like this one, can give you a gorgeous glow for a simple day out with friends or a day at school or work.
7. Cute Bow Buns –

Hairstyles for Girls with Long Hair
You will have surely noticed by now, that there are so many ways of styling long hair! If you want something totally unique and different, we would recommend these braided bow buns! They consist of hair braided into top buns, which are formed to create bow shapes. This is definitely a super cute hairstyle that is guaranteed to attract a lot of attention! The braids combined with the bow buns are an incredibly creative way of putting together a hairstyle that really brings a sense of youthfulness and excitement with itself! This hairstyle may take a bit longer to create, but it's definitely worth it!
8. The High Ponytail – Minimal and Simplistic
You don't necessarily have to go for a super fancy hairstyle! Sometimes it's best to try something simple and more casual! A high ponytail can be exactly that! It doesn't require a lot of effort to get your hair into place and fixate it. Making these easy hairstyles for long hair that you will be able to put together by yourself at home, even if you aren't great at doing hair! Feel free to add some accessories to your hair, or to curl the ends of the ponytail into loose waves.
9. Add a Braid – Simple Hairstyles for Long Hair
Fall in love with this super simple hairstyle! There are a lot of ways to incorporate a braid into a ponytail, and this is just one of those ideas!  Start braiding part of the top of your hair. You can even try out a unique sort of braiding technique for this, such as a fishtail braid. Continue braiding downwards and fixate the braid with a hair tie so that it won't fall apart. Then tie all of your hair together in a low ponytail, including the braid! This will look amazing when finished!
10. The Faux Hawk – Bold and Daring
Create a bold and daring hairstyle for yourself! You will most likely be familiar with hawk hairstyles. They are most common with men, but some women decide on getting these hairstyles. Instead of shaving off both sides of your hair though, simply brush them down with a serving of hair gel. You may need a few hair clips or pins to fixate these parts into place. As for the top of your hair, you'll want to backcomb it. This will give it the extra volume and definition to turn it into a hawk.
11. Easy and Effortless – Hairstyles for Girls with Long Hair
You may have heard of the chignon hairstyle before! It is one of many simple hairstyles for long hair that will look amazing for a special event, such as a wedding or a dinner party! But one of the best things about a chignon is that it's actually super easy to put together. It incorporates the pull-through ponytail, but instead of leaving the hair out and flowing, it turns into a bun. You can do this by wrapping and then rolling and tucking the ponytail inside the part where it was pulled through before. So make sure to try this hairstyle out!
12. Golden Blonde – With a Shag Haircut
Are you still try to find the best long length hairstyles? Then check out this hairstyle! Not only is it dyed into the beautiful colours of brown and golden blonde, but it is cut into a fun and edgy style! If you are familiar with the shag haircut, you'll know that it's perfect for anyone in search of a low-maintenance haircut! It will also add a whole heap of volume and definition to your hair!
13. A Side Braid – Simple Hairstyles for Long Hair
Are you getting ready for a day out with friends? Or perhaps you're going to work? Perk up your look with a simple and easy side braid! Naturally, you can choose a unique sort of braiding technique to really bring out the best of your hair. You'll be able to find a lot of tutorials on side braids and braiding techniques! Not only will braids look perfect for any sort of occasion, but they are also quite easy to create!
14. Glamorous Hawk – Groovey and Trendy
Does your style involve glam rock designs? If so, then you may just love these types of long length hairstyles! We have already talked about the faux hawk hairstyle, and this is another version of it! But instead of leaving the hair straight and backcombed at the top, give it a glamorous look! Achieve this by curling the crown of the hair. As for the hair on the sides of your head, simply pin them down to your scalp. When you're finished, you'll have a glam rock hairstyle, ready to wear to any fun party!
15. Whimsical Braids –

Hairstyles for Girls with Long Hair
If you're a sucker for braids, you can always try a double braid! One braid on both sides of your head will look super cute! Of course, it is completely up to you what sort of braiding technique you choose to create both braids out of! Just a few examples would include Dutch braids, French braids or fishtail braids! If you are uncertain about how the techniques work, a simple idea would be to look up a tutorial! Any of these braids will look fantastic!
16. Dazzling Curls – Classy and Charismatic
Maybe you have been trying to discover a simple yet absolutely beautiful hairstyle! Well here is one you'll be able to do all by yourself at home! All you'll need is a curling iron and some hairspray or hair mousse. Part your hair in the middle or on either side, depending on what suits your face shape the most. Then you can get ready to create large curls or waves with the curling iron! To make sure that the curls stay in shape and place, finish it off with a coating of hairspray or the addition of hair mousse! This hairstyle is guaranteed to look amazing!
17. Adding Highlights – Simple Hairstyles for Long Hair
Find the best long hair ideas right here! No matter whether you leave your hair long or short, how about you think about giving it a glow-up? Sometimes all you need is a bit of colour! One fantastic idea would be to add some simple highlights to your hair. Choose a colour that is a few shades lighter than your hair colour and have it added to your hair. This will make your highlights look natural and sun-kissed! 
18. Casual and Pretty – Easy and Effortless
Try out this easy hairstyle! It is all about grabbing the strands of your hair that are at the front. Twist them a little and then pin them to the back of your head, allowing the strands to meet in the middle. What a simple and effortless way of styling your hair! So, if you don't have much time in the mornings, this will act as a perfect hairstyle to create!
19. Accessorise –

Hairstyles for Girls with Long Hair
Don't forget to add accessories when it comes to long hair ideas! Accessories can help in sprucing up a whole hairstyle! A simple bow on a ponytail or braid will do the trick! You don't always have to choose a fancy accessory. Hairclips, hair bands and bandanas are all fantastic accessories to add to your long hair!
20. Large Braids – For a Cute and Stylish Look
Finally, here is another hairstyle for any girls out there, who adore braids! These are double Dutch braids that look amazing, especially if your hair has already been dyed an ombre or balayage beforehand! Braids will be perfect for anyone who wants to look cute as well as youthful!
We hope that this collection of simple hairstyles for long hair has helped you in finding something special! For other hair ideas, besides hairstyles for girls with long hair, check out our Long Hairstyles for Women or Haircuts for Thin Long Hair! 
Advert