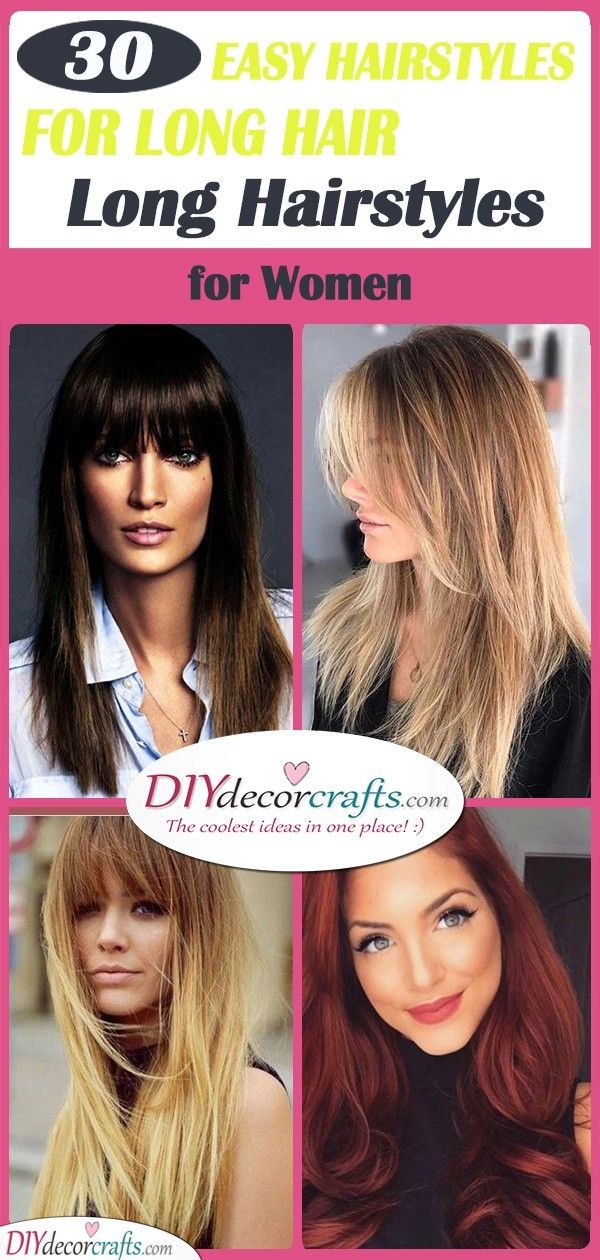 Some people express themselves with their outfits or their makeup. It's just as natural to express your inner self with your hair! We all know that long hair can be extremely difficult to style or work with. There's a lot of it, and it gets tiring to find a new style for each day, not to mention it's harder to take care of it and keep it healthy and in shape. That's exactly why we've gathered 30 easy hairstyles for long hair, so it will make your job easier to find the best hairstyle choices for yourself! So browse through our pick of long hairstyles for women!
1. Long Feathered Cut – Long Hairstyles for Women
Show off your long hair by adding a bit of volume and texture to it with a feathered cut! A cascade of layers will add casual elegance to your appearance. Naturally, you can add highlights to your hair or dye it ombre for a beautiful effect!
2. Waves and Bangs – A Natural Look
Are you going for a more natural look, which isn't on the sleek side, but is a bit messier instead? Grab your hair curler or straightener and add loose waves to your long hair. Use a bit of hairspray to keep the waves in shape. If you've been thinking about getting bangs, now is the time. You don't need to get full bangs, a few longer strands coming under your eyebrows will look gorgeous as well!
3. A Dark Chestnut – A New Hair Colour
Are you in search of a new colour of hair, but you wouldn't like anything too drastic or too vibrant? Have you thought about getting a dark chestnut coloured hair? With hints of red, but overall a rich brown, it is sure to look gorgeous on you!
4. Straight and Sleek – Hairstyles for Long Straight Hair
Do you have naturally straight and glossy hair? Here's a perfect and effortless look for you then! Have the tips of your hair layered, and get full bangs cut underneath your eyebrows. This hair looks great just left out, but of course, you can tie it up in a bun or braid it, making it easy to work with later on. Make sure to try out this one of many gorgeous easy hairstyles for long hair!
5. Groovy Curls – Ideas for Frizzy Hair
If you have naturally frizzy or curly hair, why straighten it? It lends it's wearer a unique and gorgeous glow! If you leave your curls out and long, it will give you beach vibes. Making you look as if you've just come from a good swim from some sandy shores.
6. Long Hair with Bangs – Easy Hairstyles for Long Hair
A simple and easy haircut that is perfect for any occasion, is an even haircut with front bangs. Part your hair in the middle giving you a stunning look! This is a great haircut because you can create a limitless amount of hairstyles from it, depending on where you are going and how you need to dress up.
7. A Long Shag – Long Haircuts for Women
Add some volume to your hair with some awesome layers! The shag haircut has been around since the 70s, and it's still considered to be a popular hairstyle. The soft cascade of layers gives you a retro and glamorous look, perfect for the upcoming season of summer!
8. Fabulous Layers – Windswept and Romantic
Do you complain about having thin hair, which you find boring and lifeless? Make sure you add some volume and texture to it, breathe some life into your hair! Adding an abundance of layers with a new haircut will make it look a lot thicker than it actually is!
9. Beautiful Waves – With Short Bangs
Loose waves are always an awesome option when you're not sure what to start with your hair. It will give you a youthful and carefree glow, leaving these loose curls out. Add some bangs to your haircut. If you'd like to accentuate your eyebrows make sure your bangs end above them.
10. Image of a Goddess – Long Length Hairstyles
Now here's a beautiful hairstyle that will bring a fabulous vibe to any outfit you wear! It's simple, sleek and straight, making it perfect for work events, but meaning that it will also look great if you're going out and about town or partying with friends. It's long with a bit of layering at the tips, which help give your hair volume!
11. Gorgeous Ginger – Long Hairstyles for Women
Have you considered going red and fiery, but don't want to overdo it, with a deep red colour? We recommend trying out a natural-looking ginger colour first, that still has a few hints of brown in it. You can also try out a strawberry blonde if you have a lighter hair tone. A natural ginger tone will be able to give you a new shine, but without looking fake.
12. Full Bangs with Loose Waves – Long Hair Ideas
If you're looking for casual and long hairstyles for women, perfect for practically any occasion, we recommend loose waves with a full bang! To give your hair a shiny glow, you can add highlights. The trick with highlights is to not choose a colour that is extremely different from your natural hair tone. This will give your highlights a natural, sunkissed look which will make your hairstyle perfect for summer.
13. Layers and a Side Bang – Cute and Easy
If you have fine hair and you're super bored with the fact that it looks too thin, consider getting your hair layered. It will make your hair look thicker and give it that extra volume and texture that it needs! Also, try out parting your hair on one of the sides, then you can get side bangs to complement this.
14. Blonde and Beautiful – A Curtain Fringe
Here's a blonde and beautiful hairstyle, which works perfectly for any other hair tone! If your hair is naturally a bit wavy or straight, you can try this haircut out for more volume. Have layers cut into your hair, and instead of getting shorter bangs, try out a curtain fringe. Curtain fringes frame faces in a stunning manner, giving you a feminine and harmonic look.
15. Brown to Blonde – Long Hairstyles for Women
If you are going to be heading to a fancy event, a dinner or a party, make sure your hair is on fleek! Maybe you've found yourself admiring ombre hair, starting with a dark brown then turning into a golden blonde. Why don't you try it out? It will give your hair a beautiful glow! For a special event think about curling your hair into immaculate locks.
16. Long Hair with a Fringe – Fabulous Ideas
Here's another great idea for the ladies out there with beautiful long locks! If you'd like to achieve a look that looks as if you just got out of bed, but you still look fabulous, look no further! Leave your bangs and the top of your hair messy and uncombed, then curl the ends of your hair with a hair curler or straightener. Make sure the locks stay in beautiful curls with a blow of hairspray!
17. Fiery Hair – Easy Hairstyles for Long Hair
Have you gotten bored with your natural hair tone and are you looking for exciting and bold hair colours? You've come to the right place! We recommend trying out the colour red at least once in your life. It will give your hair a rich and luxurious shine, making it look thicker and healthier. Not to mention it will give you a daring and fiery look!
18. Platinum Blonde – Awesome Hair Colours
Another exciting hair colour you can try out is platinum blonde. This beautiful hair colour is super trendy and will give you an angelic appearance! It looks good with long hair, so if you've been thinking about mixing it up, then go ahead and try out platinum blonde long length hairstyles!
19. Stylish and Simple – Lovely Long Hairstyles for Women
Here is another take on hairstyles for long straight hair! Sometimes you feel as if your long straight hair is one-dimensional and plain, then get a new haircut. Include multiple layers and straight, full bangs. You can also try getting an ombre dye blending through your hair or highlights.
20. Ombre All the Way – Easy Hairstyles for Long Hair
If you'd like to spruce your hair up a bit, then getting an ombre dye is always a fantastic idea! It adds a bit of uniqueness and boldness to hair. It's completely up to you, on what sort of colour you'd like the tips of your hair to turn into. A platinum or light blonde is always beautiful, but you can also try out a silvery hue.
21. Silver Curls – Unique Long Hair Ideas
Curly hair is absolutely beautiful. To give your curls a trendy and hip look, why not dye it a silver or grey tone? Silver and grey hair have become increasingly popular, and they get rid of plainness or dullness.
22. Fun and Flattering – Long Hairstyles for Women
Natural-looking loose waves are perfect for almost any occasion. Whether it's just for a casual day out with friends or going somewhere, where the dress code is more elegant, loose waves will make a perfect choice. You can also have a curtain fringe cut to match the waves, to make your hairstyle even better!
23. Lovely Curls – With an Ombre Twist
Here is one of many beautiful long hairstyles for women. We've talked about getting an ombre style dye, but instead of going from brunette to blonde, you can try out a lighter shade of brown for the lower layers, as if your hair was slowly getting lighter. To accentuate your ombre dye, curl your hair into messy waves, which will truly give you an ethereal look! Try out this hair colour idea for brunettes for summer!
24. A Longer Bob – Messy and Youthful
If you like the idea of a long bob, why not try it out? Bobs don't necessarily mean have straight and neat hair, it can be feathered and messy! Whatever you feel is right for you and if you can express yourself with it, it should be perfect!
25. Vibrant Red – Long Hairstyles for Women
Dye your hair in a vibrant red ombre! Starting off with a deep shade of the colour, and getting lighter towards the tips. This hair is guaranteed to catch a lot of eyes! It's also something that you can rock up to parties or festivals with, making it a perfect hairstyle for summer!
26. Honey Blonde Highlights – Easy Hairstyles for Long Hair
Would you just like to give your hair a bit of change with a beautiful glow, but not actually go for a super drastic change? Get highlights! Make sure to get highlights that match your skin colour and your natural hair, so it doesn't look out of place or too fake. A few highlights will make you shine, making them perfect for summer which is nearly here!
27. Glamorous and Chic – Retro Style
Do you love retro glamour and would like to take your hairstyle right back to the seventies? Then take a quick glance above at the hair parted in the middle with feathered waves and an adorable curtain fringe. You'll be turning heads when you're walking down the street!
28. An Angled Haircut – Fantastic and Fabulous
Angled haircuts are great because they add dimension and texture to your hair. So, whether you have fine or thick hair, angled haircuts are the way to go! Remember to add a few layers to your angled hair for that extra amount of depth.
29. Bouncy Waves – Long Hairstyles for Women
For a natural and ethereal look, create big and loose waves in your hair. You can use a curling iron, but a curling wand is also a great solution! To give your hair more definition and depth add some highlights to your hair. This is a perfect look for the summer!
30. Beautiful Balayage – Ideas for Long Haircuts for Women
Can't decide whether you'd like an ombre or balayage? If you'd like a more natural effect try out a balayage. The transition between the darker and lighter parts of your hair will be longer and less intense, than the sudden change you see in ombre dye.
We hope that this collection of easy hairstyles for long hair have helped you to find some inspiration, whatever the occasion is! Of course, there are infinite other ways to style your long hairstyles for women!
For more ideas concerning hairstyles, for example, Haircuts for Thin Long Hair or Hairstyles for Girls with Long Hair, just take a look at our website!
Advert