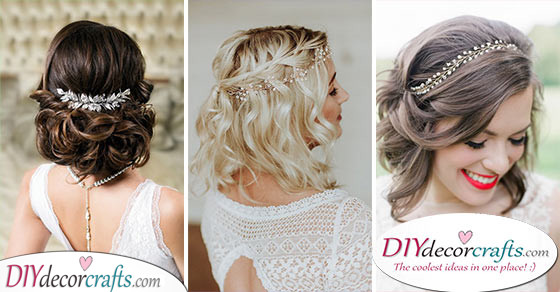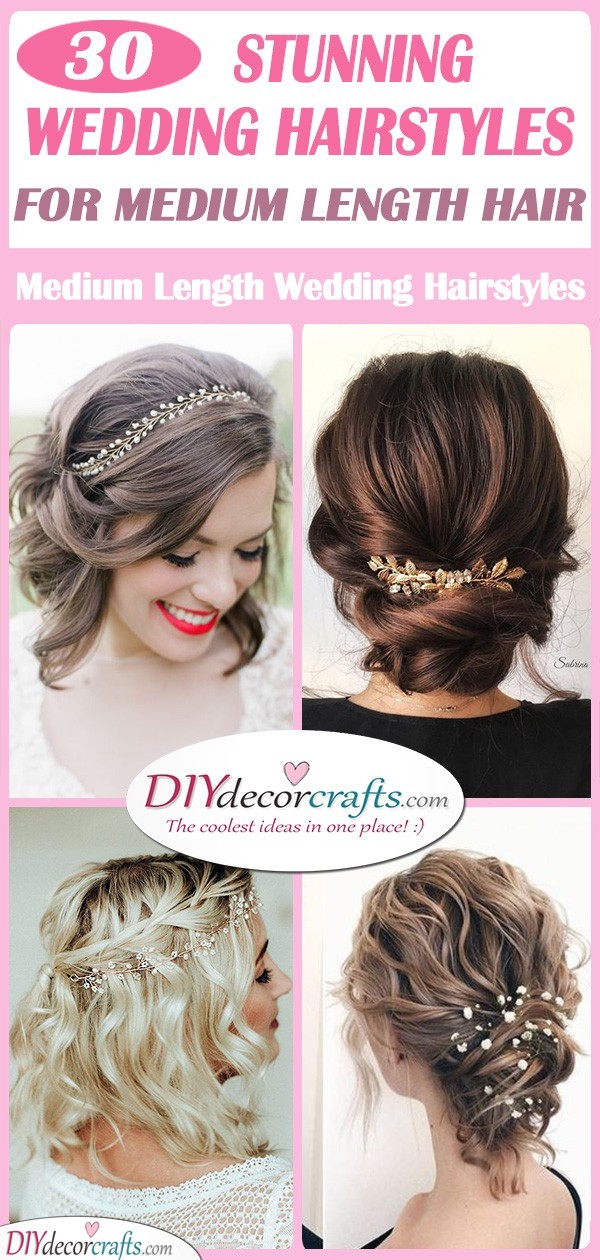 When you are getting ready and planning everything out for your big day, you'd like everything to be perfect! The wedding decor, the cake, the dress, the music all have to be on point. Naturally, let's not forget the hairstyle either! If you have medium length hair, it's important to find a hairstyle idea which will suit your overall look, not to mention give you an elegant glow. We have collected 30 wedding hairstyles for medium length hair. This way you will be sure to find the perfect one of the many breathtaking medium length wedding hairstyles down below!
1. An Elegant Updo – With a Bridal Hair Vine
If you'd like your wedding hairstyle to be an incorporation of elegance and harmony, try out this braided bun! You don't need long hair for it, medium works just fine as well! Then have a hair vine placed around your head, resembling a laurel wreath from the Ancient Roman period.
2. Simple and Stylish – Medium Length Wedding Hairstyles
Not everyone wants an immaculate updo on their big day! Just like clothes, hairdos can also be used as statements to express your personality or sense of style. If you're the sort of person who likes a simple and natural look, then having a simple hairstyle on your wedding is a great idea! Have your hair curled into loose waves and attach two strands from the front of your hair at the back. You can attach a few flowers to your hair to give it an extra boost.
3. A Feeling of Gatsby – Roaring Twenties
Do you love everything that is retro and old-fashioned? If you love the style of the Roaring Twenties, why not incorporate it in your wedding? Not only in the wedding decor, but in your wedding dress and hairstyle as well! So find some wedding hairstyles for medium length hair! Find a hairpiece that symbolizes this era, like the one in the picture above. If you have short or medium hair, it will work really well with this style, as the Roaring Twenties was all about boldness!
4. Gorgeous Hair Vines – Wedding Hairstyles for Medium Hair
Keep your wedding look simple and fresh with a gorgeous hairstyle! Instead of overdoing it, leave your hair out, perhaps giving it natural-looking curls. Then attach a hair vine to your hair, using it as if it were a hairband. This will be a beautiful touch to your overall wedding look!
5. Bohemian Vibes – Beautiful Simplicity
Whether you have medium length hair or short hair, there's a number of hairstyles that will make you look amazing on your wedding day and here's one of them! Have your hair twisted into curls and the top half of your hair braided. You can add a hair vine or some flowers to your hair.
6. A Romantic Braid – Medium Length Wedding Hairstyles
No matter what the occasion is, braids are always a great solution! Leave your hair out in loose waves, and attach a few braids to the back of your hair. You can add some flowers or an elegant hair clip, it's really up to you! Naturally, if you have longer hair, you can still try this out as a wedding hairstyle for long hair!
7. An Exquisite Updo – Wedding Hairstyles for Medium Length Hair
Make sure you look absolutely beautiful on your wedding day! If you have thin hair, try out a hairstyle which will make your hair look naturally thicker, by giving it some texture and volume. You can achieve this by adding a complex braid to your updo. Enhance your look further by adding a few decorations to your hair, a hair vine or some flowers are always a good choice!
8. A Braided Bun – Medium Length Wedding Hairstyles
Not all wedding hairstyles have to be prim and proper. You can give them a natural vibe, by creating a loose bun, with strands of hair falling out here and there. You can also create a bun that is in fact made up of several braids. Add a hair vine made out of small and delicate pearls for a breathtaking effect!
9. Bridal Headband – Retro Glamour
Here's another beautiful headband that brings a Great Gatsby sort of essence with itself. If your wedding is already going to be dressed up in a Roaring Twenties style, make sure you look the part as well! No matter whether you create an elegant bun out of your hair, or if you leave it out and flowing, a headband reminiscent of the 1920s will add a beautiful glow to your wedding look.
10. A Waterfall Braid – A Natural Essence
There are a lot of waterfall braid types! They give you a natural look, giving you a sense of style and elegance. The great thing about braids is that you can stick and attach flowers into the braided strands of hair, uplifting your whole appearance!
11. Another Waterfall Braid – With a Hair Vine
Here's another great example of a waterfall braid! While the hair is braided at the top, the ends turn into soft curls, giving you an angelic image. Make use to use some sort of hairpiece, we recommend using hair vines, which are made up of small pearls. This will give you a sophisticated and refined look, perfect for your wedding day!
12. Short and Cute – Wedding Hairstyles for Medium Length Hair
Giving your medium length hair curls will make it look short. But that's okay! After all, short hair gives a lightness to your look and we don't even need to mention that it frees up the face. Have bouncy curls with half of your hair tied into an elegant bun is an effortless look! You can add a bow or even a tiara, it's up to you!
13. A Dazzling Bun – With Bridal Accessories
If you are planning on styling your hair in an elegant bun, you might be looking for accessories to choose from, on what to add to the bun itself. Hair combs are all the rage nowadays, you can find ones made out of delicate crystal leaves or small pearls. A leaf hair comb will definitely uplift the look of your hairdo, not to mention it will leave you looking like you just stepped out of Greek mythology!
14. Natural and Bohemian – Medium Length Wedding Hairstyles
Are you planning a bohemian wedding? Then you will surely have a dress that exudes the same sort of vibe, now all you need is a hairstyle that will match it! Why not create a crown out for your hair out of a braid? You can attach some flowers to the braid, as if they were the crown "jewels", giving your hair a very beautiful and natural look.
15. The Perfect Wreath – Bridal Accessories
Are you still in search of the perfect hair accessory for your big day? You've come to the right place! Use a floral wreath or floral comb to uplift your wedding look. Cream coloured roses wrapped into an abundance of green leaves. A bridal accessory, such as this one, is perfect for a bohemian or retro-inspired wedding.
16. Pink Roses – Wedding Hairstyles for Medium Hair
A popular colour used in accessories nowadays is rose gold. If you're bored of gold, silver or copper-coloured accessories, try out rose gold! Have your hair tied into an effortless bun. Paired with a few blushing pink flowers, it will lend your hairstyle elegance and an essence of harmony and love.
17. A Wedding Bob – With Delicate Flowers
It doesn't matter if you have shorter hair, you can still style it in a stunning manner for your wedding! If you already have a bob, then this hairstyle will be perfect for you! It's made up of small curls, giving it a retro look. Then a string of delicate and small flowers on the top of your head, as if it were Nature's tiara!
18. An Array of Braids – Medium Length Wedding Hairstyles
Are you in search of a wedding hairstyle that will be more detailed and not one-dimensional? If you're already thinking of having your hair put up in a bun for your big day, why not have an array of braids incorporated into it as well? The braids can come in different shapes and sizes, in order to make your hairstyle more unique and interesting.
19. A French Twist – Perfect for Shorter or Medium Hair
If you have short or medium hair and would like it up in an elegant hairdo for your wedding, look no further! If you've ever heard of the French twist or knot, you also know how easy it is to put together and how gorgeous the final outcome will be! This would also be a beautiful hairstyle for the mother of the bride!
20. Tiny Hairpins – Wedding Hairstyles for Medium Hair
Adorable accessories are tiny hairpins, which run through your locks of hair. If you're thinking of leaving your hair out and flowing, putting it up in a bun or braiding it, tiny hairpins are a great way of decorating your hair and breathing some life into it! It's up to you what kind of shape or size hairpins you'd like!
21. Simple Elegance – Rustic and Natural Hair Ideas
If you are planning on having a wedding that really incorporates a rustic theme, or if the ceremony itself is going to be held in Mother Nature, make sure your hair embodies the same style! Go for something on the simpler side. You can have your hair put up in a crown braid, with some flowers and leaves stuck into your hair at the back.
22. Floral Bun – A Beautiful Bridal Look
Here's another beautiful hairstyle, that you can create with shorter or medium length hair. A wavy and loose bun will give you a lovely bridal glow. You can also string a floral hair vine through your hair, twisting around the bun. You will look as if you have just stepped out of a fairytale!
23. Elegant and Simple – Wedding Hairstyles for Medium Hair
Sometimes less is more! Try out an easy half-up hairstyle, leaving the rest of your hair falling down on your shoulders in soft and loose waves. You can add flowers, hairpins or a hair vine as an accessory.
24. A Simple Bun – Bridal Hairstyle Ideas
If you don't want to go to a hairdresser's before your wedding ceremony, why not do your own hair at home? There are hundreds of tutorials you can choose from, and this simple and easy bun is just one of them! While it's simple, it still brings refined elegance to its wearer.
25. French Twists – Wedding Hairstyles for Medium Length Hair
A lovely french twist is not only super easy to create, but it will also give you an ethereal glow on your wedding day! A perfect accessory that will match a french twist is a pearl embellished hair comb. 
26. Vibrant Flowers – The Best Bridal Hair Accessories
If you feel that your wedding look is too white and would like to add a bit of colour to it, why not try out attaching some vibrant flowers to your hair. Depending on what sort of flowers you use in your bridal bouquet, you can add the same type and colour to your hair for a matching effect.
27. Pretty Pearls – Medium Length Wedding Hairstyles
Do you have a bob and don't know how to style it for your wedding? Use a hair curler to add some loose waves to your hair, then tie or braid your hair in a half updo. Add some beautiful pearl pins to outline the shape of your hair.
28. Gold Leaf Comb – Wedding Hair Accessories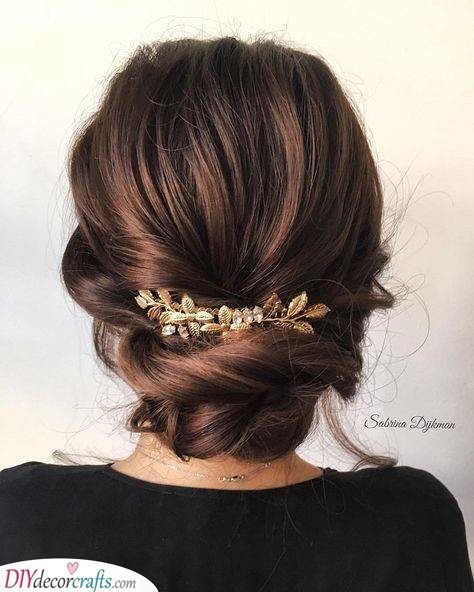 A romantic and windswept bun deserves the right accessory! How about an array of golden leaves in the shape of a hair comb? Gold will go perfectly with your white dress, making this hair accessory great for weddings! Try out a deep chocolate brown as a summer hair colour idea for brunettes!
29. An Easy Twist – Wedding Hairstyles for Medium Length Hair
While it might look difficult to make a sophisticated twist out of your medium length hair, you can actually achieve this quite easily with bobby pins and hair clips, and naturally some hairspray. Twist your hair and attach it to the bottom of your hair with a few clips. You can curl any left out strands of hair for a more romantic look.
30. A Detailed Bun – Medium Length Wedding Hairstyles
Create a detailed bun out of delicately curled locks of hair. This bridal hairstyle is drop-dead gorgeous! You can add a hair comb made out of crystals and jewels for an even more perfect look!
It might be a difficult job to find beautiful wedding hairstyles for medium length hair, but we hope that we've helped in giving you some medium length wedding hairstyles! For more ideas on hairstyles, for example, Beautiful Bridal Hairstyles for Long Hair or Hairstyles for the Mother of the Bride, just go check out our website!
Advert