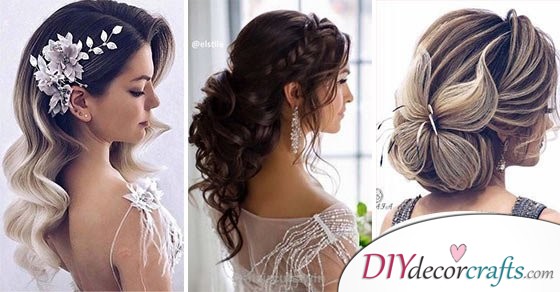 Find elegant wedding hairstyles for long hair for your big day! We have collected 40 unique and dreamy bridal hairstyles for long hair in this article, in order to help you find your perfect updo. Your wedding is an event, that you will never forget, it's a celebration of love. Picking the right hairstyle is an essential part to your bridal look, so if you're aiming for an elegant hairstyle you will be able to find it amongst the 40 listed below. After a few years, you will want to look back at your wedding photos and see yourself looking gorgeous, and you need the perfect hair for that! So take a look through our selection of bridal hairstyles for long hair!
1. Elegant and Floral – Simple Wedding Hairstyles
If you have been looking for a simple, yet elegant hairstyle for your wedding, then this might be a perfect choice for you! Curling your hair in big locks and attaching a floral headpiece is a defining look.
2. An Essence of Spring – Elegant Wedding Hairstyles for Long Hair
Another sophisticated bridal hairstyle for long hair. Do your hair up in a loose and somewhat messy bun for a natural aura. This bun can involve braids, depending on what your style is. Secure flowers or any sort of other ornaments to your hair. This is a great look if you're hosting your wedding during spring. The flowers truly bring out a great spring vibe.
3. Lovely Bows – Complicated yet Superb
This bridal hairstyle is a bit more on the complicated side of things. The bun itself is formed to look as if roses are blossoming in your hair. This hairstyle is perfect for anyone who wants an elegant and exquisite look for their wedding day.
5. Windy Wisps – Get Blown Away by This
6. Floral with a Complex Braid – Try It Out
You can't go wrong with a beautiful braid that is overflowing with flowers. Depending on what sort of braid suits your style, you can choose from a variety, including Dutch and french braids. This is a perfect choice for anyone who loves a more casual and flowery trend.
7. Simplicity at its Best – Bridal Hairstyles for Long Hair
If you've decided on leaving your hair out on your wedding, but still want it to look fabulous, then this is a great choice! Connected loosely in the back, this hairstyle will look perfect if you have your hair curled beforehand. Add any sort of ornament you want to your hairstyle, it doesn't necessarily have to be flowers. 
8. An Elegant Updo – Immaculate Wedding Hair Ideas
Leaving your hair half down doesn't need to mean simple and plain. Curling your hair into big, tumbling waves gives you a natural vibe. Accentuate your waves by braiding the top part of your hair or putting it in a bun. You can then decorate the rest of your hair with flowers, beads or any other sorts of ornaments.
10. A Unique Bun – Beautiful Bridal Hairstyles for Long Hair
Another elegant hairstyle for long hair is this one: a braid running down the side of your head and connecting into a bun. You can get as creative as you want to with this updo, styling it any way you like. We recommend the braid because it brings out youthful elegance in anyone. Sticking flowers into this updo will make it even more gorgeous.
11. A Layered Updo – For a Fun Look
Layers of hair placed on top of one another create a stunning waterfall effect. This bridal updo is sophisticated and glamorous. It is sure to look good with any wedding dress.
12. Romantic and Dreamy – Enchanting Styles
If you've been searching for a romantic wedding hairstyle, then you will absolutely love this. These are bridal curly hairstyles for long hair. This complex hairdo takes us back to the nineteenth century when queens and aristocrats would style their hair in a similar way. No wonder that this hair trend is still in style, it brings a sentimental and picturesque feel with itself. To make it stand out even more, slip a vine accessory through your hair.
13. Rose Effects – Another Great Bridal Hairstyle
14. Simple, yet Gorgeous – Beautiful Bridal Hairstyles for Long Hair
Here's another simple, yet immaculate hairstyle for your wedding. Braided in the front and an abundance of locks in the back, lend it's wearer a refined look for their big day. This bridal hairstyle is sure to look beautiful with any dress and any jewellery of your choice.
15. Fairytale-like Hair – Enchanting Bridal Hairstyles for Long Hair
This hairstyle is perfect for anyone who loves an enchanted look. Made out of very long hair and braided in a complex mode, this hairstyle seems almost magical. To emphasise the length of your hair, place a vine ornament in it, or accessorise it with flowers. This hairstyle will stun everyone at your wedding.
16. Precious Pearls – Elegant Wedding Hairstyles for Long Hair
Adorning your hairstyle with pearls is a perfect way to highlight the fact that you're getting married. Whether you put your hair in a bun, braid or leave it out, pearls can really take your look to a new level. This is a very angelic and alluring hairstyle.
17. A Load of Locks – Pretty and Lovely
A plenitude of locks falling over your shoulders is a gorgeous image. To make this look more elegant, take two strands of hair from the front and connect them at the back of your head, possibly tying it together with an accessory. By doing this, you can ensure that your hair won't get tangled and won't keep flying into your face.
18. A Graceful Updo – Wedding Hairstyle Ideas
If you want to look through your wedding albums in a few years and want to feel content about the way your hair looked, then this is a great option for you. It's more on the modest side but still brings a refined elegance with itself. Braids linking into an updo will make your hair look magical.
19. A Charming Look – The Perfect Wedding Hairstyle
Another beautiful wedding hairstyle for long hair. You can achieve this look by using a lot of hairsprays, but it's totally worth it. Similar to a few of the hairdos before, this hairstyle presents the bride with delicate sophistication.
20. An Exquisite Hairstyle – Perfect for any Bride
Yet another timeless hairstyle idea. This cascade of a downdo will take everyone's breath away at your wedding. Place white flowers or vines in your hair to bring even more of a wedding vibe to it.
21. A Unique Bun – Elegant Wedding Hairstyles for Long Hair
Nothing brings more elegance to a hairstyle than a bun. A bun can be styled in various ways. Naturally, there are simpler buns that you would wear to a casual event. For your wedding though, you'd probably want a more sophisticated bun. The picture above is a great example of taking something as simple as a bun and turning it into a creative and unique updo.
23. Braided Updo – Whimsical and Romantic
If you can't decide whether you want a beautiful updo or an elegant bun, then try out both by combining them into an awesome hairstyle. Braiding your hair from the top to the back ending it with a bun, you get a perfect merger of sophistication.
24. A Captivating Updo – The Best Bridal Hairstyles for Long Hair
A loose updo like the one shown above will leave your newlywed husband looking at you as if it were for the first time. This extravagant bun is a great option if you'd love to put flowers in your hair as well. This hairstyle, even though difficult to do, gives a very natural and idyllic image.
25. A Flower Bun – New and Exciting
If you're crazy about flowers, no matter what shape or form they come in, then this might be the right choice for you. An astounding updo, with strands of hair formed into a flower. You don't even need hair accessories for this hairstyle, it's already sublime in itself.
26. All About Colour – Wedding Updos for Long Hair
If your hair is dyed an interesting colour and you want to go for something more wild and bold, then this might be the best choice for you. You can create a variety and buns and braids with your hair, which complement your quirky shade of hair.
27. Braided French Bun – Stunning and Superb
28. An Element of Renaissance – Elegant and Vintage
Are you a fan of medieval romances? Then this hairstyle will suit your personality really well! It's a brilliant downdo and it has a vine ornament swirling downwards on it.
29. Autumn Vibes – Beautiful Bridal Hairstyles for Long Hair
If you're planning on having an autumn wedding then use accessories for your hair, that complement the season. Attaching orange, red or burgundy flowers to your hair will make the seasonal elements of your wedding pop. Feel free to play around with different sorts of hair ornaments.
30. Grey Bridal Hair – Unique and Elegant Wedding Hairstyles for Long Hair
Grey hair is becoming exceedingly popular. If you have been looking for a new hair colour and want to surprise everyone at your wedding with a new shade, then maybe grey is a great idea for you! It's edgy and cool, not to mention it looks beautiful in an elegant style as well. 
31. A Flowery Crown – A Simple Wedding Hairstyle
Have you been thinking about hosting a rustic themed wedding? Then match your hair with the wedding decor. A crown made out of flowers and different sorts of bushes can serve as a beautiful accessory to any wedding gown. You can wear flower crowns no matter what hairstyle you have. Whether your hair is up in a bun or lets down, a flower crown always looks good. This is one of many beautiful bridal hairstyles for long hair.
32. White Flowers – Effortlessly Gorgeous
Take a look at the picture above, now that's just one of many beautiful bridal hairstyles for long hair! If you've been uncertain about what sort of hairstyle you want for your wedding, then this might be a perfect choice. If you want an ethereal look, then simply place some flowers in your hair as well. 
33. A Natural Aura – Elegant Wedding Hairstyles for Long Hair
If you have an earthy themed wedding, and all your decor is a celebration of nature, then try matching your wedding hairstyle with the wedding theme. Sticking white flowers in a braid will help accentuate the pure white wedding dress.
34. Braids Done Up in a Bun – Pure Beauty
To create a beautiful bun, you can braid your hair into two. Then twirling the two braids around and around each other, you will receive a beautiful updo. Attach this to the rest of your hair with bobby pins and hair clips. This is a sort of hairstyle you can easily make at home by yourself.
35. Flower Wreath – Natural Wedding Hair Ideas
Flower wreaths have become super trendy at weddings nowadays, mainly at vintage or rustic weddings which embrace a natural atmosphere. You can decorate your wreath with the same sort of flowers you use at the ceremony or the flowers in the bridal bouquet. 
36. Swirls of Hair – Fantastic and Fabulous
An artistic and highly creative hairstyle for anyone who loves exquisite bridal updos. If you've been thinking about getting a somewhat classic hairstyle for your wedding, but want a completely modern take on it, then take an example from the picture above. It's definitely something new, that will show stunningly on your big day.
37. An Enchanted Vibe – Elegant Wedding Hairstyles for Long Hair
If you're going for something more simple, but still want it to look graceful and delicate, then this is a super idea for you! Create a loose, only halfway done, braid and curl the ends to make it look majestic. Incorporate some flowers into the braid to make it stand out even more. 
38. A Sleek Bun – Stylish and Chic
Searching for a more traditional wedding hairstyle? You've come to the right place! This sleek bun will sweep you off your feet. Buns bring a mood of refinement and clarity. They are easy to make and you can attach any sort of ornament to it easily.
39. A Blazing Red Updo – Magnificent Colour Choice
If you're thinking about trying out new hair colour for your wedding, then maybe red is well suited to you. Red is a bold, outspoken colour. It goes exceptionally well with bridal white. You can experiment with what simple wedding hairstyles it goes best with – a braid or a bun.
40. A Crown Full of Beads – Beautiful Bridal Updos
A hairpiece that shows really beautifully at weddings is a wreath put together of small beads or gems. It provides the wearer with a natural elegance and vintage aura. This hair accessory goes especially well with lace, flowy wedding dresses.
Hopefully, you have been able to find some wedding hair ideas amongst these 40 unique hairstyles. According to your style and personality, accessorise your hair with whatever you like, flowers, beads or feathers. We are certain that, whichever hairdo you end up choosing, it will look amazing.
If you are looking for wedding ideas, such as save the date cards or wedding bridal jewellery, visit our website!
Advert