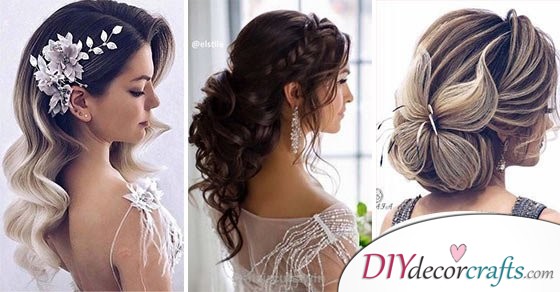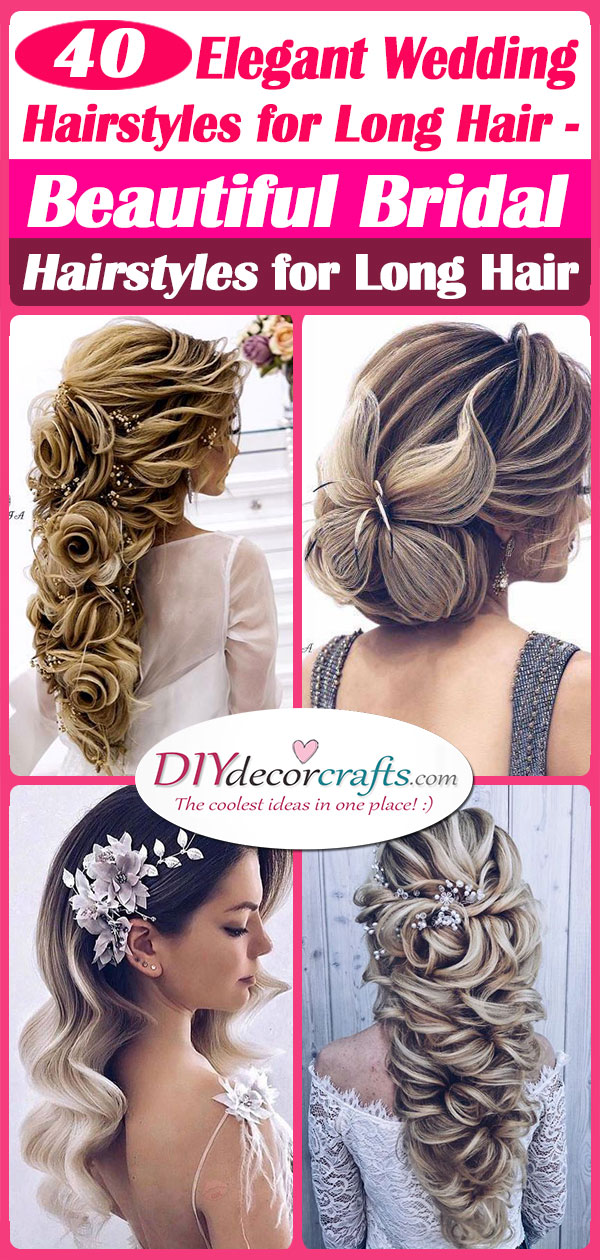 Find elegant wedding hairstyles for long hair for your big day! We have collected 40 unique and dreamy bridal hairstyles for long hair in this article, in order to help you find your perfect updo. Your wedding is an event, that you will never forget, it's a celebration of love. Picking the right hairstyle is an essential part to your bridal look, so if you're aiming for an elegant hairstyle you will be able to find it amongst the 40 listed below. After a few years, you will want to look back at your wedding photos and see yourself looking gorgeous, and you need the perfect hair for that! So take a look through our selection of bridal hairstyles for long hair!
1. Elegant and Floral – Wedding Hair Ideas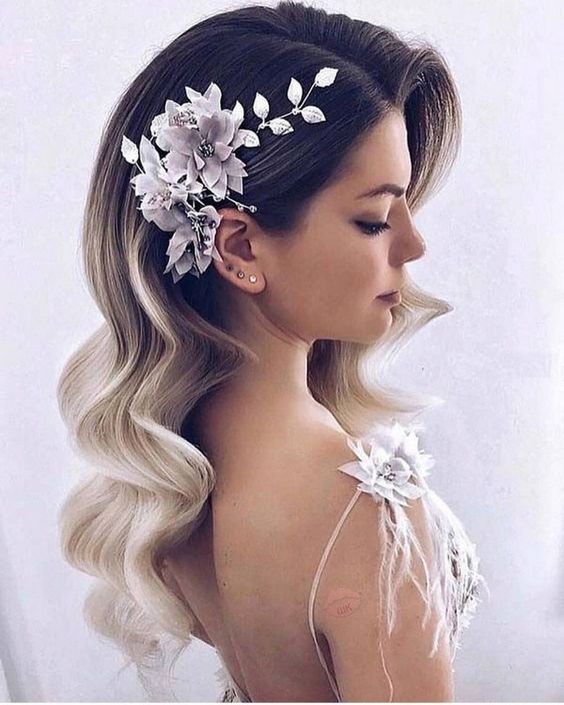 If you have been looking for a simple, yet elegant hairstyle for your wedding, then this might be a perfect choice for you! Curling your hair in big locks and attaching a floral headpiece is a defining look.
2. An Essence of Spring – Elegant Wedding Hairstyles for Long Hair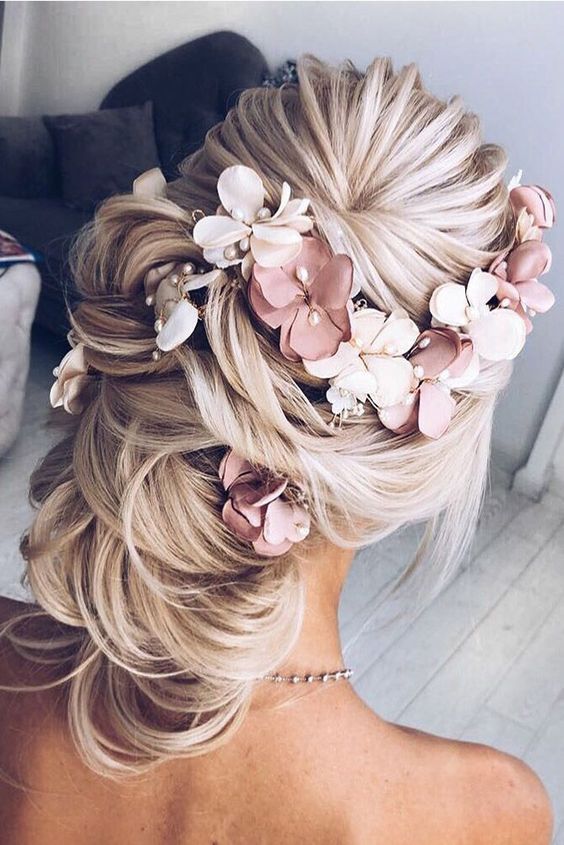 Another sophisticated bridal hairstyle for long hair. Do your hair up in a loose and somewhat messy bun for a natural aura. This bun can involve braids, depending on what your style is. Secure flowers or any sort of other ornaments to your hair. This is a great look if you're hosting your wedding during spring. The flowers truly bring out a great spring vibe.
3. Lovely Bows – Elegant Wedding Hairstyles for Long Hair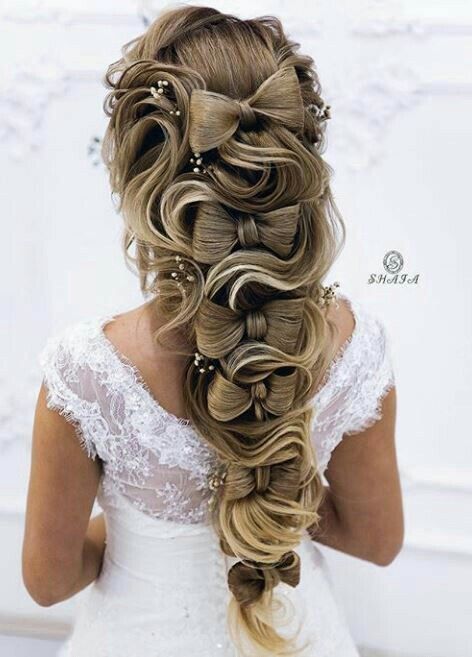 This one is for the ladies who love bows. An immaculate braid, with bows integrated into the hairstyle, lends anyone a refined and gorgeous look. Sticking small, white wildflowers between the locks of hair presents this hairstyle with the perfect wedding feeling. This is one of the most beautiful bridal hairstyles for long hair.
4. A Rosey Bun – Wedding Updos for Long Hair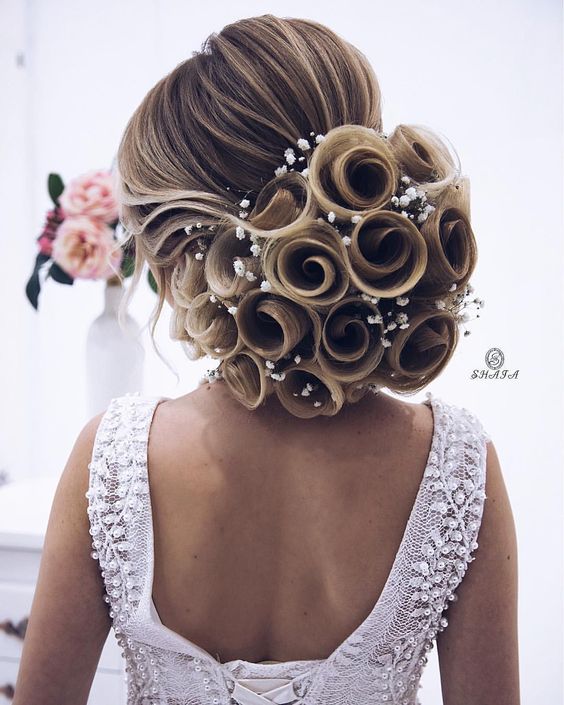 This bridal hairstyle is a bit more on the complicated side of things. The bun itself is formed to look as if roses are blossoming in your hair. This hairstyle is perfect for anyone who wants an elegant and exquisite look for their wedding day.
5. Windy Hair – Get Blown Away by this Hairstyle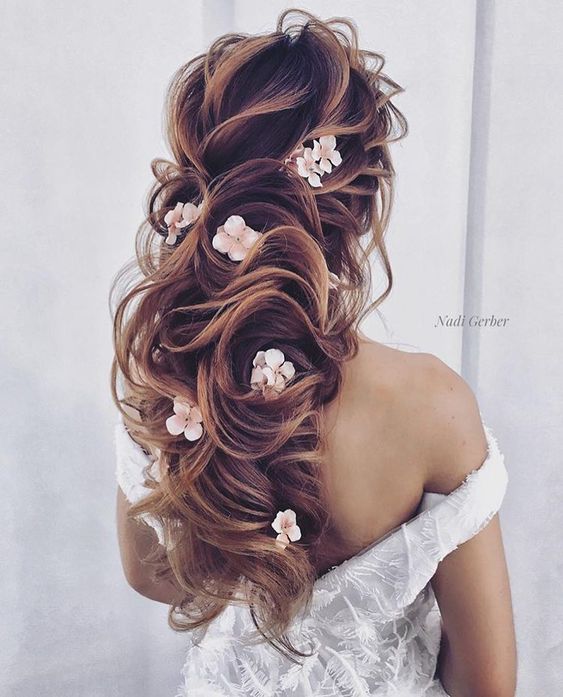 source

This hairstyle is meant for the romantic souls out there. With a lot of hairspray,s you can create an effect that will make your hair look romantic and windswept. Attach flowers your hair to give you a bridal presence. This is one amongst many exquisite bridal hairstyles for long hair.
6. Floral with a Complex Braid – Elegant Wedding Hairstyles for Long Hair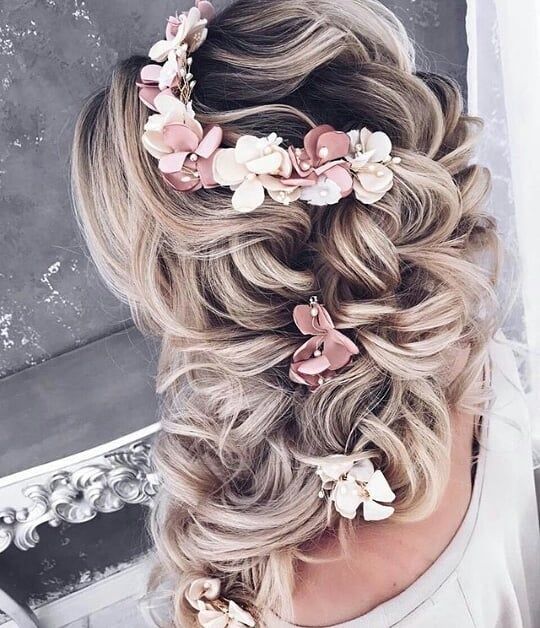 You can't go wrong with a beautiful braid that is overflowing with flowers. Depending on what sort of braid suits your style, you can choose from a variety, including Dutch and french braids. This is a perfect choice for anyone who loves a more casual and flowery trend.
7. Simplicity at it's Best – Bridal Hairstyles for Long Hair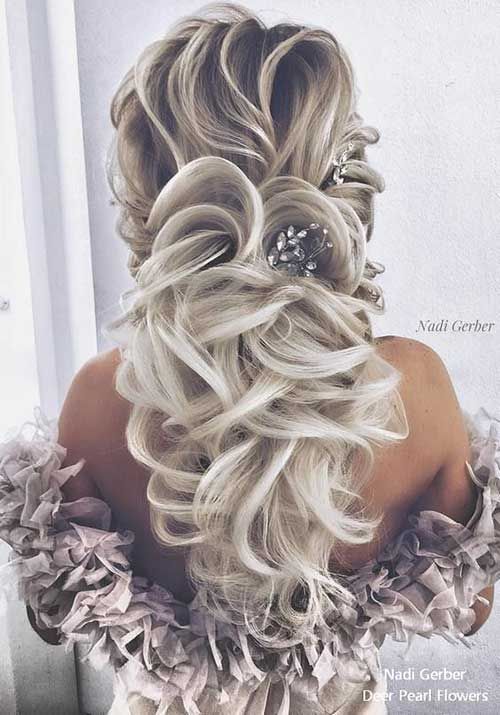 If you've decided on leaving your hair out on your wedding, but still want it to look fabulous, then this is a great choice! Connected loosely in the back, this hairstyle will look perfect if you have your hair curled beforehand. Add any sort of ornament you want to your hairstyle, it doesn't necessarily have to be flowers. 
8. An Elegant Updo – Immaculate Wedding Hair Ideas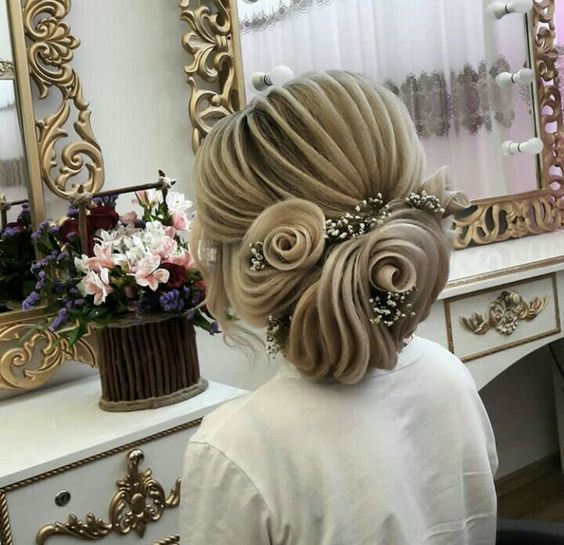 source
Yet another elaborate hairstyle. Creating a bun, such as the one shown on the picture above can be complicated, but the final result speaks for itself. It's enchanting and by infusing flowers into the hairstyle, it makes it glow even more. This is just one out of many elegant wedding hairstyles for long hair.
9. A Heavenly Half Up – Half Up Wedding Hair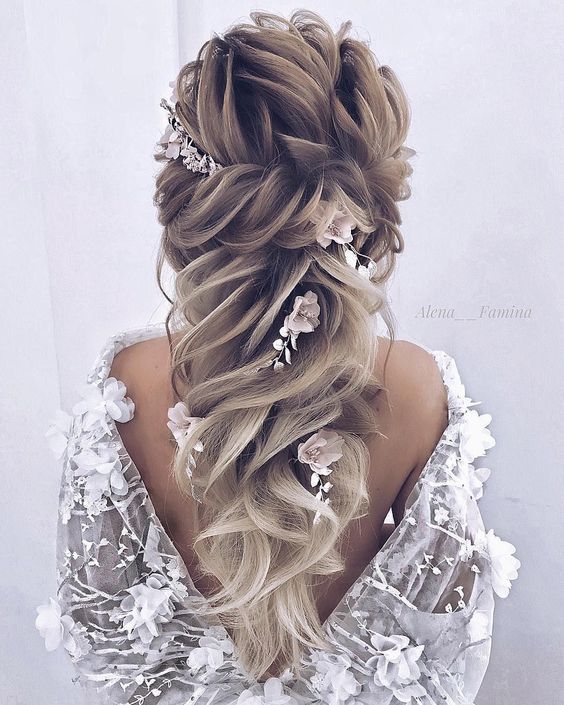 Leaving your hair half down doesn't need to mean simple and plain. Curling your hair into big, tumbling waves gives you a natural vibe. Accentuate your waves by braiding the top part of your hair or putting it in a bun. You can then decorate the rest of your hair with flowers, beads or any other sorts of ornaments.
10. A Unique Bun – Beautiful Bridal Hairstyles for Long Hair
source
Another elegant hairstyle for long hair is this one: a braid running down the side of your head and connecting into a bun. You can get as creative as you want to with this updo, styling it any way you like. We recommend the braid because it brings out a youthful elegance in anyone. Sticking flowers into this updo will make it even more gorgeous.
11. A Layered Updo – A Great Wedding Hairstyle Idea
Layers of hair placed on top of one another create a stunning waterfall effect. This bridal updo is sophisticated and glamorous. It is sure to look good with any wedding dress.
12. Romantic and Dreamy – An Enchanting Bridal Hairstyl

e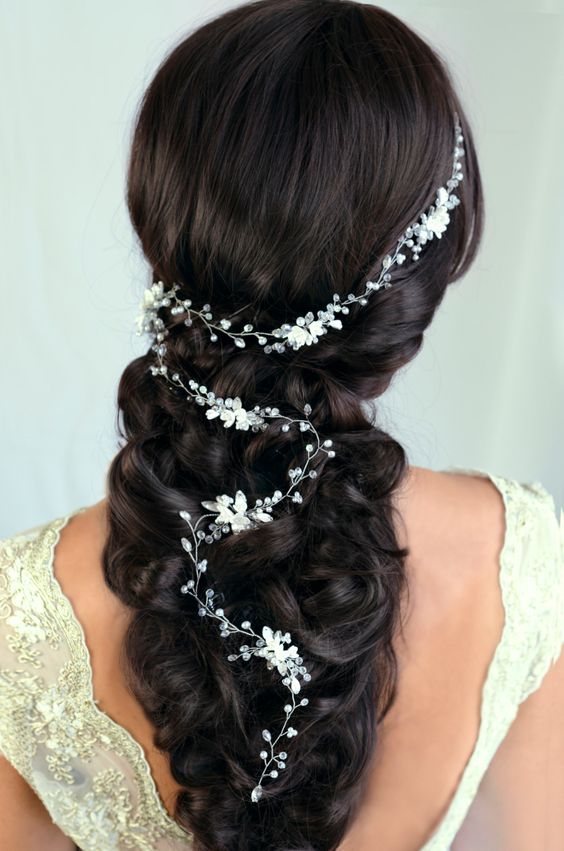 If you've been searching for a romantic wedding hairstyle, then you will absolutely love this. These are bridal hairstyles for long hair. This complex hairdo takes us back to the nineteenth century when queens and aristocrats would style their hair in a similar way. No wonder that this hair trend is still in style, it brings a sentimental and picturesque feel with itself. To make it stand out even more, slip a vine accessory through your hair.