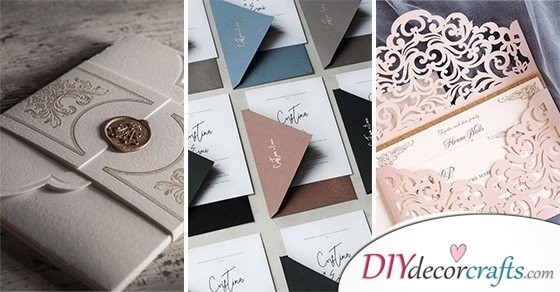 One of the most important elements of your big and unforgettable day is your wedding invitation. Every young couple puts emphasis on this, since this is the first impression for your guests, hinting what the wedding will be like. Moreover, this is something that the guests will keep as a memory. It can be quite difficult to decide on what the perfect wedding invitation should look like and how to make it truly unique, but elegant at the same time. To help you out, we have collected a few great handmade wedding invitations for you. You'll not only be able to find classic and sophisticated wedding ideas, but also modern and extravagant ones. Naturally, you can get creative and play around with the colour schemes according to your own taste. Now, let's see which DIY wedding invitation cards you like the best!
1. Snow White Elegance – Simple yet Classic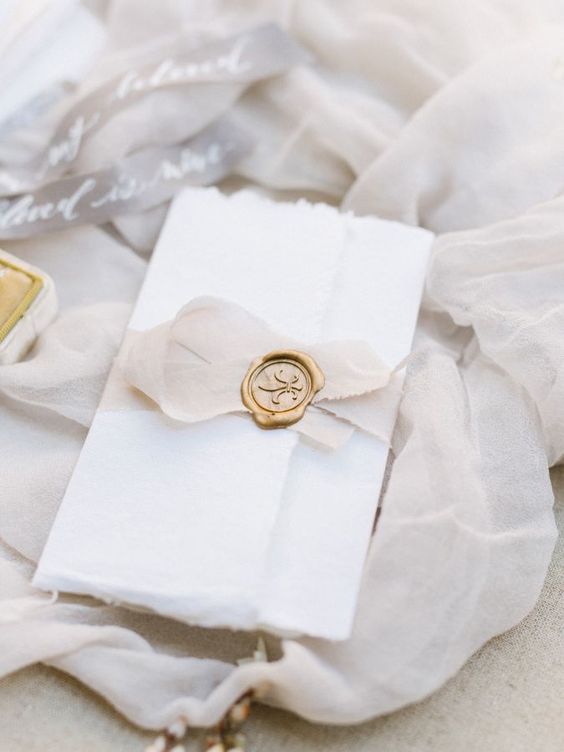 source
Invitations usually give us a peep into what the wedding's theme and decor will look like. A simple white, sprayed with a bit of beige or pale champagne pink will go well with any other colour. It's a real classic with an essence of elegance, and it also matches any sort of decoration. This is just one of many gorgeous DIY wedding invitation cards.
2. 

Elegant Bows – Cute Little Bows
If your wedding is going to be decorated with bows, small or large, try using them in the wedding invitations as well. You will be able to create a greater effect, especially if your guests discover that the bows were not only included in the invitations but also used as a form of decoration at the wedding itself. They're really easy to make and are guaranteed to lend your elegant wedding invitations a charming appearance.
3. A Classic Envelope – Simple Wedding Invitations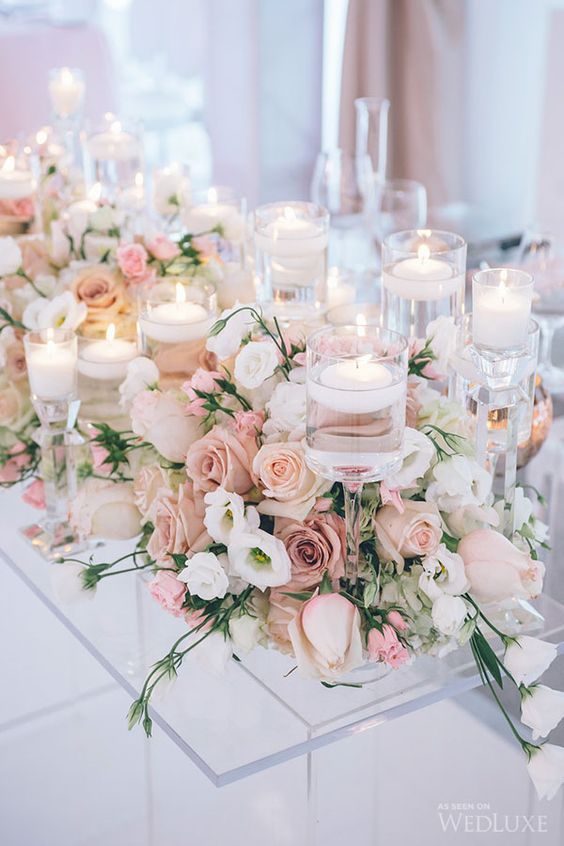 If you're planning on hosting your wedding overseas, then check out this super creative and original passport invitation! It looks exactly like a passport, but instead of containing personal details, it includes the most important information, that your guests need to know about your wedding. For example the date and location. This is one of many great DIY wedding invitation cards.
11. A Floral Invitation – Classic Wedding Invitations
When asking people about what pops into their mind when they hear the word "wedding", decor and flowers will most definitely be amongst the answers. Flowers give any event an enchanted feeling, and at weddings, they are a necessity! So if you decide to give your classic wedding invitations a floral card, it will be no surprise. You can also try giving the guests a small glance at what sort of wedding decor and theme to expect!
12. A Laser Cut Style – An Exquisite Card for Your Guests
As mentioned before, a laser-cut envelope is a beautiful and elegant way to send out invitations. Another great mode of using the laser cut technique is by using it on the invitation cards. It will look fabulous when opening the card. The front page of the invitation can be cut out with the laser technique, while the inside of the card can contain the details of the wedding. If you would like to make it even more gorgeous, you can tie a slip of paper around it, which has the initials of the betrothed couple written on it.
13. A One-paged Invitation – Simple DIY Wedding Invitation Cards
If you would like a simple, one-paged invitation without an envelope, but you still want all the magic that comes with a wedding invitation, then this is a great idea. Try adding a sparkly border to the card and instead of using an envelope, tie a ribbon or bow around it.
14. Simple, Natural and Elegant – Paper and Lavender
If you love Mother Nature, then a great idea for decorating your wedding invitations is with flowers that don't wilt quickly. Lavenders are perfect for this. Flowers not only give a vintage and earthy vibe but they are guaranteed to please your invited guests when they open the card and get a whiff of lavender. Cards like these make beautiful handmade wedding invitations.
15. A Combination of Green and Gold – Tropical Vibes
Design your wedding invitations by combining green with gold is a sophisticated and modern look. If you're not a huge fan of pink, beige or pastel colours, you can bring a bold look to your wedding with these more natural and earthy colours. 
16. Black and Pastel – Personalised Wedding Invitations with a Twist
If you want your wedding invitation's background colour to be a darker shade, then black combined with a lighter pastel is a divine choice. As you can notice in the picture above, you can create a unique dynamic by using the laser cut technique on the lighter coloured page. You can also try using the laser cut page as an envelope to make your elegant wedding invitations even more brilliant.
17. Leafy Patterns – Creative DIY Wedding Invitation Cards
If you would like to make your own, completely unique, handmade wedding invitations, here's a great idea. Leaf printing is not only super easy, but it looks remarkable. Try using gold coloured paint, because no matter what the base colour of your invitation is, gold will only help it look even more elegant and beautiful.
18. Fan Invitation – Extraordinary and Awesome
A truly spectacular and original idea is throwing a paper fan inside the invitation. This will give your already elegant wedding invitation that "wow" factor. Just think about it, you're opening up an invitation and a fan also opens up inside. This can make your card special and interesting. If you decide on this invitation idea try getting an envelope which has a pattern or colour that matches the fan.
19. Glitters and Sparkles – A Fancy Look
If you are planning a fancy and glittery wedding, then this is the perfect idea for you. A wedding invitation with shiny stones will reflect the atmosphere of your big day. It's simple yet truly magical.
20. Simple Elegance – These Handmade Wedding Invitations Speak for Themselves
Not a huge fan of sparkles? Then maybe these simpler and sophisticated ideas will be to your liking. A monocoloured envelope and a refined invitation card will give your guests a feeling of simplicity mixed with elegance.
21. An Invitation with a Response Card – Wedding Invitation Kits
Wedding invitations usually arrive with a response card attached, making it quicker and easier for guests to let the happy couple know, whether they will be able to make it or not. It's easy to put your wedding invitation and response in a big envelope, but a more elegant way to present your guests with the cards is with this great idea. Tie the invitation and the response card together with a ribbon and attach a few flowers to it, before placing it in the envelope. With just a few simple steps this package becomes more graceful.
22. Natural and Modern – A Simple, yet Flawless Wedding Card
If you like simplicity and artistry, feel free to use Mother Nature's gifts as patterns on your DIY wedding invitation cards. This can be a great choice, especially if you are thinking of a summer wedding since this wedding invitation provides an airy and simple atmosphere.
23. The Magic of Simplicity – Simple Wedding Invitations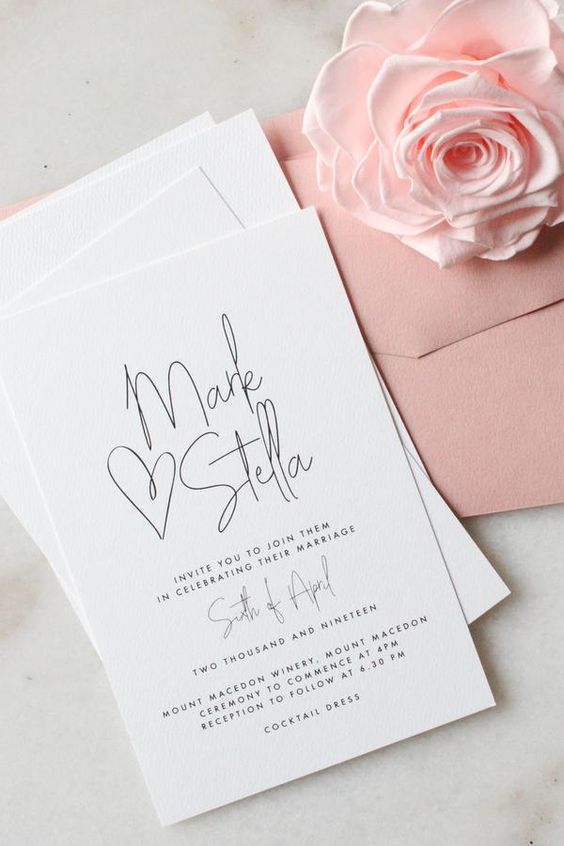 Advert
source
If you are thinking of choosing a simple invitation card, you can spice it up with an interesting font. All you need to watch out for is, that while the font should be interesting and eye-catching, your guests should be able to read it. Naturally, you can write the invitations with your own hand. To complement the simplicity of the invitation card, we recommend picking an envelope which is more on the ornamental side.
24. Creative Invitations and Envelopes – Fold Your Own Wedding Invitations!
A super creative idea for wedding invitations is to fold your envelope into an interesting form. This is something you can create at home without any difficulties. If you want to make it even more special, you can fold your invitation card into a unique shape using origami techniques. If you're planning on having an unusual wedding reception, for example hosting your wedding on a boat, you can try folding your invitation into a boat shape. This will get your guests into the mood for the ceremony.
25. Pale Colours – Handmade Wedding Invitations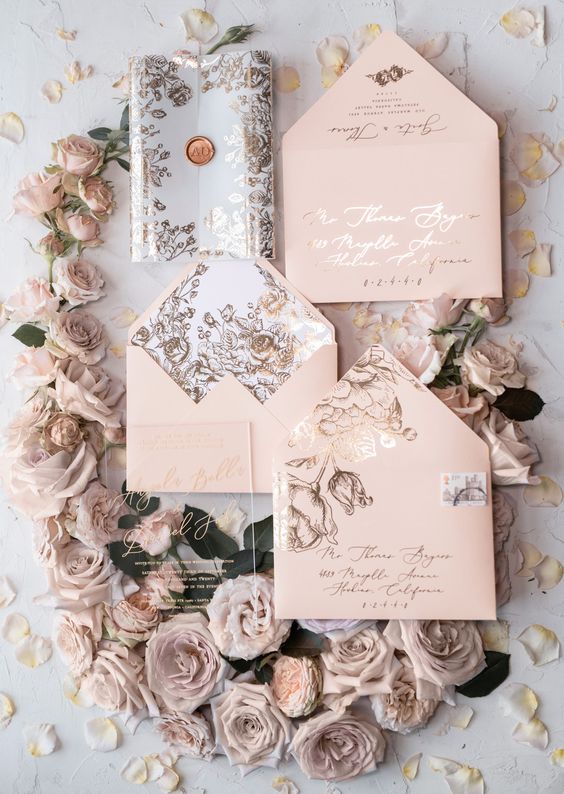 source
Cream or pale pink look good in any form. Using paler colours as a base will make sure that your wedding invitations' text is visible.
26. A Feeling of Provence – Earthy DIY Wedding Invitation Cards
Are you trying to bring the atmosphere of Provence to your wedding? Then this wedding invitation will hand you exactly that. You can use any sort of sackcloth to decorate the card and you can string a few flowers to it, preferably lavender. You can also try placing some lace on the card to make it look even more pretty.
27. Decorated with Lace – A Personalised Wedding Card

Advert
source
If you are searching for refinement, then lace can be a great option. Lace brings an elegant and romantic spark to everything. Choose the same colours for your invitation card that will be defining your wedding decor as well.
28. Pastel Colours – Classic Wedding Invitations
Pastel colours are becoming more and more fashionable at weddings. Light colours bring a warmness to your heart and accentuate the romantic vibe. Naturally, not everyone likes pastel shade and the soft style that it brings with itself, but we have to admit, it brings a harmonic feel to any wedding.
29. An Aesthetic, Flowery Wedding Invitation – Will Make your Guests Swoon 
Floral patterns look good in any form of decoration. If you decide on choosing a floral pattern for your wedding invitation, make sure to match the flowers with those, that will be in your bridal bouquet.
30. Wedding Invitations Decorated with Embossed Writing – Personalised Wedding Invitations

You have found the right wedding invitation idea if you are looking for a unique form of writing. With embossed writing, you can create a remarkable effect that will stun your guests. This is one of many great handmade wedding invitations.
31. Marsala on the Wedding Invitations – DIY Wedding Invitation Cards
Over the past few years, the colour marsala, a deep shade of burgundy, has become extremely popular at weddings. Not only does it look good as decor, but it is a stunning colour to use for invitations as well. It conveys an old-fashioned, elegant and mysterious atmosphere. Try using a wax seal to close your envelope to make your invitation seem even more mystical.
32. Jigsaws – Creative and Unique Handmade Wedding Invitations
If you are looking for something truly unique and interesting, that will definitely bring a smile to your guests' faces, then look no further! These puzzle shaped DIY wedding invitation cards are a perfect choice. This wedding invitation will not only bring joy to your guests, that they have been invited to share the happiness of your wedding together with you, but they will also have a bit of fun piecing together to puzzle, to find out exactly when are where your wedding will take place.
33. White, Gold and Ocean Blue – A Fantastic Combination
Even though blue is not the warmest colour, it does bring a certain elegance with itself. Especially, if it's paired with a warmer colour. As you can see from the picture, gold and blue are a match made in heaven. You may decide on using the same sort of pattern for your wedding thank you cards later on!
34. A Drop of Elegance – Handmade Wedding Invitations
Have you been dreaming of a refined, yet vibrant wedding invitation? Then this idea might just be the one for you. The stylised font creates elegance, while the surrounding leaves and flowers lend it a youthful atmosphere. These are truly beautiful handmade wedding invitations.
35. Refined Elegance – With a Wax Seal
The picture above speaks for itself, as it carries an aura of classic elegance. If you're not the sort of person who likes glittery glamour, then these simple, yet beautiful handmade wedding invitations might be the perfect choice for you.
36. Ornaments Made out of Wood – Great DIY Wedding Invitation Cards
Initials made from wood is a rustic, yet elegant way to style your wedding invitations. If you like organic materials, earthy decor and you are also planning on using wedding decor with a natural vibe, then this wedding invitation idea is a great choice.
37. Different Sorts of Leaf Patterns – Design Your Own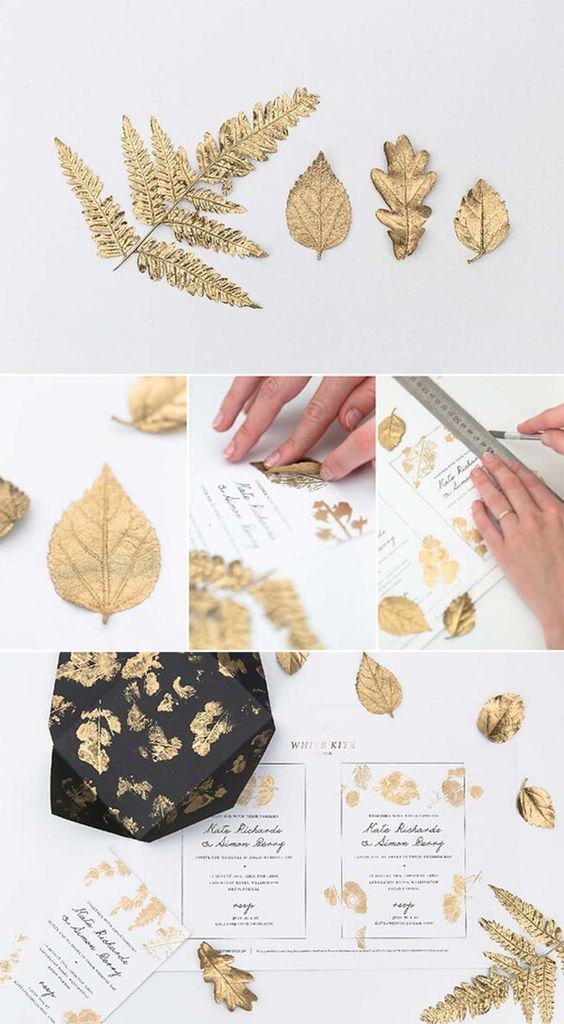 source
If you want handmade wedding invitations then try out this awesome idea. Leaf printing has become exceedingly popular in our modern day. You can use any sorts and as many leaves as you want to create an invitation with a great atmosphere.
38. A Glasslike Invitation – Enchant your Guests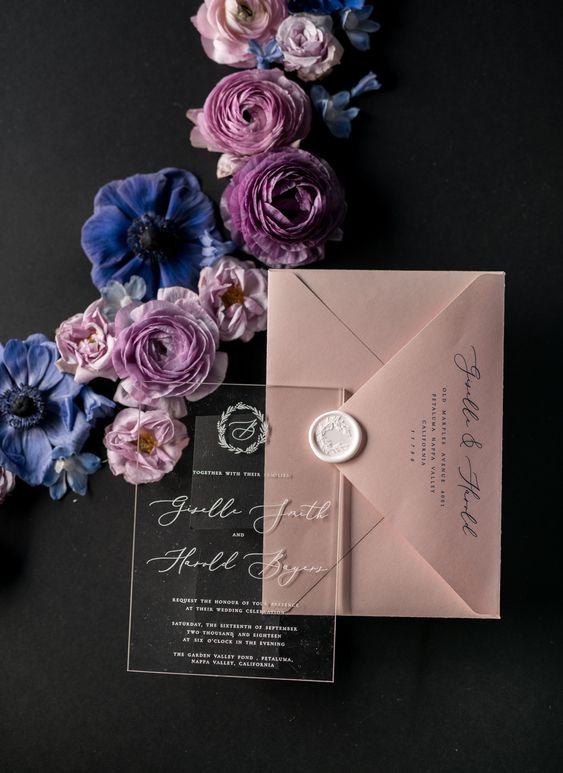 Another creative idea is making a glasslike invitation, which brings a newfound classiness to your wedding card. You can make this out of plexiglass or transparent foil. You can write, draw, paint and glue things on it. Of course, you can choose real glass instead, on which you can engrave information about the wedding. This is one of many great DIY wedding invitation cards.
39. A Rustic Impression on the Invitations – Handmade Wedding Invitations
Rustic style is becoming more and more fashionable at weddings. This style features natural ornaments and colours of the earth. So if you are planning a rustic wedding, then it's quite easy to surround yourself in natural, yet simple elements. Your personalised wedding invitation should reflect this ambience. Try using earthy, warm colours as a base. You can even tie a few pressed flowers or leaves to the card with a string. Try this idea out for your DIY wedding invitation cards.
40. Simply Lace – Beautiful and Simplistic
If lace is going to be a dominant theme of your wedding, then use some as decoration on your wedding invitation. A great idea is using cake paper, something you can buy at practically any shop. You can use cake paper like an envelope. Cake paper comes in many colours, so you can choose the colour according to the theme and decor of your wedding. This is also a much cheaper option than laser cutting paper. This idea is truly a beacon of inspiration for DIY wedding invitation cards.
Wedding invitations can be designed in hundreds of ways. They can come in any shape, colour or form of your choice. You don't always need to stick to the standard choice of simple wedding invitations in an envelope. It's also a great feeling to design your wedding invitation! The main point is that your wedding invitation should create the same sort of atmosphere that you would like to see at your wedding. Remember that your wedding invitation is the first impression of the event. It's the best way to get your guests into the mood, already months ahead of the ceremony. Take your time to look through these 40 DIY wedding invitation cards listed above and let your creativity come out to play! Check out our other wedding ideas, such as DIY wedding centrepieces or bridal bouquets! 
Advert