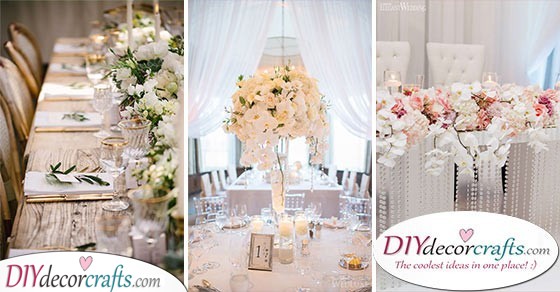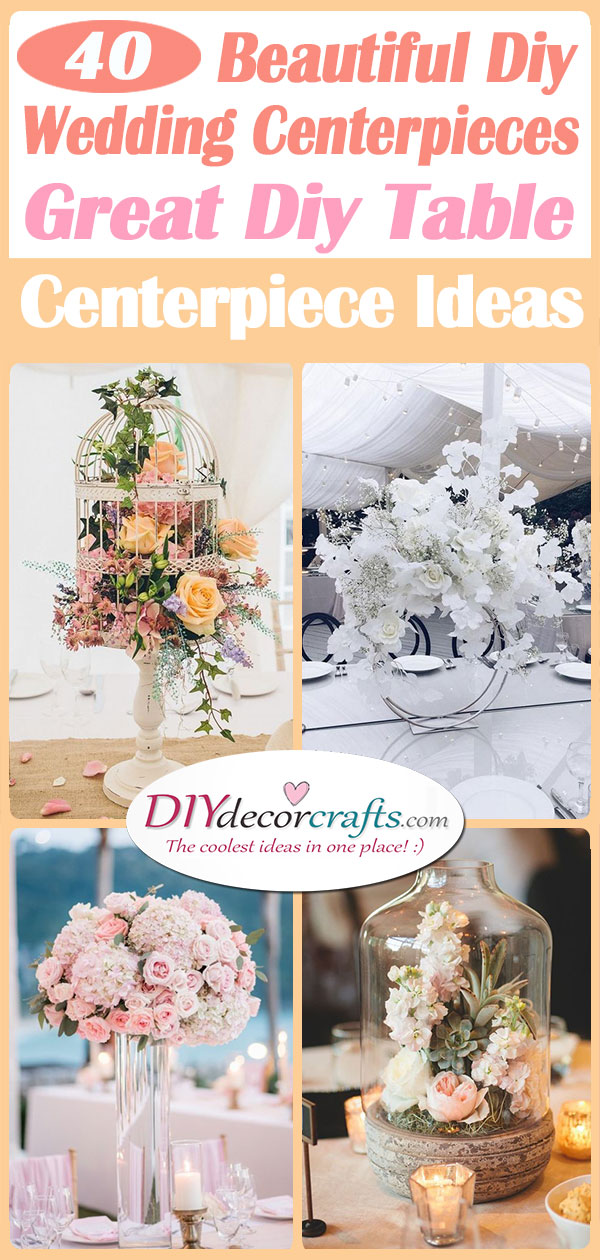 When it comes to your wedding reception, you want everything to look perfect. Of course, weddings come with a huge expense, sometimes you have to think twice before buying wedding decor. However, you might like arts and crafts, so instead of buying decor, you might want to make your wedding decor at home, it's more affordable and handmade decor will give your wedding a more intimate atmosphere. We have a selection of 40 beautiful DIY table centerpiece ideas for you to browse from. Hopefully, you find something suited to your taste, because DIY wedding centerpieces are very important at weddings, as they bring an essence of your own personality to each and every table. Also, make sure to look through our collection of wedding ideas.
1. Mason Jars – Simple Centerpieces
Nowadays, mason jars are becoming more and more popular pieces of decoration. So why not use them as wedding table centerpieces? You can decorate the jars any way you want, tying some lace or ribbon around it. It's up to you as well, what goes in the jars – with flowers and candles you can't really go wrong.
2. Pure White – Elegant and Refined
It will come as no surprise if you decorate your tables with vases of white flowers. It gives tables an element of simplicity and earthiness, making these perfect wedding table centerpieces.
3. Rustic Ideas – Great DIY Wedding Centerpieces
If you're planning on covering your wedding with rustic ornaments, then check out these beautiful wedding centerpiece ideas! Find any sort of old wooden box and place flowers and candles inside.
4. Simple and Delicate – DIY Ideas
Very simple wedding table centerpieces can be vases of flowers. It's not only easy to put together, but it's also extremely cheap. So if you're on a budget you might consider using this idea!

5. Birdcage Decor – A Fabulous and Exotic Idea
Are you looking for something more exotic and extravagant for your wedding table centerpieces? Take a look at this birdcage! Stuff birdcages with flowers and candles for a stunning and romantic effect.

6. Candles and Pink Flowers – A Dreamy Image
Create an inviting and warm atmosphere with the help of warm colours. Use pink flowers and light candles as wedding table centerpieces to achieve this romantic impression on your guests.
7. Beautiful Flowers – DIY Wedding Centerpieces
If you're having a rustic themed wedding or an outdoor wedding, use flowers as wedding table centerpieces. Try putting in all sorts of flowers and leaves for an earthy and natural atmosphere. You can surround these wedding table centerpieces with real or flameless candles, this will make it look fabulous at night.
8. Floral Wreath – Beautiful DIY Table Centerpiece Ideas
Make these beautiful floral wreath wedding table centerpieces at home by yourself. Stick dried up leaves and flowers around a wreath to create a gorgeous ornament. You can place a candleholder in the middle of the wreath, this will make the perfect centerpiece.
9. Amazing Tree – Creative Ideas for Centerpieces 
Do you want something modern yet simple as wedding table centerpieces? You've come to the right place. In a tall vase put in some pinecones and a tree branch that resembles a tree. Hook candles onto the ends of the tiny branches. This will look amazing during the night when the candles start burning.
10. Relaxed Bohemian – Awesome DIY Table Centerpiece Ideas
This vase of flowers will really lend your wedding a feeling of relaxation and joy. There's nothing like a palette of green and white so use white wildflowers and an array of green leaves, and place these in a vase. These floral centerpieces will achieve an earthy and bohemian effect.
11. Clean and Pure – Simple DIY Wedding Centerpieces
Using a variety of white flowers will get your guests into a true wedding mood. Place small vases containing white flowers on each table. Surround them with candles to make these wedding table centerpieces glow brilliantly at night.
12. Elegant Bouquets – Beautiful DIY Table Centerpiece Ideas
Form a huge, round bouquet with white flowers and place this in the middle of your wedding tables. This will create a truly elegant wedding table centerpiece.