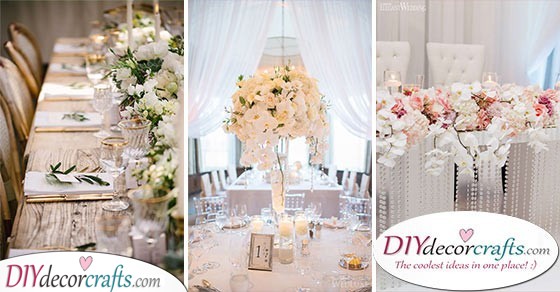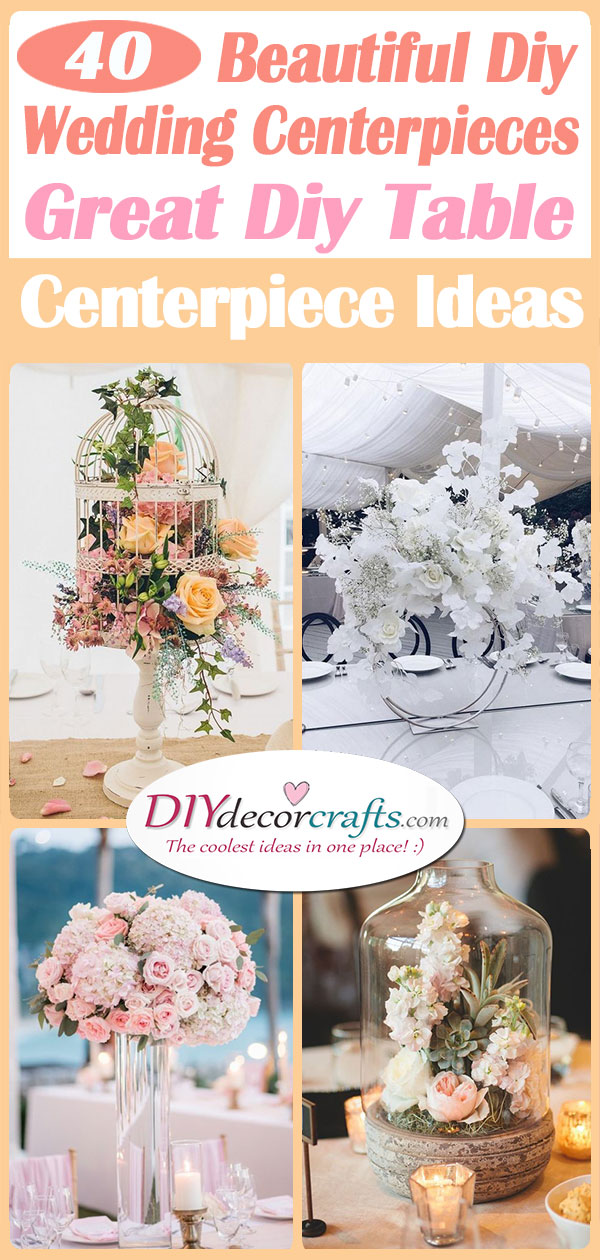 When it comes to your wedding reception, you want everything to look perfect. Of course, weddings come with a huge expense, sometimes you have to think twice before buying wedding decor. However, you might like arts and crafts, so instead of buying decor, you might want to make your wedding decor at home, it's more affordable and handmade decor will give your wedding a more intimate atmosphere. We have a selection of 40 beautiful DIY table centerpiece ideas for you to browse from. Hopefully, you find something suited to your taste, because DIY wedding centerpieces are very important at weddings, as they bring an essence of your own personality to each and every table. Also, make sure to look through our collection of wedding ideas.
1. Mason Jars – Simple Centerpieces
Nowadays, mason jars are becoming more and more popular pieces of decoration. So why not use them as wedding table centerpieces? You can decorate the jars any way you want, tying some lace or ribbon around it. It's up to you as well, what goes in the jars – with flowers and candles you can't really go wrong.
2. Pure White – Elegant and Refined
It will come as no surprise if you decorate your tables with vases of white flowers. It gives tables an element of simplicity and earthiness, making these perfect wedding table centerpieces.
3. Rustic Ideas – Great Floral Centerpieces
If you're planning on covering your wedding with rustic ornaments, then check out these beautiful wedding centerpiece ideas! Find any sort of old wooden box and place flowers and candles inside.
4. Simple and Delicate – DIY Ideas
Very simple wedding table centrepieces can be vases of flowers in mason jars. It's not only easy to put together, but it's also extremely cheap. So if you're on a budget you might consider using this idea!
5. Birdcage Decor – A Fabulous and Exotic Idea
Are you looking for something more exotic and extravagant for your wedding table centrepieces? Take a look at this birdcage! Stuff birdcages with flowers and candles for a stunning and romantic effect.
6. Candles and Pink Flowers – A Dreamy Image
Create an inviting and warm atmosphere with the help of warm colours. Use pink flowers and light candles as floral centrepieces to achieve this romantic impression on your guests.
7. Beautiful Flowers – DIY Wedding Centerpieces
If you're having a rustic themed wedding or an outdoor wedding, use flowers as wedding table centrepieces. Try putting in all sorts of flowers and leaves for an earthy and natural atmosphere. You can surround these wedding table centrepieces with real or flameless candles, this will make it look fabulous at night.
8. Floral Wreath – Beautiful DIY Table Centerpiece Ideas
Make these beautiful floral wreath wedding table centrepieces at home by yourself. Stick dried up leaves and flowers around a wreath to create a gorgeous ornament. You can place a candleholder in the middle of the wreath, this will make the perfect centrepiece
9. Amazing Tree – Creative Ideas for Centerpieces 
Do you want something modern yet simple as wedding table centrepieces? You've come to the right place. In a tall vase put in some pinecones and a tree branch that resembles a tree. Hook candles onto the ends of the tiny branches. This will look amazing during the night when the candles start burning.
10. Relaxed Bohemian – Awesome DIY Table Centerpiece Ideas
This vase of flowers will really lend your wedding a feeling of relaxation and joy. There's nothing like a palette of green and white so use white wildflowers and an array of green leaves, and place these in a vase. These floral centrepieces will achieve an earthy and bohemian effect.
11. Clean and Pure – Simple DIY Wedding Centerpieces
Using a variety of white flowers will get your guests into a true wedding mood. Place small vases containing white flowers on each table. Surround them with candles to make these wedding table centrepieces glow brilliantly at night.
12. Elegant Bouquets – Beautiful DIY Table Centerpiece Ideas
Form a huge, round bouquet with white flowers and place this in the middle of your wedding tables. This will create a truly elegant wedding table centrepiece.
13. A Boxed up Garden – Cute and Fresh
Maybe you are planning an outdoor or garden wedding. To complement the nature surrounding you and your guests, why don't you box it up and use various plants as wedding table centrepieces? Flowers and succulents in a box will create a gorgeous image!
14. Beautiful Terrarium – A Unique Glow
An adorable idea for wedding table centrepieces is this one! Place a terrarium in the middle of each table, you can put flowers and succulents in it. Encircle them with candles.
15. Slice of Wood – Earthy DIY Wedding Centerpieces
If you'd like a foresty vibe at your wedding, consider using slices of wood in your wedding centrepiece design. You can place vases of flowers and candles on it. Simple wedding centrepieces such as this one will make your guests feel as if they are closer to nature.
16. Tall Vases – DIY Table Centerpiece Ideas
Place bouquets of flowers in tall vases. Tall vases really help elevate decoration, so use them as wedding table centrepieces. They will give your tables an air of elegance.
17. Whimsical Wreath – A Breath of Nature
These whimsical wreaths are perfect wedding table centrepieces. It's actually not that hard to make, not to mention it shows beautifully. You can hang candles from the top part of the wreath to create a romantic glow at night.
18. Rustic Lantern – Rustic DIY Table Centerpiece Ideas
Do you love rustic decor? It gives any event an old-fashioned, yet timeless atmosphere. Instead of placing vases of flowers on your tables, put antique-looking lanterns as wedding table centrepieces. You can lay flowers on the table or around the lanterns for a magical atmosphere.
19. Caged Candles – DIY Wedding Centerpieces
We mentioned using birdcages before. But now, instead of flowers place candles inside them. You can create a floral wreath to wrap around the birdcage. This will bring a harmonic and romantic aura to your wedding table centrepieces.
20. Blue Flowers – Elegant Centerpiece Ideas
Though blue isn't the warmest colour, you might have decided on using it as a major colour theme for your wedding. If so then use these elegant wedding table centrepieces as inspiration. In a wooden box place some blue flowers. Tie some blue lace or cloth around the boxes for an even more intense colour of blue.
21. Wine Bottles as Vases – Simple Ideas Perfect for Any Wedding
If you are a wine lover, we suggest using wine bottles as vases. It's an affordable option and it also lends a rustic and homey look to any sort of decor, making them perfect wedding table centrepieces.
22. Pretty Provence – DIY Table Centerpiece Ideas
Do you want to transport your guests to Provence on your wedding day? Place jars of lavender as wedding table centrepieces. Wrap lace or fabric around the jars and put them in boxes. This will give your wedding a rustic Provence vibe. 
23. Floral Cloche – Beautiful Ideas
Check out this simple tutorial for making a beautiful flower cloche. It's not only simple to make, but it shows stunningly as wedding table centrepieces. Your guests will feel as if they have stepped into an enchanted forest on your wedding day.
24. Glittery Numbers – Great DIY Table Centerpiece Ideas
When you have a lot of guests, the easiest way to ensure everyone has a seat is by assigning everyone to tables. Giving each table a number will make this procedure even easier. You can use table numbers in wedding table centrepieces, just take a look at the picture above. The number is cut out and stuck into a gorgeous box of flowers.
25. Modern Beauty – With a Touch of Floral Refinement
Bring a modern look to your wedding table centrepieces with these great vases. Geometric terrariums do not only bring a chic and modern edge with themselves but also refined elegance. Place a variety of flowers inside the terrariums.
26. A Bucket of Flowers – Fantastic DIY Table Centerpiece Ideas
If you like simpler or more rustic decor, then these buckets of flowers will make the perfect wedding table centrepieces for you. It's up to you what sized buckets you'd like, we recommend small ones, this way your guests will be able to actually be able to see each other from the other side of the table. Surround it with candles for a romantic effect.
27. Tropical Vibes – Unique

DIY Wedding Centerpieces
With these beautiful wedding centrepiece ideas, you will be able to create a lush and exotic environment for you and your guests. White orchids and palm leaves will bring a tropical vibe to your wedding decor. It's a simple, yet bold choice.
28. Vintage Mood – DIY Table Centerpiece Ideas
If a vintage theme will be dominant in your wedding decor, then make sure your DIY wedding table centrepieces complement the wedding's overall look. Place a lantern and a simple vase of flowers on a slice of wood. This will give your tables a vintage and rustic feeling to them. 
29. Homely and Earthy Atmosphere – DIY Ideas
If you would like a more homely and earthy atmosphere to your wedding, this is a perfect choice. Place an assortment of candles on a separate plate. Put a vase of white flowers next to your plate of candles. These two elements will uplift any table wedding centrepieces.
30. A Unique Vase – Layered Sand
Want to design your wedding table centrepieces on your own, with a unique twist? Then check out this super fun idea! With different colours of sand, you can achieve unique, wavy layers that look beautiful in a glass vase. Remember to place a cube of floral foam in the sand, so your flowers won't wilt!
31. Bowls of Flowers – Stunning

DIY Table Centerpiece Ideas
Here is another gorgeous idea for wedding table centrepieces. In big glass bowls, place some flowers and pour water over them to keep them fresh. This will give your tables a magical glow. You can place bowls on top of each other, in order to form a tower of flowers.
32. Rose Gold – Splendid

DIY Wedding Centerpieces
A colour that has grown increasingly fashionable is used in many elements of wedding decor. This colour is rose gold. Rose gold terrariums make a perfect choice for wedding table centrepieces if you're going for a more unique and modern look. Terrariums are great for succulents and air plants. So instead of using standard white flowers, spice up your table decor with rose gold terrariums!
33. An Array of Pearls – A Fancy Look
If you want your wedding table centrepieces to be on the fancier and more elegant side, then we suggest this idea! In a vase replace the water with a bunch of pearls. Finally, put your flowers in as well. Tie a ribbon around the vase for extra glamour.
34. Citrus Inspired – Vibrant and Fresh
Have you been searching for vibrant wedding summer table centerpieces? Then this is a perfect option for you. Fill your vase with cut up citrus fruits and place your flowers between them, just like the picture above. The colours of the flowers should match the colours of the fruit, so if you're using lemons and oranges make sure you have some orange and yellow flowers in the vase.
35. Beach Vibes – Amazing

DIY Table Centerpiece Ideas
Maybe you and your partner's favourite place to relax is the beach. So bring an element of your favourite environment to your wedding. You can put shells, strips of seaweed and candles into a small box filled with sand. This will bring a great summery feeling to your wedding.
36. A Blooming Wreath – Elegant

DIY Wedding Centerpieces
If you want a truly elegant wedding table centerpieces for your reception, then this is a perfect choice for you. Wreaths decorated with an array of white flowers will leave your guests dazzled. It's elegant but not over the top.
37. A Bundle of Sticks and Flowers – Mother Nature Itself
An affordable wedding table centerpiece is this one. Tie a bundle of sticks together with a string and weave in some flowers between the sticks. This is not only a beautiful, earthy decoration, but it's also easy to make by yourself.
38. A Bowl of Frangipanis – Beauty and Elegance
If you're looking for more exotic flowers to use as your wedding table centerpieces, then why not try out frangipanis? Frangipanis are beautiful flowers with a lovely fragrance. They will sweep your guests off their feet.
39. Baby's Breath – Great

DIY Table Centerpiece Ideas
Baby's breath is the sort of flower which shows well in any sort of decoration. It's easily accessible during all seasons of the year, not to mention it creates a ceremonial atmosphere. For super easy, but breath-taking wedding table centerpieces, stuff birdcages with baby's breath. This decoration will really give your venue wedding vibes.
40. Lush and Tropical –

DIY Wedding Centerpieces
Do you want to create a lush, tropical and bold setting for your wedding? Then this is a great idea for you! It's simple and unique. Decorate your tables with pineapples and palm leaves. Surround them with candles and you're already done. These are super wedding table centerpieces for summer weddings!
We trust that this collection of 40 DIY wedding centerpiece ideas has inspired you to find your perfect table centerpiece. Make sure your wedding centerpieces complement the rest of your wedding decor, so they won't look out of place. Feel free to mix up a few ideas to create something brand new that fits your style! Have a great day!
If you're in need of ideas for any other wedding decor, please check out our site by clicking here.
Advert