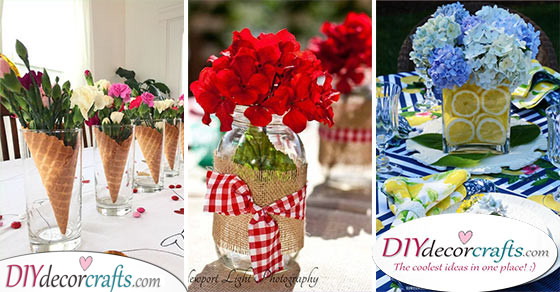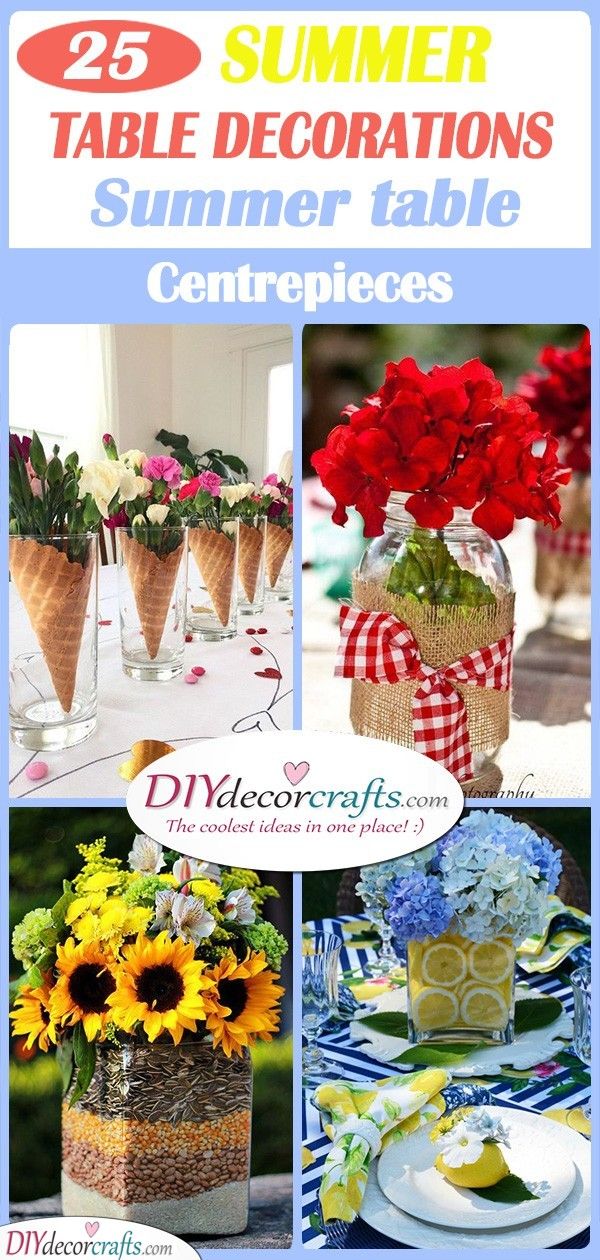 Summer has nearly arrived and with it the hot weather! The days have finally gotten longer, and the nights shorter. Summer is the perfect season for going on vacation, hitting the beach and bathing in the sun. It's a period of relaxing and finding space for your hobbies. Dress your home up in a summery feeling, matching it with the outside world! We have collected 25 beautiful summer table decorations, so hopefully, you will be able to find a bit of summer inspiration for your own home down below. So take a browse through our summer table centrepieces!
1. Cones of Flowers – Instead of Ice Cream
We all know that summer is the season of ice cream and gelato. A bit of refreshing coldness can go a long way! If you are a fan of these tasty summer treats, why not incorporate them in your summer table decor? Instead of placing flowers in vases, put them in ice cream cones! Then place them on the table. These flowers will give your home a quirky and unique look!
2. Rope Wrapped Vase – Gorgeous Summer Centerpieces
Give your home a beautiful summery look with an awesome vase like this one! All you need is a simple vase, a glue gun and some rope. Wrap the rope around the vase, using the glue gun to make it stick to it. It's really as easy as that! Now all you need to do is fill your vase up with water and place your choice of flowers inside.
3. Burlap and Mason Jars – Cute Summer Table Decorations
If you are looking for inexpensive and easy summer table centrepieces to make, go no further! These mason jars vases that have a rectangle of burlap and checkered ribbon wrapped around them are the perfect solution for any summer occasion. Whether it's a garden party or just your neighbours popping over for coffee, everyone will be admiring these cute mason jar vases! Now all you need to do is find the perfect flowers to put in them!
4. Citrus Inspired Vase – Summer Table Decorations
Summer is the season of fresh fruit! So it only makes sense to hero a type of fruit in your table decor. Lemons have a gorgeous, warm yellow colour, giving it summer vibes. So if you decide on using lemons in your summer table decor, it's a terrific idea! Spruce up a plain vase by placing slices of lemon on its sides. Then place your selection of flowers inside the lemon-decorated vase, after filling it up with water.
5. Stunning Candleholder – Amongst an Array of Fruit
Candles are a beautiful source of light for those warm summer nights. Whether you are outdoors or in your house, you can create a stunning atmosphere by using candles. To make sure you don't light anything on fire, make sure you get a candleholder for your candle. You can use anything from old jars to unused vases. To give this an even better look, place your candle and candleholder on a tray, and surround it with an array of leaves and seasonal fruit. You can try matching the colour of the candle with the fruit for that extra wow factor.
6. Pineapple Vase – A Fruitful Delight
Are you bored with glass or ceramic vases? Try out something new for this year's summer table decorations! Grab a pineapple and carve out the inside of it with the help of a spoon. Now all you need to do is fill it up with water so the flowers you place inside won't wilt so quickly!
7. Layers of Seeds – The Perfect Summer Vase
Have you ever found yourself admiring a vase filled with multiple layers of a different colour or textured sand? Well, this is kind of the same, but with different types of grains and seeds. You can use corn kernels, rice, beans or sunflower seeds to create layers in the vase. If you are planning on using real flowers, remember to place floral foam between the seeds to keep your flowers fresh.
8. An Oceanic Atmosphere – A Combination of Blue and White
Are you a lover of the seaside and the ocean? Bring the essence of the beach to your table with this awesome set of decor! Get some small blue vases, representing the colour of the water, and place some small flowers in them. Place the vases in a small wooden crate, and put some seashells and candles inside the box as well.
9. Coastal Farmhouse Feels – Summer Table Arrangement
Create a seaside landscape on your table for this summer! You can place all sorts of items all over the table. Candles, shells and balls of rope are just a few of the things you can arrange. Also consider using small seethrough blue or green bottles, as if they were bottles containing messages washed up on the sandy shores.
10. A Whole Rainbow – Creative Summer Table Centrepieces
Create a rainbow on your table with this fantastic idea! Get an assortment of vases, they don't have to be the same shapes or sizes. Fill each with water, and place a few drops of different food colouring in each one. By the end, you should have a set of vases which resemble a rainbow. Place white flowers in each vase. After a day or two, they should absorb the colour in the water, giving them fabulous new colour.
11. Gorgeous Candles – Coastal Decor
Coastal decor is the way to go during summer. It will bring a beautiful atmosphere to the table you use. In seethrough, blue mason jars or small candle holders place candles. Then place these on a tray which has an assortment of shells laid across it.
12. A Colourful Centrepiece – Vibrant Flowers
If you are searching for a simple solution for your table and throw a burst of colour into your decor, then you might like this idea! It's not only simple, but it's also cheap. In small mason jars place a variety of vibrant flowers. You can use any sorts of flowers of your choice, just make sure that there are a few species and different colours of them in the vases. Then place them on a tray in the middle of a table.