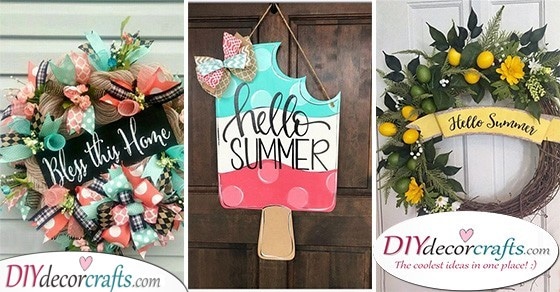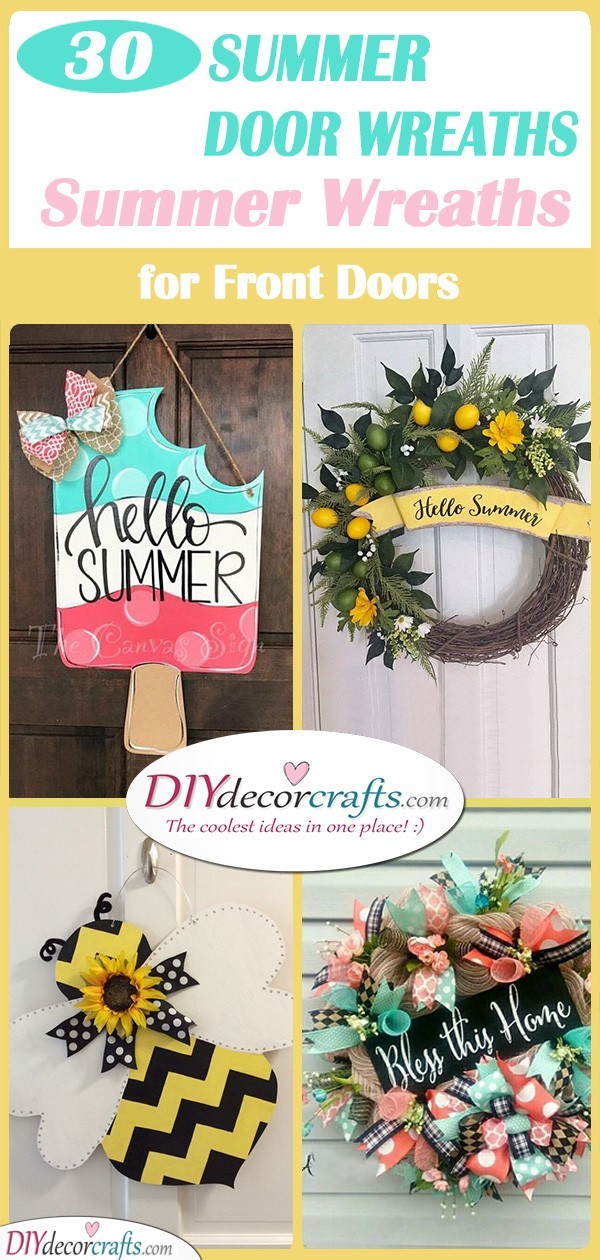 Summer has finally arrived, a season everyone has been waiting for! Beautiful warm weather paired with lots of free time is the perfect combination for a bit of relaxation. You can finally plan activities in the outdoors, without having to be afraid of being caught in a spring deluge. Summer is all about being in nature, whether it's sunbathing on the beach or taking a hike in the countryside. Everything during the season is gorgeous, so why not take a bit of inspiration from your summer surroundings and portray it in summer wreaths for front doors? We have gathered 30 fantastic ideas for summer door wreaths. Dress your front door up in summer ideas as well!
1. Sunny Sunflowers – A Ray of Happiness
Hanging a wreath on your front door is a great idea! If you're not sure how to decorate it, why not use sunflowers as inspiration? During the season of summer, you can see an abundance of these happy, yellow flowers blooming in the countryside. Add a bit of burlap to your wreath as well, tying a ribbon on it. Add a few wildflowers to it for an even more stunning effect!
2. A Merry Welcome Sign – Front Door Decor
Your front door decor doesn't necessarily have to be a wreath, you can also place a welcome sign on it! All you need is a wooden board, on which you paint "welcome to our home." Add a summer fruit to the painting, for example, a pineapple. This will give your welcome sign a true summer feeling!
3. Under the Sea – Summer Door Wreaths
If you absolutely love going down to the seashore during summer, make sure you bring some of that love for the sea into your front door decor! You can attach different sorts of seaweed to your wreath and naturally, don't forget to use shells and starfish either! Your wreath will have a beautiful summery look to it!
4. A Tropical Look – Summer Wreath Ideas
If there's a place of eternal summer, that's probably Hawaii! Get some inspiration from the culture and natural environment of this island. Wrap exotic ferns around your wreath, remembering to include hibiscus flowers as well. You can attach a word like "aloha" to the wreath. This tropical wreath is sure to give your whole house a summer vibe.
5. Citrus Inspired – Great
Summer Wreaths for Front Doors
Another fruit which exudes a summery vibe, are citrus fruit! They are perfect for those hot summer days when you need something to freshen you up. Include lemons and limes on your summer front door decor. The harmony of yellow and green will create a gorgeous image!
6. Simple and Tropical – A Modern Wreath
Do you love minimalistic and modern decor? Then make sure to keep your front door decor simple! Attach different sorts of palm leaves and ferns to a simple, thin metal ring, instead of using a traditional wreath. You don't have to wrap it up completely in greenery, leave half of the ring uncovered. While this piece of decor is simple, it's truly beautiful!
7. Watermelon Door Decor – Ideas for the Summer
Common favourite summer fruit is the watermelon! It's juicy and refreshing, making it perfect for any hot summer day. Use the watermelon as inspiration for your door hanger! Cut out its shape from cardboard, and paint over it, creating a resemblance to an actual slice of this delicious fruit. You can attach a few ribbons to your watermelon slice as well!
8. Dunes of Burlap – Summer Wreaths
Create a wreath that will look like the sandy shores of a beach! Sewing a lot of burlap on each other, you will be able to create an effect to make your wreath look like sand dunes.
9. Tropical Flowers –
Summer Wreaths for Front Doors
Give your wreath a gorgeous tropical look, making it perfect for summertime! Besides using exotic leaves and ferns, also make sure to use an abundance of tropical flowers. Orchids, frangipanis and hibiscus are perfect choices for a tropical image!
10. Hello Summer – And Hello Sunflowers
As we mentioned before, sunflowers are the perfect summer flowers! They exude happiness with their bright yellow colour. Use a tonne of sunflowers and burlap for your wreath, you can also fill the middle of the wreath with decorations as well! Attach a "hello" to it as well, making it not only a beautiful wreath but an awesome welcome sign as well!
11. Nautical Inspired – Beautiful Wreaths for Summer
If you love strolling on the beach during summer, listening to the crashing of the waves and feeling the sand between your toes, use it for inspiration for your summer wreath! Attach a collection of shells to your wreath, as well as a winding rope and a small net, symbolizing the lifestyle of fishermen out on the sea.
12. Lavender Wreath – A Rustic Look
Lavenders are a perfect flower to use in your wreath. They have a relaxing fragrance, not to mention they bring a summer Provence vibe with themselves. You can tie a burlap ribbon around the wreath as well for a gorgeous rustic look.