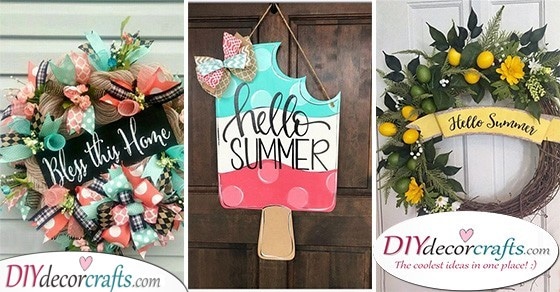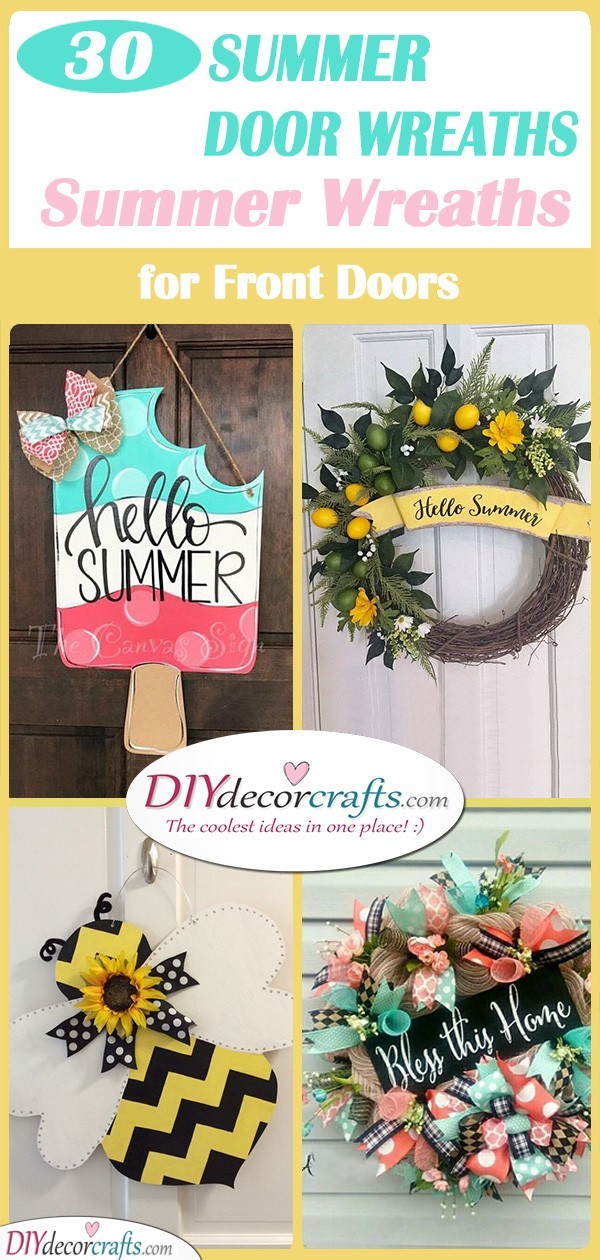 Summer has finally arrived, a season everyone has been waiting for! Beautiful warm weather paired with lots of free time is the perfect combination for a bit of relaxation. You can finally plan activities in the outdoors, without having to be afraid of being caught in a spring deluge. Summer is all about being in nature, whether it's sunbathing on the beach or taking a hike in the countryside. Everything during the season is gorgeous, so why not take a bit of inspiration from your summer surroundings and portray it in summer wreaths for front doors? We have gathered 30 fantastic ideas for summer door wreaths. Dress your front door up in summer ideas as well!
1. Sunny Sunflowers – A Ray of Happiness
Hanging a wreath on your front door is a great idea! If you're not sure how to decorate it, why not use sunflowers as inspiration? During the season of summer, you can see an abundance of these happy, yellow flowers blooming in the countryside. Add a bit of burlap to your wreath as well, tying a ribbon on it. Add a few wildflowers to it for an even more stunning effect!
2. A Merry Welcome Sign – Summer Door Hangers
Your front door decor doesn't necessarily have to be a wreath, you can also place a welcome sign on it! All you need is a wooden board, on which you paint "Welcome to our home." Add a summer fruit to the painting, for example, a pineapple. This will give your welcome sign a true summer feeling!
3. Under the Sea – Summer Door Wreaths
If you absolutely love going down to the seashore during summer, make sure you bring some of that love for the sea into your front door decor! You can attach different sorts of seaweed to your wreath and naturally, don't forget to use shells and starfish either! Your wreath will have a beautiful summery look to it! Not to mention, it would look amazing as just a piece of summer decor in your home, not only on your front door!
4. A Tropical Look – Exotic and Fun
If there's a place of eternal summer, that's probably Hawaii! Get some inspiration from the culture and natural environment of this island. Wrap exotic ferns around your wreath, remembering to include hibiscus flowers as well. You can attach a word like "aloha" to the wreath. This tropical wreath is sure to give your whole house a summer vibe.
5. Citrus Inspired – Great

Summer Wreaths for Front Doors
Another fruit that exudes a summery vibe, are citrus fruit! They are perfect for those hot summer days when you need something to freshen you up. Include lemons and limes on your summer front door decor. The harmony of yellow and green will create a gorgeous image!
6. Simple and Tropical – Modern Summer Door Hangers
Do you love minimalistic and modern decor? Then make sure to keep your front door decor simple! Attach different sorts of palm leaves and ferns to a simple, thin metal ring, instead of using a traditional wreath. You don't have to wrap it up completely in greenery, leave half of the ring uncovered. While this piece of decor is simple, it's truly beautiful!
7. Watermelon Door Decor – Summer Door Wreaths
Common favourite summer fruit is watermelon! It's juicy and refreshing, making it perfect for any hot summer day. Use the watermelon as inspiration for your door hanger! Cut out its shape from cardboard, and paint over it, creating a resemblance to an actual slice of this delicious fruit. You can attach a few ribbons to your watermelon slice as well!
8. Dunes of Burlap – Summer Wreaths
Create a front door hanging decoration that will look like the sandy shores of a beach! Sewing a lot of burlap on each other, you will be able to create an effect to make your wreath look like sand dunes.
9. Tropical Flowers –

Summer Wreaths for Front Doors
Give your wreath a gorgeous tropical look, making it perfect for summertime! Besides using exotic leaves and ferns, also make sure to use an abundance of tropical flowers. Orchids, frangipanis and hibiscus are perfect choices for a tropical image!
10. Hello Summer – And Hello Sunflowers
As we mentioned before, sunflowers are the perfect summer flowers! They exude happiness with their bright yellow colour. Use a tonne of sunflowers and burlap for your wreath, you can also fill the middle of the wreath with decorations as well! Attach a "hello" to it as well, making it not only a beautiful front door hanging decoration but an awesome welcome sign as well!
11. Nautical Inspired – Summer Door Wreaths
If you love strolling on the beach during summer, listening to the crashing of the waves and feeling the sand between your toes, use it for inspiration for your summer wreath! Attach a collection of shells to your wreath, as well as a winding rope and a small net, symbolizing the lifestyle of fishermen out on the sea.
12. Lavender Wreath – A Rustic Look
Lavenders are a perfect flower to use in outdoor summer wreaths for front doors. They have a relaxing fragrance, not to mention they bring a summer Provence vibe with themselves. You can tie a burlap ribbon around the wreath as well for a gorgeous rustic look.
13. Funky Pineapple – Awesome Welcome Signs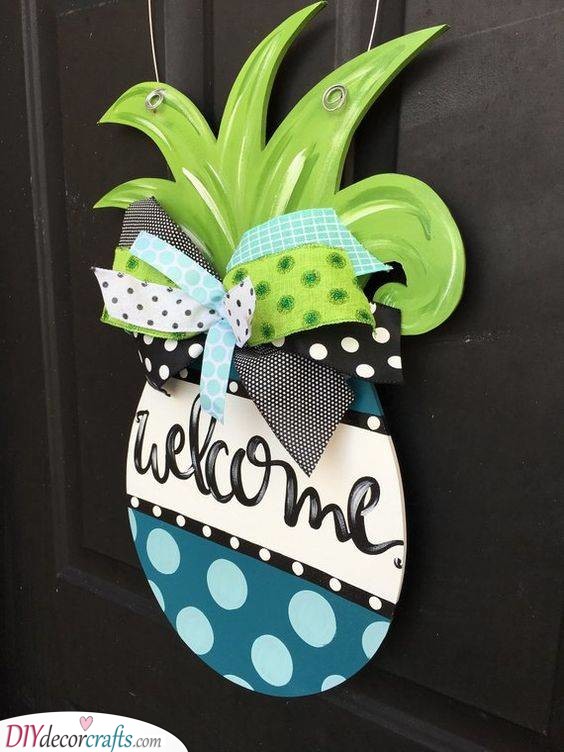 Create a welcome sign that resembles a pineapple! But be sure to give a groovy and modern look. Instead of using the standard and normal colours for it, use shades of blue. You can decorate it with polka dots. Don't forget to write up "welcome" or "hello" in the middle of it, before attaching it to your front door.
14. Shades of Blue and Pink – Vibrant Welcome Sign
Why not use a plentitude of ribbons to decorate your front door? An idea such as this wouldn't only be great for summer, but would look fabulous as a spring door wreath as well! Attach the ribbons, already tied into bows to create an astounding wreath. You can attach small flowers to this wreath as well. Place a welcome board in the middle of your wreath, you can write "bless this home" on it.
15. Nautical Wreath –

Summer Wreaths for Front Doors
If you have always loved the nautical inspired home decor, make sure to use some during this summer as well! After all, nothing screams summer as much as nautical themed decor! Wrap blue and white yarn around your wreath, making it resemble the stripes of a sailor's outfit. Cut out the shape of an anchor and attach it to your nautical wreath!
16. Say Hello to Summer – Summer Door Wreaths
Summer is the season of gelato and ice cream! So it only makes sense use this tasty summer treat as inspiration for your door decor! You can cut out a popsicle out of cardboard, painting it in vibrant colours. In the middle of the popsicle, you can write "hello summer."
17. Cute Bumblebee – Summer Door Decor
Summer is a season loved by all sorts of insects. You can spot an abundance of bees buzzing about during summertime. If you love these cute insects, use them as inspiration for your door decor! Cut out the shape of a bee, creating yellow and black zigzags on their body. Then attach some wings to your bee, before placing it on your front door! Naturally, you can add a sunflower to it, for that real summery effect!
18. A Sailing Ship – Combined with Shells
The summer waters of the sea are full of ships sailing into the distance. If you love watching the boats and ships floating in the sea, use this image for your summer wreath! Decorate your summer door wreaths with shells and pieces of fishing nets. You can attach a toy boat to the wreath as well by using a glue gun.
19. A Whole Circle of Lemons – Citrus Decor
Make sure you use yellow in your outdoor summer wreaths for front doors! It's the colour of sunshine, making it the perfect colour to represent the warmth of summer. If you love citrus fruit, make sure to use lemons for your wreath! You can cover the whole wreath in an abundance of lemons, to make it look like summer sunshine!
20. A White Gerbera – Door Wreaths for Spring and Summer
Maybe you are trying to find door wreaths for spring and summer! Gerberas are happy flowers, exuding an essence of liveliness and youthfulness! Use one or two white gerberas for your wreath, you can attach some green leaves and small wildflowers to it as well. It will look like a spring or summer forest of greenery by the time you are finished with it!
21. Rustic Wreath –

Summer Wreaths for Front Doors
You can create a wreath that bears a sense of simplicity and earthiness, making it perfect for summer! Add small sprigs of budding flowers and a ribbon to it. You can also add a monogram inside of the wreath, for example, "S" for summer!
22. A Colourful Hello – Popsicle Welcome Sign
As we stated before summer is the season of eating all sorts of frozen delights! Use ice cream as inspiration for your door decor. On a wooden board, paint six different coloured popsicles, writing a letter of summer on each one. Then simply paint "hello" above it, welcoming the hot season!
23. A Basket of Flowers – Beautiful Summer Wreath Ideas
If you'd like to incorporate flowers into your summer door decor, a wreath isn't the only way to do it! You can also place a bouquet of flowers in a small basket and hang that on your door. It's completely up to you what sort of flowers you use! Also, feel free to try this out as a piece of early fall door decor!
24. A Welcome Home Sign – Decor Ideas for Summer
Birds absolutely love summer, finally being able to fly around in the bright azure skies, without having to huddle up in their nests to endure the harsh winter environment. If you love birds, use something connected to them for your door decor design! You can cut out the shape of a birdhouse out of cardboard or wood, decorating it. This way your welcome home sign will be truly unique!
25. An Array of Seashells –

Summer Wreaths for Front Doors
We've talked quite a bit about beach inspired wreaths, but here is another beautiful one! Use shades of brown to create a wreath with a natural and earthy vibe. Wrap yarn around the wreath itself, before attaching an array of shells and starfish to it!
26. Flip-Flops – Adorable Door Decor for Summer
Here's a vibrant piece of decor that you can hang on your front door, that will give anyone summer vibes who will pop over to your place during the season! Hang a pair of flip-flops on your front door, which has a funky and vibrant pattern!
27. Elegant White Wreath – Summer Wreaths for Front Doors
If you've been looking for an elegant and more sophisticated piece of decor for summer, you've come to the right place! Here's a wreath decorated with an array of green leaves and soft white flowers. It will give your door a beautiful summery and youthful image!
28. A Rustic Wreath – Nature's Gifts
Add some beautiful, blossoming flowers to your front door's wreath! This will give it a spectacular look. The simplicity of a few white flowers in bloom, mixed with beautiful green leaves. This simple arrangement is not only perfect for summer, but for any other season as well!
29. A Wheel of Welcome – Rustic and Romantic
If you have an unused bicycle lying around, reimagine and recycle it! Take off one of its wheels, and cover it in dark brown or black paint. Then wrap some flowers and ferns around one of its sides. You can also attach a welcome sign to it, before hanging it up on your front door. This will give your house a summer farmhouse look!
30. Hydrangea and Burlap –

Summer Door Wreaths
Here's another great summer floral wreath idea for you! Entwine hydrangeas into your wreath, these flowers will make a beautiful addition to any sort of decor! Also tie a ribbon of burlap around the wreath, for a look more on the rustic side.
We hope that this collection of 30 summer door wreaths has been able to help you find the right one for you! After all, you would like to make sure that your house looks ready for the season! If you're looking for more ideas concerning summer decor, such as summer table decorations, visit our website.
Advert