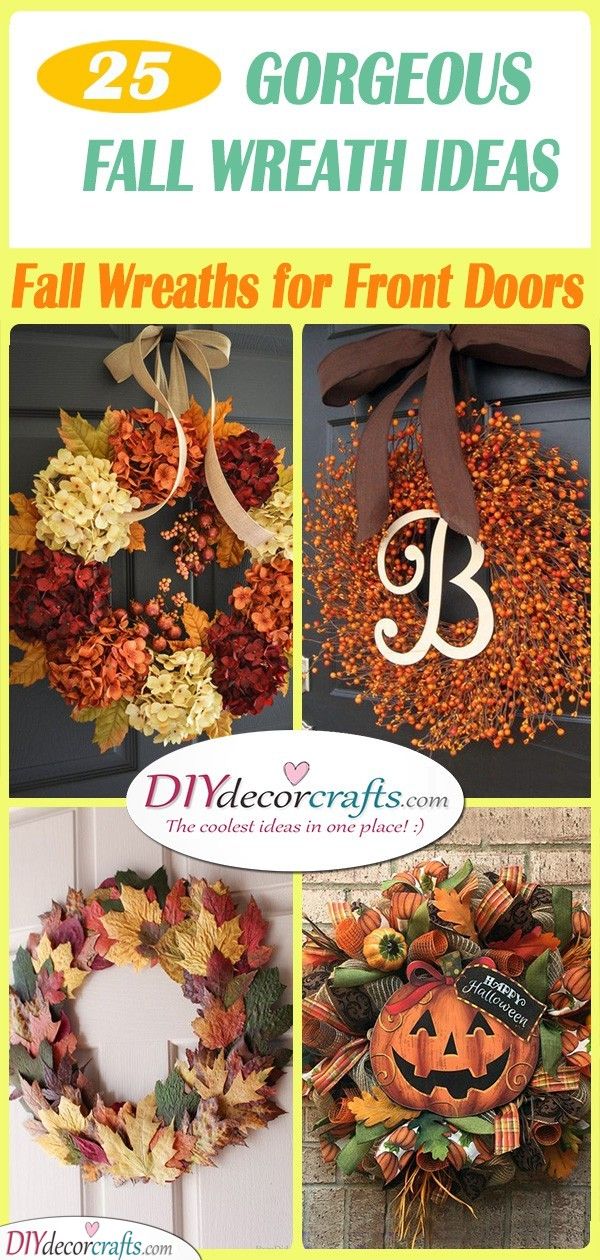 Autumn has finally arrived. It's the time when the days get shorter and the nights get longer. You might wake up to foggy or misty mornings when the air is chillier. Autumn is the perfect time for taking long walks in nature and being in awe due to the vibrant colours surrounding you. It's also a great time for apple picking, pumpkin carving or creating some autumn decor! An awesome form of fall decor is definitely wreaths. Create fall wreaths for front doors, to make sure you are ready to welcome the season! Make the wreath yourself, using all sorts of autumn elements and a collection of fall ideas! Take a look through our collection of 25 fall wreath ideas and find some inspiration amongst them!
1. A Burlap Pumpkin – A Happy Ambience
When you think of autumn, what image immediately comes to your mind? Let's guess, pumpkins are the first amongst these images. If you love pumpkins, then make sure to incorporate one in your front door pumpkin wreath for the season! Using burlap to create the shape of a pumpkin. Use orange coloured burlap for the pumpkin itself, then add some brown burlap as the stem of the pumpkin. For extra decorations, you might like to add a few flowers or vines.
2. A Variety of Flowers – Lovely Fall Wreaths for Front Door
Naturally, you can stick to a more classic wreath, using flowers and leaves to decorate it. To give it an even more autumny look, think about adding a few red berries to the wreath. We recommend that you use artificial flowers and leaves to decorate your wreath with. This will ensure that the flowers don't wilt after a few days and that the leaves don't crumple up. Try choosing flowers which are all coloured in the colours of fall. For example, orange, red, yellow and white is perfect choices.
3. A Witch's Hat – Great for Halloween
Autumn is the season when Halloween is held, so it would only make sense to use a few elements of the holiday in your seasonal decor. For example, you might come across a spooky sort of costume this Halloween, which can be incorporated into your autumn wreath. You might see a few wicked witches walking around the holidays, wearing their pointy hats. Use a pointy hat for the main element of the wreath, add all sorts of flowers and ribbons to it. Try using artificial flowers for this, as they won't wilt after a few days!
4. A Very Berry Wreath – Fall Wreath Ideas
If you take a walk in a forest during autumn, you will notice the beautiful array of colours decorating all of nature. You might also notice little berries sprouting out in each direction, also looking gorgeous in their warm shades. Collect a few dozen branches of berries and create a circular autumn wreath out of them. Tie a ribbon around it, so you can hang it on your front door. You might also consider adding some other sort of decor to it, a letter to the middle of an autumn flower.
5. A Cute Pumpkin Idea – Using Burlap
As we have discussed before, pumpkins are typical seasonal decor during autumn. Whether it's jack-o-lanterns or just a few pumpkins placed on the front porch or garden, pumpkins are a great source of decor! So make sure you use them in some form of decor for the season! Use them as inspiration for your front door pumpkin wreath as well! You can easily create the shape of a pumpkin with some burlap or fabric! Wrap some burlap around a wire, or simply just place it on it. Use orange fabric for the pumpkin and use green for the stem.
6. Floral Wreath – Fall Wreaths for Front Door
Using flowers to decorate a wreath is a timeless look! If you have decided on using flowers, make sure you get some that are coloured in warm autumn shades. For example, orange and brown will make a perfect combination! Use artificial flowers for your wreath, as we have discussed before, these will ensure that your flowers won't wilt within a few days. Cut the stems off your chosen flowers, then attach them to a foam ring, which you can buy at any arts and crafts shop. Fixate them with a glue gun and you're already done!
7. A Selection of Nuts – Rustic and Natural
If you are going on a hike this weekend, why not collect a few nuts and pinecones, which you find laying on the ground? Using these gifts of nature, you will be able to create a rustic looking DIY fall wreath. Use a glue gun to attach the assortment of nuts and pinecones to a foam ring. Depending on what you can forage in the forest, you might consider including acorns, pinecones, chestnuts and hazelnuts. By the time you finish, your front door wreath will look incredible!
8. Pumpkins and Flowers – Autumn is Here
A typical crop which you can harvest during autumn is pumpkins! So make sure to include them in your fall wreath! Try finding small pumpkins for this craft. Combine the small pumpkins with an array of seasonal flowers. Again, we suggest using artificial flowers for this idea. This will prevent your flowers from wilting before you want to take your wreath off your door! You might also add foliage of leaves to your wreath, for a true autumn vibe. Use a glue gun to attach everything to your wreath and to ensure that nothing falls off!
9. Time for Trick or Treat – Happy Halloween
With the arrival of autumn comes a few favourite holidays as well. These include Halloween and Thanksgiving. If you are getting ready for Halloween, the spookiest event of the year, make sure to create a Halloween decoration! Use strips of burlap, ribbons and straw to create your DIY fall wreath. You can also include some small pumpkins, attaching them with a glue gun to the rest of the wreath. Then place a cut-out picture of a pumpkin in the middle of the wreath. Attach the words "Happy Halloween" to it.
10. A Foliage of Fall Leaves – Fall Wreath Ideas
If you are looking for a cheap and easy way to create a wreath for autumn, you might have just found it! Collect leaves from a park or forest nearby and stick them onto a foam ring. You should try choosing as many coloured leaves as possible. Green, red, yellow, orange and brown leaves will take your wreath to a whole new level. This foliage of fall leaves will look beautiful on your front door for the season, so if you are into DIY crafts, make sure to try this out!
11. Add Some Pumpkins – A Natural Touch
Use a few elements of autumn's gorgeous nature for your seasonal wreath! Collect some branches to create your own fall wreath ideas! You might also consider adding a few ribbons to the wreath as an extra touch. Then make sure to add a few smaller pumpkins the wreath as well! Pumpkins are a seasonal delicacy, but they are also a great source of decoration! So make sure to include a few in your wreath, attaching them with a glue gun. The glue will help them stick to their spot.
12. A Hint of Gold – Fall Wreaths for Front Door
If you would like to add a touch of luxury or elegance to your front door wreath, use a few hints of gold. Use gold-coloured paint on a few elements that you add to your wreath. For example, if you add a few pumpkins paint some gold coloured stripes on them, or dip them fully in this shade. Another option is to paint leaves in gold. Whatever you decide on, we are sure it will look fabulous! In the middle of the wreath, you can attach a sign which says "Hello Autumn."
13. Autumn Colours – Sprigs of Berries
There are a lot of beautiful ways you can decorate a wreath for autumn! A unique yet very seasonal way of decorating your wreath would be by adding a multitude of sprigs of berries to it. Allow the sprigs of berries to hang like ripe bunches of grapes off the wreath. Add a seasonal flower or two for an even better autumn vibe!
14. Another Witch's Hat – Perfect for Halloween
As we mentioned before, if you are getting ready for Halloween, make sure to use a spooky element for your fall wreath! A witch's hat is a perfect example of this. Easy to create and easy to decorate, anyone who will knock on your door will immediately know that you are ready for Halloween!
15. An Adorable Owl – Fall Wreath Ideas
Create a cute owl for your door wreath this year! Attach two foam rings next to each other, one should be slightly bigger than the other. Cover these both in leaves making sure they are fully covered. Add two beads or nuts surrounded by straw to the middle of the smaller ring. These will act as the eyes of the owl. Then add bunches of twigs for the owl's eyebrows and wings.
16. Simple and Modern – Assortment of Seasonal Flowers
If you have been thinking about adding an elegant touch to your front door for the season, check out this idea! Try finding a simple wooden ring. Then glue a range of seasonal flowers to it, but only to one half of it. Then add a few leaves as well to make your wreath really stand out.
17. Conker Wreath – Lovely Fall Wreath Ideas
A typical sort of item you will find in nature during autumn are conkers! Chesnuts prove to be tasty treats if you manage to open them, but they also look great used in decoration! Create a fall wreath filled with conkers and a few vines running through them. If these cute conkers don't bring an autumn atmosphere with themselves, we don't know what will!
18. A Cute Squirrel – Unique Fall Wreaths for Front Door
Autumn is a time for gathering, especially for animals! A cute animal which is always gathering nuts is a squirrel! So why not use this adorable mammal as inspiration? Use a small toy of it and place it on your wreath. Add a few nuts and leaves to its feet creating a fall landscape on the wreath! This is unique and also super cute!
19. Creative and Gorgeous – Fall Wreaths for Front Door
There is nothing as beautiful as an assortment of autumn nature. You can include berries, acorns, chestnuts and some apples! Wrap a few vines around the wreath which are coloured in gorgeous autumn shades. You can use two rings of wreaths instead of one for a special effect! This wreath would look amazing as a Thanksgiving door decoration!
20. Pretty Pinecones – Paint Them in a Variety of Shades
Pinecones are cute autumn natural elements. Gather a few in a  nearby forest or woods and paint some in warm fall shades. Coat a few in red, some in orange and some others in yellow paint. Leave some of the pine cones in natural colours. Then attach them to a foam ring by glueing them there.
21. Use an Alternative – A Rake
Maybe you have an old and used rake lying around your garden shed. But you haven't used it for years now! So it's time to reimagine the rake and incorporate it in your autumn decor! Take off the head of the rake and start adding some autumn elements to it. This can mean attaching all sorts of red berries, pinecones, autumn leaves and seasonal flowers to it. Then all you will need to do is place this rake on your door! Naturally, you can use this as autumn outdoor decor anywhere else around your home or garden!
22. Scarecrow Idea – Fall Wreaths
If you don't want to spend too much money on your fall wreath, grab an old and used straw hat! Create a scarecrow out of it, drawing a face on the hat. Attach some straw, ribbons and flowers to it. Scarecrows really bring an autumn atmosphere with themselves, so why not give it a try?
23. Orange and Black – A Great Combination
Here is another simple and cheap idea for your seasonal wreath! Attach painted wooden pegs onto a circular wire. Paint the pegs orange and black. Place the figure of a scarecrow inside holding a welcome sign.
24. Cardboard Pumpkins – Cute Fall Wreaths for Front Door
Pumpkins will definitely bring an autumn ambience with themselves. So there's nothing easier than cutting out a few pumpkins out of cardboard, decorating them further with ribbons! Glue the pumpkins together before placing it on your front door as a wreath!
25. A Fruitful Wreath – Fall Wreath Ideas
In order to create a truly beautiful wreath, which will be guaranteed to give your whole house a fall ambience, is by using different types of seasonal fruit. Glue these to the wreath and also include a few pinecones or branches of berries. You might also add a few leaves to give it a true autumn vibe.
We hope that this pick of 25 fall wreath ideas has inspired you! For more seasonal ideas, such as Fall Table Decor Ideas or Thanksgiving Wreaths for Front Door, check out our website!
Advert