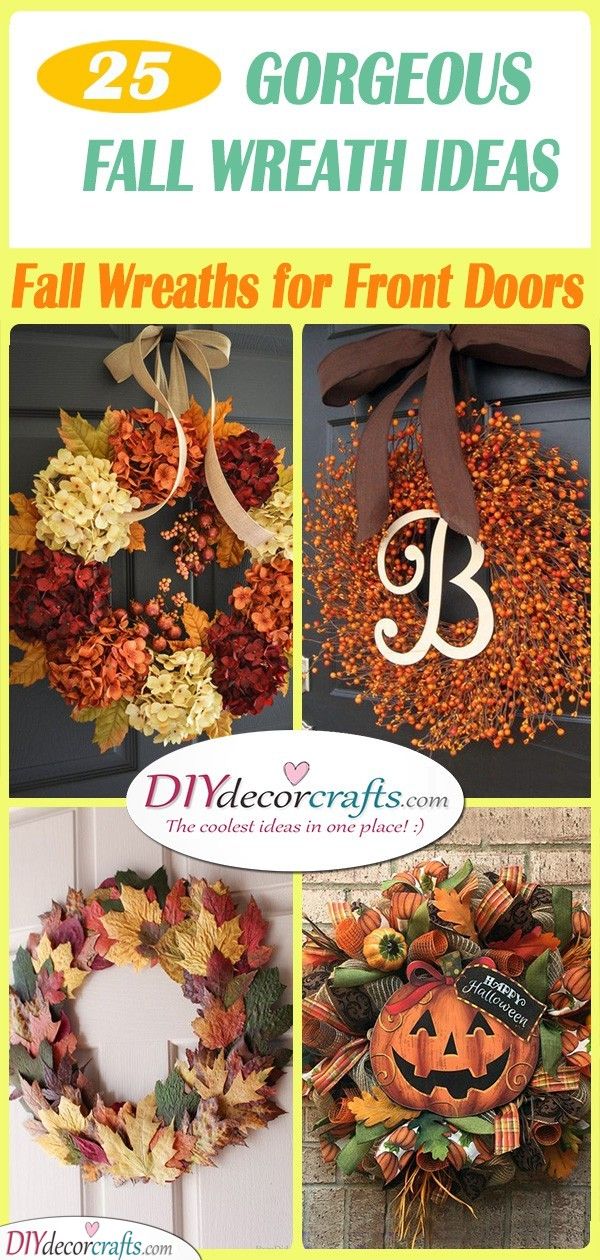 Autumn has finally arrived. It's the time when the days get shorter and the nights get longer. You might wake up to foggy or misty mornings when the air is chillier. Autumn is the perfect time for taking long walks in nature and being in awe due to the vibrant colours surrounding you. It's also a great time for apple picking, pumpkin carving or creating some autumn decor! An awesome form of fall decor is definitely wreaths. Create fall wreaths for front doors, to make sure you are ready to welcome the season! Make the wreath yourself, using all sorts of autumn elements and a collection of fall ideas! Take a look through our collection of 25 fall wreath ideas and find some inspiration amongst them!
1. A Burlap Pumpkin – A Happy Ambience
When you think of autumn, what image immediately comes to your mind? Let's guess, pumpkins are the first amongst these images. If you love pumpkins, then make sure to incorporate one in your front door wreath for the season! Using burlap to create the shape of a pumpkin. Use orange coloured burlap for the pumpkin itself, then add some brown burlap as the stem of the pumpkin. For extra decorations, you might like to add a few flowers or vines.
2. A Variety of Flowers – Lovely Fall Wreaths for Front Door
Naturally, you can stick to a more classic wreath, using flowers and leaves to decorate it. To give it an even more autumny look, think about adding a few red berries to the wreath. We recommend that you use artificial flowers and leaves to decorate your wreath with. This will ensure that the flowers don't wilt after a few days and that the leaves don't crumple up. Try choosing flowers which are all coloured in the colours of fall. For example, orange, red, yellow and white is perfect choices.
3. A Witch's Hat – Great for Halloween
Autumn is the season when Halloween is held, so it would only make sense to use a few elements of the holiday in your seasonal decor. For example, you might come across a spooky sort of costume this Halloween, which can be incorporated in your fall wreath. You might see a few wicked witches walking around the holidays, wearing their pointy hats. Use a pointy hat for the main element of the wreath, add all sorts of flowers and ribbons to it. Try using artificial flowers for this, as they won't wilt after a few days!
4. A Very Berry Wreath – Fall Wreath Ideas
If you take a walk in a forest during autumn, you will notice the beautiful array of colours decorating all of nature. You might also notice little berries sprouting out in each direction, also looking gorgeous in their warm shades. Collect a few dozen branches of berries and create a circular wreath out of them. Tie a ribbon around it, so you can hang it on your front door. You might also consider adding some other sort of decor to it, a letter to the middle or an autumn flower.
5. A Cute Pumpkin Idea – Using Burlap
As we have discussed before, pumpkins are typical seasonal decor during autumn. Whether it's jack-o-lanterns or just a few pumpkins placed on the front porch or garden, pumpkins are a great source of decor! So make sure you use them in some form of decor for the season! Use them as inspiration for your front door wreath as well! You can easily create the shape of a pumpkin with some burlap or fabric! Wrap some burlap around a wire, or simply just place it on it. Use orange fabric for the pumpkin and use green for the stem.
6. Floral Wreath – Fall Wreaths for Front Door
Using flowers to decorate a wreath with is a timeless look! If you have decided on using flowers, make sure you get some which are coloured in warm autumn shades. For example, orange and brown will make a perfect combination! Use artificial flowers for your wreath, as we have discussed before, these will ensure that your flowers won't wilt within a few days. Cut the stems off your chosen flowers, then attach them to a foam ring, which you can buy at any arts and crafts shop. Fixate them with a glue gun and you're already done!
7. A Selection of Nuts – Rustic and Natural
If you are going on a hike this weekend, why not collect a few nuts and pinecones, which you find laying on the ground? Using these gifts of nature, you will be able to create a rustic looking wreath. Use a glue gun to attach the assortment of nuts and pinecones to a foam ring. Depending on what you can forage in the forest, you might consider including acorns, pinecones, chestnuts and hazelnuts. By the time you finish, your front door wreath will look incredible!
8. Pumpkins and Flowers – Autumn is Here
A typical crop which you can harvest during autumn is pumpkins! So make sure to include them in your fall wreath! Try finding small pumpkins for this craft. Combine the small pumpkins with an array of seasonal flowers. Again, we suggest using artificial flowers for this idea. This will prevent your flowers from wilting before you want to take your wreath off your door! You might also add foliage of leaves to your wreath, for a true autumn vibe. Use a glue gun to attach everything to your wreath and to ensure that nothing falls off!
9. Time for Trick or Treat – Happy Halloween
With the arrival of autumn comes a few favourite holidays as well. These include Halloween and Thanksgiving. If you are getting ready for Halloween, the spookiest event of the year, make sure to create a wreath for this holiday! Use strips of burlap, ribbons and straw to create your wreath. You can also include some small pumpkins, attaching them with a glue gun to the rest of the wreath. Then place a cut-out picture of a pumpkin in the middle of the wreath. Attach the words "Happy Halloween" to it.
10. A Foliage of Fall Leaves – Fall Wreath Ideas
If you are looking for a cheap and easy way to create a wreath for autumn, you might have just found it! Collect leaves from a park or forest nearby and stick them onto a foam ring. You should try choosing as many coloured leaves as possible. Green, red, yellow, orange and brown leaves will take your wreath to a whole new level. This foliage of fall leaves will look beautiful on your front door for the season, so if you are into DIY crafts, make sure to try this out!
11. Add Some Pumpkins – A Natural Touch
Use a few elements of autumn's gorgeous nature for your seasonal wreath! Collect some branches to create your own wreath! You might also consider adding a few ribbons to the wreath as an extra touch. Then make sure to add a few smaller pumpkins the wreath as well! Pumpkins are a seasonal delicacy, but they are also a great source of decoration! So make sure to include a few in your wreath, attaching them with a glue gun. The glue will help them stick to their spot.
12. A Hint of Gold – Fall Wreaths for Front Door
If you would like to add a touch of luxury or elegance to your front door wreath, use a few hints of gold. Use gold-coloured paint on a few elements that you add to your wreath. For example, if you add a few pumpkins paint some gold coloured stripes on them, or dip them fully in this shade. Another option is to paint leaves in gold. Whatever you decide on, we are sure it will look fabulous! In the middle of the wreath, you can attach a sign which says "Hello Autumn."