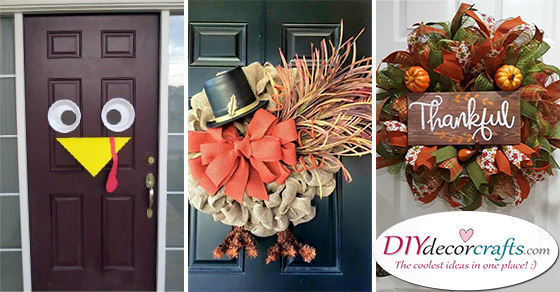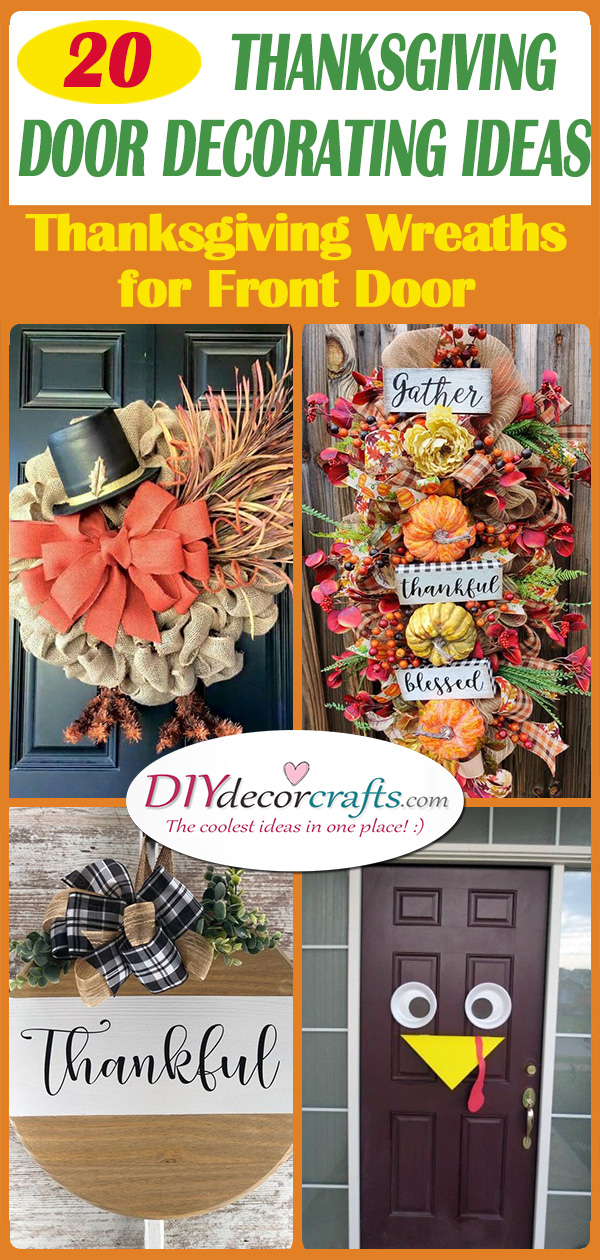 The season of autumn has finally arrived! The changing colours of the leaves, the chilly weather and the time for carving pumpkins is here. Autumn is a lovely season to start spending more time indoors, in the warmth of your home. There are a few holidays that take place during the fall! Besides Halloween, you'll also remember that Thanksgiving is an autumn event. It's a time to spend with friends and family, baking a feast together and give thanks for one another. To get into a festive spirit, how about you get into crafting autumn ornaments and Thanksgiving door decorating ideas! We have a whole collection of 20 Thanksgiving wreaths for front door ideas for you to choose from! So get ready to get inspired!
1. A Wooden Plate – Thanksgiving Door Decorating Ideas
You don't necessarily have to choose a fancy and floral wreath for your Thanksgiving door decor! Opt for something that is more simple. A fantastic example would be to get a wooden plate as the front door decoration, that has the words "Happy Thanksgiving" engraved into it. This will make the perfect ornament to welcome any guests popping over to your home for the holiday. Feel free to add a ribbon or bow to the top of the plate, perking it up just a little bit!
2. A Fall Turkey – Make It Yourself
One type of food you'll probably eat during Thanksgiving is no other than a roasted or baked turkey! It's a traditional food to eat during the holiday, making it perfect to use as inspiration for your door decor! How about you try creating a Thanksgiving turkey yourself, putting it together out of different elements? For example, cover the wreath itself in burlap, creating the body of the turkey. Add some leaves or hay to it's back for making the tail feathers of the turkey. You can use a red ribbon or bow to create the wattle of your turkey wreath. Make sure to get creative with this idea!
3. A Minimalist Design – Thanksgiving Wreaths for Front Door
Here is a truly simplistic and effortless design that your Thanksgiving door wreaths may embody. You'll need a wooden plate on which you paint one streak of white. After the white paint has dried, paint up the word "thankful" on this part of your plate. Before hanging it from your front door, you can attach a bit of autumn foliage to your wreath. Another great ornament would be a plaid or burlap ribbon arranged on it.
4. A Bit of Autumn Magic – Seasonal Vibes
Use the beauty and bounty of autumn's nature to create your Thanksgiving wreath out of! Firstly, pull a cover of burlap over your wreath, before getting into the rest of the decorating. Gather a collection of autumn foliage, including leaves, seasonal flowers, sprigs of berries and even miniature pumpkins! You may want to think about getting artificial versions of these, as they won't start to wilt and rot before their time! Then attach them to only one half of your wreath, giving it a crescent design! We guarantee that this will look amazing as a Thanksgiving or fall wreath!
5. A Tulle Turkey – Thanksgiving Door Decorating Ideas
There are so many awesome ways of creating Thanksgiving fall wreaths. All you have to do is let your imagination run wild! Check out this idea, which incorporates a turkey in the design! You'll need to use an abundance of tulle that comes in a variation of autumn shades, including yellow, orange, red and brown. Tie these tulles to the wreath, allowing the ends to stick out on the outer sides. This will create the effect of vibrant tail feathers. Then create a face for the turkey, out of foam or cardboard and attach it to the middle of the wreath! It's cute and easy!
6. A Selection of Pumpkins – Autumn Delight
When you think of the season of fall, what image pops almost immediately into your mind? Perhaps it's some pumpkins, as they have become a symbol of fall. Pumpkins are a delicious vegetable to consume during this month, and they are also used in Thanksgiving dinners in the form of pumpkin pies! They also make great ornaments, meaning you'll be able to incorporate some in your Thanksgiving door wreaths as well as your fall porch decorations! After creating a basic wreath, you'll be able to attach mini pumpkins to it for a spectacular look!
7. Happy and Thankful – Thanksgiving Wreaths for Front Doors
Since Thanksgiving takes place during autumn, it would only make sense to use nature's bounty in decorating for the event! This includes using elements of nature for your front door decoration! You can combine them with a selection of ribbons and textile which you tie to your wreath, in order to create a festive ambience. Try using autumn colours for the ribbons, to truly channel that autumn ambience! Then attach a few miniature pumpkins, nuts or seasonal flowers to the wreath before hanging it on your front door!
8. A Pumpkins Shape – Made from Grapevines
If you are a really creative person, you might want to consider what unique ways there are for creating Thanksgiving door wreaths. How about you put together the shape of a pumpkin using grapevines? Actual grapevines may be a bit hard to bend and use, so you may have to use faux ones. Then further decorate the wreath with some autumn foliage. This may include a variety of fall leaves, sprigs of berries and smaller pumpkins! Naturally, don't forget to perk it up even more with a few ribbons tied to your wreath!
9. Gobble Til You Wobble – Thanksgiving Door Decorating Ideas
Another reason why everyone loves Thanksgiving is because of the food! Delicious roasted turkey served with mashed potatoes, stuffing and cranberry sauce and for dessert a slice of pumpkin pie! While it's an occasion to give thanks and gratitude, it's also a time to eat mouth-watering food! Taking this into consideration, how about you make your Thanksgiving wreath to look like a turkey? Then you can attach a small sign or message into the middle of your turkey wreath that reads "wobble until you gobble." This is a perfect way of letting your guests know that they'll be eating a feast during your Thanksgiving dinner!
10. Fabulous in Florals – Choosing the Right Flowers
Perhaps you'd like to include a variety of seasonal flowers in your Thanksgiving front door decorations! But which ones should you choose? After deciding on a colour scheme for your wreath, you'll be able to find an array of seasonal flora, that will look stunning together with the rest of the wreath. A few types of fall flowers include chrysanthemum, marigolds, asters or pansies. So make sure to check out what the seasonal selection is to find what is perfect for your Thanksgiving wreath!
11. Orange and Grey – Thanksgiving Wreaths for Front Door
Maybe you are in search of a combination of colours that will look perfect for not only Thanksgiving but for the whole autumn season! You may consider combining orange with a pale grey. The combination of the two of these will definitely bring a fall vibe to your door! Tie ribbons and bows onto the base of your wreath. Since you are getting ready for Thanksgiving, you can add a few signs to the wreath as well. They can read words such as "blessed", "grateful" and "thankful", which will really channel the holiday!
12. Easy and Effortless – Try a DIY Craft
If you are the sort of person who loves making DIY crafts, then here's a fantastic idea for you! You'll need a small wooden board as the base of your Thanksgiving front door decorations. At your local arts and crafts shop, buy wooden letters that put together the word "thankful." Stick the letters onto the small wooden board with the help of a glue gun! Naturally, you can paint the letters in any colour you'd like and also, feel free to attach a few sprigs of berries or seasonal flowers to the ornament before hanging it on your front door!
13. An Autumn Abundance – Thanksgiving Door Decorating Ideas
Channel the season into your Thanksgiving front door decorations! Make certain that you use seasonal autumn plants only or fabric that are coloured in fall colours. You can create a large wreath for your front door, using autumn leaves, sprigs of berries, seasonal flora, pumpkins and even nuts! As for the ribbons or material you use for your wreath, try burlap or materials that are coloured in either red, yellow, red or brown. If this doesn't bring a sense of autumn to your door, we don't know what will! Also, add a few signs expressing gratitude and thanks, that will be a good choice for the holiday!
14. A Turkey Headboard – Pretty in Paint
Do you love to paint in your free time? If this is the case, you may choose a type of front door decor, which only involves painting! You'll need a large piece of wood, on which you can paint a turkey for Thanksgiving! Of course, you can choose to paint a pumpkin or a seasonal flower on the board of wood. You can then paint up the words "give thanks" or the name of your family on the sign! Your front door hanger will be ready in no time at all!
15. Terrific in Tulle – Thanksgiving Wreaths for Front Door
A fabulous material you can use for your wreath design is no other than tulle! Gather tulle in a number of autumn colours, such as red, orange, brown and yellow. Tie strips of tulle around your wreath, letting the ends stick out on the outer side. Attach some wooden letters to the door decoration, which spell out "blessed" or "thankful". This will help in channelling the Thanksgiving vibes to your front door!
16. A Welcome Sign – Placed Next to Your Front Door
You don't necessarily have to get a wreath or a hanger for your front door! As an alternative to it, choose to place a welcome sign next to the door! You can have the welcome sign made to look like a turkey, with a funny message written on it. Let the welcome sign stand next to your front door, inviting guests into your home in a cute way! 
17. A Thanksgiving Hat – Thanksgiving Door Decorating Ideas
Thanksgiving in the United States is a tradition dating back from the 17th century when emigrated pilgrims gave thanks for a good harvest and the help of Native Americans. If you would prefer to use a historical element for your Thanksgiving door decoration, how about you create a door hanger? You can make the door hanger in the shape and colour of a pilgrim or puritan hat, which are also known as captains. This will definitely bring the traditional essence of the occasion to your front door!
18. A Turkey Face – For a Cute Effect
Again, you don't necessarily have to stick to a Thanksgiving wreath for your front door decor. You can get creative and try out another idea! For example, how about putting together the cute face of a turkey on the door? Use paper plates for the eyes and draw the pupils on with a black marker. Then cut a beak out of yellow cardboard and a red wattle and attach everything to the door. You can try making this for a Thanksgiving craft with kids!
19. Stacked Boxes – On Top of Each Other
Check out this other way of decorating the area in front of your door. It revolves around stacking four cardboard boxes on each other, each one getting smaller in size. Then all you have to do is paint a letter of the word "fall" on each cardboard box. This is an easy and cheap idea on how to get your front door ready with a standing sign!
20. Stunning Sunflowers – Thanksgiving Wreaths for Front Door
Add some sunflowers for a happy and sunny vibe to your Thanksgiving door decor! Then place a small sign in the middle of it that says "give thanks" to bring the atmosphere of Thanksgiving alive! A combination of sunflowers, burlap and ribbons will look amazing as Thanksgiving wreaths for front doors!
We hope that we have inspired you with our pick of Thanksgiving front door decorations! For other Thanksgiving ideas, besides Thanksgiving door decorating ideas, such as Thanksgiving crafts for kids or easy Thanksgiving nails, visit our website!
Advert