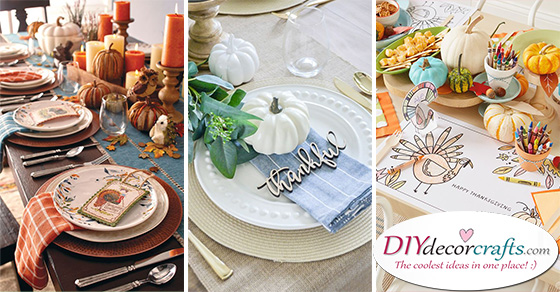 We absolutely love the season of autumn. Not only does nature turn into brilliant shades of colours, but there are a few fun events that take place during fall. Besides the spooky night of trick-or-treating, also known as Halloween, another occasion you'll want to get ready for is Thanksgiving. A holiday to give thanks and feel gratitude, you may be planning on hosting a small Thanksgiving gathering at your place. If so, make sure that your home is ready for the holiday as well! Decorate it with all sorts of autumn decor and Thanksgiving ornaments, giving your home a welcoming vibe. Don't forget to add some Thanksgiving centrepiece ideas! So, check out our pick of 20 Thanksgiving table decor ideas!
1. Cute Autumn Animals – Thanksgiving Table Decor Ideas
There are a number of ways to decorate your dining table for fall and Thanksgiving! Besides arranging your normal autumn layout on the table, such as fallen leaves, a selection of pumpkins and a variety of candles, here's something cute to perk up the whole table up with! This is no other than gathering a few woodland animal ornaments and arranging them amongst the rest of the table decor. It will look as if all the small animals had come out of their nests and burrows to enjoy your scrumptious Thanksgiving feast together with you!
2. A Unique Combination of Colours – Stylish and Seasonal
You don't necessarily have to stick to the traditional autumn colours for decorating! This includes decorating for Thanksgiving. So, how about you try out something new and exciting? Gather a dozen white pumpkins as well as a variety of seasonal flowers. Try getting flowers that are coloured in deeper shades, such as burgundy or dark violet. The contrast between the dark and pale shades will look amazing when placed next to each other! Also, make sure to add a few candles to your tablescape. These Thanksgiving table setting ideas will illuminate the whole table in a gorgeous manner during the evening!
3. A Natural Feeling – Thanksgiving Centrepiece Ideas
Get ready for Thanksgiving dinner with this beautiful idea! It revolves around collecting a number of natural elements. This may include seasonal flowers, vegetables and fruit. But you may also want to gather autumn foliage, placing leaves along the middle in the table. Of course, don't forget to include your choice of candles, as these will light up the room brilliantly when night falls. You don't have to go for anything too fancy. Sometimes keeping your decor more simple will look just as amazing!
4. Decorate the Plates – Pretty and Stunning
While you may be concentrating on adding beautiful ornaments to your dining table for Thanksgiving, don't forget to decorate the plates either! By adding a few ornaments to the plates, you'll make them pop, especially if your tableware is white and plain. Lay down an autumn leaf on each of your guests' plates, as well as a fir leaf and a miniature pumpkin. This will help in channelling that autumn vibe you're going for. To bring the essence of Thanksgiving alive as well, add the word "blessed" or "thankful" to each plate. This can be put together of wooden letters, or just written on a small piece of paper.
5. Wrap Your Pumpkins – Thanksgiving Centrepiece Ideas
If you have decided to stick to decorating your Thanksgiving table centrepieces with pumpkins, make sure to spruce them up a little! Instead of just laying a few pumpkins in the middle of your table, you can take them to the next level. How about wrapping a selection of vines, branches or sprigs of berries around the pumpkins? If you have some candles arranged on your table as well, you can wrap the same sorts of vines and branches around them.
6. Simplistic and Spectacular – Wonderful in White
Use the colour white to decorate your Thanksgiving table with! White is a great colour to choose from if you would like to try a more minimalist approach in decor. You can match it up with a few other colours, but keeping it simple all the same. For example, if you combine white with blue and pale brown, you may be able to create a coastal vibe for Thanksgiving. Which is perfect if you live close to the beach. To channel the season of fall, you'll be able to find white pumpkins, that you'll be able to arrange these Thanksgiving table centrepieces on your dining table!
7. A Small Basket – Filled with Pumpkins
Are you in search of easy ideas on how to get your dining table ready for the holiday? Here's a super simple idea, that you'll be able to put together in no time at all! First of all, you'll need to find an empty basket which you filled with all sorts of leaves and sprigs of autumn berries. After you have laid down the foliage, all you need to do now is place some pumpkins in the basket! Then simply place the basket in the middle of your table, it's as easy as that!
8. A Trail of Berries – Thanksgiving Table Decor Ideas
Decorate your Thanksgiving dining table with the bounty of fall nature! After covering your table with a tablecloth, it's time to add your ornaments to it as well! This can include laying out a few smaller pumpkins along the middle of the table. Then, lead a vine filled with seasonal berries, twirling around the pumpkins along the middle as well! Candles are a must as well! When evening arrives the candles will provide a warm and friendly light, making the ambience and Thanksgiving place settings of the dinner a lot cosier!
9. Simplistic Place Cards – For the Cutlery
Thanksgiving is the holiday of giving thanks and feeling gratitude! After all, there are so many blessings surrounding us that it's important to feel thankful! So, keep this in mind when decorating your dining table for the occasion. If you've been thinking about what sort of place cards to add to the table, how about wrapping pieces of paper around each bundle of cutlery. You can write the guests' name on the piece of paper, as well as writing that you are thankful for them being there!
10. A Feeling of Farmhouse – Thanksgiving Tablescape
Perhaps your dining room and home are designed in a farmhouse or rustic style. Taking this into consideration, you'll want your dining table decor to match the rest of the atmosphere. A great idea would be to cover the middle of the table in simple cloth or burlap, before arranging your Thanksgiving tablescape on it. This may include a long vine, trailing from one end of the table to the next. On both sides of the vine, you can place pumpkins and scatter small berries. Or even add a wooden sign that says "thankful" or "blessed." This arrangement will look perfect in a farmhouse styled home!
11. For the Kids – Adorable and Awesome
Do you have kids in the family? Or maybe the guests coming over for Thanksgiving are bringing their kids along? If this is the case, why don't you create a separate table for the kids, where they'll be able to enjoy some Thanksgiving snacks as well as get creative by making some Thanksgiving crafts for kids? You can place an assortment of different sorts of Thanksgiving DIY crafts in front of them as well as Thanksgiving centrepiece ideas. They'll be able to try out whichever one they want and then decorate their own table with these cute crafts!
12. Pretty in Pumpkins – Thanksgiving Table Decor Ideas
Pumpkins have become a symbol of autumn. Not only are they delicious vegetables, but they are also used during seasonal holidays. During Thanksgiving, you might make a pumpkin pie as a part of the dinner, for dessert. So how about you take inspiration for your dining table decor from this delicious vegetable? You can gather a selection of pumpkins and lay them along the middle of the table. The more pumpkins there are, the better your table arrangement will look! You can choose pumpkins of any size, shape and colour!
13. A Classic Look – Thanksgiving Place Settings
Do you prefer traditional and classic decor over very modern and unique ones? Then how about you try these Thanksgiving table decor ideas? Lay a plaid patterned tablecloth over the table, before adding the tableware, cutlery and table decor to it! For the actual table ornaments, you can simply place some pumpkins in the middle of it. Stack some on top of each other and even include a few smaller bundles of wheat on the table. After all, autumn is also the season of the harvest!
14. A Table Runner – Allow Everyone to Write Messages
Here's a creative way to decorate your table for Thanksgiving! Lay a paper table runner over it, that has a few words written on it already. Words such as "thankful", "blessed" or "grateful" will all be perfect for the event. But you can also leave out a few pens or pencils, allowing any of your guests to write a message on the table runner as well! This may be a simple message, such as one thing they are thankful for that happened during the past year. So turn your dining table into an interactive space, where you can all express your gratitude and count your blessings!
15. Green and Gold – Thanksgiving Centrepiece Ideas
Maybe you are in search of a colour combination for your Thanksgiving tablescape. Everything depends on what sort of ambience you'd like to set around the table. If you'd like something natural, yet elegant how about trying out a combination of olive green, white and gold? You can even paint a few fruits or vegetables in gold paint, and place them in the middle of the table. For example, a gold pumpkin or gold apple would look fantastic!
16. A Pick of Words – Perfect for the Holiday
What words or thoughts come to your mind when you think of Thanksgiving? Emotions of gratitude, thankfulness or just the thought of your loved ones gathering together for a delicious dinner. Express these thoughts on your dining table, by laying down words on either the table or on each plate. You can have these words put together from wooden letters that you buy from a local craft shop. Or write each word on a slip of paper and lay them on the table!
17. Lanterns and Pinecones – Thanksgiving Table Decor Ideas
Keep in mind that you don't need to go overboard with decorating your dining table for Thanksgiving. A few ornaments spread around the middle of the table will do perfectly! For example, how about laying down a number of candles placed in lanterns? You can also gather some pinecones and arrange them in between the lanterns as a bit of extra decor. Not to mention, you can just gather them from your garden or a nearby park, making this a cheap option! When lit at night, the candles will help in creating a friendly and welcoming atmosphere, that is perfect for Thanksgiving!
18. Gorgeous and Graceful – Vibrant Fall Shades
Don't be afraid to take inspiration from the outside world for Thanksgiving decor! Whether you place some pumpkins, apples or fall flowers on your table, we're certain it will look awesome! Make sure to include the vibrant shades of the season. Ranging from red, orange, yellow, brown to green, try to use up all these colours for your table decoration!
19. A Log of Candles – Thanksgiving Centrepiece Ideas
Now here is another fabulous idea that you can use as an alternative to a basic candleholder! You will need a log that fits on your dining table and carve small indents into it. Just big enough for your candles to fit in. This will make the perfect candle holder for your simple dining table decor! You can scatter some nuts, sprigs of berries, pumpkins and fallen leaves around your log for that full autumn effect!
20. A Vase of Autumn – Thanksgiving Table Setting Ideas
Let's not forget the traditional Thanksgiving centrepiece ideas! A vase of flowers standing in the middle of the table. If you adore autumn flowers, how about you arrange some in one or a few vases? Then you can place them along your table to really bring the whole environment alive for the holiday!
We hope that you found some ideas concerning Thanksgiving table decor ideas. If you would like to decorate your home further, with Thanksgiving door decorating ideas or fall living room decor ideas, visit our website!
Advert