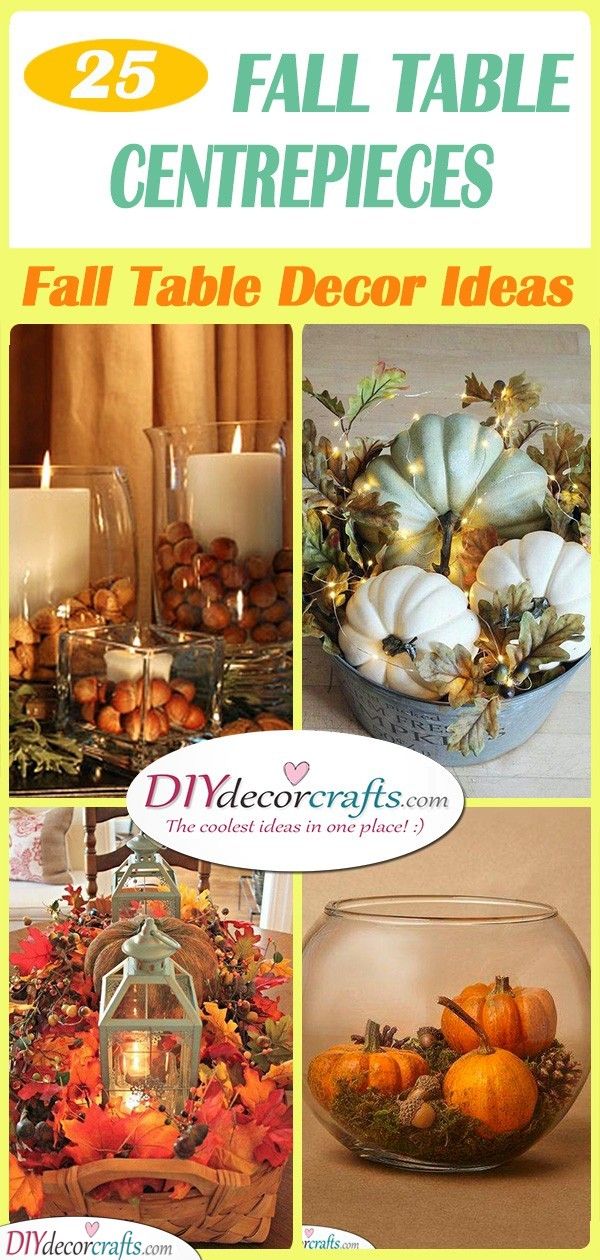 The time of falling leaves, misty mornings and apple picking are finally here. This is no other than autumn! Autumn is a truly gorgeous season, with all of nature turning into warm shades of colour, from red to yellow. It's a perfect time to sit inside your bedroom with a cup of cocoa, watching the wind blowing autumn leaves in the air. Fall is also perfect for creating all sorts of seasonal crafts, like some fall table decor ideas. This was you can robe your whole house up in an autumn vibe. We have gathered 25 fall table centrepieces to help you find something perfect for the season. So get into the seasonal mood and start making some autumn crafts!
1. Beautiful Autumn Vibe – Fall Table Centrepieces
When you think of the season autumn, what image immediately pops into your mind? Perhaps pumpkins are the first amongst them. Pumpkins are a typical seasonal vegetable, which is not only incredibly delicious but also looks fantastic. Make sure to include a few pumpkins in your seasonal table decor! Collect a few of them, and place them on the table, adding candles between them. The pumpkins don't all have to be the same colour, you can try mixing them together. A few green pumpkins, a few white and some orange will look fabulous together.
2. Easy and Simple – Gather Some Nuts
If you are going to be walking around in nature a lot during autumn, you will notice an assortment of nuts on the ground. Gather all sorts of nuts, from chestnuts to hazelnuts. Place them in candleholders after placing a candle in them as well. The candles will look lovely at nighttime when you light them up. They will produce a soft and warm glow in any room you place them in. These will make an easy and cheap table centrepiece!
3. A Pile of Pinecones – A Touch of Nature
Here is another element of nature you will be sure to find in any garden, park or forest during your autumn walks. Pinecones are a beautiful seasonal treasure. While going on a walk, you might want to gather a few to take them home! Place an array of pinecones in a bowl including a few smaller sized pumpkins. The combination of the two of these will definitely bring a fall ambience to any room. Then simply place a candle in the middle of it in a glass candleholder. If this doesn't scream autumn we don't know what will.
4. Pumpkins and Grapevines – Fall Table Decor Ideas
Autumn is the time of the harvest. This includes picking grapes and making wine! So it would only make sense to use grapevines as an element of your seasonal table decor. Place a bunch of grapevines in a smaller basket, then add one or two pumpkins into the middle of it. Place lanterns inside the basket as well, which you will be able to light up at night. This will provide a beautiful and soft glow for any autumn night which you decide to spend at home.
5. A Rustic Look – Autumn Table Decoration Ideas
Perhaps you like a rustic or farmhouse atmosphere when it comes to home decor. If so, make sure to incorporate this vibe in your autumn table decor! Grab an old lantern and fill it with small pumpkins! This is easy and simple to make, which means you won't have to spend hours arranging the pumpkins to make it look perfect. You can place these pumpkin-filled lanterns anywhere and you can surround them with a few sprigs of berries. Or even a few other pumpkins!
6. An Alternative to a Vase – Pumpkin Ideas
Perhaps you are looking for a floral sort of table centrepiece. There are a lot of interesting ways to arrange your seasonal flowers to give the whole room an autumn vibe! After finding your array of seasonal flowers, don't place them in a standard vase. Carve out the inside of a pumpkin and fill it with some water! Then place your flowers inside this pumpkin. It will definitely look amazing and is sure to bring a fall ambience with itself. Surround these pumpkin vases with small candles, to ensure they will look just as beautiful when night arrives!
7. Apple Candles – Creating Your Own Decor
As we mentioned before, autumn is the season of the harvest. You might decide on going apple picking during the season, which is a fun activity! While you might be thinking about eating the apples, making an apple pie or apple jam, you can also use them in your autumn table decor! Cut out the top part of apples, including the stems. Place small candles inside and voila! You are already done. These apple candleholders will be the perfect addition to your seasonal decor. It's super easy and cheap to create!
8. All About Apples – Fall Table Decor Ideas
Are you crazy about apples? Besides apple picking, another fun and exciting autumn activity is apple bobbing. Recreate the image and feeling of apple bobbing in your table decor. Fill a large bowl with water, then place all sorts of apples inside. They should float on the top of the water in a peaceful manner. You might also consider adding small candles to the water, allowing them to float as well. This will look beautiful when you light up the candles, allowing them to swim next to the apples in the water.
9. Mason Jar Crafts – Using Fairy Lights
Mason jars are great sources of decor as you can use them for practically anything! Create small lanterns out of them, filling them mason jars with all sorts of autumn elements. This should include autumn leaves, a few pinecones and perhaps a few conkers! Then all you will need to do is place a string of fairy lights inside, letting it run through the whole jar. These small mason jars will create the perfect autumn atmosphere with their soft and warm colours. Make sure to create a few instead of just one!
10. Rustic and Elegant – Fall Table Centrepieces
Here is the perfect sort of fall table decor! A tray of everything that is autumn! This will create a rustic elegance wherever you decide on placing it. Firstly, you will need a tray. Place an assortment of autumn natural elements on it. This includes leaves, grapevines or branches of fir trees. Then add some sprigs of berries for pops of colours, as well as pinecones. Also, make sure to add a few pumpkins to the tray and some candles! This will really give off an ambience of the season!
11. A Spooky Look – Halloween Vibes
Autumn is also the season of a few favourite holidays, this includes Halloween and Thanksgiving. If you are getting ready for Halloween, why not place an assortment of candy in a vase? You can add a few layers of candy to your vase, including candy corn or marshmallow ghosts. This will definitely bring autumn vibes, as well as Halloween vibes, to your home! Create the same sort of design with other seasonal elements, like nuts and pinecones.
12. White Beauty – Unique and Gorgeous Pumpkins
Have you been looking for table decor for the season which brings an elegant vibe with itself? Then you won't be disappointed by this table decor! Place white pumpkins over the foliage of herbs or autumn leaves. The white colour will bring elegance and sophistication with itself, which is perfect if you are going to be hosting dinner parties. Using white pumpkins will also bring a unique sense of beauty to your table!