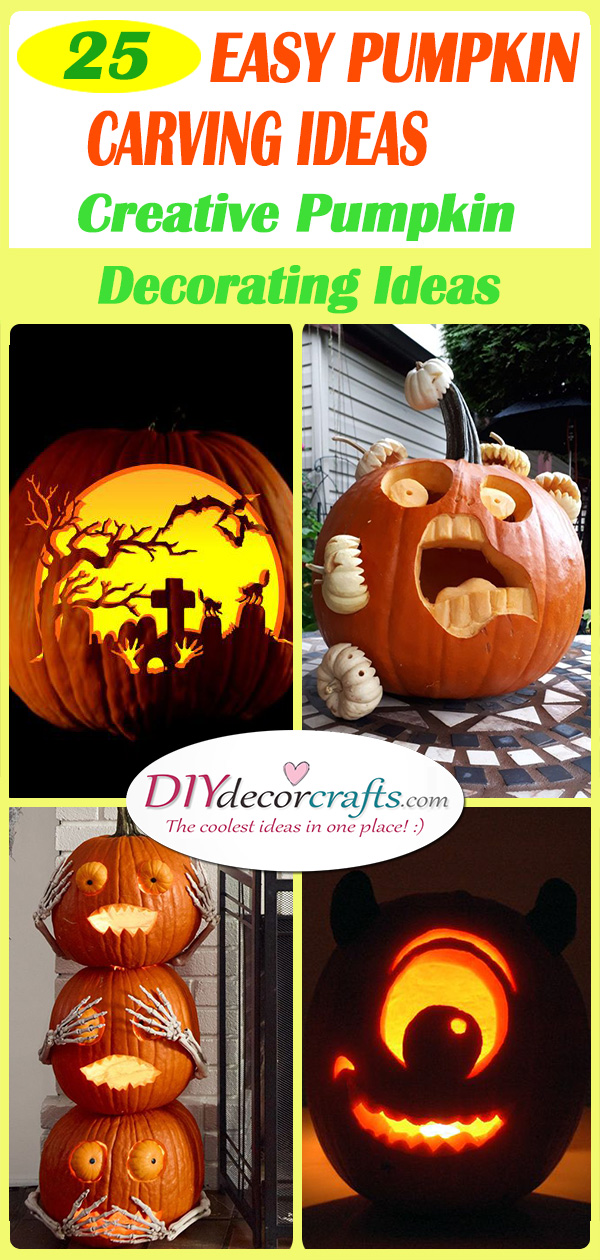 Autumn is finally here, bringing the fall activities and holidays with itself. This is the best time to go apple picking, to go on hikes in the beautiful autumn landscape, pumpkin carving as well as a variety of fall ideas! Pumpkin carving is a typical autumn activity which everyone loves. It gets you in the mood for Halloween. Depending on what sort of message you'd like to channel with your carved pumpkin, make sure to carve it out in that shape. We have gathered 25 easy pumpkin carving ideas, in order to give you some inspiration! So, first of all, get your pumpkin carving knives ready and it's time to carve away! Remember to let your fantasy run wild when it comes to jack-o-lanterns and creative pumpkin decorating ideas!
1. A Spooky Graveyard – Perfect for Halloween
Get ready for Halloween and create a truly spooky pumpkin carving! There's nothing as creepy and spooky as a graveyard, the resting place of the dead. So, if you decide to include this image in your pumpkin carving, you will be sure to have a perfect design for the holiday. Create a few gravestones at the bottom of the pumpkin, you can even include some zombies crawling out of their graves. Include a spindly tree, winding into the night sky. A few cats sitting on gravestones should be a perfect final touch to your pumpkin carving!
2. No Brains – Easy Pumpkin Carving Ideas
If you are looking for a not so standard pumpkin carving, you have come to the right place. Cut off the front of your pumpkin, as if you were cutting off its face. Carve out a face on the piece, but attach eyeballs to the inside of the carved out pumpkin. Then place a creepy hand next to the pumpkin, as if it were holding the cut off pumpkin piece. By the end, this pumpkin should look like it's taken off its own face and has no brains.
3. A Halloween Castle – Creative Pumpkin Decorating Ideas
There's no better way to get ready with Halloween decorations, than by carving a pumpkin. If you have been trying to find a creepy yet cool pumpkin carve design, check out this one. Carve out a whole picturesque image of a haunted castle, creating a few towers for the castle. Then add a few bats flying around the castle. Now all you will need to do is place a candle inside. By the time Halloween arrives this carved pumpkin will illuminate your garden or front porch beautifully and spookily!
4. Attack of the Pumpkins – Funny and Unique
Here is a unique and funny pumpkin carving idea! Carve a face into your pumpkin, which reflects the emotion of shock or fright. You can use the inside of the pumpkin, to carve smaller pumpkins. Attach these smaller pumpkins onto the face of the actual pumpkin. This will look as if they were attacking the big pumpkin. This funny pumpkin will definitely draw a smile on anyone's face who walks past your house this Halloween. Not to mention, it will look awesome when you place a candle inside after you are all done!
5. A Brilliant Bat – Flying over the City
When you think of Halloween, what images appear in your head instantly? Perhaps a ghost or a skull? But something typically connected to Halloween is bats! While these small furry and winged animals are super cute, they are still associated with darkness and witchcraft! Especially when it comes to vampires! But this makes them perfect to use in a Halloween pumpkin carving! Carve out a city in the pumpkin, as well as the image of a waning moon with clouds floating in front of it. Then carve out the shape of a bat in the middle.
6. Bats and Stars – Easy Pumpkin Carving Ideas
Try out a cute design for this year's Halloween. Instead of adding something spooky or creepy to your pumpkin carving, add something cute and fun. For example, carve out a few dozen bats, each shaped and sized the same way and carve out some stars as well! The combination of stars and bats will give your pumpkin a groovy and adorable vibe but will still be perfect for Halloween! This pumpkin carving idea is relatively easy, so if you don't have much time, why not try this out?
7. Jack Skellington – The Nightmare Before Christmas
Perhaps you have seen Tim Burton's The Nightmare Before Christmas. If so, you might like to use it as inspiration for your Halloween decor, or more importantly, your pumpkin carving! If you found any characters in the movie to bring a truly spooky vibe with themselves, why not carve their face in the pumpkin? Oogie Boogie or Sally are great choices, but don't forget the main character either! Jack Skellington is the king of Halloween after all! So it would only make sense to use his face on your pumpkin. It will look cool and bring a Halloween essence with itself!
8. Stacked on Each Other – Three Pumpkins
You've probably seen the three monkeys, one of which holds its ears, another closing its eyes and the third placing its hands over its mouth. Hear no evil, see no evil and speak no evil is its official name. Create the same set of monkeys but in pumpkin carvings! Recreate the monkeys, placing skeletal hands over the pumpkins after carving out their faces. You can place these pumpkins anywhere in your garden or on your front porch for Halloween. At least it will remind people not to do anything evil!
9. A Scary Ghost – Creative Pumpkin Decorating Ideas
Halloween is when all the deviant otherworldly creatures come out to play! There are a number of entities associated with Halloween. Ghouls, vampires, zombies, werewolves are just a few of them! But let's not forget ghosts either! While some people say they are able to see ghosts, we will never know for sure! The fact that ghosts are the souls of dead people, give off a truly creepy vibe! So because it's Halloween, why not use a ghost as a design for your pumpkin carving?
10. Mike Wazowski – Our Favourite Monsters
Get ready for Halloween with these monstrous yet cool pumpkin carvings! If you have seen Monsters, Inc. and adored it, you might want to use a character or two as inspiration for your carvings! James P. Sullivan, also known as Sulley, or Mike Wazowski are fabulous ideas for the pumpkins! Especially Mike because of his iconic eye. You can cut out a few other parts of the pumpkin, to create Mike's two small horns resting on his head. As the finishing touch, you will need to place a candle inside the pumpkin and light it up!
11. Gruesome Beasts – Easy Pumpkin Carving Ideas
If you have been unsure about what sort of jack-o-lantern you would like to create for Halloween, here are a few ideas to give you some inspiration! Create the faces of beasts and monsters. Carve big mouths for them, with their tongues hanging out or their teeth sticking out ferociously. You can even place a smaller pumpkin in the large pumpkins mouth as if it were gobbling down its victim! Create a few of these gruesome beast jack-o-lanterns, and place them around the garden and on fall front porch.
12. Ghoulish Greetings – A Haunted House
While carving pumpkins are a fun activity, there are a few other ways to decorate your jack-o-lanterns! For example, why not create a haunted house out of your cool pumpkin carvings? Cut out small windows and a door at the front. Then add additional decor to the pumpkin by using paint. Paint a tree next to the front door, ghosts flying around the house and a spider spinning its web. You might even like to include a few jack-o-lanterns sitting on the steps of the haunted house, which lead to the front door.
13. Oogie Boogie – From Halloween Town
As we mentioned before, using characters from The Night Before Christmas is a fabulous idea! There are so many spooky characters who are from Halloween Town. A scarier character is Oogie Boogie, the Boogeyman in Halloween Town, who is always up to no good. Use his character as inspiration and incorporate him into your jack-o-lantern. This is one of many great creative pumpkin decorating ideas!
14. Another Haunted House – Great Jack-O-Lantern Designs
Here is yet another haunted house design that will look incredible on your carved pumpkin! Using a haunted house as a design is a great idea because it embodies everything spooky and scary. This makes it perfect for Halloween, which is the spookiest holiday of the year!
15. A Moon and Stars – Cosmic and Easy Pumpkin Carving Ideas
If you aren't going for anything too scary or spooky for your jack-o-lanterns, why not give it a beautiful cosmic design? You can carve out practically anything you'd like. Carve out the sun or the moon, creating an array of stars around it. There are a lot of templates on the internet, to find a design perfect for your moon or sun. After finishing with the carving, all you will need to do is pop a candle in the pumpkin! This will allow it to glow beautifully.
16. Minecraft Pumpkin – Creative Pumpkin Decorating Ideas
If you are a fan of Minecraft and love to spend your free time playing with it, why not create a jack-o-lantern that incorporates the style of Minecraft? This means carving a pixelated face for the pumpkin. This is a creative and unique way of reflecting your likes into a simple source of Halloween decor!
17. An Alien – All the Way from Outer Space
Aliens have always been a popular topic, as no one can really decide whether they exist or not. A lot of people feel as if our world has alien visitors from outer space! If you like this idea, or like the imagined look of aliens, why not use it for your jack-o-lantern? Carve the shape of an alien's head in your pumpkin. Then place a candle inside to light it up gorgeously!
18. A Spooky Spider – Halloween Pumpkin Carving Ideas
A lot of people tend to have arachnophobia, in other words, a fear of spiders. These arachnids will make a perfect design for jack-o-lanterns! They create a spooky atmosphere with their long spindly legs and sharp fangs! Use a spider as inspiration for your pumpkin carving!
19. A Hungry Pumpkin – Creative Pumpkin Decorating Ideas
Are you in search of unique pumpkin carving ideas? If you want to give your garden or front porch a scary atmosphere for Halloween, make sure to do so with a jack-o-lantern! Create a hungry and crazy looking pumpkin with a big open mouth. Stick a doll's foot inside its mouth for a scary effect!
20. A Paw Print – For Animal Lovers
If you have a fondness for animals make certain to use them as inspiration for your pumpkin carvings! For a fantastic jack-o-lantern, simply carve a pawprint in the middle of a pumpkin. While this isn't spooky or scary, it is still one of many unique pumpkin carving ideas for Halloween!
21. A Magical Fairy – With a Trail of Fairy Dust
Create a magical jack-o-lantern for Halloween! Carve out the shape of a fairy on your pumpkin, and surround her shape with a trail of thousands of small holes. When you place a candle inside the pumpkin, it will light up the pumpkin beautifully. The fairy will look as if she were leaving a trail of fairy dust behind her!
22. A Wicked Witch – Easy Pumpkin Carving Ideas
Witches on broomsticks have long been associated with Halloween. So it would only make sense to use the shape of a witch on your jack-o-lantern. This will definitely bring a spooky ambience with itself, which is perfect for Halloween!
23. An Adorable Bat – Hanging Upside Down
As we have discussed before, bats are fantastic ideas to incorporate in your jack-o-lanterns.  Carve a bat in your pumpkin, which is hanging upside down. You don't need to give it a spooky or scary appearance, you can make it look adorable instead!
24. Use Some Lollipops – Creative Pumpkin Decorating Ideas
Are you thinking about creating a jack-o-lantern resembling a face? If so, why not consider adding some hair? Stick a multitude of lollipops into the pumpkin, creating a hair-like appearance! This is perfect for trick or treaters, as they will only need to pull out a lollipop from the pumpkin! Not to mention it will also be a perfect fall decoration for outside of your house!
25. A Trick or Treat Sign – Halloween Pumpkin Carving Ideas
Here is a pumpkin perfect for Halloween! Welcome the hoards of trick or treaters with a pumpkin sign! Carve the words trick or treat into a pumpkin, before lighting it up with a candle. This way everyone will know that they can stop by at your house!
We hope that this pick of 25 easy pumpkin carving ideas has given you some inspiration! For more ideas concerning autumn or Halloween, like autumn nail designs and Halloween party game ideas, go to our website!
Advert