Halloween is the perfect opportunity to gather your kids and go all out with spooky decorations, fun food ideas and Halloween themed games. I hope you're planning a big Halloween party this year, because if you do, you're in the right place! We've gathered the best Halloween party ideas you can enjoy with your kids and guests alike. Don't worry, it won't leave a hole in your wallet either. All the items can be purchased in a Dollar Tree store. It's cheap, fun and easy to make. What more could you ask for?
When I was a kid, we used to play Pin the Tail on the Donkey. Most kids might not know this particular game these days, but that's why we redesign it for Halloween. It's called Pin the Spider on the Web. Same concept, Halloween party theme. These ideas will thrill and be memorable for preteens and toddlers alike. Decorate your house, make fun foods and play games.
It's not as hard as it may seem at first – decorating and planning everything by yourself, but it's really not hard. You can even ask your little ones for help, I'm sure they'll be happy to.
Now let's cut to the chase for our first Halloween party idea!
Pin the Spider on the Web
The aforementioned spin on Pin the Tail on the Donkey. The idea is simple: buy the digital copy, print out and glue on construction paper. You only need to pay for it once, and it's forever yours. Reusable each Halloween, only costing a few dollars and will bring a laugh to all the guests. To play the game just blindfold someone, spin them around a couple times and have them pin the spider on the web. Whoever gets closest to the center wins.
Halloween Cornhole Game
Cornhole is such a nice game. You need to throw objects (usually a ball) onto a platform, if you hit, you get 1 point, and if you score in the hole, you get 3. Each team takes turns and whoever gets 21 points first wins. This spin on the game is very easy to make and is perfect for any Halloween party. This version, however, is tabletop, but the idea is similar. Play on a table or on the ground, and whoever scores 21 points wins. It's super fun with kids and can reward the winning team with some extra candy.
Advert
Halloween Ghost Toss
Next this DIY Halloween party idea is similar to the cornhole, but with a few differences. All you have to do is cut out the board and throw the ball into a ghost! The bags are from oranges and balloons, the ghost is cut from a simple cardboard, then decorated. It's a very fun game for kids, and a nice way to spend time. You can reward extra for hitting the eyes!
Halloween Party Bingo
Generally speaking, bingo is a fun game any time, especially with kids. Add a fun little Halloween theme, print the sheets and bring out the glue and your creativity. A nicely themed game will bring the best out of any Halloween party, and bingo is something both kids and adults can enjoy. Print the bingo game board on the link above, and enjoy! Candy is cheap and kids will love it no doubt. Depending on the rounds you play you can also have a super-mega-prize!
Advert
Bucket Toss Game
For this amazing projects, you don't need much more than a few dollar-store buckets. Just create bean bags from balloons filled with sand or socks and have the kids toss them into the buckets. Plastic buckets work best, and they only cost about $1 each. The further bucket you hit, the more points you get. You could also make a little championship, adding points utilizing two-three games for a grand prize of candies!
Marshmallow Toss Game
This marshmallow toss game is so easy to put together that even small children can help you out. Plus, marshmallows are soft and tasty so kids won't injure themselves or each other. Just grab a couple cups and decorate them in a Halloween theme. It can also be played indoors since it doesn't require much setup or leave a mess behind. This idea isn't based on Halloween, but it can be transformed into one with ease. :)
Similar idea as the previously mentioned Pin on the Web, now it's a bow tie on a skeleton! Blindfold kids and have them try to pin the bow on the skeleton. It's a fun idea that can be set up in little to no time, all you have to do is print out this template here. Nothing expensive either, just a couple bows to pin with a blindfold. Kids and adults alike will love it!
Advert
Halloween Scavenger Hunt Game
To end things off, here's a personal favorite of mine from my childhood: scavenger hunt. This particular idea costs only $3.50. All you have to do is print out the cards and let the kids find everything on this (printable) list. I would love to relive those good old days of scavenger hunting… My dad used to make elaborate scavenger hunts for me and my sisters when we were little. This idea rekindled that old feeling. It's simple, adorable and lovable. Hide the pictures and let the kids wander around with the excitement of finding treasure. Even little ones can join in on the fun if you help them, trust me it will leave a good memory. :)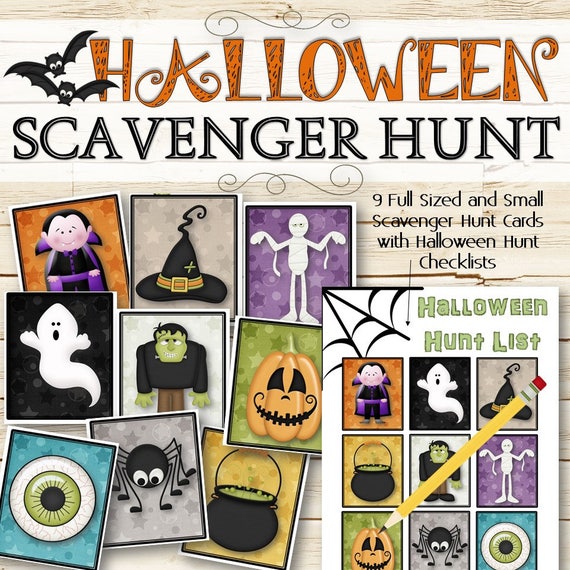 Thank you for reading our article: DIY Halloween Party Game Ideas For Kids Of All Ages
If you liked it, make sure to follow us on Pinterest!
Also, here you can read more Halloween related articles, such as Halloween food ideas, nail art, makeup and much more! Thanks for reading to the end! :)
Advert