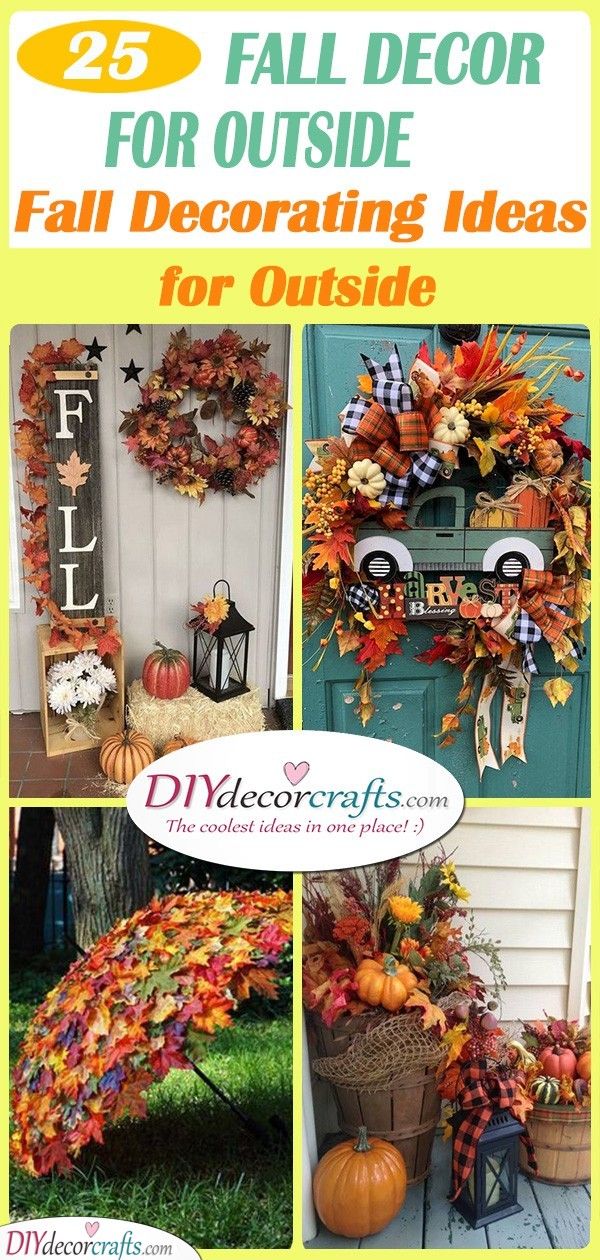 The season of falling leaves, misty mornings and the harvest time is finally here. This is no other than autumn! Autumn is an incredibly beautiful season, with all of nature turning into warm shades of colour. It's a perfect time to sit inside your bedroom with a cup of cocoa, watching the wind blowing autumn leaves in the air. But it's also perfect for going on a hike or gardening for the last time in that year. If you would love to give your house and your garden a gorgeous autumn look, why not create some outside decor for it? That's why we have a collection of fall decorations for outside, to help you in finding something great for your garden! So check out our fall decorating ideas for outside!
1. A Touch of Nature – Fall Decorating Ideas for Outside
When you think of the season autumn, what immediately comes to your mind? Elements of nature, like typical autumn fruit and vegetables? If so, why not create a whole autumn landscape in your garden, by placing pumpkins and typical autumn flowers next to each other. You might also like to include a few bunches of grapes. Try placing some lanterns next to these fall decorations for outside, as this will look beautiful during the night if you place candles in them.
2. A String of Leaves – With Some Fairy Lights
Another beautiful way to decorate your garden or your porch is with a string of autumn leaves. Attach autumn leaves to one another, creating a gorgeous garland. You will be able to twist this garland around the railing of your porch, To make this trail of orange, red and yellow leaves even more stunning, add a string of fairy lights to it as well! When the sun starts to set and night ascends, these small fairy lights will illuminate your porch with a warm and welcoming light. If this isn't perfect for autumn, we don't know what is.
3. Autumn Grapevine – Fall Decorations for Outside
If you love creating decor out of all sorts of material you might like this idea! Using metal wire, creating a towering cage. Wrap a long grapevine around it (try out an artificial grapevine for this). You can add colourful autumn leaves to the vine, to give it that true fall feeling. Then simply place pumpkins inside of the cage. A few simple elements of autumn's nature will be sure to create a lovely ambience in your garden or porch.
4. Small Barrels of Fall – Rustic Fall Decorations for Outside
Gather a few wooden barrels, all of which are small, but even baskets will do the trick! All you have to do is stuff these with gifts of autumn nature. For example, place all sorts of pumpkins in them, fall leaves and an assortment of autumn flowers. You can place a few lanterns between the baskets and barrels and add a candle to each one. This will light up this small autumn decoration beautifully when night arrives! For a rustic touch, you might like to add small burlap or checkered ribbons around the barrels or around the lanterns' handles.
5. Light Up the Stairs – A Trail of Fall
If you have a set of stairs leading up to your porch or veranda, why not give that an essence of autumn? Place pumpkins and small baskets of flowers on each step, which goes up to your porch. You might also consider putting ferns on the steps, just for a more mysterious autumn look. Naturally. don't forget the candles either! When you light these up at night, your stairs will be encased in a warm and welcoming light, which will definitely give it the essence of autumn!
6. A Small Ladder – Fall Decorating Ideas for Outside
Do you have a small ladder laying around the house or the garden somewhere? If you haven't used it for a while now, why not include it in your autumn decor? Place the ladder next to one of the walls of your house, and place items of decor on each step. This can include smaller sized pumpkins or even a model of a crow resting on one of the pumpkins. You can wrap vines around the handles of the ladder, for that extra autumn effect! This is a unique way of adding autumn to your garden during the season or as a bit of Halloween decoration!
7. A Fall Setting – Fall Decoration Ideas for Outside
There are so many ways to decorate your porch or veranda! You can add a design of your own, for example, writing a word, such as "fall" on a wooden board. You can add some other autumn decor into wooden crates, like a bunch of autumn flowers or just a few pumpkins! Another fantastic idea is to include a small haystack or just a bundle of hay next to the front door. You can place a few autumn items on this as well, pumpkins, apples and flowers!
8. A Wonderful Wreath – Front Door Decor
Create a wreath for your front door for the upcoming season of autumn! Think about wrapping vines around the wreath first, then attach all sorts of autumn leaves to it! Other fantastic options on what to add to the wreath include seasonal flowers, sprigs of berries, small pumpkins and also burlap bows. This will definitely create an autumn atmosphere on your front door! Naturally, you can add a small sign to your wreath as well. For example, a sign which says "harvest time" or "welcome autumn" are all fabulous outdoor fall decor ideas!
9. A Basket of Light – And Autumn Elements
Have you been searching for unique and gorgeous fall front porch decor? Then check out this creative pumpkin decorating idea! Gather baskets or smaller sized wooden crates. Fill them with all sorts of seasonal fruit, but make sure to use pumpkins as a dominant element! Then all you will need to do is wrap strings of fairy lights around the seasonal fruit, illuminating it in a warm glow. Wrap ribbons around each basket, giving them cute looks. Finally, place the baskets wherever you'd like around your garden or front porch.
10. An Autumn Lantern – Fall Decorating Ideas for Outside
Create your own little lanterns, which you will be able to place around the house or garden during the season! Instead of placing candles inside each lantern, find autumn items to fill them up with! For example, you can place small pumpkins in them or even pinecones! If you want to get truly creative, you can paint the pumpkins with either gold or white paint! This will give them an amazing look! Tie ribbons on top of the lantern. Make sure the bows are all colours of the season!
11. A Few Sunflowers – Earthy and Happy
Use old wooden boards and pallets to create a small part of a fence in your garden. All you have to do now is decorate these wooden pallets, by attaching small branches to it and wrapping vines around them. You might also be considering adding a flower or two to it. If so, why not try out a sunflower? These yellow flowers exude happiness and joy, which is perfect for the start of fall!
12. A Leafy Umbrella – Outdoor Fall Decor Ideas
Here is another fabulous idea for the season! Create an umbrella out of fall leaves for a spectacular effect! All you need to do is attach fall leaves to an umbrella, glueing them on top of each other. This will create brilliant foliage of leaves, dazzling in all sorts of warm autumn shades. Place this umbrella anywhere you'd like in the garden!
13. Embossed Metal Planters – Fall Front Porch Ideas
There are so many interesting and unique ways you can plant your autumn flowers and plants! Try finding some metal planters, which actually have embossed patterns running all over them! Then all you need to do is plant your favourite sorts of seasonal flora in them! Place these around your garden or use them as fall front porch decor!
14. Scaring the Crows – Cute Scarecrow Ideas
You might see a lot of scarecrows standing around in autumn fields, trying to scare off all the crows. If you love the idea of including a scarecrow in your autumn design, you can easily create one at home yourself and hang it up on one of your walls, or stick it on a wooden pole in the garden. You will need some old clothes for this. Simply fill the clothes with hay, tying ribbons around the ends so they won't fall out.
15. Create an Autumn Landscape – Fall Decorations for Outside
Create a rustic autumn atmosphere in your garden this fall! If you have a wooden fence surrounding your garden, place a few pumpkins around it. You can also use a rusty water can as decoration as well as a wagon wheel! This will definitely channel a sense of autumn to your garden, especially with a carpet of fallen leaves enveloping the ground.
16. Reimagine a Rake –

Fall Decorating Ideas for Outside
Perhaps you have an old and used rake lying around your garden shed. But you haven't used it for years now! So it's time to reimagine the rake and incorporate it in your autumn decor! Take off the head of the rake and start adding some autumn elements to it. This can mean attaching all sorts of red berries, pinecones, autumn leaves and seasonal flowers to it. You will be able to place this rake in a window for a fabulous look!
17. Wooden Board Sign – Welcoming the Season
An awesome way of welcoming the new season is by creating a wooden sign for it! Hammer wooden letters which spell out "fall" or "autumn" onto a wooden board. You can place this practically anywhere, in the garden or as fall front porch ideas for decorating!
18. A Scarecrow Bag – Fall Decorations for Outside
Here is another scarecrow decor idea, perfect for autumn! Attach a bag to a scarecrow and place a selection of all sorts of autumn items in that bag. This can include pumpkins, autumn flowers or seasonal sprigs of berries. You can even place a lightless candle in the bag, which will look beautiful glowing the autumn darkness.
19. Pumpkin Crates – Handmade Arts and Crafts
If you have a few wooden crates and don't know what to use them for, try this decor idea out! Paint the crates orange, then attach small, cut branches to the tops of them. This will create the imagery or autumn pumpkins! You will be able to place these crate pumpkins on the porch or around the garden!
20. A Nest of Pumpkins – Cute Autumn Ideas
Create a whole nest of pumpkins this autumn! You will need to twist thin wooden branches around, adding other branches to it to create a nest. Then place this big birds nest in the garden, and place an array of pumpkins in it. This will make your garden look like the epitome of autumn!
21. Decorate Your Mailbox – Fall Decorating Ideas for Outside
Don't forget to decorate your mailbox either! Adding seasonal elements to your mailbox is a fabulous idea. Attach acorns, pine leaves and berries to a ribbon. Then tie this ribbon into a big bow around your mailbox! This will add a cute touch to your mailbox!
22. Autumn Floral Wreath – Warm Shades
Put together your own wreath for the season! Using artificial flowers, like hydrangea, you will be able to create a gorgeous autumn wreath! Why use artificial flowers? This will prevent the wreath from wilting too soon! Try using autumn shades for the wreath for an even more stunning effect!
23. Pumpkin Paradise – Outdoor Fall Decor
A great idea of what to place next to your front door for this year's autumn is pumpkins! Create your own pumpkin paradise on your porch, by carefully stacking pumpkins on top of each other. Make sure to glue them in place as well, to prevent them from falling!
24. Awesome Candle Holders – Pumpkin Crafts
Create your own fall candle holders out of no other than pumpkins! Carve out the top parts of the pumpkins (the part where their stems are), and place a glass candleholder with a candle inside of it in this space. These will definitely bring an autumn vibe with them!
25. Where to Go – Fall Decorating Ideas for Outside
Adding a few signs to your garden, indicating what sort of autumn crops there are is a cute idea! You can add signs pointing in directions, which read "apples", "pumpkins" and "corn patch." 
Of course, these are just a few ideas out of hundreds to get your garden and porch ready for the season with these fall decorations for outside! For more seasonal decor, such as Fall Wreaths for Front Doors or Front Porch Fall Decorating Ideas, go to our website!
Advert