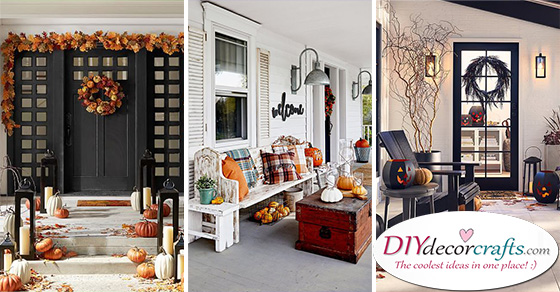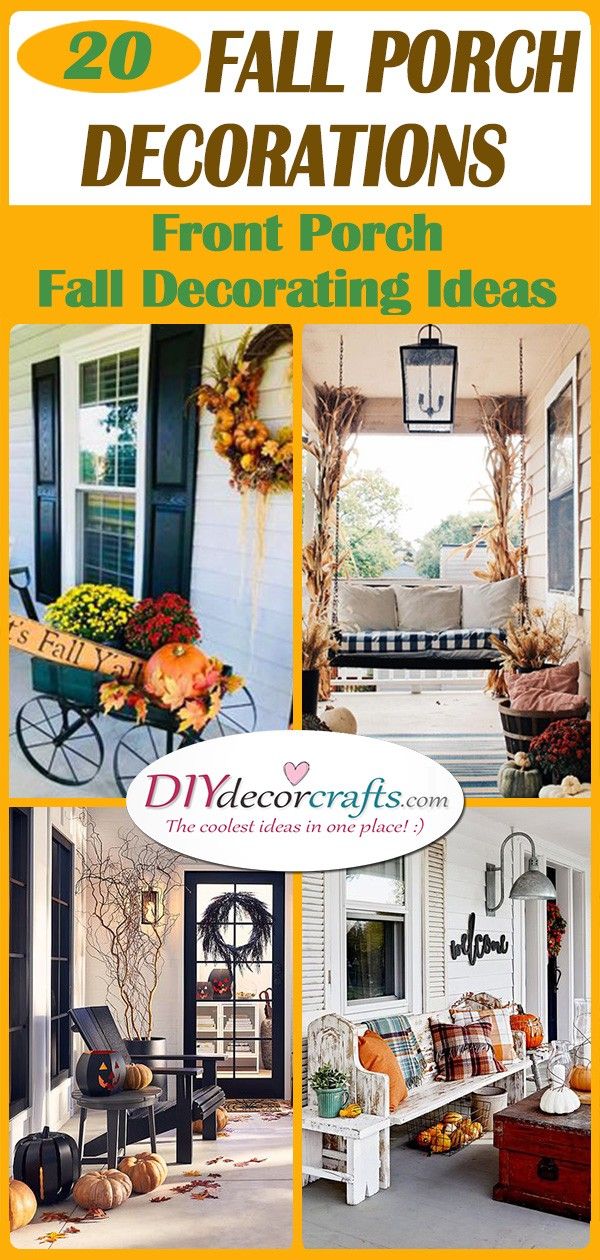 The season of fall is finally here. You might wake up to foggy or misty mornings when the air is chilly. Autumn is the perfect time for taking long walks in nature and having your breath taken away, thanks to the vibrant colours surrounding you. It's also a great time for apple picking, pumpkin carving or creating some autumn decor! Or giving your home a bit of refurbishing and dressing it up in fall decorations. This may include your front porch, which is an important space to decorate. As it is the first part of your home guests will see. Take a look through our collection of 25 fall porch decorations and find some inspiration amongst them! We're sure you will have a few bright front porch fall decorating ideas just in time for the season.
1. A Classic Design – Front Porch Fall Decorating Ideas
When you think of autumn, what images pop into your mind immediately? It might be an abundance of pumpkins, one of the well-known seasonal crops. A lot of people use pumpkins in some sort of form for decorating for the season. How about you lay down a few pumpkins around your front porch? They can be different shapes and sizes. Place them in wooden boxes or simply lay them on the floor. You can also place a selection of lanterns around them, with which you can light up your porch during the evenings.
2. Cute and Rustic –

Fall Porch Decorations
Get your porch ready for the upcoming season of autumn! How about you create a cute and rustic welcome sign, which you can place right next to your front door? Organise a few pumpkins, as well as flowers inside a wooden crate. Paint the word "welcome" on the largest pumpkin, with which you can welcome your guests. You can also organise a bouquet of seasonal flowers in a galvanized metal watering can. This will give your decor arrangement a rustic vibe!
3. Spooky for Halloween – Front Porch Fall Decorating Ideas
One special event that takes place during the fall is Halloween! If you are a huge fan of trick-or-treaters visiting your home on Halloween night, then get your front porch ready for it! You'll be able to achieve a spooky vibe by adding jack-o-lanterns to the porch. You can even use some jack-o-lanterns as vases in which you place flowers. Another fantastic Halloween decoration idea would be to hang witches hats from the ceiling of your porch. It will look as if they were levitating, giving off a creepy ambience.
4. Elegant and Refined – A Stylish Look
If your garden and home are designed in an elegant manner, you will probably want to find fall porch decor ideas, that embody the same sort of ambience. Keeping this in mind, how about you place two large urns on both sides of your front porch stairs? Instead of growing seasonal flowers in them, firstly arrange some vines or foliage in them. Then place pumpkins on top of both the urns, stacking the pumpkins on top of one another. Make sure that you stack them from largest to smallest, and you may even think about glueing them together as this will ensure that they don't topple down.
5. A Cloud of Bats – Fall Porch Ideas for Halloween
As we mentioned before, one fun occasion to look forward to each autumn is Halloween! It's a great time to dress up in spooky costumes and get your house ready in some spooky ornaments! Besides using pumpkins and jack-o-lanterns as decorative elements on your front porch, get creative! Place broomsticks next to your front door, symbolising that witches have visited you. You can also hang some ornaments from the roof of your porch. For example, try hanging a group of bats from it for that Halloween vibe!
6. A Happy Harvest – A Ladder Arrangement
Fall is not only the time to celebrate spookiness, but it's also the season of harvest! Maybe you'd like to reflect the essence of the harvest in your front porch decor! If this is the case, then here is an idea to get you inspired! Place a wooden ladder somewhere on your front porch. You can sprinkle hay on each step of the ladder, before placing pumpkins or pots of seasonal flowers on them. A cute addition to this fall arrangement would be to write "harvest" on a small blackboard and place that on the ladder as well!
7. Plaid and Pumpkins – Front Porch Fall Decorating Ideas
Do you have a seating space on your front porch? If so, then it's time to add some fun decorations to it! For example, you can get autumn-inspired pillows for your sofa. A great choice would be to get plaid patterns for the pillows or blankets with which you can make yourself cosy during the chilly autumn evenings. Naturally, to bring out the sense of autumn, even more, you can add pumpkins to the environment!
8. Lighting Up Your Stairs – Gorgeous Fall Porch Ideas
Transform your front porch into a magical space as well as the stairs leading up to them! Place an array of autumn leaves, vines and foliage on both sides of the stairs. You can also put pots of flowers and pumpkins on top of the leaves. Then it's time to light up your steps and front porch with some strings of fairy lights. You can wrap them around the leaves, flowers and pumpkins as well, with which you can illuminate the steps, allowing you to see where you need to step.
9. Bold in Black – Perfect for Halloween
Are you still looking for ways to get your front porch ready for Halloween? Maybe you are trying to find something that is bold and edgy, while also bringing a spooky side to things. If so, make sure to use plenty of black elements on your front porch! For example, you can have some pumpkins or jack-o-lanterns painted in black. Also, add some black lanterns to the overall design of your front porch, which will help in giving the whole porch a luminescent glow during autumn evenings and nights! Even a black wreath will come in handy for Halloween!
10. Keeping It Stylish – Front Porch Fall

Decorating Ideas
Keep your front porch and the area around your front door looking stylish and chic for the upcoming season! You don't have to go overboard with decorating. Instead, pick a few elements to add to your front porch. Place a few pumpkins on both sides of your front door, including large vases or pots, in which you grow seasonal flowers. Naturally, you can arrange a few pumpkins in the pots. Since we're talking about your front porch, don't forget to decorate your front door either! Add a beautiful autumn wreath to it, with which you'll boost the whole atmosphere of the space!
11. It's Fall Y'All – Easy and Effortless
With the arrival of autumn, you will want to decorate your home to get ready for the season! Including your front porch! You don't need to use a lot of unique ornaments, stick to a farmhouse or rustic style for decorating instead! A fantastic idea would be to place a small wagon next to your fall front door decor. Place an array of pumpkins inside of it or grow some seasonal flowers in it! Another beautiful option would be to add a wreath to the walls of your porch.
12. Scary with Skeletons – Fall Porch Decorations
There are a number of ways to decorate your front porch for celebrating Halloween! Besides adding the necessary pumpkins and jack-o-lanterns to your porch, how about you add a few skeletons as well? With a few faux skeletons hanging at either or both sides of your front door, you'll be certain to create a spooky and sinister atmosphere on your front porch! Feel free to add a few different scary elements to it, bringing the Halloween ambience even more alive!
13. Cosy and Comfortable – Adding a Bit of Nature
Channel the natural environment of autumn into your fall porch decorations! By adding the bounty of nature to your porch, you'll create a very cosy atmosphere! Whether it's an abundance of pumpkins placed carefully around the front porch, pots of seasonal flowers or bundles of hay, we're certain you'll replicate the beauty of autumn in your home! If you have a hanging chair or a sofa on your front porch, make sure to wrap it up with warm blankets and include plaid patterns in its design!
14. Unique and Funky – Front Porch Fall Decorating Ideas
You don't necessarily have to stick to a classic design when it comes to decorating for autumn! After all, the best thing is to let your creativity run wild and try out new and unique things! While the main and traditional colours of autumn decor include orange, brown, yellow and red, you don't have to opt for those! Add a groovy and fun colour to your fall front door decor! This might mean incorporating a colour such as pink in the ornaments. For example, paint some of your pumpkins in pink or add some pink to your front door wreath! It's an easy way to uplift your porch!
15. Add a Scarecrow – A Fabulous Choice
If you take a walk during autumn around a field or a farm in your area, there's one common sort of thing you might see. This is no other than a scarecrow! They are placed around farms to scare off any crows. Scarecrows have become a common symbol of autumn exactly because of this. So it would only make sense to include a scarecrow in your front porch decor! Of course, don't forget to add pumpkins or pots of seasonal flowers to the porch as well.
16. An Abundance of Pumpkins – Fall Porch Decorations
As you will have noticed already, fall decor is mainly centred around pumpkins! After all, it is a seasonal vegetable that also looks amazing! As an alternative to using only a few pumpkins for your front porch decor, use a whole abundance of them! Use pumpkins and gourds of all sizes and colours, arranging them on the steps leading to your front door as well as all over the front porch. An overload of pumpkins is guaranteed to turn your front porch into an autumn wonderland!
17. Festive and Fantastic – A Lovely Ambience
We have talked a lot about using pumpkins in some form for your fall porch decor ideas! But naturally, there are other sorts of seasonal goodness to go around! Besides pumpkins and seasonal flowers, you may include some apples bobbing in a bucket of water. Or you can even incorporate apples in your fall front door wreath, for that true autumn vibe! Another type of fall vegetable to include are some dried corncobs, which look amazing! There are a lot of other ideas you can try out for decorating with seasonal vegetables!
18. Time for Gratitude – Front Porch Fall

Decorating Ideas
Another holiday that takes place during the fall is Thanksgiving. It's a day when you gather with friends and family and give thanks for what you have! Why not take inspiration from the holiday? Besides wrapping the railing of your porch and the front door with colourful fall vines, you can also add a sign either on the front door or somewhere on the porch. Since Thanksgiving is coming up a great idea would have the word "thankful" written on it.
19. Crows Gathering – Props for Halloween
A species of bird you may see around during autumn is a crow! How about placing some crow figurines or props around the front porch? You can place them on pumpkins or lanterns, which you have also arranged on the porch! This is a fantastic look for Halloween or as fall decorations for outside!
20. Witch Hat Luminaries – Fall Porch Decorations
Here's a great idea on how to brighten up your front porch during autumn or Halloween! Add some witch hat luminaries to your porch, hanging them from the roof. All you need to do is attach flameless candles inside of your witches hats. These fall porch decor ideas will give your home an eerie and spooky presence during autumn nights!
We trust, that you have found some inspiration for your fall porch decorations! For other ideas, besides fall front porch ideas, such as small front porch ideas on a budget or fall living room decor ideas, visit our website!
Advert