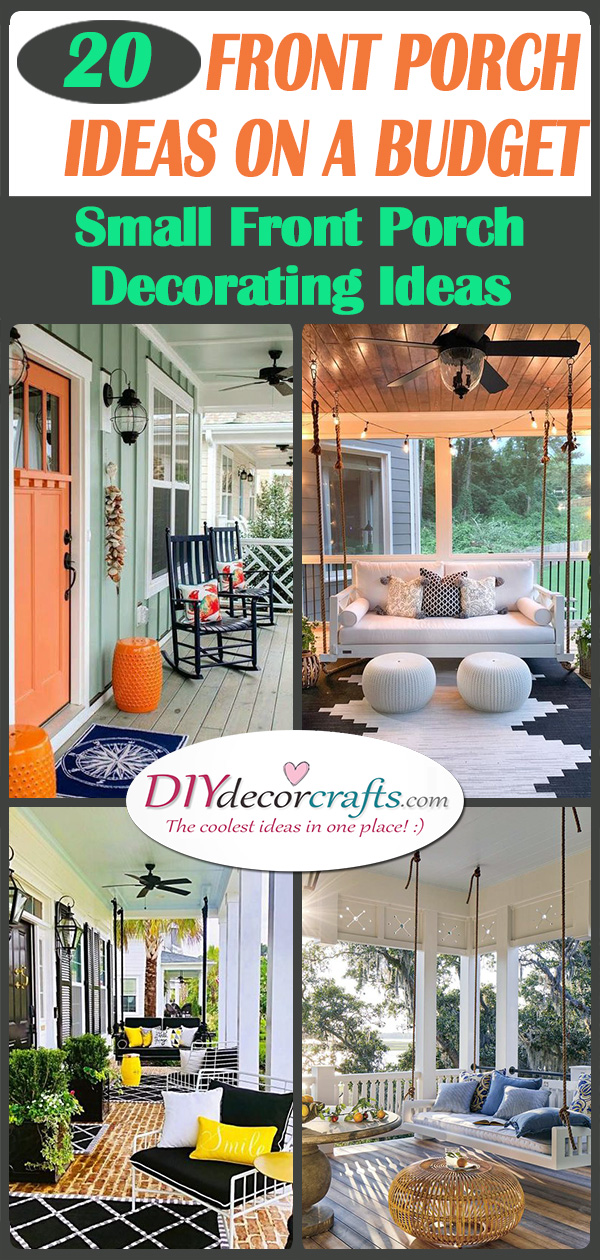 Perhaps you are going to be renovating and refurbishing your home and garden soon. If so, you might be in want of some sort of inspiration on how to accomplish it. Of course, a lot depends on your personal style and taste. So, you will want to create a space in which you feel amazing! An important factor when designing the garden people often tend to forget about is their front porches. These serve as great places to decorate and give people an inkling about what your home will look like on the inside. If you are in search of some small front porch ideas on a budget, then check out our collection! We have 20 small front porch decorating ideas on a budget for you to choose from!
1. A Space of Relaxation – Small Front Porch Ideas on a Budget
You can transform your small front porch into a space of relaxation. Instead of getting simple chairs to place on it, you can get some rocking chairs. This way, whenever you sit down on your porch, you will be able to rock yourself right into peace. Rocking chairs are quite rustic or vintage pieces of furniture, so you may think about incorporating this ambience even more. Achieve this by adding strings of fairy lights to your porch as well as pots of flowers along your walls.
2. Comfortable and Cosy – A Perfect Look
If you want to create a truly comfortable and cosy porch, then do it! A fabulous idea would be to use a lot of furniture, creating seating space for anyone who comes. This might include a few chairs as well as a large sofa. Then, of course, feel free to decorate it. You can place a rug underneath the furniture, as well as adding decorative vases and flowers to the coffee tables. Naturally, you will want to add some garden lighting to your porch as well. There's nothing better than fairy lights running across the ceiling of the porch!
3. Pretty Pastel – Small Front Porch Decorating Ideas on a Budget
There are so many styles and designs you can try out when it comes to creating your porch. Maybe you are still in search of small front porch ideas on a budget. Then check out this idea! If you prefer delicate designs over bold ones, why not use a set of pastel colours. You can paint the porch itself in white for a chic look, then add all sorts of pastel furniture to it. For example, baby blue chairs or a pale pink coffee table. These pastel shades will go really well with some pots of flowers which you place here and there around the porch.
4. Adding Bursts of Yellow – To a Monochrome Setting
Maybe you have decorated up your porch with monochrome tones. By this, we mean, black, white and grey. This will definitely create a sleek and chic ambience, especially if it matches the rest of your house, as well as the garden. But perhaps you are trying to add a few bursts of colour to the environment. An easy and cheap solution to this is to add some pops of yellow. This can be some yellow pots for flowers or some yellow pillows for the sofas placed on the porch.
5. Dreamy and Gorgeous – Small Front Porch Ideas on a Budget
Transform your front porch into a dreamlike atmosphere, where you will absolutely love to spend your afternoons. This might mean, instead of getting a sofa for the porch, get a hanging sofa. Then you will also have to think about what sort of lighting you can add to your balcony. Thanks to some stunning lights, or placing some candles in lanterns, you will truly be able to bring about that ethereal and dreamlike ambience to your porch. A great idea is to add some plants or flowers in pots to your porch!
6. Green and Yellow – Inspired by Citrus
Turn your small front porch into a place, where you can de-stress and relax. Maybe you love all sorts of citrus fruits, including lemons and limes. If you have a few lemon trees or lime trees planted in pots, it is time to place them on your porch! Whether your porch is designed in neutral colours or not, you can add some yellow and green ornaments to it. This will bring out the citrus-inspired theme even more. So if this is what you are trying to accomplish, then make sure to try it out!
7. Modern Chic – Small Front Porch Decorating Ideas on a Budget
If you are thinking about creating a modern and chic look for your porch, then you might have just found the best idea! Get the walls of your porch painted white for a clean look. Use wooden furniture on your porch, but instead of using plain white pillows or rugs for decorating up this space, use unique geometric patterns. These can be coloured in black and white, incorporating rectangles and triangles, to create a bohemian yet modern chic atmosphere. To add a bit of life to your porch, make sure that you place a few plants around it as well.
8. Beach Vibes – A Nautical Theme
Would you prefer to create a more springlike or summery design for your small front porch? If so, why not use a nautical-inspired theme to bring this idea to life? If you paint the walls in pale blue or turquoise, it will bring an oceanic ambience to it. Other ornaments might include a doormat that has a compass on it or hanging strings of shells from the walls of your porch or even a summer door decoration on the front door. You can also use beautiful pillows with nautical patterns on them to place on the chairs and sofas.
9. A Swinging Sofa – Back Porch Ideas on a Budget
When you think about your garden or your porch, what function would you like it to embody? Perhaps it will serve as a great space for entertaining guests, but maybe you'd like to create it into a small escape. If you work long days and feel stressed, sometimes all you need is a quiet place to enjoy a cup of tea in the afternoons. Taking this into consideration, you might transform your porch into this island of peace. Sometimes all you need is an element of relaxation, to really help you get into a blissful state of mind. This might come in the form of a swinging sofa! So install one of these on your porch for peaceful afternoons and evenings.
10. A Seating Space – And a Dining Table
As we mentioned before, when you design and decorate your porch, you have to think about what sort of space you'd like to turn it into. A fantastic option might be not only to create a seating place where you can lounge around and read books. But also add a dining table with seats to your porch! Make certain to add some simple dining table decor to it, if you end up including one! This way you can enjoy some delicious dinners in the environment of your porch!
11. Simple Style – Small Front Porch Decorating Ideas on a Budget
While you are designing your front or back porch ideas on a budget, you don't have to go for anything too fancy or extravagant. Sometimes, keeping things simple will also help in creating a more elegant and refined look. After all, you will probably will familiar with the saying that less is more! Add some pots of plants in front of your front door or place some seats or hanging chairs on your porch. Remember not to do much and keep it simple and clean instead!
12. Happy in Yellow – A Sunny Disposition
Turn your whole front porch into an atmosphere of sunshine and happiness. You can achieve this by using all sorts of shades of yellow to decorate your porch. This will include painting the walls of your porch in a pale yellow. Also, make sure that you incorporate some yellow flowers in pots and place them all over your porch. This will assist in channelling nature and a sense of earthiness to your porch. Naturally, feel free to add a yellow rug and some yellow pillows and additional ornaments to bring out the yellow even more!
13. Boho Vibes – Small Front Porch Ideas on a Budget
If you have always found yourself admiring bohemian-inspired designs and decorations, then why not incorporate some in your porch? This might mean using pillows and blankets for the seats, which have unique and interesting patterns sprawled all over them. Bohemian designs also consist of using mostly natural materials for furniture, so replace anything plastic with wood. Naturally, you can't forget to add some plants in pots, either placed decoratively next to the walls. But the pots can be placed in macrame plant hangers and dangling from the ceiling.
14. Classic and Rustic – Beautiful and Timeless
While we have talked about trying out modern and simple designs for your small front porch, maybe you are in search of something more rustic and classic. If this is the case, make sure you surround your porch with pieces of furniture which bring exactly that sort of ambience with themselves. A great example of this is to use copper lanterns for lighting or vases made out of stone which is styled in a classic way.
15. Truly Great – Small Front Porch Decorating Ideas on a Budget
Create a sense of peace on your front porch. You can carry this out by turning your porch into a homely and cosy environment. Add some rocking chairs to the environment as well as a swinging sofa, which you can hang from the ceiling of your porch. Of course, feel free to add some small decorative elements to your screen porch ideas on a budget, to really channel your own style and personality. This might be some vases filled with your favourite flowers, a stylish rug or just some trendy pillows thrown onto the chairs.
16. A Pretty Design – Feeling a Sense of Home
An important factor, when designing your screen porch ideas on a budget, is that it should embody a sense of home. Whenever you spend an afternoon or evening just relaxing on your porch, make sure that it feels right and cosy to you! This might mean that you place a few wicker chairs on your porch, with extra blankets to keep yourself warm and comfortable if it's a bit chilly. You can also include a few of your favourite plants for natural elements, as well as large lanterns with candles placed inside of them for the lighting.
17. Lush Greenery – Small Front Porch Ideas on a Budget
If you adore the colour green, you might be intent on using it for decorating your porch. This will mean placing green pillows and blankets on any of your chairs. But most importantly, surrounding your whole porch with a wide range of all sorts of plants. This can mean anything from ferns to cacti. A fantastic idea is to lean a ladder against one of the walls of your porch and place some potplants on each step.
18. Summery and Stylish – Perfect Porch for the Beachside
Do you by any chance live right next to the seaside or the beach? If so, take inspiration from your surroundings and robe up your small porch ideas on a budget with a sense of summer and the beach! While covering your porch in either a pale blue shade or white, make sure that the furniture pops with colour. For example, you can use turquoise blue for the chairs and coffee table. Then add some ocean elements to your porch, such as some pillows with starfish patterns to the seats.
19. Light It Up – Small Front Porch Decorating Ideas on a Budget
An important element of any porch is lighting! Make sure that you add some unique or cute lighting to your porch. Whether it's strings of fairy lights or lanterns containing candles placed carefully around your porch, we're sure it will look amazing.
20. A Place to Eat – Perfect Porches
Another one of many small porch ideas on a budget is to revamp your porch into a place where you can eat your meals on a daily basis. Whether it's just a cup of coffee in the mornings or a three-course meal during the evenings, you will be able to enjoy your meals in the fresh air! This is a lovely idea to try out, even if you have a small porch!
If you liked these small front porch ideas on a budget, feel free to check out our other home and garden picks, besides small front porch decorating ideas on a budget. This includes fairy garden houses and bathroom wall shelves. Naturally, there are loads more ideas to check out!
Advert