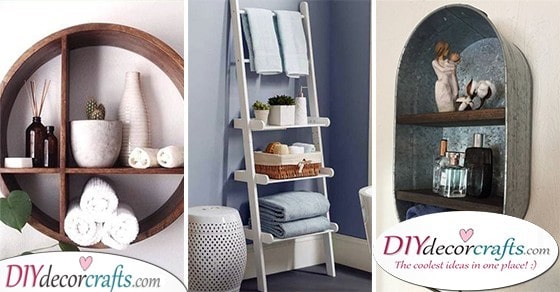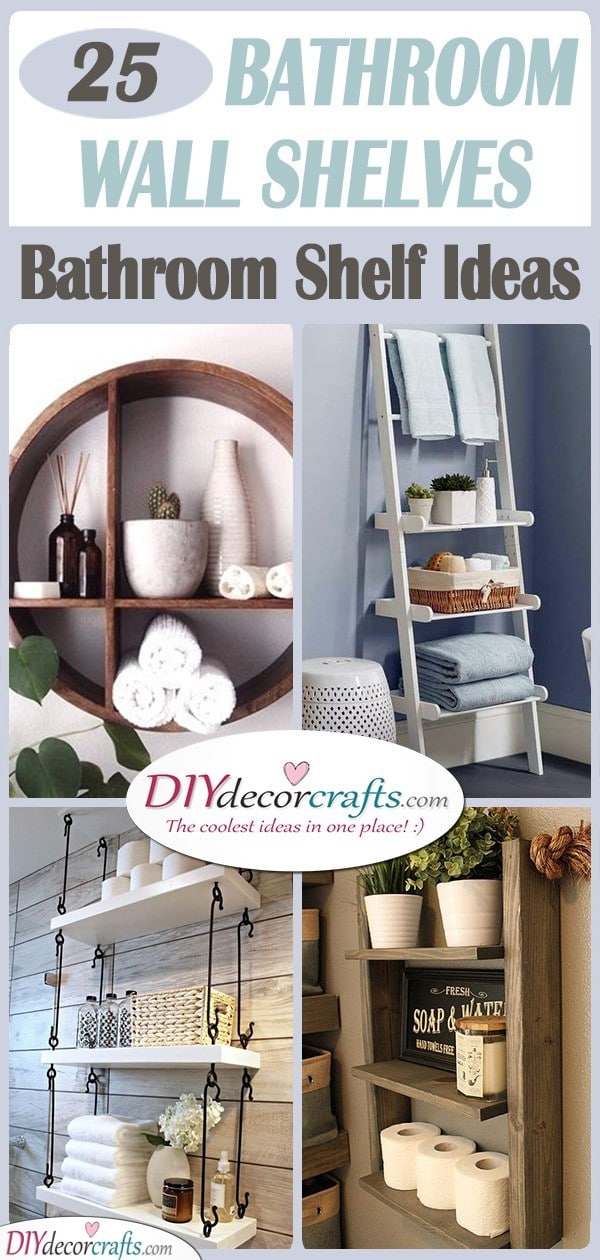 Bathrooms play a huge part in our lives at home! They are the places where you can find a bit of solitude and relaxation underneath the spraying water of a shower. But also lying into a bathtub filled with hot warm is a great way to destress. You also spend a lot of time in your bathroom in the mornings, getting ready for the day. Taking this all into account, you will want your bathroom to act as a safe space in your house. You will also need some sort of storage place in your bathroom. This means you will want to install bathroom wall shelves. That's exactly why we have collected 25 best decorative bathroom shelf ideas for you to choose from. So take a quick browse through our collection of bathroom ideas!
1. An Old Ladder – Reimagine and Redesign
Everyone seems to have dozens of items laying around at home which they don't use anymore. Perhaps you have an old ladder in your shed waiting to be used. If so, why not reimagine and redesign it? You can create a shelf out of it for your bathroom! You will have to cut the ladder into the size you would like. The steps of the ladder will act as the levels of the shelf. Then simply attach it to the wall of your bathroom and start storing anything you'd like on it!
2. Create a Geometric Shelf – Decorative Bathroom Shelf Ideas
Is your bathroom designed in a more modern spirit? If so, make sure that your bathroom shelves also embody the same sort of ambience. Perhaps you are planning on creating your bathroom shelf yourself which will be a perfect storage option for small bathrooms. If you like geometric shapes when it comes to furniture, why not create a triangle-shaped shelf? It's simple and easy to put together, all you will need are wooden pallets and some screws and nails. Try finding a tutorial online, on how to put one of these together! It's totally worth it!
3. Simple and Lovely – Bathroom Wall Shelves
As we talked about before, using an old ladder is a fantastic idea for creating a bathroom shelf! After all, it's reusing something old and making something new out of it. You can create a ladder which you place on the floor and balance on your bathroom wall. Use the steps of the ladder as the spaces for storage. For example, you can place towels or toilet paper on the steps of your new shelf. But you can also use it as a space for placing ornaments or decoration on. Plants will look beautiful placed on it!
4. Easy and Gorgeous – Going for Something Simple
Use bathroom floating shelves or floating cabinets in your bathroom for storage space! It's a simple way of creating a place to store anything necessary without taking up so much space. This is an especially great idea if you have a small bathroom design or if your bathroom is very narrow. Remember, that you can use more than one shelf to place on the walls of your bathroom. For example, you can place two or three in the same verticle line! This will ensure that you have plenty of space for storing anything you need to store.
5. Under the Sink – Organized and Awesome
Here is another fantastic idea on where to place a shelf in your bathroom! Right under your bathroom sink! It will definitely help you spare some space in your bathroom, which is always a great idea if it's a tiny room. Make sure that the shelf underneath your sink matches the same style of design that your bathroom incorporates. This will make a great place for storing soap, toothbrushes and towels!
6. A Fabulous Look – Decorative Bathroom Shelf Ideas
If you have a tiny bathroom, you will want bathroom wall shelves that fit somewhere which won't take up much space. This is a perfect time to use corners as spaces to fit in shelves. You usually wouldn't use corners for placing any other sort of furniture inside. Make sure that the shelf you place in your corner is a floating shelf, this will make your job easier when cleaning the bathroom. Not to mention, floating shelves also look amazing! Again, you can use it for placing decorative elements on but you can also store hygienic products on it.
7. Remarkable and Round – Round Bathroom Wall Shelves
Maybe you are in search of a way of boosting the overall atmosphere and ambience of your bathroom. A simple solution to do this is by carefully choosing the pieces of furniture yourself. This includes the bathroom wall shelves! If you are opting for a more modern and simplistic design, which exudes a sense of zen, why not try placing round floating shelves on the walls? You can place actual shelves inside the round ring of wood, to make it more practical for storing your items! Round floating bathroom shelves will look amazing!
8. A Rustic Essence – A Feeling of Farmhouse
Are you thinking about embodying a sense of style in your bathroom? Perhaps this is a rustic or a farmhouse ambience you would like to capture! If so, make sure that your bathroom shelves are also created in the same design! Make sure to use wood for the shelves. Then using a brush, you can wash over the shelf with white paint, creating a faint whitewash pattern, for that true rustic look. You can use your shelves as floating cabinets above your sink or toilet to save a bit of space in your bathroom!
9. An Old Washtub – Creative Bathroom Wall Shelves
A lot of people used to have washtubs made out of metal. They would use the washtubs for all sorts of chores to do with laundry. Do you have one of these ancient washtubs laying around the house, being used for absolutely nothing? If so, it's time to reimagine and reinvent its purpose! Place wooden panels inside of it, creating the shelves of it. You will need to attach the washtub to your bathroom wall, before starting to store things on it. This bathroom organizer shelf idea will fit perfectly into a rustic bathroom!
10. Adding Some Hooks – Fantastic Bathroom Shelf Ideas
Are you in search of a truly practical bathroom shelf idea? If so, you have come to the right place. Create a floating shelf for your bathroom, it can contain more than one level, enabling you to store more than just thing on it. Make sure that your bathroom shelves have more than just one function. For example, you can hammer some hook nails into the bottom of it. This will make the perfect place for hanging towels from!
11. Connecting the Shelves – Creative and Easy
Have you thought about creating a set of floating shelves in your bathroom? Instead of attaching each one separately to the wall, you can connect the shelves to each other! Allow them to hang under each other, each shelf connected to the one above. If you love DIY crafts, you will even be able to make this yourself! You can connect the shelves to each other with thick pieces of rope or metal joints. The metal rods or joints will make a more stable choice! You can connect the top shelf to your ceiling, allowing the rest of the shelves to hang from there!
12. Beautiful in Bamboo – Natural Bathroom Shelf Ideas
Are you trying to find a material that will fit right into your natural and simplistic looking bathroom design? Why not opt for bamboo? Bamboo really brings peacefulness to furniture as well as a zen vibe. So why not have your bathroom shelves made out of bamboo? You can have a simple, standing shelf created, which you can place next to your bathroom sink. A bamboo bathroom organizer shelf with more levels will not only look beautiful but will be practical as well!
13. A Modern Design – Mounted on Your Wall
Here is another great shelf design for a bathroom! A wooden panel with four or more shelves attached to it. It's very simple and has a gorgeous modern twist to it. You will have to mount this shelf to one of your bathroom walls.
14. Using Reclaimed Wood – Reimagine an Old Crate
If you like creating DIY projects, you might as well use materials you have laying around at home! After all, recycling old objects is the way to go as it is environmentally friendly! If you have an old wooden crate, use that to create a new bathroom shelf. You will need to saw the crate into a few pieces, before putting it back together to create a shelf. Attach hook nails to it for hanging towels from the shelf!
15. DIY Shelf Project – Bathroom Shelf Design Ideas
Maybe you are the sort of person who loves DIY projects and creating their own furniture. If so, check out the tutorial above on how to create your own floating shelves. Floating shelves are a great way of saving space. So if you have a tiny bathroom, you might consider installing floating shelves.
16. Built-In Shelves – For Your Shower
While we have talked about many shelves, one sort of shelf we have not talked about are built-in ones. These are great for creating inside a shower or next to your bathtub. Built-in shelves will allow you to place shampoo, conditioner and soap inside of them, making them useful for when you are taking a shower!
17. Cute and Easy – For Your Makeup
Sometimes you get ready for work or school in your bathroom. This means you will need a few shelves to store your makeup, hairbrushes, combs and perfume on. You can have very simple shelves creating and attach them to your walls. These shelves will prove very practical for getting ready everyday!
18. Shelves in the Corner – Decorative Bathroom Shelf Ideas
Are you in search of a practical way of placing shelves in your shower? Why not create a set of floating corner shelves in your shower? You can place all sorts of soap, shampoo, conditioner and shower gel on the corner shelves. This way you won't have to store your hygiene products on the floor of your shower.
19. Practical Storage Ideas – Creating a Wall
There are so many amazing ways to create storage space or a shelf in your bathroom. For example, you might be looking for a way to separate your shower cubicle from the rest of the bathroom. If so, why not plant a shelf between the shower and the rest of the bathroom. Place a plastic barrier on the part of the shelf which faces the shower. This way your shelf will never get drenched in shower water!
20. A Handmade Shelf – Made Out of Wood
We have talked about deconstructing old items to create new pieces of furniture out of them. You can take apart an old wooden box, to create a simple shelf for your bathroom! Attach hook nails to the bottom of it, so you can hang up a few towels.
21. A Built-In Cabinet – Fantastic and Practical
Creating a built-in cabinet or shelf is a great and practical way of storing things in your bathroom! Especially, if you have a very small bathroom! A built-in cabinet will ensure that you don't bump into it in the middle of the night when you go to the toilet.
22. Elegant and Refined – A Traditional Bathroom Cabinet
If your bathroom is designed in a more traditional and elegant style, then make sure your bathroom shelf or cabinet matches the ambience. You might opt for a smaller cabinet, that you can place next to a wall.
23. Behind the Mirror –

Decorative Bathroom Shelf Ideas
Do you have a built-in shelf inside your bathroom? Are you also looking for ways to save the most possible space? Then why not consider placing a mirror over your built-in shelf. All you will need to do is open a mirror, like you would a door, and voila! Inside is a shelf full of bathroom necessities. This is a great idea if you want to fit a mirror into your bathroom as well!
24. A Pull-Out Shelf – Extremely Practical
As we mentioned before, a small bathroom means you need to think of creative solutions to minimise the space you use! So, if you are looking for bathroom shelves, why not create pull-out drawers popping out of a wall? Creating a set of pull-out shelves will help in creating more space in your bathroom!
25. Shelf Above the Toilet – Decorative Bathroom Shelf Ideas
Here is yet another creative and unique way of saving space in your bathroom! Place your bathroom shelf above the toilet. You wouldn't use that space for anything else, so creating a bit of storage space is a fantastic idea!
We trust that this pick of 25 bathroom wall shelves has assisted you in finding something amazing! For other ideas, such as bathroom lighting or small bathroom storage ideas, make sure that you visit our website.
Advert