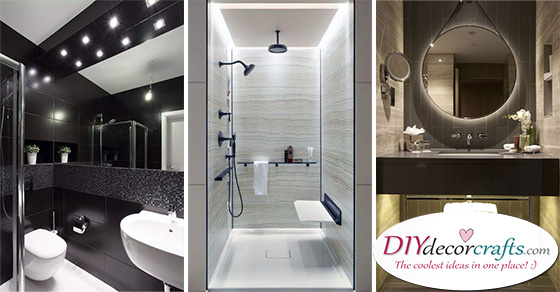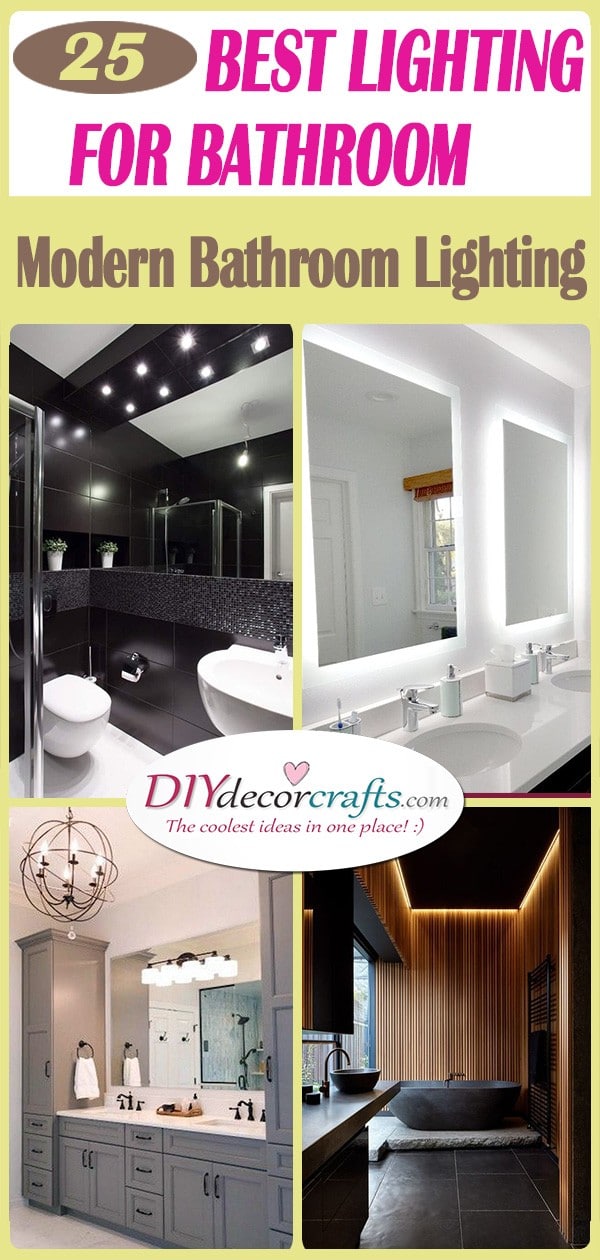 Perhaps you have decided to redesign and remodel your house a little. After all, it can sometimes do you good to spruce up your environment. While there are hundreds of details you need to pay attention to while refurbishing your home, one important thing is the lighting. Lighting helps set the tone and mood of any room. So, depending on what kind of atmosphere you'd like to create in the rooms of your home, you will have to carefully choose the sort of lights you wish to install in them. One room you can't forget about is your bathroom design. Whether these are sconces on the walls or chandeliers in bathrooms, there are so many options! So keeping this in mind, check out our ideas for the best lighting for a bathroom. We have a pick of 25 modern bathroom lighting ideas!
1. Lights from Above – Best Lighting for Bathroom
When you choose your lighting for your bathroom, you will also want to take into consideration, what matches the overall ambience of it. If you have had your bathroom built in a modern and contemporary design, you might decide on installing modern lights. A fabulous idea would be to install some lines of led lights on the ceiling of your bedroom. Led lights are a great sort of lighting to install, as they don't use much energy and are extremely bright! You can arrange them in a square or rectangular shape on the ceiling. This would look amazing in a master bathroom!
2. Creating a Bright Atmosphere – A Chic Style
Do you spend a lot of time in your bathroom in the mornings? After all, a bathroom is the most practical place in the house to get ready for the rest of the day. When you think about this, you will definitely want to have enough lights installed in the bathroom. So when you do your hair or makeup, you will have the perfect bathroom ceiling light fixtures in order to prepare for your day. This means you will want to install an array of lights above the mirror.
3. Shining from the Sides – Beautiful and Refined
When you think about where to install lights in your bathroom, you will think about where it will be most useful and practical. For example, everyone spends time in front of the mirror in the mornings. Whether it's just combing and styling your hair or adjusting your clothes on yourself, you will be sure to spend a few moments making sure that you look your best. How about you install some lights on the side of your mirrors? This will help in illuminating your bathroom in a fabulous manner, not to mention, this is a perfect solution for your everyday mornings.
4. Highlight the Details – Modern Bathroom Lighting
Do you have any built-in bathroom wall shelves in your shower cabinet or next to your bathtub? Built-in shelves or cabinets are an awesome way of saving space and are also super practical. You might decide on adding some lights to these built-in shelves, this way making sure that you find what you are looking for, even if your bathroom is dimly lit. By adding some lights to these, you will also create a stunning ambience in the room!
5. Sophisticated and Stunning – Different Types of Lights
In order to light up your bathroom perfectly, you might decide on choosing all sorts of different lights for it. After all, the more lights there are, the merrier! You can add some lights which come out from the sides of your mirrors. Also, create a trail of led bathroom ceiling lights reaching across the room in a straight line. Naturally, you can feel free to add a different type of light to the room as well. For example, just a large lightbulb hanging from the ceiling of your bathroom will look amazing as well!
6. For Your Mornings – Next to Your Vanity Mirror
As we mentioned before, your bathroom mirror might possibly be the place where you spend a fraction of your time in the mornings. After all, whether you are going to work or school, you will want to look ready for your day. Taking everything into consideration, one of the most important spaces in your bathroom to place lights are right next to your vanity mirror. Fixate a source of light on both sides of the mirror. Thanks to the extra light, you will be sure to be able to get ready for your daily life!
7. Innovative in Industrial – Best Lighting for Your Bathroom
There are so many styles you can choose from when designing your bathroom. For example, you might be in search of something elegant and fancy or something rustic. A style which has really become popular over the past few years is modern industrial. If you like the look of it, you might remodel your bathroom according to this style. This means that you will have to install some sort of industrial lights in the bathroom as well. Use metal pipes popping out of walls, from which lights dangle off for a real industrial vibe.
8. Amazing and Elegant – Brighten Up Your Bathroom
Make sure that you turn your bathroom into a bright and spacious place! While you can achieve this by using pale or bright shades for the basic design of your bathroom, you can't forget about lighting either! As we mentioned before, install some lights on both sides of your mirror. Then, also try to install lights on your shelves and cabinets in your bathroom, especially if they are built into the walls. This will help in illuminating everything in a gorgeous way and make bathroom necessities easier to find thanks to the lights!
9. A Unique Chandelier – Modern Bathroom Lighting
Maybe you are in search of a way to perk up your whole bathroom design. Sometimes all you need is a centrepiece or an ornament that draws attention to itself. You might even achieve this with an interesting sort of lighting, such as a modern chandelier. A stunning example is to use a chandelier put together out of metal rings and lightbulbs, to form the shape of an orb. Hanging this from the ceiling of your bathroom will assist in creating a spectacular look! Chandeliers in bathrooms look amazing!
10. Illuminate the Shower – Led Shower Light
Another important part of your bathroom is no other than your shower. If you feel like this space needs some lighting, then make sure to install some inside of your shower cubicle. You can fixate some led shower lights all around the top of the shower, which will definitely add an intense brightness to your shower. Using led lights is a great way of saving energy, as well as ensuring that the lights will shine brightly in your bathroom. So if you are searching for a way to light up your shower, this is one idea to try!
11. A Light for Everything – Seeing Your Environment
Make sure that you find everything in your bathroom, even if it is dimly lit by the main lights. For example, you might have some floating shelves or built-in shelves on the walls of your bathroom. If this is the case, you probably use them as storage space. They will be perfect for storing all sorts of bathroom essentials on them. Then it's time to light up these spaces, which will make it easier for you to find anything you need on these shelves.
12. Dreamy and Dazzling – Modern Bathroom Lighting
As we talked about before, you may have some built-in shelves right inside of your shower or next to your tub. After all, it's a practical way of organising your storage space, as it doesn't actually take up any room, instead of creating new places for storing your things. It wouldn't hurt to add some lighting to these small shelves. This will actually serve you in a helpful way because you'll be able to find everything really easily. Place led lights all around the built-in shelves, in order to really brighten up these storage spaces.
13. Simple Wall Sconces – Easy and Vintage
Maybe you are trying to find lighting which is more simplistic for your bathroom. An easy type of light you can attach to the walls of the room are sconces. Depending on what sort of style and design your bathroom incorporates, make sure that the sconces match the whole atmosphere. You can choose something completely modern and groovy, but a fabulous idea would be to stick to something more vintage.
14. Lights for Your Cabinets – Best Lighting for Bathroom
Do you have a small space right underneath your bathroom sink which you use as storage? If so, make sure that you add some sort of lighting to this cabinet. The part underneath your sink will probably not get enough sunlight, meaning that you won't be able to see much. Because of this, it might prove to be a logical idea to add some sort of lights to it.
15. Marvellous in Monochrome – An Elegant Design
Is your bathroom designed using monochrome shades? In other words, it only uses black and white, maybe grey for the whole design. If this is the case, make sure that the lighting you install in the bathroom also embodies the same essence as the rest of the bathroom. This might mean you get lights, which are black and white, or black with glass.
16. Led Light Tube – Modern Bathroom Lighting
There are so many ideas on what sort of modern lighting you can add to your bathroom. One of these ideas is to place led tube lights right next to your vanity mirrors, as well as in between them. This will help in really creating enough light in front of the mirrors. Not to mention, the led tube lights will look funky and groovy!
17. Small and Scattered – A Chill Ambience
If you'd like to achieve a dim and dreamy setting in your bathroom, then you don't have to use many lights. Maybe try installing smaller lights, which are scattered around in the room. For a friendly and inviting ambience, make sure that the lights are tinted with a little yellow, for a warmer colour.
18. Serene and Harmonious – Bathroom Ceiling Light Fixtures
Create a serene and harmonious atmosphere in your bathroom, especially around your bathtub. How can you accomplish this easily? By installing warm lights right above your tub on the ceiling, which will create a welcoming yet dim light. Thanks to the lights and a tub of hot water, you will be able to relax and let go of any stress.
19. A Beacon of Light – Creative and Unique
Why not install a light in your bathroom, which resembles a long tube? You can place it next to the entry of your bathroom, sort of lighting the way. We have already talked about using led light tubes, as they will help in illuminating everything brightly. So consider installing a beacon of light in your bathroom.
20. Illuminate the Mirror – Best Lighting for Bathroom
Here is another idea on how to add lighting to your vanity mirror. Create a row of lightbulbs, all fixated to the same piece of wood or metal, which is placed right above your mirror. All you will need to do is turn them on for fantastic lighting!
21. Easy with Led – Modern Bathroom Lighting
When you are searching for lighting for your bathroom, you will want the lights to shine brightly so you can see everything clearly in the room. Especially if you don't have any windows! Using led lights will give you that intensity you might be looking for.
22. A Sky Full of Stars – Exquisite and Magical
Transform your bathroom into a space of relaxation. Create a star full of stars right above your bathtub. This means adding small and bright led bathroom ceiling lights to the room. When you take a bath, you will be able to look up to your ceiling and see small sparkling stars covering it.
23. Interesting Lights – For a Stunning Shower
Perhaps you have a shower cubicle, which has been designing in an interesting manner. For example, there are patterns running on the walls of the shower. If this is the case, make sure that you install some lights in your shower, to really bring the patterns of the walls alive!
24. Under the Bath – Best Lighting for Bathroom
Another part of your bathroom that you can light up is the part underneath your bathtub. This is perfect for nights, if you want to take a bath with the lights turned off, but don't want to be in the complete dark. You can install led lights in the space right at the bottom of your tub and you can choose what colour of led lights you'd like!
25. Wonderful Mirror Lights – A Gorgeous Glow
We have discussed using mirror lights quite a bit by now. After all, it is one of the most practical and logical ways of adding lighting to your bathroom, since you spend time here getting ready in the mornings or before you go out!
We hope that this pick of modern bathroom lighting ideas has inspired you! If you are in need of other home and garden ideas, besides the best lighting for bathrooms, such as bathroom storage ideas for small spaces or master bathroom ideas, go to our website!
Advert