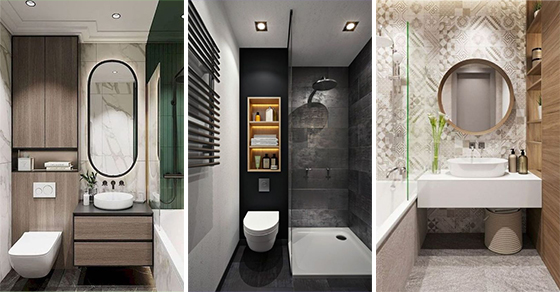 Having an amazing bathroom is something everyone dreams of. Bathrooms are a place where you can rest a bit after a long day at work. All you need to do is climb into your bathtub or shower. Then simply allow the warm water to wash your worries away. Even if you have a small bathroom, you can still bring out the best of it. When having a smaller bathroom, you will want to think about how to place the appliances in the room to create more space. Or you might be pondering about what sort of colours and decorations you can use to make your bathroom a happier space. We have collected 25 small bathroom design ideas to help you out in finding something great! So take a look through our very small bathroom ideas.
1. Fitting Everything In – Small Bathroom Design Ideas
When you have a small bathroom, it's important to try fitting everything inside. If you insist on placing a bathtub in your bathroom design as well, you will have to make room for the sink and toilet. Even if you can't manage to fit the sink and toilet next to each other, you can place them on opposite sides of the bathtub. This will help create space for someone to walk freely between them. If you are planning to use the tub as a shower as well, then make sure to get some curtains or wall to surround the tub. This way the water won't spray out onto the sides.
2. A Minimalist Style – Clean and Chic
Perhaps you are in search of a certain style, which will help your small bathroom look somewhat bigger than it actually is. If so, we recommend trying out something minimalist, using mainly a set of monochrome colours. Using only white, black and grey will give your bathroom a clean sense of style and keep it simple. At the same time, using simple furniture without any flamboyant decorations will help in creating a spacier look in your small bathroom.
3. An Incredible Design – Modern and Elegant
No matter how small your bathroom is, you will want it to look beautiful and stylish! Taking that into consideration, make sure that you use the same style of furniture and decor when designing your bathroom. If you would like to achieve an elegant and modern style, try using white for the walls and tiles of the bathroom. Combine this with an array of bulky and contemporary objects. You can add a few floating shelves to one of your walls. Instead of using these as a practical storage space, add decorations to them giving your small bathroom an amazing vibe.
4. Sophisticated in Marble – Very Small Bathroom Ideas
Just because your bathroom is small, does not mean you can't create an elegant and sophisticated room out of it. A lot depends on the materials you use in your bathroom. If you are truly going for an elegant look, then make sure to use marble for the walls. Naturally, you can opt for a cheaper version of marble, which is plastic, tiles or wood, painted to look like it. Combine the marble walls with a sink created out of wooden accents. If you are thinking about placing a cabinet in the bathroom as well, then make sure it is made out of wood.
5. A Bohemian Touch – Funky and Happy
Creating one wall in your bathroom in a different way can make it look like a vibrant and happy place to be inside. So no matter how small your bathroom is, you can add a bohemian essence to it for a funky and amazing look. Using either actual patterned tiles to line one of the bathroom walls completely. If you are in search of a cheaper option, you can buy patterned tile stickers, which are designed to look like these stunning tiles. All you need to do is stick them on the wall of your choice.
6. Modern and Minimalistic – A Sense of Style
Now, here is another small bathroom, which proves that just because it is small, does not mean anything! You can still bring your awesome sense of style into the bathroom. If you are going for a minimal style, then use a combination of black and white to create a chic bathroom. Naturally, feel free to add a bit of colour to your bathroom, by adding a few potplants. The greenery of the potplants will breathe a bit of life into the bathroom.
7. Gorgeous and Creative – Small Bathroom Design Ideas
Having a small bathroom only means you will have to use the given space more wisely.  But it doesn't mean that you can't put your own twist and style into it! If you are thinking about how to create an illusion of more space in your bathroom, then make sure to use a lot of white. Use white for the ceiling of the bathroom, and make sure that most or all of the furniture is white as well. Of course, you can combine this with a different colour, to bring out a different effect.
8. Green Tiles – With a Wooden Floor
Maybe you adore natural colours, the sort of colours you can find outside in nature! If so, why not try out a combination of green with wood in your bathroom? Give green tiles a try on one of the walls and use wood for the floor of the bathroom. Paint the rest of the walls white, giving your bathroom a spacier look. Using the mixture of these three colour will result in a simple bathroom, which has a natural elegance to it.
9. Dark and Refined – Squeezing Everything In
Are you thinking about creating a cave-like environment in your bathroom? It will definitely provide a cosy atmosphere. If so, use darker colours for the flooring and the walls of the bathroom, as well as the items of furniture. If you truly don't have much space in the bathroom, leave out the bathtub and add a shower instead! As for storage, why not place a floating bathroom wall shelf or cabinet above your toilet, where you can store towels and shampoo.
10. White and Grey – Small Bathroom Designs
An easy way to create more space in your small bathroom is by using a lot of white in your bathroom. Find a truly unique way of using white in your bathroom, for example, line it with tiles! Add white tiles to the ground and to the walls of the room as well. Line the side of the bathtub with the same white tiles as well! White is a colour which will help make your small bathroom look a lot bigger than it actually is.
11. A Built-In Shelf – Creating Storage Space
When you have a small bathroom, you will be constantly looking for ways of finding or creating space for storage. A few easy and simple ideas may include adding floating shelves or floating cabinets. But another amazing idea on how to create some storage space is to make a built-in shelf in the bathroom. This will give you enough space to store any necessities inside, which may include toilet paper, towels, hygiene products or just decoration items. A built-in shelf will also make your job easier getting around the bathroom. For example, this way you won't have to worry bumping into a shelf or stubbing your toe into it when walking around.
12. An Attic Bathroom – Small Bathroom Ideas
Do you live in an apartment which was created out of an old attic? If so, the walls on one of the sides of your bathroom might be leaning in. That's completely okay though! You can place your toilet, sink and shower or bathtub on the side where the wall leans in. This way, when you are standing in the bathroom, you won't need to bend your head or knees to fit in the room.
13. Small yet Stunning – Arranging Your Bathroom
Here is yet another stunning design for very small bathroom ideas! Line the toilet and the sink on one side of the bathroom, leaving the bathtub or shower to stand at the very end of the room. This will ensure you have enough space to walk through your bathroom. To save even more space, you can create a built-in shelf inside your shower on one of the walls. You can place shampoo and soap in this built-in shelf. Use the same sort of patterned and coloured tiles for the built-in shelf as the ones you use for the floor.
14. Sleek and Modern – A New Interpretation
Just because your bathroom might be small, does not mean you should opt for a plain and boring design! Using modern furniture and a simple combination of colours will create a contemporary harmony inside your bathroom. The bathroom lighting will also be a crucial part of it! Of course, this all depends on what sort of style you prefer when it comes to home design and home decor.
15. Beautiful in White – Small Bathroom Design Ideas
As we have mentioned before, using white in your small bathroom will help it make it a lot bigger and more spacious, than it actually is. You can use the colour white for everything in your bathroom! Use it for the tiles, the floor, the walls and the ceiling! Also, make sure to use it for the furniture you place in the bathroom as well. And last but not least, the decor you place inside the bathroom should also be white!
16. Blue and White – Gorgeous and Stylish
Here is another beautiful colour combination for designing and decorating your small bathroom. Use a mixture of navy blue and white to create sheer elegance in your bathroom. You might also consider using elements of marble as well to bring an even more sophisticated vibe to your bathroom. Just check out the design above as a perfect example of this!
17. Adding a Bit of Decor – In a Stunning Way
Make sure you spruce up your bathroom with a few decorative elements! This will give your bathroom a unique atmosphere, instead of making it just another room. Use interesting patterned tiles for the floor, giving your bathroom an oriental vibe. You might decide on hanging ornaments from the ceiling, which also fit into the ambience of the bathroom.
18. Shower Time – Fabulous Very Small Bathroom Ideas
If you truly have a tiny bathroom, then the best way to minimise your spatial needs is by adding a shower to your bathroom instead of a bathtub. If you decide on adding a shower to your bathroom, make sure it matches the rest of the design.
19. Between the Walls – A Perfect Fit
Is your bathroom a narrow room? And are you certain that you want to add a bathtub to this room? Then get a tub that fits from wall to wall. A perfect fit will make it possible to incorporate a tub into your bathroom!
20. An Amazing Ambience – Small Bathroom Designs
We have talked about the fact that if you have a small bathroom, does not mean it has to be a boring space. Make sure you bring your own sense of style into your small bathroom remodel ideas! This might mean creating a unique atmosphere by mixing more than one style with others. For example, using wooden panels to cover one wall, using interesting patterned tiles for the floor and blue bricks on another wall. Creating an eclectic bathroom might just be your natural sense of style!
21. A Shade of Dark Green – Unique and Original
Perhaps you are trying to create an original and unique space out of your small bathroom. If so, why not experiment with a darker shade of green? Combine it with white for a spectacular effect!
22. White Over White – Very Small Bathroom Ideas
As we have mentioned before, using only white will help in making your small bathroom look bigger than it actually is. Try using tiles to cover the floor and the walls of your bathroom. This is one of many great small bathroom design ideas!
23. A Jungle Ambience – Wallpaper Ideas
Another awesome way to decorate your bathroom in a unique way is by adding wallpaper to the walls. Why not try out an exotic or natural-looking wallpaper, such as big palm leaves and ferns? Your bathroom will feel as if you step into a jungle every time you enter!
24. Subway Tile Bathroom – Simple and Modern
Using tiles on the walls of your very small bathroom ideas is a fantastic idea! Especially if you want your bathroom to exude subway vibes! Depending on your style when it comes to home design and decor, make sure that the tiles match the rest of the bathroom's atmosphere!
25. Brilliant in Black – Small Bathroom Design Ideas
Maybe you are going for a truly elegant design for your small bathroom remodel ideas. If so, why not use black as the dominant colour for it? It will give the whole room a sleek and chic look. We guarantee that it will transform your bathroom into a statement of modern elegance.
We trust that these small bathroom design ideas have given you some inspiration. For other bathroom ideas, besides very small bathroom ideas, such as bathroom design ideas or bathroom lighting ideas, visit our website!
Advert