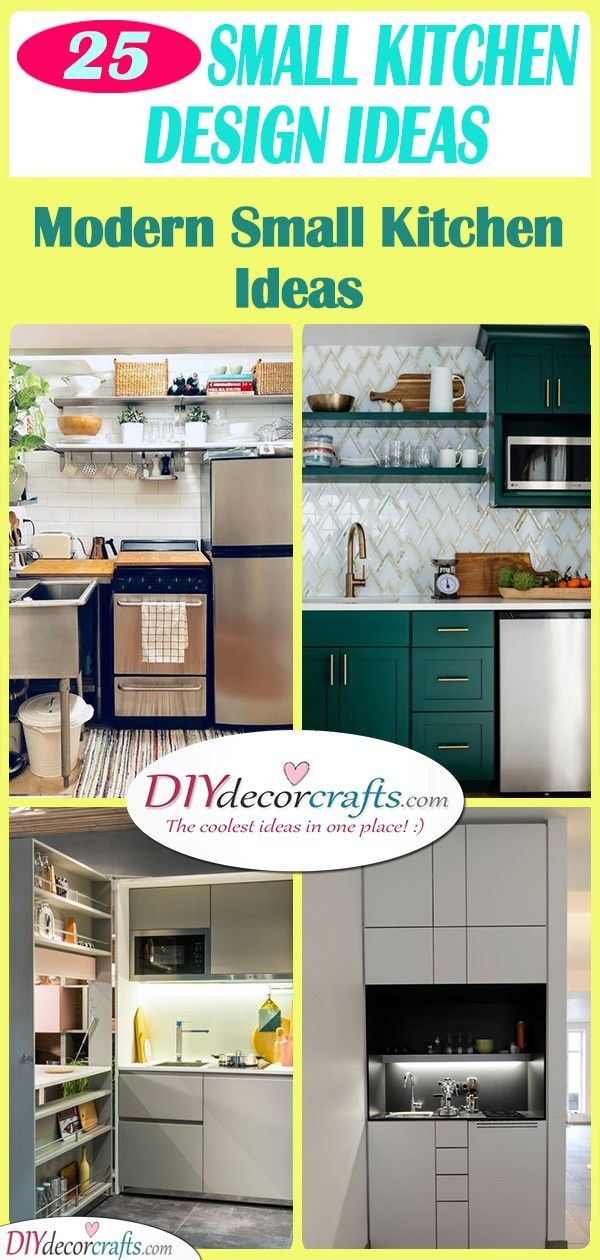 Have you ever come to the conclusion that kitchens are one of the most important rooms in any house? These are the rooms in which you can prepare lovely food and sometimes become the places where you spend most of your time after work. But it's not only a place for cooking, but it's also the heart of your home. The place you gather with the family for morning coffees or late suppers. Since you spend quite a bit of time in this room, you will want it to be cosy or have a nice atmosphere. This depends on your tastes. Even if you have a smaller kitchen, a kitchenette, it is important to give it a homely vibe as well as providing enough space in the room. We have collected 25 small kitchen design ideas! So make sure to browse through these modern small kitchen ideas!
1. Full of Everything – Small Kitchen Design Ideas
A kitchenette is perfect for anyone who has a tiny kitchen. It's the best way of saving space in your kitchen. Have larger openable doors, which have shelves on them. A larger kitchenette will mean you will be able to find space for everything. You can even have a small sink created on the tabletop of your kitchenette, using this small space as an entire kitchen!
2. Modern and Contemporary – Amazing Kitchenette Ideas
Perhaps you are more into contemporary designs when it comes to home decor. If so, make sure your kitchenette is also created in the same design. Try using a combination of only two colours to keep the design simple. A great colour choice is white and black. Get modern kitchen cabinets created for the bottom of your kitchenette as well as the top. This will give you a lot more space for storing any staple ingredients or just kitchen basics, such as cutlery or plates. For the perfect kitchenette, make sure to include a sink and a stovetop on the counters of it.
3. A Kitchen Underneath the Stairs – Unique and Creative
Here is a super creative idea for anyone who doesn't have much space, but would love to include a small modern kitchen or kitchenette in their house. If you have a staircase running up to the second floor of your house and have a space underneath your stairs, which you don't use for anything in particular, why not create a small kitchenette there. It doesn't even have to be a full kitchen, you can create a bar out of it. So whenever you are entertaining guests, this will be the place where you can mix drinks!
4. A Kitchen in a Corner – Saving Space
You might be in search of a stylish kitchenette, which you can incorporate into your living room, as well as including a small dining space. A great way of saving space is by placing your small kitchen in the corner of your room. Place kitchen cabinets on the walls and kitchen counters underneath them. One of the kitchen counters might come out at the side, creating a small table. If you pop two stools underneath it, you already have a dining spot!
5. Refined and Old-fashioned – Modern Small Kitchen Ideas
Perhaps you have a very tiny room in which you are planning to create your kitchen. If so, make sure you use all the space given to you. The counters and cabinets should stretch from one wall to the next, leaving no gaps in between them. Then also make sure to place a table on the side of one wall, to create a small dining space, as well as a kitchen island with seating. This way you can eat inside your kitchen or drink your morning coffees during the mornings or at nights.
6. Right in the Corner – Small Kitchen Design Ideas
For a truly small modern kitchen, you might think about placing your kitchenette in one of the corners of the room. It's an easy way of saving space and creating room in the rest of the kitchen. You can have a sink installed on this countertop as well as a stove and an oven. If you will be placing cabinets on the walls, make sure you will be able to fit everything inside of them. Depending on what sort of style you like when it comes to furniture, think about whether you want a modern or an old-fashioned kitchenette. Make sure it matches the rest of the room.
7. A Stylish Design – Add a Few Floating Shelves
An awesome addition you can to your small kitchen are floating shelves. Floating shelves are very practical and useful elements in any sort of room. They allow you to store things in an open space, meaning if you need to grab some spices, you won't have to open any cabinet doors, making your job easier while cooking. Floating shelves are also a great way of adding a bit of decor to your kitchen. You can place some ornaments on them. But you can just use them to store basic kitchen items, such as plates and cups.
8. Different and Elegant – Modern Small Kitchen Ideas
Just because your kitchen is small, does not mean it can't be stylish! Check out the example above to see an artistic and modern design for a tiny kitchen. Using unique colours and simple shapes, this kitchen transforms itself into a room that means so much more. These modern small kitchen ideas show that you can use one colour for the whole kitchen. Not only are the cabinets dusty pink, but so is the ceiling, the walls and the floor of the kitchen.
9. A Homely Vibe – Gorgeous Kitchenette Ideas
Here is another beautiful design for any small kitchens. If you are planning to install an oven in your kitchen, you will want a kitchen hood as well. This helps extract any unwanted fumes from your kitchen. Make sure you use up all the space on the walls next to the kitchen hood. Line the walls with floating shelves, creating a newer space for you to store any sorts of items you need. Naturally, you can use the floating shelves for decorative elements!
10. Squeeze Everything In – Keeping it Simple
Another awesome way of organising your kitchen if you don't have much space is this idea. Make sure to squeeze in a smaller fridge, an oven and a sink into your kitchen. One counter will be enough for you to work on. Again, this is the sort of kitchen where it is important to work with the space on the walls. You might consider placing cabinets on the walls or floating shelves. A great way of storing mugs on floating shelves is by hammering hook nails onto the shelves and hanging the mugs from them.
11. A Brilliant Idea – Fitting into a Small Kitchen
Check out this tiny kitchenette! It is small in size, but still has all the necessary functions a larger kitchen may have. It has a sink, a stove and a microwave. As well as having plenty of cabinets for you to be able to store anything you need inside of them. If you are planning to create a small kitchen, then try sticking to a more modern or simple design when it comes to furniture. It will give your kitchen a more sleek look, as well as making it look more spacious than it actually is.
12. Trying a Unique Colour – Funky and Vibrant
Of course, you should feel free to try out a unique colour for your kitchen, even if it is tiny! Use the same colour of furniture for your kitchen counters, cabinets and floating shelves. This is really up to you, your style and your creativity. Adding a bit of colour to your kitchen means you might breathe a bit of life into it. If you live alone or share your house with one other person, you might consider getting a minifridge for your kitchen. Minifridges are just another great way of saving space.
13. Creative and Cosy – Modern Small Kitchen Ideas
Do you have a basement that you have been thinking of refurbishing and using as a room for parties? If so, you might be considering placing a kitchenette inside of it. This will means you won't have to run up to your kitchen every 10 minutes or so to refill someone's cup. It will be a lot easier to entertain your guests this way. Or if you have a friend sleeping over, they will be able to cook breakfast for themselves.
14. A Rustic Essence – Like a Cabin in the Woods
If you like the atmosphere of a log cabin, why not recreate this vibe in your small kitchen? Use wooden panels to cover the wall of the kitchen. This might be the sort of kitchen which is part of the living room as well, so make sure the kitchen design matches the living room's style.
15. Stunning and Friendly – Small Kitchen Design Ideas
Create a stunning kitchen using only three dominant colours. White, black and natural wood will give your kitchen a sense of style. Using white cabinets and furniture as well as wood will create a more spacious look in your kitchen, so even if it is tiny, it will look bigger this way. The black will add a chic elegance to it.
16. A Coffee Bar – A Unique Kitchenette Idea
You can use a kitchenette for virtually whatever you would like! For example, if you are a coffee lover, you can create a kitchenette especially for making coffee. This is a perfect idea if you entertain a lot of guests, inviting them over for a cup of coffee or tea. This kitchenette doesn't necessarily have to be in the kitchen either!
17. A Great Way to Organise – Modern Small Kitchen Ideas
When designing your small kitchen, make sure you are making your own job easier. So it would only make sense to organise your kitchen cabinets is a simple and practical manner. You can create a lot of drawers and shelves in your kitchen cabinets, and organising everything in a logical way, making it easier for you to find later on.
18. A Divider Shelf – Separate Your Two Rooms Easily
If your kitchen and living room are connected, why not create your own room divider? It might even prove to be more useful than you think. Use a shelf as the room divider, which will be practical in many ways! If you have a small kitchen, you can store some items on this shelf.
19. Fabulous in Wood – Small Kitchen Design Ideas
Perhaps you have a lot of wooden elements in your house. If you are designing a kitchenette or a small kitchen, which wasn't divided from your other rooms, make sure it incorporates wood as well! Just check out the example above for an idea!
20. Add a Kitchen Island – Easy and Practical
Another great idea for a small kitchen is to use an island in the middle of the room. You can use a kitchen island as a counter, not to mention, you can also use it for storing items inside of it.
21. Trendy and Simple – Modern Small Kitchen Ideas
Make sure your kitchen is super trendy, even if it is small! Use floating shelves instead of cabinets on the walls of the kitchen. This will make it look like a more open environment, creating a more spacious effect.
22. A Natural Ambience – Using Wood as the Main Material
Perhaps you are the sort of person who loves the natural look of wood. If so, make sure to use a lot of it when designing your kitchen!  Use the same sort of wood and the same cabinets for the whole kitchen.
23. A Right Fit – Elegant and Sophisticated
Here is a small kitchen layout with a more sophisticated design. You don't need to go overboard with fanciness, you can opt for a more simple design! Simplicity will take elegance to the next level.
24. A Fabulous Look – Small Kitchen Design Ideas
Try out a simple kitchenette, which includes everything even if it's small. For example, if you want to install a stove, you don't necessarily need 4 stovetops, 2 will suffice as well!
25. Darker Wood – Beautiful and Refined
Another beautiful option is to try out a deeper shade of wood. A kitchenette's furniture in dark brown will look fantastic, especially if you paint the walls white.
For other home decor ideas besides small kitchen design ideas, such as kitchenettes or small kitchen islands or modern kitchen cabinets, just visit our website.
Advert