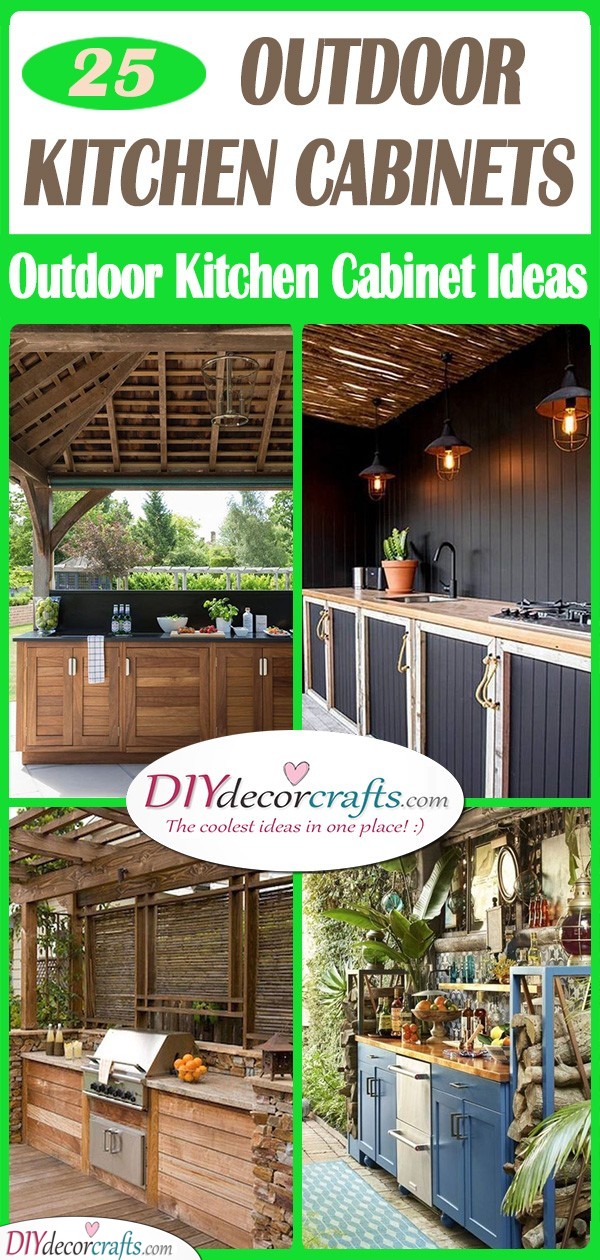 Cooking and baking are definitely two very beneficial hobbies. While you might love cooking a meal in your kitchen or home, have you ever thought about cooking one in the garden? It's a great way of inviting guests over during a long summer day, sizzling some meat, preparing a salad and grilling corn on the cob. Perhaps you already have a barbeque in your garden but haven't been able to build a kitchen around it. If not, you will want to try finding the best sorts of outdoor kitchen cabinets for your outdoor kitchen! That's exactly why we have collected 25 outdoor kitchen cabinet ideas, to give you a few ideas on what sort of style you can incorporate in your newfound kitchen. 
1. A Rustic Essence – Outdoor Kitchen Cabinet Ideas
Perhaps you are the sort of person who loves entertaining your guests in the garden. After all, there is nothing lovelier than a bit of time spent together with friends and family in a sunny backyard filled with life and joy. If you already have a barbeque or grill in the backyard, then it's time to build a kitchen around it as well. This means you will need a layout of kitchen cabinets as well. Outdoor kitchen storage cabinets are extremely useful during garden parties or barbeques, as they prevent you from running into the house every time you might need something.
2. One with Nature – Perfect for a Family Gathering
What is your concept of an ideal outdoor kitchen? Perhaps it is combining the essence of your garden with the kitchen itself. If so, then make sure to check out this fabulous idea of an outdoor kitchen cabinet. Instead of using closed cabinets, use open ones, which are put together of wooden boards. You can have a few shelves created for storing any sorts of pots and pans under the sink or cutlery. Another great idea is to have a few herbs growing out of any small pots, which will be a great idea when cooking or baking, as you will be able to season your foods with fresh herbs!
3. A Low Budget Idea – Easy and Simple
If you don't have much money to spare for your outdoor kitchen storage cabinets, then take a look at this awesome idea! It's a cheap and easy solution to create, which means if you like working with your hands, you might even want to put it together! Using wooden pallets or board, create a wall acting as the base of your kitchen cabinets. You can hammer wooden boxes onto the wall, which you can use as cabinets. For storing any sorts of kitchen utensils, you can just hammer a nail or two into this wall and hang them up.
4. Time for a Barbeque – Simple Outdoor Kitchen Cabinets
Maybe you are the sort of person who feels at home when they are in nature, which means you like to spend as much time in your garden as possible. Whether it's a spring celebration, a summer afternoon or a crisp autumn night, it always feels good to have guests around. And if you have guests, you might as well cook something for them in the garden! Create an easy outdoor kitchen cabinet, to make it easier for you while you cook. You can make a simple sort of table which has two levels for storing items on them. Another great idea is incorporating an outdoor grill into this table cabinet as well!
5. Adding Your Own Style – Unique Decoration
Perhaps you have decided on creating your own outdoor kitchen cabinets. If so, make sure you put your own twist on them, which shows off your personality or style. You might consider laying tiles down onto the top of your kitchen cabinets, which will add a stunning decorative element to them. By placing some tiles over your cabinets, you will add an artistic vibe to your outdoor kitchen as well!
6. Creative with Pallets – Transform Old Pallets into Cabinets
Do you have any old, wooden pallets laying around the house or your shed? Maybe you had to take apart some sort of furniture but decided against throwing away the wood. If so, the time has come to reimagine these unused wooden pallets and create something brand new out of them! For example, use them as outdoor kitchen cabinet materials! You can create spaces for any sorts of spices you regularly use, as well as shelves for any plates which might need storing.
7. Cabinets and a Bar – Outdoor Kitchen Cabinet Ideas
When you think about creating a whole layout of an outdoor kitchen, you might as well incorporate as many things into it as you'd like! For example, if you know you will be hosting numerous garden parties and barbeques, you might think about adding an outdoor bar to your kitchen. Have your outdoor kitchen created in a horseshoe shape with elongated tabletops on the cabinets. You will be able to use these tabletops as a bar table as well, placing barstools underneath them. This will make your outdoor kitchen cabinets a perfect place for a few drinks!
8. Gorgeous in Stone – Outdoor Kitchen Cabinets
Are you in search of a more rustic outdoor kitchen cabinet layout? Well, why don't you give stones a try? Building out of stone is a great idea, especially if you decide on incorporating a fireplace and a grill into your kitchen cabinet. Stone is easy to clean and also easy to take care of! You can use thin slices of stone to place on the kitchen cabinets if you don't want to build them entirely out of larger blocks. So, use this as inspiration for your outdoor kitchen cabinet materials!
9. Black and Chic – A Refined Look
Maybe you are looking for a kitchen layout which is all about elegance and sophistication. If so, why not try opting for a black set of outdoor kitchen cabinets? It will definitely add a layer of refinement to your whole backyard or garden. You can use old wooden pallets to create your outdoor cabinets out of, then paint over them with black lacquer. 
10. An Earthy and Natural Vibe – Go for Wood
Are you the sort of person who loves an earthy and bohemian ambience when it comes to garden and home decor? Then make sure to use a lot of wooden elements when you start creating your unique outdoor kitchen cabinets. You can use a whole heap of wooden boards and pallets to create this. Another great and practical thing you can add to your outdoor kitchen is some floating shelves. You will be able to place some pots of herbs on the shelves, which you can chop up to use as fresh ingredients in your cooking! Feel free to add a mini home bar to your outdoor kitchen cabinet!
11. A Combination of Styles – Outdoor Kitchen Cabinet Ideas
You might have found a few unique and creative designs on what sort of outdoor kitchen to create and on what sort of cabinets to use. Maybe you like all the designs and can't decide on one. If so, why not try out a combination of all sorts of kitchen cabinet designs? Use simpler wooden pallets for covering the cabinets and try out using a mixture of rocks and stones for the sides. You can use bamboo for creating a barrier between your outdoor kitchen and the rest of the garden.
12. A Barn Atmosphere – Corrugated Tin Ideas
Corrugated tin was used a lot for making all sorts of things, for example, a lot of sheds were made out of this material. If you had a shed that was made out of corrugated tin sheets and it was recently taken down, make sure to recycle the materials! Corrugated tin would look fabulous for creating an outdoor kitchen. Combine it with panels of wood for a fantastic look. You might also think about creating a roof using these same materials above the kitchen. This way, if you will be outside cooking during summer you won't get a sunburn!
13. Bohemian and Exotic – A Kitchen Filled with Life
Here is a beautiful outdoor kitchen cabinet design for anyone who is into the bohemian and exotic decor. Besides filled your outdoor kitchen with a variety of all sorts of plants growing in all sorts of directions. Also try painting your cabinets in a funky or fun colour, which isn't plain and boring.
14. Simple and Small – A Mobile Kitchen
If you are searching for something more on the simpler side, why not try out a mobile outdoor kitchen? This means you can move it whenever you want or whenever you need to. For example, if you know that there is going to be really bad weather outside, all you will need to do is simply push it into the house or basement. It's a very practical outdoor kitchen idea!
15. Gorgeous in Marble – Outdoor Kitchen Cabinet Materials
Are you in search of a sophisticated and elegant outdoor kitchen? If so, you will have to try finding cabinets which exude this sort of ambience. Why not try out a marble cabinet? We're not suggesting that you get a whole block of marble and have cabinets carved out from them, but you can have your wooden cabinets lined with a marble design! You can also include a kitchen island with seating in your garden!
16. A Full Kitchen – Wood and Metal
Here is another way of creating a gorgeous outdoor kitchen space! If you are thinking of creating a whole kitchen in your garden, use a combination of wood cabinets, each one should be created with the same colour wood. Combine this with the sleek-looking metal appliances you will place in your outdoor kitchen. You might be thinking of adding a dishwasher, a sink or a mini-fridge, beside the stove or grill you shall install.
17. Building Your Own Cabinets – Awesome DIY Ideas
Are you planning on creating your own outdoor kitchen cabinets and your own DIY garden furniture? Then you might be searching for designs on how to make one. Luckily, there are dozens of tutorials online which give you an accurate description of what building one is like. While creating your cabinets, make sure you leave a big enough space for your stove or grill machine so it fits in.
18. A Dream Come True – Pallet Kitchens
Here is yet another beautiful idea on what sort of materials to use in order to create your dream outdoor kitchen. We have talked about using wooden pallets before, but we cannot stress how fabulous they make a kitchen look! Not to mention, using wooden pallets is a relatively cheap building material.
19. Building with Bricks – Stable and Practical
Another great option for building an outdoor kitchen cabinet layout is using bricks! It will give your outdoor a very rustic look, not to mention it will give your whole kitchen stability and wholesomeness. It's also a great material to use if you have a built-in grill or fireplace.
20. A Portable Kitchen – Outdoor Kitchen Cabinet Ideas
If you don't want an outdoor kitchen which isn't all that fancy, why not make one yourself, using simple materials to build it? You can even create it to be portable, meaning you can move it around whenever you need to!
21. A Traditional Setting – Ready for Guests
Turn your outdoor kitchen into a piece of art! If you love old-fashioned or traditional designs, why not have your whole outdoor kitchen, including the cabinets, built out of cement? Have this all washed down with white paint and cover parts of them in a variety of stones.
22. Modern and Contemporary – Outdoor Kitchen Cabinets
Are you more into a modern style of furniture and decor? Then why not opt for a contemporary design when it comes to your outdoor kitchen cabinets? Using a set of modern furniture will give your outdoor kitchen a chic vibe.
23. Keeping it Super Simple – Outdoor Kitchen Cabinet Ideas
We have talked about getting yourself a portable kitchen cabinet. It makes things a lot easier! Especially if there is a snowstorm or hailstorm outside. With a portable kitchen cabinet, you won't have to worry about it being trashed. Keep your cabinet simple, with a few shelves inside, having enough space for everything!
24. Protecting Your Cabinets – A Great Innovation
You will want to protect your outdoor kitchen, as well as its cabinets, against any extreme weather conditions. This might mean placing a roof over your outdoor kitchen or even getting some sort of door that you can close whenever the weather is raging outside.
25. Create It Yourself – Amazing Outdoor Kitchen Cabinet Ideas
Here is another fantastic idea for an outdoor kitchen cabinet, especially if you are making them yourself. You don't need it to be fancy or gorgeous, it should just be practical! Cabinets will make a great place for storing all sorts of things you need for outside cooking, so make sure they will be large enough for your needs.
So if you have checked out our collection of 25 outdoor kitchen cabinets, make sure to check out our other ideas. So besides outdoor kitchen cabinet ideas, we also have garden bar ideas and modern kitchen cabinets.
Advert