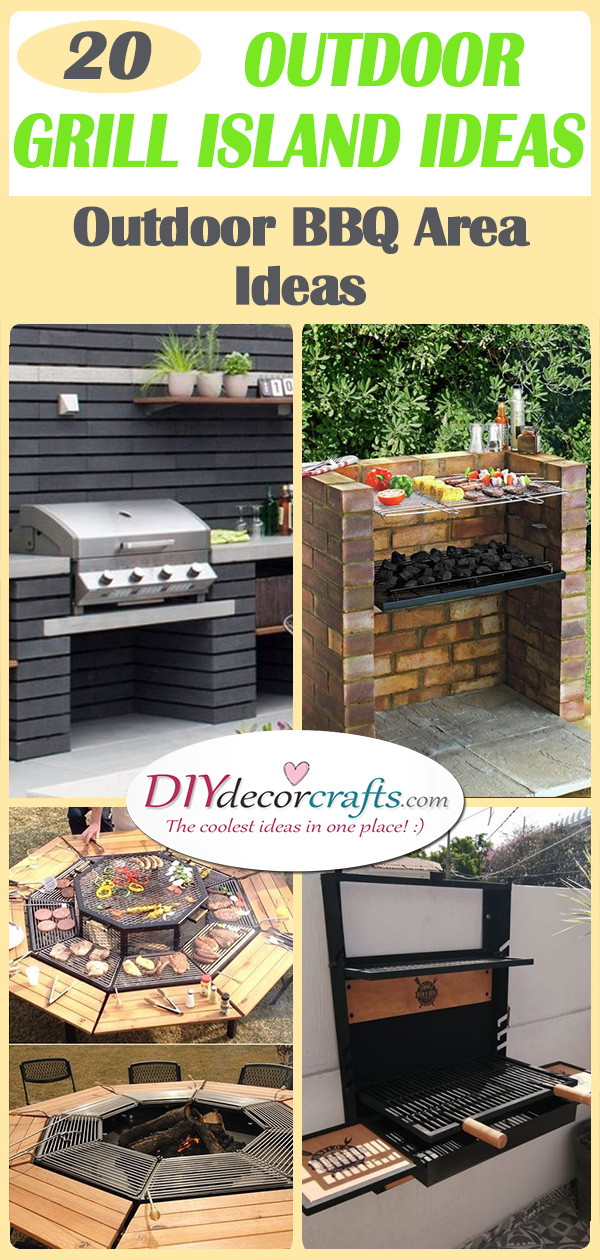 Are you the sort of person who loves to host all sorts of garden parties? When the weather is good, it's a great feeling to bask in the sunshine of your garden and enjoy a delicious lunch or a drink. Perhaps you love to grill food and have been considering building a grill stand in your backyard. After all, this will be a great way of entertaining guests, not to mention, it will be a great way to spend afternoons with your family. So, taking this into consideration, you might decide to construct a grill! There are all sorts of types of outdoor grill island ideas. For garden inspiration, check out our pick of 20 different types of outdoor bbq area ideas.
1. A Modern Design – Outdoor Grill Island Ideas
There is a whole variety of different types of grills you can install in your garden. You might be in search of something more conventional but maybe you'd like something more on the modern side of design. Well, check out this barbeque design, which consists of two main parts. One part is the grill sheet itself on which you will be able to cook the food. The part underneath can be a glass construction, in which you can burn logs and wood in order to heat the grill. This is a great alternative to using an electric grill!
2. Build a Whole Kitchen – Perfect for Garden Parties
If you are planning on throwing some garden parties when spring or summer arrives, then make sure you have a perfect place to grill in your garden! While you may be considering installing a grill, why not have a whole kitchen created around it? Thanks to an outdoor kitchen, you won't have to run inside your home constantly to bring things outside. Instead, you'll have a well-supplied kitchen in your backyard. A kitchen and a grill such as this will make it easier to host your garden parties while being around your guests at the same time!
3. In the Middle of the Table – Practical and Handy
How about you make grilling a dinner activity which you and your friends and family can do together? And instead of having to stand up from the table, all you will have to do is reach into the middle. This is where the grill will be built and there will be a table constructed around it. This is definitely a practical idea! You can talk about all sorts of things while waiting for your food to grill!
4. Wonderful in Wood – Outdoor BBQ Area Ideas
Depending on what sort of style you would like to embody, not only in your home but in your garden, make sure that your outdoor grill fits right in! For example, if you have a lot of garden furniture which are built out of wood, you might channel this wood into other elements of your garden. This includes created your outdoor kitchen and grill out of wood! Using wood will bring a refined and stylish atmosphere to your garden.
5. A Small Cabinet – For Your Kitchen Utensils
If you are planning on cooking a lot in your garden on your grill, then make sure you have a small cabinet next to it. Thanks to a small cupboard, which can even be attached to your garden fence or wall, you will be able to store all your grill tools and kitchen utensils in them. This will always come in handy when you are grilling in your garden. You won't have to keep rushing into the house to bring out utensils you may need, as everything will be there, right in front of you! 
6. Built out of Bricks – Outdoor Grill Island Ideas
A great material to create your grill out of is no other than bricks. They are super stable and strong and will provide a great base for cooking in your garden. First of all, you will need to build the base of your grill. Make sure that you include indents on the barbeque base, as this is where you will have to insert the actual grill. This is perfect for anyone who would like to build their own barbeque, as they can really use their hands to create something. So if you are looking for something to construct yourself, try out this grill idea!
7

. A Unique Shape – An Interesting Octagon
We have already mentioned building a table around outdoor bbq area ideas. This is a fantastic idea, as you won't have to stand far away from your friends or family while cooking the food. Instead, you will be able to grill your food as a group activity and have loads of fun while doing it! You might decide on getting a grill which is made in a unique shape, such as an octagon! If this is the case, then build an octagon-shaped table around the grill machine and place some chairs around it! So get ready to make some DIY garden furniture!
8. Making Space for Everything – Neat and Organised
Sometimes it is important to create a sense of neatness and tidiness, whether it's in your home or your garden. For example, if you have decided to create a space in your garden for grilling, make sure that everything has a spot! For example, if your barbeque is going to be working with firewood instead of electricity, then make sure you build some shelves underneath it in which you can store wood. Or if you have a lot of tools for grilling, make sure that you create enough space for storing your grill essentials.
9. An Easy Solution – Outdoor BBQ Area Ideas
You don't have to go for extremely complicated machinery when you are searching for something to grill with. Something you will be able to do is create a fire pit and place a pole next to it. Onto this pole, you can attach all sorts of grills sheets with the help of swivels to keep them in place. You can even attach more than one grill sheet to the pole, allowing you to cook more food at once. After lighting the fire pit, you will be able to cook your food right above it!
10. A New Aesthetic – Outdoor Grill Ideas
While your grill will be used for cooking food, you might be thinking about giving it a stylish look. After all, it's important that you find yourself in an aesthetically pleasing environment in your daily life. If you have decided on placing your grill machine next to one of the walls of your house, you can add some sort of decorative tiles as a backdrop to it. It is completely up to you what sort of design you'd like to give your outdoor bbq ideas.
11. A Kitchen Island – Grill and Oven
The perfect idea for installing a grill in your garden is to combine it with a kitchen island. A small kitchen island will be a practical and logical addition to your garden. Especially if you want to do a lot of cooking or baking outdoors. Depending on your needs, you might decide on having an oven installed on the kitchen island as well as a sink. This will actually create a miniature kitchen in your garden, meaning you won't have to constantly go back into the house, since you will have everything there!
12. Protected from Severe Weather – Safe and Sound
Make sure that you keep your grill machine safe and sound! After all, even though your grill might not be damaged or affected by a light shower, you will want to think about keeping it protected from hail or a snowstorm. Especially if it is fixated into one place. So, keeping this in mind, you might decide on creating a cover for it, just like you would make a garage for your car. You can even design a door for your grill, which you can open while cooking, but you can close it when the weather is bad.
13. Constructing a Kitchen – Outdoor BBQ Area Ideas
Here is another fantastic idea, which revolves around creating a whole kitchen around your grill machine. You can also create a table on the other side of the grill, using the same materials you used for constructing the wall behind and surrounding the grill. An additional will make a space for dining. It's completely up to you what sort of style you would like to embody with your outdoor grilling station ideas. Feel free to get creative with this!
14. Bold in Black – An Edgy Atmosphere
What sort of style and design would you like to incorporate in your garden or backyard? Perhaps you want to channel a modern and bold sort of vibe. If so, make certain that all the furniture or decorations bring the same sort of sense to your garden. A great colour you can work with and use to achieve this is black. Black has a contemporary edge to it and can transform an environment in moments. This includes your outdoor grill ideas! If you like the idea of using black in your garden, then make sure that the island on which your grill machine is installed is also made out of black material!
15. Mounted on a Wall – Outdoor Grill Island Ideas
Are you in search of a practical way of installing your grill machine in your garden, without taking up much space? Then check out these outdoor grill island ideas, which is all about mounting your grill on one of the walls surrounding your garden or on your fence. This is an awesome way of saving space. So if you have a relatively small garden, but would still love to install a grilling machine in your garden, then this is the way to go about it.
16. Innovative and Inventive – Perfect for Summer Days
If you consider yourself somewhat of a handyman, you may decide on constructing your own small kitchenette for grilling. You will have to use wood and corrugated metal to build it from. These are two easy materials to work with, especially if you have some of them lying around in your shed already. You can use the corrugated metal for creating a roof above your grill, as well as covering the sides of your kitchen island. This is a perfect idea for anyone who wants to create their own outdoor bbq area designs.
17. A Moveable Kitchen – Easy and Mobile
One logical and very practical idea would be to add wheels to your kitchen island on which your grill is. This will allow you to move your miniature outdoor kitchen at any time you need to. So, for example, it starts to rain or there's a huge storm, you'll be able to push your grill into your garage. Or if you need to move your grill closer to your garden table, this will be an easy task for you! All you need to do is attach wheels to the bottom of your kitchen island, making it mobile.
18. A Circular Fire Pit – Outdoor Grill Island Ideas
How about trying to create a circular, outdoor fire pit, using bricks or large stones? But instead of the fire pit just functioning as a space to keep you warm during chilly autumn nights, you can place some metal sheets above it. This will turn your fire pit into a grill! So if you throw some wood on the fire, place a metal grill sheet over it, you're all set to cook some delicious food!
19. Building a Shelter – Outdoor BBQ Area Ideas
As we mentioned before, it's always a fantastic idea to create a small shelter for your outdoor bbq area designs. Whether it's just a few walls with a roof over it, at least this will help keep your grill safe from large hail storms which may occur during summer. You might consider getting a grill, which is moveable, making it easy to push into this small shelter.
20. Grilling in Your Garden – Outdoor Grilling Station Ideas
Here is another idea on how to use bricks to construct the base of your outdoor bbq ideas. After creating the base of your grill, you can use two metal sheets to put together the actual barbeque. One of the sheets is where you will burn hot coal or wood, while the sheet on top is where you will cook the food!
We hope that this collection of outdoor grill island ideas has helped you in finding inspiration! For other garden ideas, besides outdoor bbq area ideas, such as small front porch ideas on a budget or cheap garden fence ideas, visit our website!
Advert