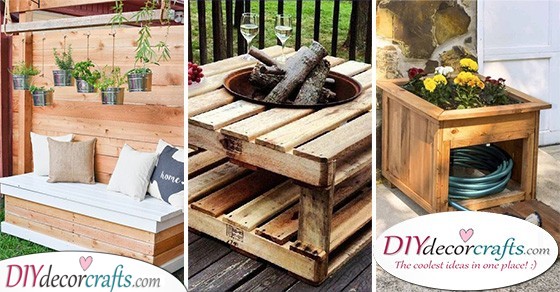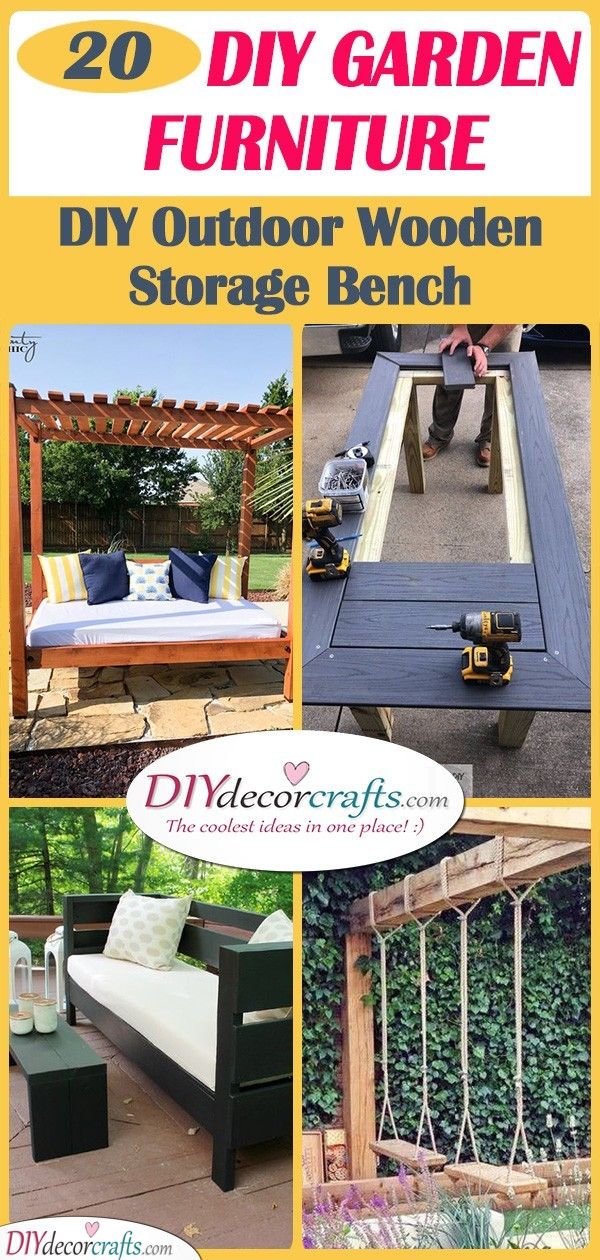 When it comes to gardens, there are so many ways to take it to the next level. You might decide on adding some new species of flowers to your flowerbeds. Another fantastic idea would be to add decor to your garden, in the form of a fountain, statues or some cute garden gnomes! You might also be considering adding a DIY outdoor wooden storage bench. While you will want to create your garden to become a beautiful environment, don't forget to add some comfortable furniture to it as well! After all, it will feel wonderful to sit down and relax in your garden. If you are planning on making your own furniture, then check out our collection of 20 DIY garden furniture! We guarantee you will find some inspiration amongst these garden ideas.
1. A Swing or Two – DIY Garden Furniture
Make sure that if you have kids, that they have fun and spend a lot of time in the garden. You might have a pergola in your garden already. If you do, make sure to use it wisely! This might come in the form of creating one or two swings and attaching them to your pergola. Swings are super easy to make even at home. All you need to do is attach ropes or chains to each corner of a wooden board, after drilling through them. Then simply hang them from the top of the pergola. This will be perfect for any garden!
2. Building a Chair – Out of Scratch
Perhaps you are thinking about how to save a bit of money, but at the same time, you would really love some pallet outdoor furniture in your backyard. If this is the case, go ahead and try building a chair! You will first need to construct the frame of the chair. An easy material to work with is wood, not to mention, it's not that expensive. There are dozens of tutorials online, on how to design and do this. After you finish constructing the chair, you can coat it in vibrant paint and add some cushions to it! 
3. Transform a Tire – DIY Outdoor Wooden Storage Bench
You might have an old car tire lying in your garden shed. An easy option would be to throw it out into the trash. But if you're thinking of alternatives on how to create garden furniture, then use your car tire and transform it into something new! Firstly, you will need to place a wooden board on top of the tire, which fits perfectly on it. Then, it's time to surround and cover the tire in rope. Use a glue gun to fixate the rope to the tire, making sure that it's stuck to it. By the end, you should have a newly made seat or footrest for your garden.
4. Using Reclaimed Wood – An Environmentally Friendly Idea
It's always a great idea to use any materials lying around at home, which you don't need anymore, to create something new out of! Especially when it comes to wood! We can help preserve the forests in our world if we use reclaimed wooden material, instead of buying something new. Taking this into consideration, why not create a coffee table for your garden out of reclaimed lumber? You can leave these garden bench ideas in their original colour, or paint them with colourful paint to give it a new look. Even consider adding a fire pit to it, which will create a lovely atmosphere during the evenings!
5. A Sturdy Bench – DIY Wooden Outdoor Storage Bench
There are a lot of directions you can head for when designing and building some outdoor furniture for your garden. You don't have to go overboard with the design, sometimes less is more, and a simple piece of furniture will easily boost the whole ambience of your garden. In order to create these garden bench ideas, you will need some longer wooden boards and some shorter ones, to serve as the legs of the bench. Find a tutorial that will explain step-by-step how to create this amazing DIY garden furniture.
6. A Backyard Day Bed – Relaxation and Peace
Make sure you get some peace and quiet in your daily life while spending time in your garden. Why not create an outdoor day bed, which you can lie down on? Read a book here or take a nap during a summer afternoon, this day bed will become your favourite spot! After constructing the wooden frame of the day bed, you can place a mattress on it, as well as adding a few pillows or blankets.
7. A Place for the Hose – Easy Storage
Maybe you are in search of easy storage space for your garden! Instead of creating a wholly new piece of furniture, you can use an old one and creating a bit of storage out of it. You might have some flowers growing in wooden boxes. If so, use the part underneath the flowers as storage space. This will serve as the perfect place for storing any gardening equipment, such as a hose or a watering can. It's also a great way of using the furniture you already have in your garden, so you won't take up any extra space.
8. A Comfortable Lounge Sofa – DIY Garden Furniture
There really are so many ways you can create some seating space in your backyard. After all, you will want to spend a few mornings or afternoons in the quiet of your garden relaxing a little bit. Why not create a comfortable lounge sofa? You don't even need much equipment or materials for creating something as fabulous as this. For example, you can create the seating part of the sofa out of wooden pallets. Then all you will need are a few mattresses and pillows. These wooden garden seats will make your garden a place where you can relax!
9. Stylish Bench – DIY Outdoor Wooden Storage Bench
Here is another idea for creating some seating space in your garden. You will have to build a simple bench, creating a wooden box for flowers on both sides of the bench. Adding the two wooden boxes to both sides of the bench will enhance the whole atmosphere of your garden. Feel free to plant any sorts of flowers or bushes in the boxes. Again, it's up to you whether you want to leave the bench in its original, wooden colour or whether you want to coat it with paint.
10. Creating a Cool Table – Awesome and Gorgeous
Create the table of your dreams for your garden! You will have to put together the frame of the table first. This includes the legs of the table and a frame on top, which you will be able to lay the top of the table on. For the top of the table, find some wooden panels which you can place on it. A great idea would be to create an outer rectangle out of the panels, lining the inside with smaller boards, as shown in the example above.
11. A Swinging Chair – Perfect for Your Porch
If you have a porch or a terrace, you might be thinking of adding a swinging chair. You can create the chair itself out of wooden panels or reclaimed wood. Check out a tutorial on how to build and construct the chair. Then you will need to hang it from the ceiling of your porch or terrace. Use ropes to do this, attaching a rope to each corner of the chair. Whenever you will need to relax a bit, all you will have to do is sit in the chair and allow yourself to sway in it.
12. A Romantic Setting – DIY Garden Furniture
Get creative with wooden pallets and put together a dining table with some wooden garden seats in your backyard! You don't have to go for a super fancy design, something simple will do just as well! Then, depending on your style and taste, you can coat the table and the chairs in some paint. For a vintage or rustic setting, you might decide on using white paint for this. Think about adding some garden lighting to this outdoor dining table! Thanks to this, you will be able to enjoy lunches or dinners in your garden, making this a great place for entertaining guests.
13. Adding Storage – DIY Outdoor Wooden Storage Bench
Are you trying to find a way to add a bit of extra storage space in your garden? Perhaps you don't have a garden shed and need some additional place for keeping garden tools or items you don't need on a daily basis. If this is the case, then create and outdoor wooden storing bench. While the main function is acting as seating space, this way it will also serve as storage space! All you will have to do is lift up the top of the seat, to reveal a box underneath!
14. Concrete Block Bench – Easy and Simple
Perhaps you want to get into creating your own DIY outdoor wooden storage benches. But you don't have enough skills or experience for putting together harder furniture yet! If this is the vase, we recommend you try out something easier first, such as this concrete block bench. Building this DIY garden furniture requires no tools at all, only some strong glue with which you can glue the cinder blocks together. In the holes of the blocks, you will be able to slide through wooden panels, which will create the seating.
15. A Bar for Your Garden – Pallet Outdoor Furniture
Maybe you want to add a bar table to your outside garden. This is an especially fantastic idea if you invite a lot of guests over to your home. If you have any spare wooden pallets, which you could reuse to create some furniture, make sure to create this bar table out of them! It's up to you whether you coat the bar table in some vibrant paint to give it a groovy look!
16. Pallet Couches and Coffee Table – Use Salvaged Materials
Trying to find ideas to create some seating in your garden? After all, if you have some guests over on a summer afternoon, the perfect place to sit down and talk is in your garden. While we have already talked a lot about using wooden pallets to create furniture, we cannot stress how cheap and easy it is to construct furniture out of them! We would recommend building an L-shaped sofa with a coffee table. After finishing building the sofa, then add some pillows to it, to make certain that it's comfortable!
17. Surrounding a Tree – DIY Outdoor Wooden Storage Bench
Are you thinking about where to build a bench in your garden? We would suggest surrounding one of the trees in your garden with a bench. Use wooden pallets or boards to create your DIY garden benches, which encases your tree. This is a fabulous idea for the summertime! Just imagine, sitting and reading a book or drinking a glass of lemonade underneath a tree during a hot summer day. The tree will help in providing plenty of shade during summer, ensuring that you won't get a sunburn!
18. Elegant in Black – Refined and Sophisticated
Channel an elegant essence to your garden with this easy trick! Create the frame of a sofa, as well as an easy coffee table, using wooden pallets and wooden boards. Then it's time to coat your newly made furniture in black paint. The colour black always brings an essence of chicness and refinement with itself. So if this is what you are going for, you might give painting your furniture black a go! Then, of course, make sure to make your sofa super comfortable by adding a few pillows to it!
19. A Wishing Well Planter – DIY Garden Furniture
Get creative with your garden furniture! If you are trying to find an interesting and unique way of growing flowers in your garden, why not create a wishing well planter? This will add a magical element to your garden as well as creating an alternative to flower bed designs. The planter itself should be the bucket you pull up from the "well." You will be able to put this well together easily out of wooden pallets, by following a tutorial.
20. Wooden Pallet Sofa – DIY Garden Benches
Here is yet another fantastic wooden pallet sofa idea for you! Again, we can't seem to put enough emphasis on using wooden pallets for building furniture! It's a great way of recycling materials. Then all you need to do after constructing your sofa is to add some pillows and seating and you're done!
Maybe you have found what you are looking for if it concerns DIY garden furniture! If you are in search of other garden options, besides DIY outdoor wooden storage bench ideas such as small garden ideas on a budget or flower bed ideas, then make sure to visit our website!
Advert